This dish is about as 100% Italian-American comfort food as you will find. This is one of those 'spend-a-few-hours-in-the-kitchen-on-a-Saturday-afternoon' dishes, but, boy, oh by, is it truly magical.
The eggplant makes the perfect vehicle for this baked dish of yumminess. The homemade marinara sauce puts it over the top. And it can also be made in advance, and then baked an hour or so before serving! I mean, come on…just look at this:
How to Make Eggplant Parmesan
NOTE: If you liked this video, please subscribe to our YouTube channel. Remember to click the little 'bell' icon so you'll never miss a new video. Thank you!
The Ingredients You Will Need
Although eggplant parmigiana (or parmesan) is vegetarian, it's not the type of dish you'd probably want to consume every day for every meal. There is a lot of cheese and the eggplant is fried…but for that 'special' occasion dish, it can't be beaten!
We start out with our classic homemade fresh marina. As with so many stellar Italian dishes, the quality of the dish comes down to the quality of the sauce.
Next, breading the eggplant slices and then quickly frying them makes the texture of the dish literally melt-in-your mouth good.
This fried eggplant parmesan recipe produces a dish that is so comforting and classic all at the same time.
We love using fresh mozzarella because it delicious and also melts beautifully.
You can easily purchase a block of fresh mozzarella and slice it yourself.
Or, you can use shredded. No matter what, you're going to love the cheese results.
The Origins of the Dish
There is so much to love about eggplant parmesan. First, and foremost, of course, is the taste.
But you can easily make this in advance and then just simply stick it in the oven to bake prior to serving. It also freezes perfectly, too. Just let it thaw, and then bake and serve.
The recipe (Parmigiana di Melanzane, in Italian) has its roots firmly planted in Southern Italy and has been served for many, many generations. Learn more about its delicious origins here.
Other Classic Italian Recipes To Try
Eggplant Parmesan is one of our all-time favorite dishes, but here are some other classic recipes that you are absolutely going to love, too:
Eggplant Rollatini
Classic Meat Lasagna
Best-Ever Baked Ziti
Stuffed Manicotti
Italian Stuffed Shells
Chicken Parmesan
Shrimp Marinara
Pasta Carbonara
Penne alla Vodka
These are all classic and unbelievably delicious. But, in the meantime, isn't this dish calling your name?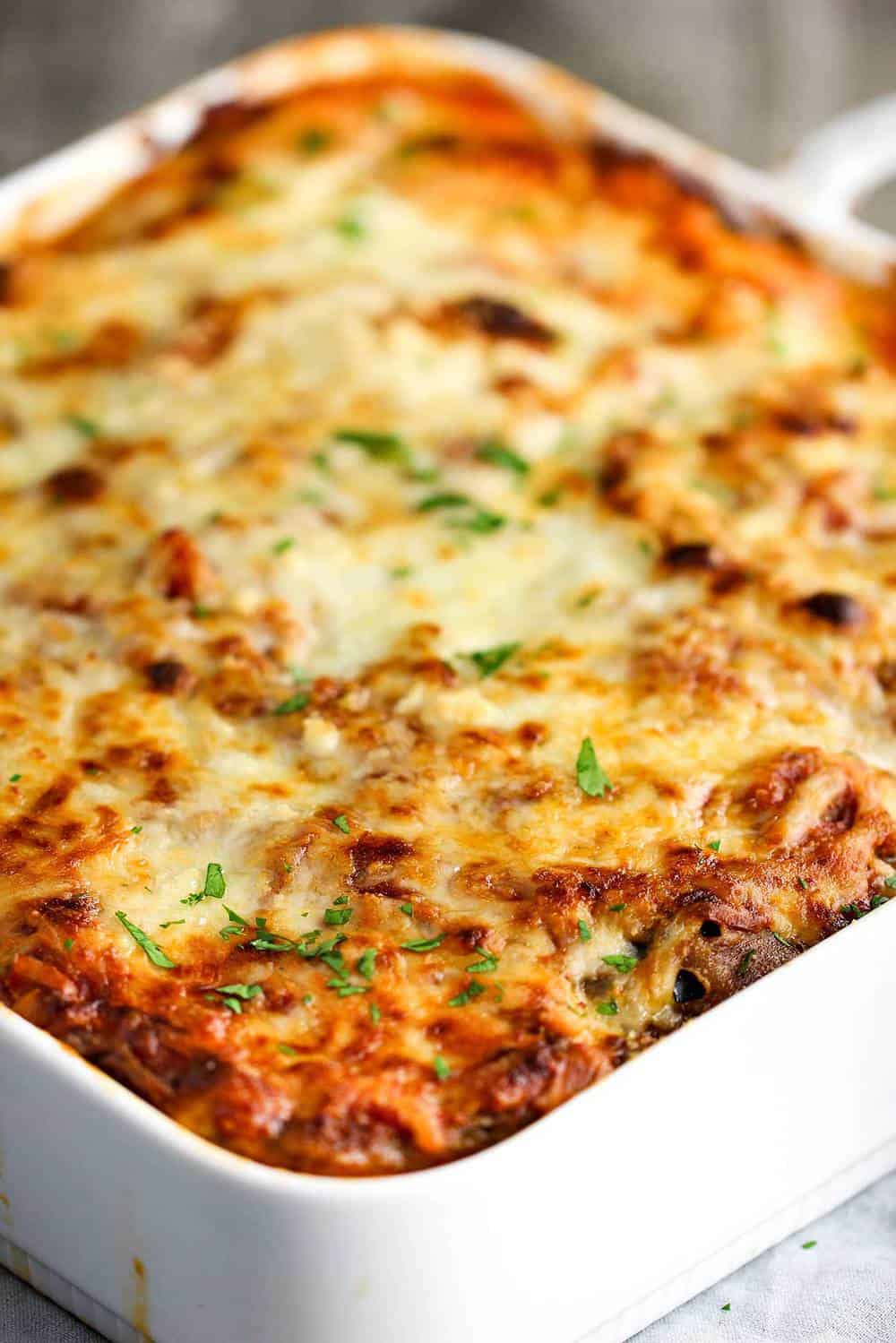 This is a dish that we feel confident will be one that goes into your regular rotation.
Warm, cheesy, and just so incredibly satisfying.
Folks…the time has come to make this classic baked Italian-American favorite!
Ready to make the best dish this side of Italy? Go for it!
And when you do, be sure to take a photo, post it on Instagram, and tag @HowToFeedaLoon and hashtag #HowToFeedaLoon!
Authentic Eggplant Parmesan
This authentic eggplant Parmesan is pure Italian-American comfort food in a single dish. The eggplant makes for the perfect vehicle for the gooey mozzarella cheese and homemade marinara sauce. You can make it up to 24 hours in advance and then bake just before serving!
Print
Pin
Rate
Servings: 8 people
Calories: 420kcal
Equipment
10"x10" baking dish, or 9"x13" baking dish
Ingredients
2 medium eggplants
2 cups all-purpose flour
vegetable oil for frying, or heat your deep fryer
6 large eggs
2 cups Parmesan cheese grated
1 tbsp flat-leaf parsley fresh, chopped, plus extra for garnish
1 tsp Kosher salt
½ tsp black pepper freshly ground
4 cups homemade marinara sauce
3 cups mozzarella cheese fresh, sliced, or grated
Instructions
Cut the ends off the eggplant and discard them. Cut each eggplant into 1/4-inch round slices and sprinkle salt over each of the rounds.

Place in a colander for 30 to 40 minutes.

Rinse eggplant rounds under cool water to remove salt. Dry with paper towels.

Next, in a deep, heavy saucepan, heat the oil to 350°F, or heat your deep fryer to 350°F. (If you don't have a deep-frying thermometer, the oil will be hot enough when it creates a sheen, and a small piece of bread sizzles when tossed in the oil.)

Meanwhile, spread the flour out on a large platter or in a pan.

In a shallow bowl, whisk the eggs together with ½ cup of the grated Parmesan cheese, the parsley, and the salt.

Coat each slice of eggplant with flour and shake off excess.

Dip the eggplant, a slice at a time, in the egg mixture and let any excess drip off.

Fry the eggplant slices, 3 to 4 at a time, for about 3 to 5 minutes, or until they are golden brown and tender.

Remove them with a slotted spoon and place them on paper towels to drain and cool.

Preheat oven to 350°F.

Spread 1 cup of marinara sauce over the bottom of a large baking dish.

Arrange a layer of eggplant slices over the sauce (they can slightly overlap, if necessary).

Spread a thin layer of marinara sauce over the eggplant.

Sprinkle ½ cup of the mozzarella and a thin layer of Parmesan cheese over the sauce.

Repeat, layer the eggplant, marinara sauce, mozzarella, and Parmesan cheese to top the pan.

End with a layer of eggplant and about ¼ cup marinara sauce spread over the top of it.

Sprinkle a good handful of Parmesan cheese on top of the sauce.

Bake the eggplant for about 45 to 50 minutes, or until bubbly and lightly browned on top.

Let the pan sit for 15 to 30 minutes until cool enough to serve.

Cut into slices and serve with warm marinara sauce and grated Parmesan on the side.
Notes
See the video near the top of the blog post for visual guidance. If you liked the video, please subscribe to our YouTube channel.
The marinara sauce can be made several days in advance. Keep covered in the fridge until ready to use. It can also be frozen for several months.
If you prefer, you can bake the battered eggplant at 375°F for 20 minutes. You can air-fry them for 6 minutes at 350°F, then open the basket, flip them over, and air-fry for another 2 to 3 minutes.
The dish can be prepared up to 24 hours in advance of baking. Keep covered in the fridge. Let sit out on the counter for 30 minutes to an hour before baking.
Leftovers will keep in the fridge (covered) for up to 5 days. Reheat in the oven at 350°F for about 20 minutes or cook on HIGH in your microwave in 1-minute intervals until hot and bubbly.
Nutrition
Calories: 420kcal | Carbohydrates: 33g | Protein: 27g | Fat: 20g | Saturated Fat: 11g | Cholesterol: 190mg | Sodium: 866mg | Potassium: 402mg | Fiber: 4g | Sugar: 5g | Vitamin A: 748IU | Vitamin C: 3mg | Calcium: 544mg | Iron: 3mg
POST UPDATE: This recipe was originally published in June 2016, but was updated with improved tweaks to the recipe with new tips and photography and a fabulous new video in September 2023!