This meatless casserole is amazing at any time of the year, but when it's cold outside, there's nothing much more satisfying.
We just love the nutty flavor of wild rice and of course the beauty of kale combined with luxurious fontina cheese…and mix in some sauteed onion and garlic, some sun-dried tomatoes, and top with almonds…all baked to yummy, gooey perfection. And it can easily be prepared in advance!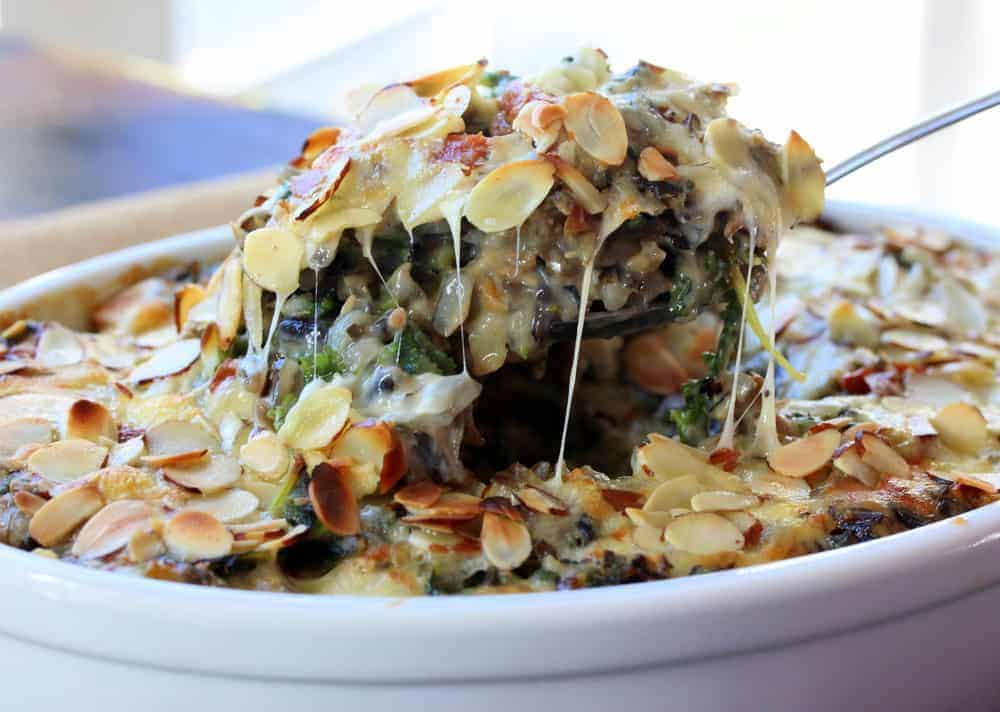 HOW TO MAKE WILD RICE, KALE AND FONTINA CASSEROLE
You can make this amazing casserole in stages. We love starting by cooking the wild rice.
Wild rice is so nutritious and can be found in the rice section of most well-stocked supermarkets.
It takes a little longer to cook than long-grain rice, but the flavor is so nutty and delicious.
Kale is also loaded with flavor and cooks quickly.
A substitute for kale could be fresh spinach, escarole, or Swiss chard.
Start off by sauteéing onions in a little oil, and then adding the herbs, stock, and finally the kale.
Stir the kale with a wooden spoon until it starts to wilt and reduce in size as it cooks in salted water.
Did we mention how healthy kale is? It's considered one of the superfood groups!
BUILDING THE FLAVOR PROFILE
Now, it's time to really amp up the flavors.
The addition of cream and stock are just incredible, and will cook down as the Wild Rice, Kale and Fontina Casserole bakes.
Keep building the flavor profile!
Oh, yes!
The addition of grated fontina and sliced almonds are all that's needed.
You can even prepare ahead of time, and bake just before serving.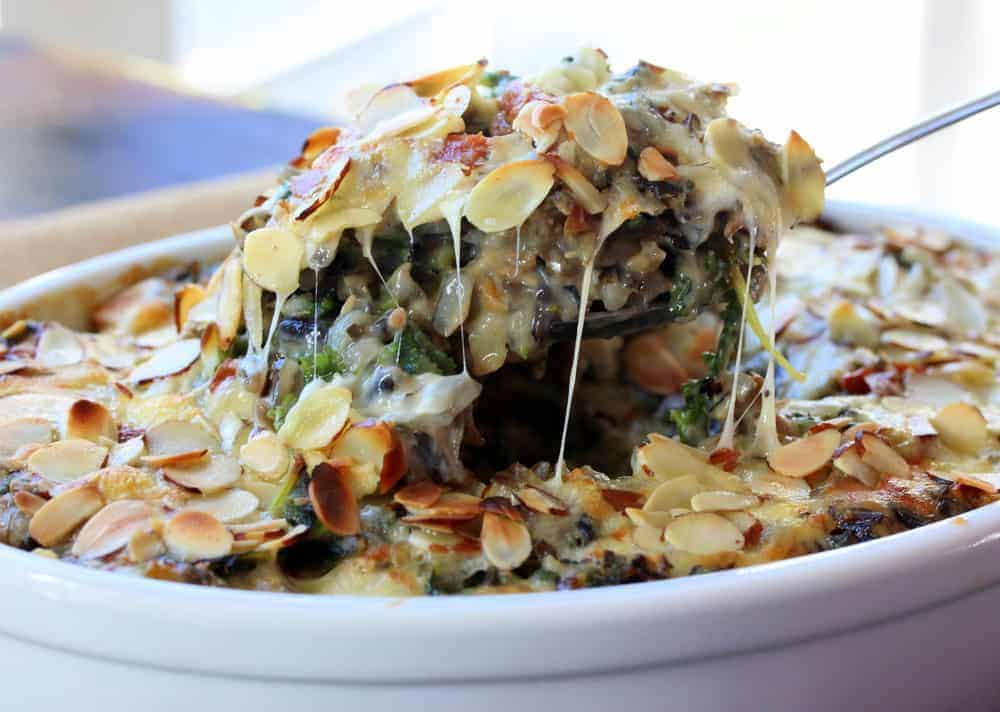 Another amazing wild rice recipe is our Wild Rice with Cherries and Pecans!
In the meantime, go and make this incredible vegetarian casserole! And when you do, be sure to take a picture, post on Instagram, and tag @howtofeedaloon with hashtag #howtofeedaloon!
Wild Rice, Kale and Fontina Casserole
This Wild Rice, Kale and Fontina Casserole is so fulfilling and great for a special occasion or any night of the week. You can prepare the dish up to 3 days ahead...just cover and keep in the fridge. Uncover and bake when ready to serve. Amazing!
Print
Pin
Rate
Servings: 8 people
Calories: 232kcal
Ingredients
1 cup wild rice uncooked, this will make 3 cups once cooked
5 cups stock 4 cups for cooking rice, 1 cup for casserole (See Note)
1/2 lb kale fresh
1 medium yellow onion chopped
4 tsp olive oil
1 tbsp fresh thyme chopped
1/2 tsp ground nutmeg
4 tbsp all-purpose flour
1 cup milk
1/2 cup sun-dried tomatoes in oil, chopped
1 cup Fontina cheese shredded, and divided in 1/2 cups
Kosher salt and fresh ground black pepper to taste
Olive oil or vegetable, cooking spray
1/2 cup almond slivers
NOTE: You can cook the rice in chicken or vegetable stock or just water. If using water, you'll only need 1 cup of stock for this recipe. Also, you can substitute Swiss or Gruyere cheese for the Fontina.
Instructions
Bring stock, or water, (3 cups) to boil.

First, rinse the rice under cold water in a colander or fine mesh sieve. Then add the rice to boiling water, reduce to a simmer, and cover. Cook until done, about 45 to 60 minutes. (You may need to add more liquid as it cooks). Once done, drain any excess liquid. Set aside.

Pre-heat oven to 375 F.

In a Dutch oven, or large pot, cook kale in 1 cup boiling salted water over high heat, stirring occasionally, until wilted, about 5 minutes. Drain, and set aside.

Heat oil a large skillet over medium-low heat, and add onions. Cook until golden, about 20 minutes.

Add garlic, thyme, and nutmeg, and cook 1 minute.

Stir in flour and cooked kale.

Gradually stir in milk and 1 cup stock, and simmer for 4 minutes, until slightly thickened.

Stir in the rice, tomatoes, and 1/2 cup cheese.

Season with 1/4 teaspoon salt and pepper. Taste, add more, if desired.

Lightly grease an 8"x8" dish (2 qt or 2 1/2 qt.) with cooking spray.

Transfer mixture to dish and sprinkle almonds and remaining 1/2 cup cheese over the top.

Bake for 20 minutes, or until lightly browned on top.
Notes
NOTE: You can cook the rice in chicken or vegetable stock. or just water. If using water, you'll only need 1 cup of stock for this recipe. Also, you can substitute Swiss or Gruyere cheese for the Fontina.
Nutrition
Calories: 232kcal | Carbohydrates: 29g | Protein: 11g | Fat: 9g | Saturated Fat: 4g | Cholesterol: 22mg | Sodium: 763mg | Potassium: 536mg | Fiber: 3g | Sugar: 7g | Vitamin A: 3447IU | Vitamin C: 39mg | Calcium: 186mg | Iron: 2mg