Stewed Okra and Tomatoes are just so delicious.
This dish is truly a comfort dish like no other. Just so warm, delicious, and utterly satisfying. And comes together in about 35 minutes! You might also like Skillet Okra with Garlic, Fried Okra, or Classic Shrimp and Okra Gumbo, or even Chicken and Andouille Sausage Gumbo with Okra.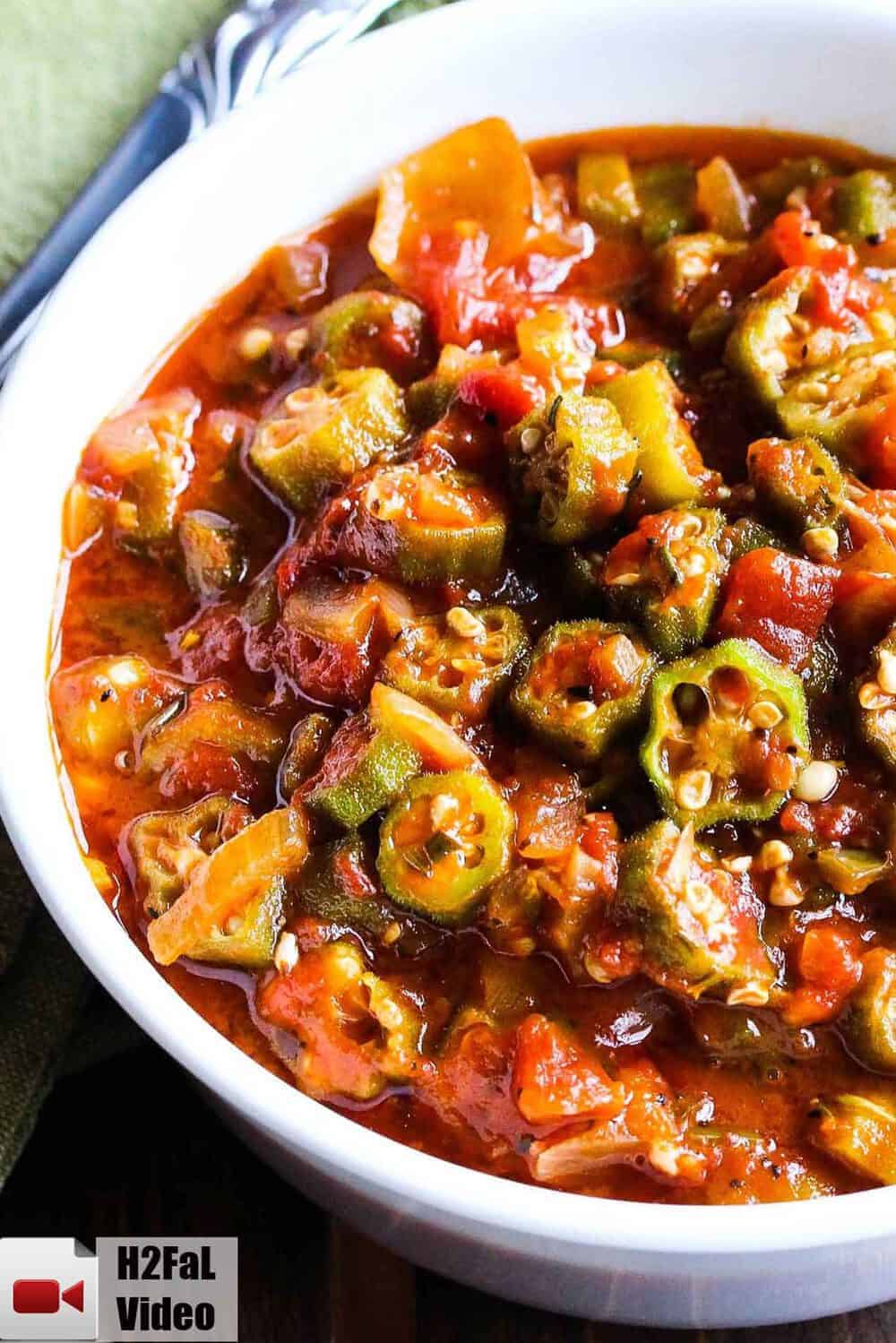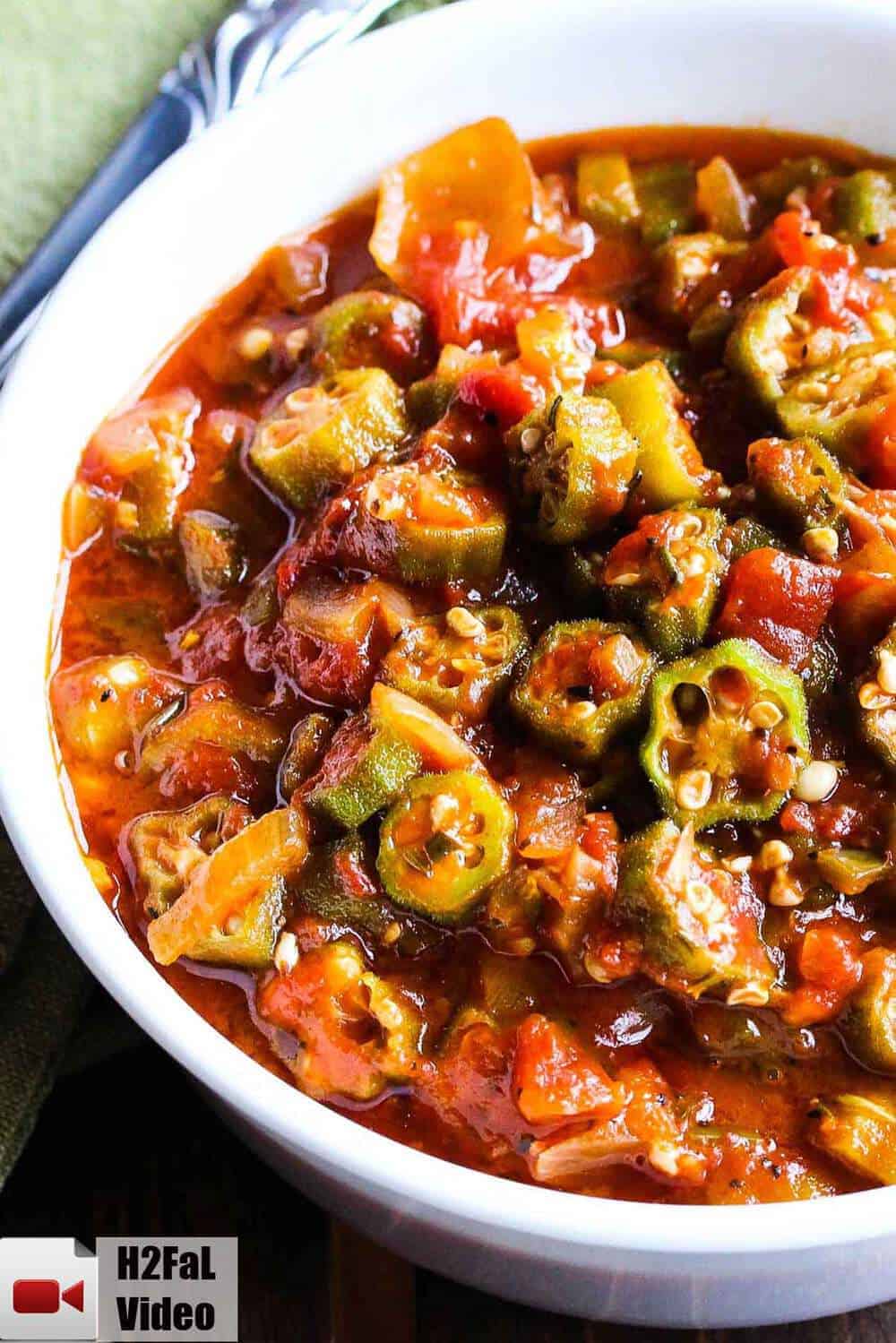 STEWED OKRA AND TOMATOES ARE EASY TO MAKE AT HOME
This dish really is delicious any time of the year. Summertime is great, but they are a favorite during the holiday season, too.
And..this dish is surprisingly easy to prepare!
Watch us show you how simple it is to make Stewed Okra and Tomatoes!
Fresh okra is great, but obviously isn't always in season. Frozen okra that has been thawed works perfectly fine, too.
Okra, when prepare correctly, is so delicious.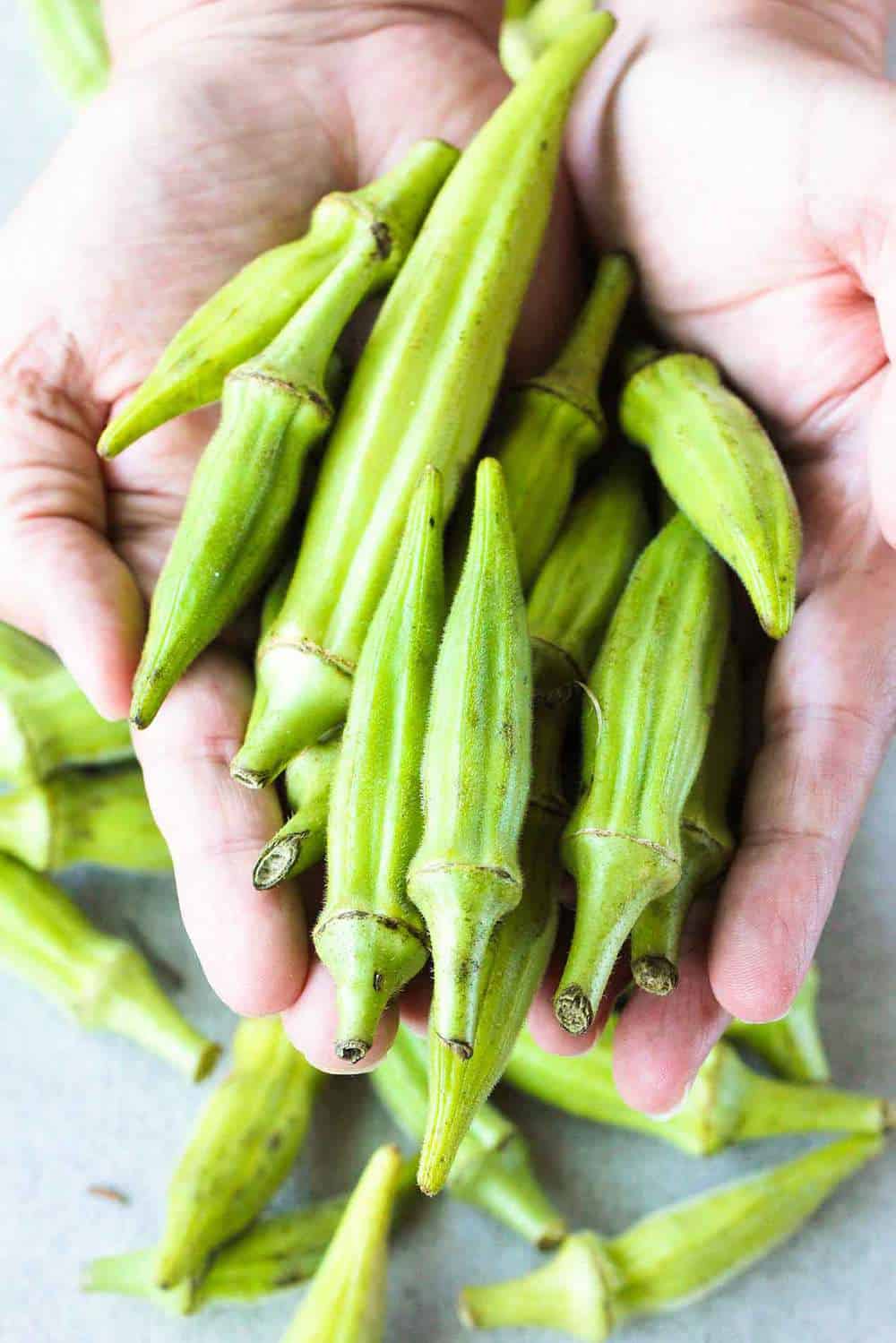 So, okra can be a little slimy, (I know, I hate that word), so give these sliced gems a quick fry in some bacon fat (or vegetable oil) and you won't believe how good this dish turns out.
You'll notice as you sauté these in a nice hot skillet, the 'slime-factor' goes away.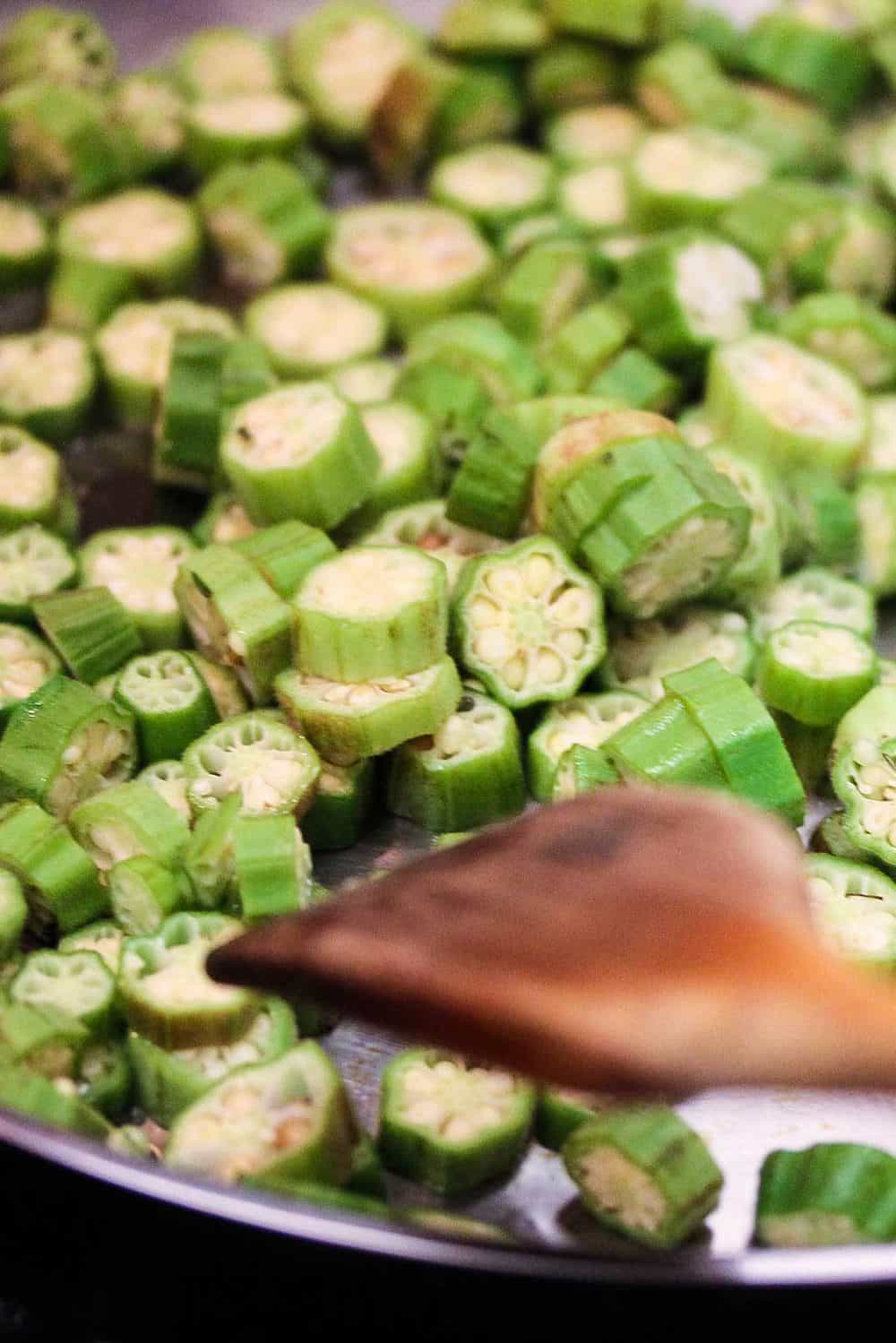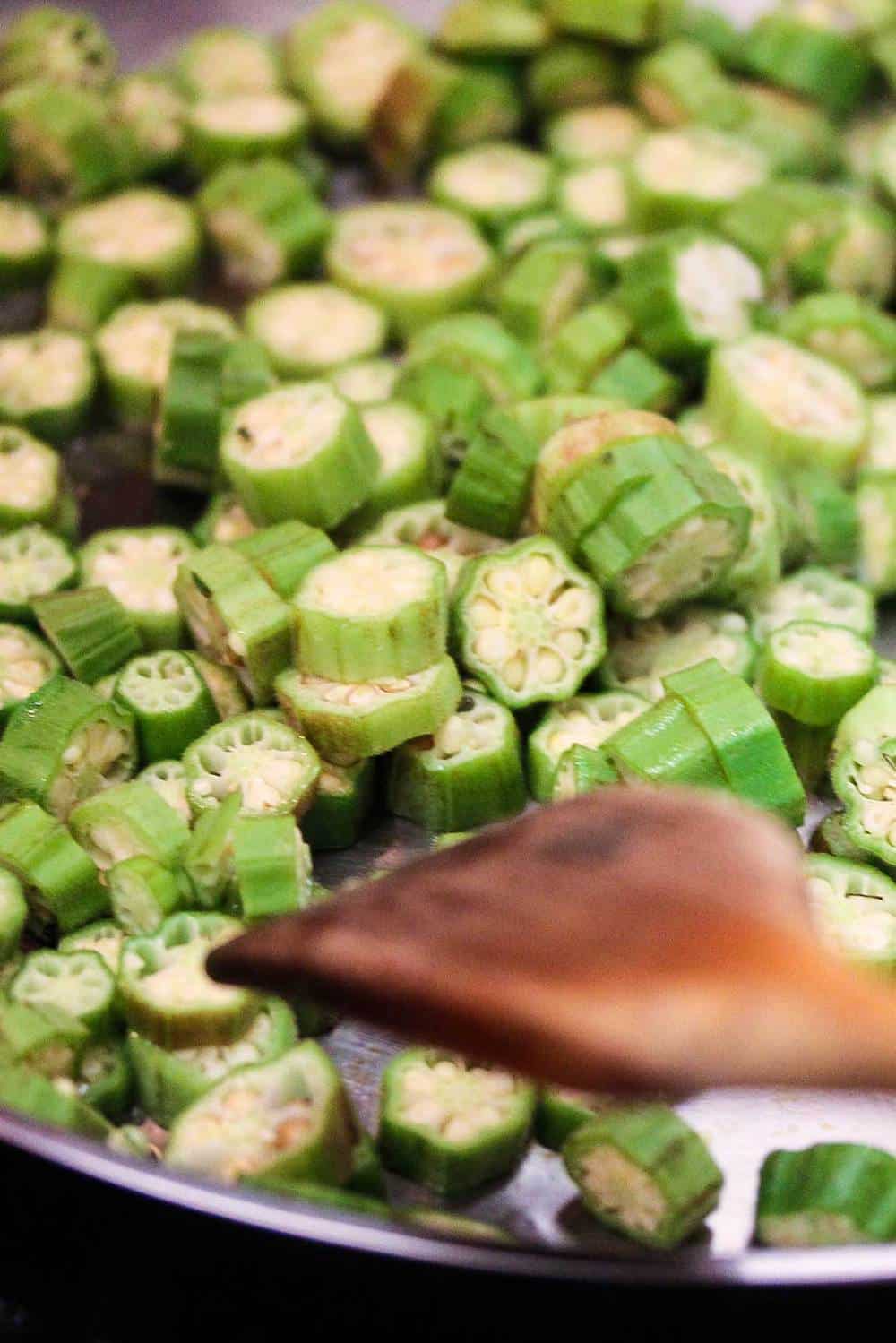 Fried okra is a popular dish, especially in the South, but let me tell you, Stewed Okra with Tomatoes is something special.
The smell as it simmers on the stove is incredible. Stewed Okra and Tomatoes is just the best.
Mmmmmm.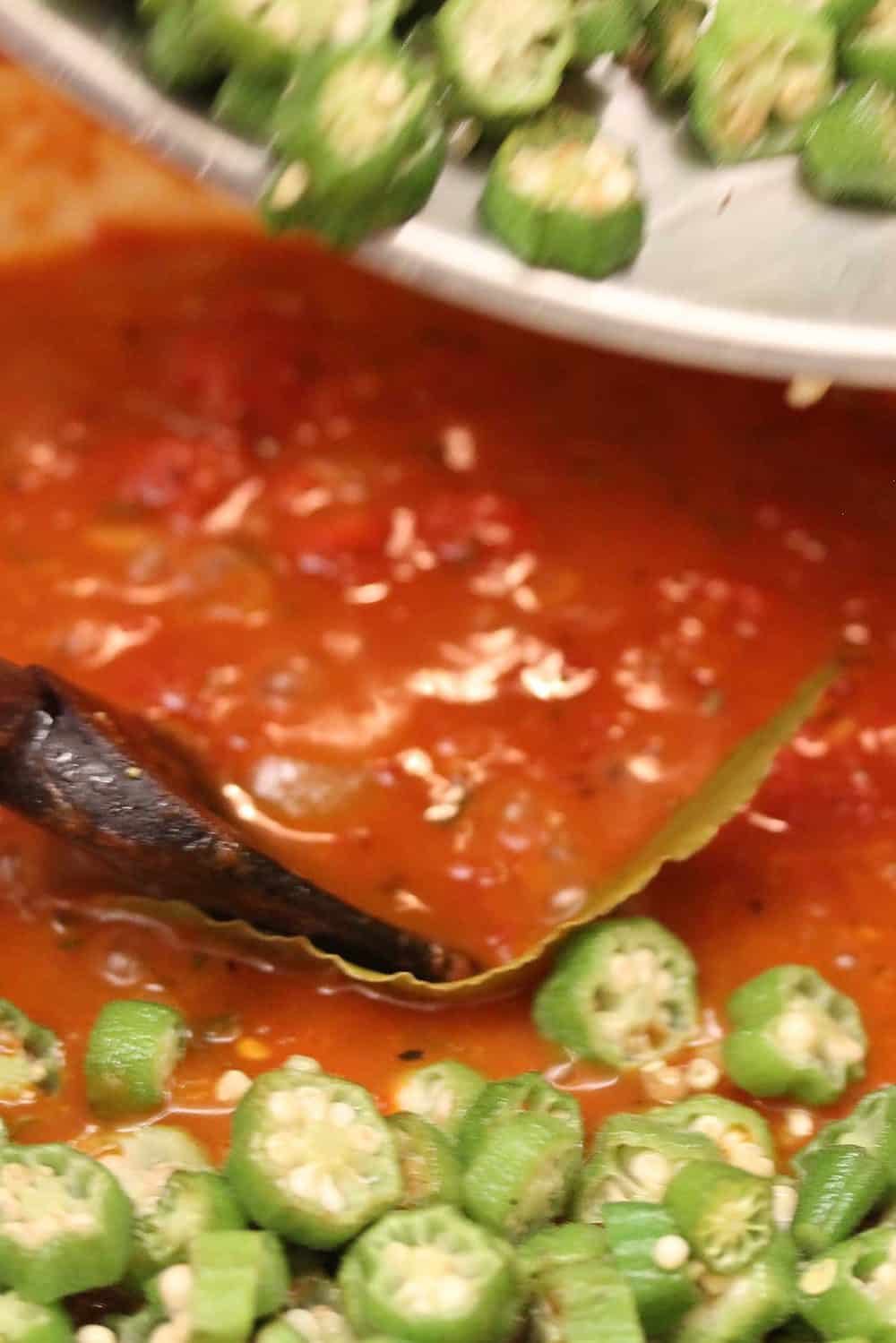 This has without a doubt been been a favorite dish in our house for many years.
It is now a staple on our Thanksgiving table. But also a summertime favorite, too!
It is easy to prepare, and you can even make it in advance, and then re-heat just before serving.
We just can't say enough about this amazing Stew Okra and Tomatoes recipe.
Make this and we feel quite certain you and your loved ones will love it as much as we do!
Let's hear it for OKRA!!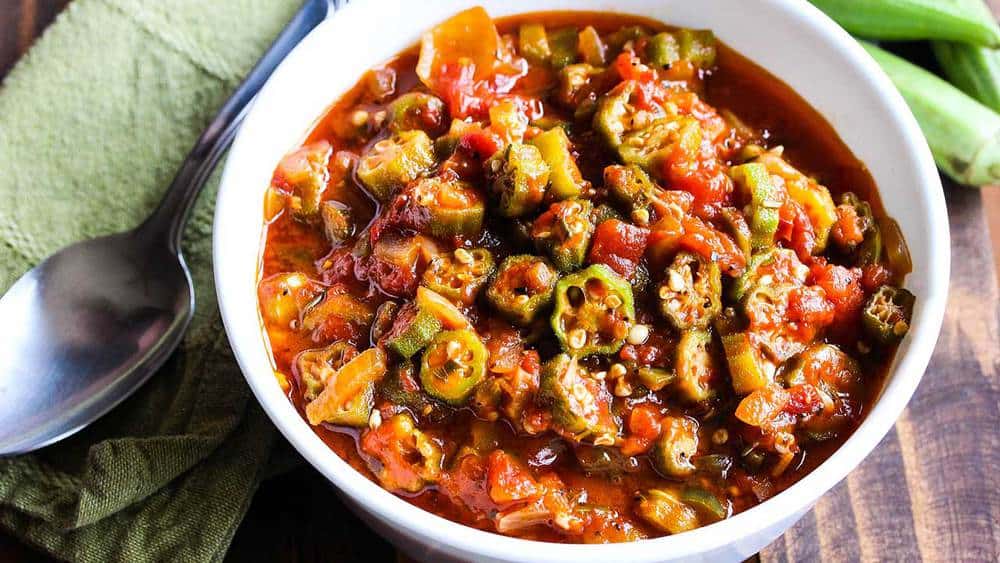 Stewed Okra and Tomatoes
Stewed Okra and Tomatoes is such a delicious dish and is literally exploding with flavor. An all-time favorite! Great on a holiday table, too!
Print
Pin
Rate
Servings: 4 people
Calories: 315kcal
Ingredients
2 tbsp quality olive oil
4 cups trimmed fresh okra cut into 1 & 1/2 inch slices
1 tbsp bacon fat or vegetable oil
1/2 medium yellow onion thinly sliced
1 jalapeno stemmed, seeded, and finely chopped
3 garlic cloves minced
1 tbsp tomato paste
1 28 oz can whole tomatoes drained and roughly chopped (We love San Marzano!)
1 tsp Kosher salt
1/2 tsp freshly ground black pepper
4 fresh bay leaves
1 tsp fresh rosemary chopped
1/2 tsp red pepper flakes
2 tbsp red wine vinegar
1 & 1/2 cups chicken stock or vegetable stock
Instructions
Heat the olive oil in a large skillet over medium-high heat.

Add the okra and saute for 5 to 8 minutes until the okra starts to slightly brown and most of the 'slime' has disappeared. Set aside.

In a medium skillet, heat the bacon fat over medium-high heat. Add the onion, jalapeno, and garlic and saute for 3 minutes.

Add the tomato paste, tomatoes, salt, pepper, bay leaves, rosemary, red pepper flakes, and vinegar.

Cook for 10 minutes, until the tomatoes start to break down and start forming something like a paste.

Add the stock and simmer for 15 minutes longer over low heat.

Stir the okra into the tomato sauce, raise the heat to medium, and simmer for another 10 minutes.

Taste, and adjust seasonings, as needed. Remove bay leaves and serve at once.
Notes
This dish can easily be prepared a day in advance and re-heated 30 minutes before serving. Add a little more stock to thin the dish, if desired.
Nutrition
Calories: 315kcal