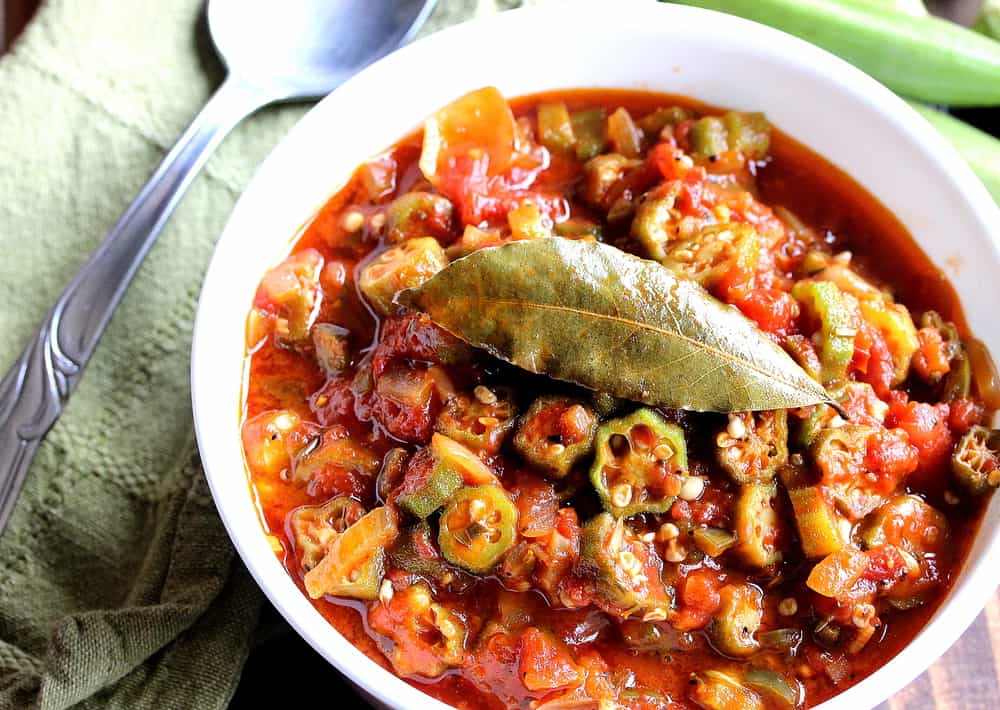 Stewed Fresh Okra and Tomatoes are just so delicious.  Okra can be a little slimy, (I know, I hate that word), so give these sliced gems a quick fry in some olive oil, and you won't believe how good this dish turns out.  I mean, really, so good.  Okra and tomatoes is a Southern tradition that is over-the-top-good.  Hooray for Summer!  (but you can use frozen okra in the cold months, too!)
Stewed Fresh Okra and Tomatoes
This Stewed Fresh Okra and Tomatoes is Summery fresh and exploding with flavor. An all-time favorite!
Author: Adapted from Donald Link
Recipe type: Side Dish
Cuisine: Side Dish
Serves: 4
Ingredients
1 tablespoon bacon fat
½ medium yellow onion, thinly sliced
1 jalapeno, stemmed, seeded, and finely chopped
3 garlic cloves, minced
1 tablespoon tomato paste
1 28 oz can of whole tomatoes, drained and roughly chopped (I love San Marzano!)
1 teaspoon Kosher salt
½ teaspoon of freshly ground black pepper
4 fresh bay leaves
1 teaspoon chopped fresh rosemary
½ teaspoon red pepper flakes
2 tablespoons red wine vinegar
1 & ½ cups chicken stock
2 tablespoons quality olive oil
4 cups trimmed fresh okra, cut into 1 & ½ inch slices
Instructions
In a medium skillet, heat the bacon fat over medium-high heat. Add the onion, jalapeno, and garlic and saute for 3 minutes.
Add the tomato paste, tomatoes, salt, pepper, bay leaves, rosemary, red pepper flakes, and vinegar.
Cook for 10 minutes, until the tomatoes start to break down and start forming something like a paste.
Add the stock and simmer for 15 minutes longer over low heat.
Meanwhile, heat the olive oil in a large skillet over medium-high heat.
Add the okra and saute for 5 minutes.
Stir the okra into the tomato sauce, raise the heat to medium, and simmer for another 10 minutes.
Taste, and adjust seasonings, as needed.