If you're in the mood for a classic Cajun dish, then you've come to the right place.
We love Cajun food so much, from Authentic Jambalaya, Cajun Dirty Rice, and Classic Beignets. This gumbo is classic in so many ways, and we're going to take you through each step! With ease!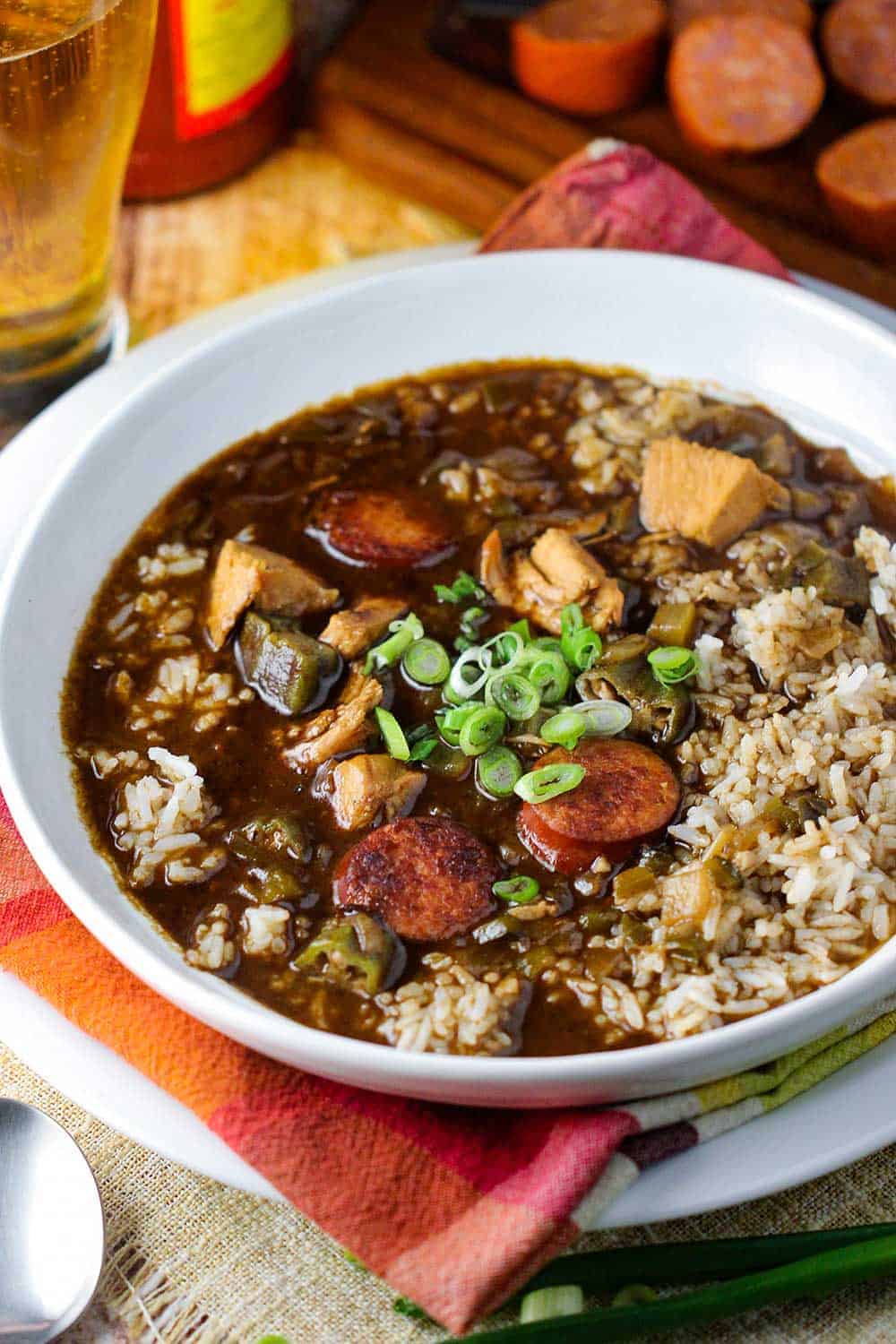 HOW TO MAKE AUTHENTIC CHICKEN AND SAUSAGE GUMBO
The history of classic gumbo down in the Big Easy is as colorful as the city it hails from.
There are a few essential components to making gumbo that is true to its history. A dark roux is a must, but we'll get that in a moment.
In the meantime, watch us show you how to make this iconic cajun dish of deliciousness!
ROASTED CHICKEN IS DEEP IN FLAVOR
We love roasting three split chicken breasts for our chicken and sausage gumbo.
Simply rub oil all over the chicken and then season with salt, pepper, and Cajun seasoning (see NOTES for Cajun seasoning substitute).
Place on a baking sheet and roast for about 50 minutes to an hour, or until it reaches an internal temperature of 165°F when an instant-read thermometer is inserted into the thickest part of the breast.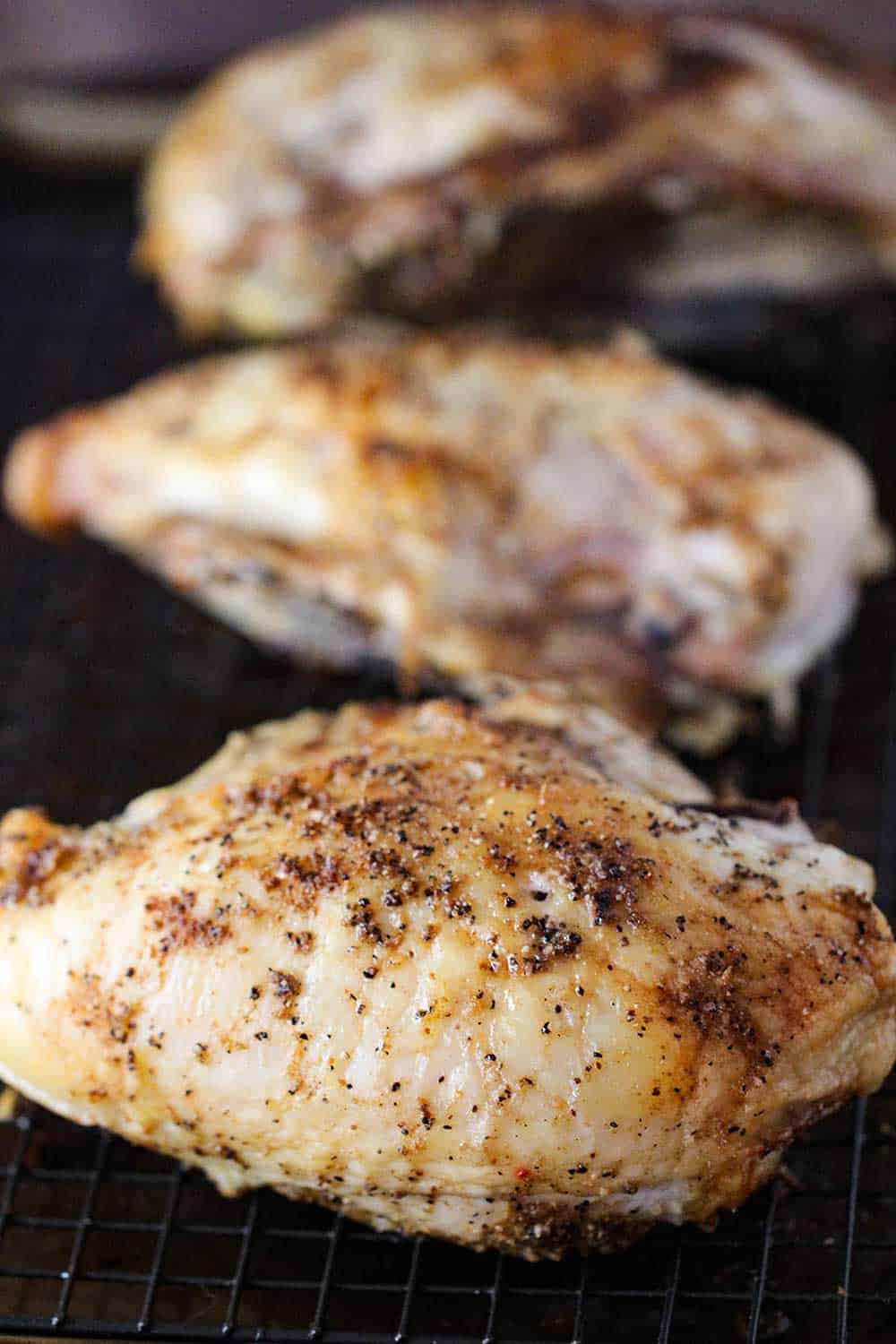 A DARK ROUX IS ESSENTIAL FOR GUMBO
A roux is a thickening technique that is used to make gravy or any liquid that needs to be thickened. A roux can be white, blond, brown, or dark brown.
A dark roux requires your full attention and will take about 25 to 40 minutes to the correct color. The roux can be made up to a day in advance.
EXPERT TIP: Once the flour has been incorporated into the oil, you'll want to use a whisk to constantly stir the roux. Even though you'll keep the heat low, the pan will still get quite hot and you must take extra care to not let the flour burn. Using a whisk helps to circulate the mixture more than a spoon will. And DO NOT leave the roux, while on the stove, unattended. It can catch on fire! Also, be careful as you whisk, if it splatters and gets on exposed skin, it can cause a burn.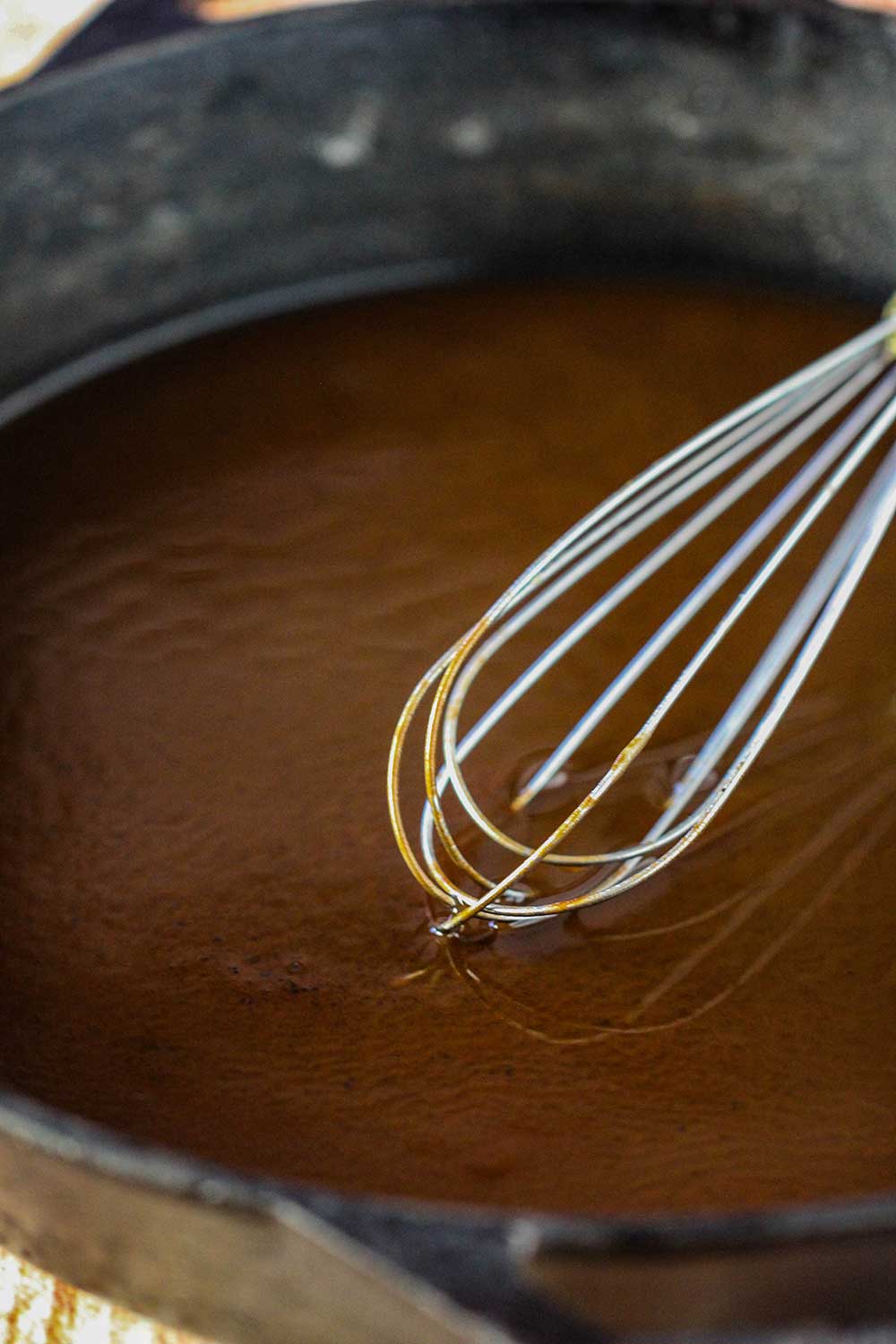 USING FILÉ IS TRADITIONAL, BUT NOT REQUIRED
Next, it's time to build the foundation of the gumbo.
In a large pot or Dutch oven, sauté the Cajun holy trinity: onion, celery, green bell pepper. But we're going a step further and adding chopped poblano and jalapeno to the mix. And then comes the seasoning. A combo of both white and black peppers are traditional. We love the addition of smoked paprika and chili powder.
EXPERT TIP: Filé powder is ground sassafras leaves and can be found in some markets in the Southern U.S. or online. It adds a depth of flavor to traditional gumbo that we really love. But, if you can't get your hands on any, don't worry about it. The gumbo will still be amazing without it.
After adding chicken stock and bringing it to a boil and then a simmer for 20 minutes, it's time to add the roux.
The gumbo will become darker in color and somewhat thicker.
After 30 minutes, add the chopped roasted chicken, then after another 30 minutes, add the sliced andouille sausage. And then in the last 10 minutes, add the seared okra.
CHICKEN AND SAUSAGE GUMBO FAQs
Is there a substitute for andouille sausage? Of course! You can really go with any type of smoked sausage. Andouille is traditional and does have a little more spice than other types of smoked sausage. We recommend slicing and then sauteeing the andouille to give it a little char and to lock in flavor, but this isn't necessary.
How do I know when the gumbo is done? If you follow the timeframe in the recipe, you should be good. As the gumbo cooks, the oil from the roux will separate and rise to the top. Use a spoon to skim visible oil. Typically, the gumbo is done when no more oil is rising to the top.
Is this gumbo spicy? This gumbo has a low-medium spicy-heat level. To reduce the heat, substitute regular smoked sausage for the andouille. Reducing, or omitting the jalapeno and chili powder and limiting the hot sauce will keep it very mild.
How long will gumbo keep? In the fridge for up to 1 week and in the freezer for up to 2 months.
HOW TO SERVE THE GUMBO
Gumbo is typically served over steamed white rice. Click the link to see how to make perfect steamed rice which is ideal for this gumbo.
Louisiana hot sauce is always a good addition to each serving, as well as some thinly sliced scallions, or green onions.
And then all you need is a big spoon and a hungry belly!
Ready to make delicious and authentic Cajun Chicken and Sausage Gumbo? Go for it!
And when you make it, be sure to take a picture and post it on Instagram and tag @howtofeedaloon and #howtofeedaloon.
Chicken and Sausage Gumbo
This gumbo is the real deal. Follow these steps and you'll have a deeply flavorful gumbo on your hands that feeds a hungry group of loved ones. And this gumbo is even better the next day!
Print
Pin
Rate
Servings: 10 people
Calories: 498kcal
Equipment
Large heavy skillet, such as cast iron (for making the roux)

Large soup pot, or Dutch oven
Ingredients
3 chicken breasts skin-on, bone-in, split
1 cup vegetable oil plus extra for chicken breasts
¾ cup all-purpose flour
1 tbsp Cajun seasoning
1 Kosher salt to taste
2 tsp black pepper divided, 1 for chicken, 1 for seasoning the gumbo
2 tbsp unsalted butter
1 cup yellow onion chopped
1 cup celery chopped
1 cup green bell pepper seeded and chopped
1 poblano pepper stemmed, seeded, and finely chopped
1 jalapeno finely chopped with seeds and ribs removed.
2 cloves garlic minced
2 quarts chicken stock
12 oz Andouille sausage cut diagonally into 1/2-inch slices
12 oz okra sliced, fresh or frozen (if frozen, let thaw)
2 cups white rice steamed
Cayenne hot sauce for garnishing
3 tbsp green onions thinly sliced, for garnish
Instructions
PREPARING THE CHICKEN
Pre-heat oven to 350°F.

Rub the chicken breasts all over with about 1 tbsp of oil, and season with about 1 tsp salt, 1 tsp pepper, and 1 tsp Cajun seasoning. Place on a rimmed baking sheet lined with a baking rack. Roast in the oven for 50 minutes, or until an instant-read thermometer reaches 165°F when inserted into the thickest part of the breast. Remove and let cool. Remove the skin and then pull the meat from the bone and cut into 1-inch pieces. Set aside.
MAKE THE DARK ROUX
In a large, heavy skillet, heat 1 cup of the oil over medium heat. Add the flour and use a whisk to fully incorporate.

Bring the mixture to a strong simmer, and then lower the heat to low. Whisk constantly until the roux has turned a dark brown color, about 30 to 40 minutes. Don't let the roux burn! If black specks appear, discard the mixture and start again. Transfer to a heat-proof bowl to cool.
PREPARE THE SAUSAGE AND THE OKRA
In a medium saucepan, heat about 1 tsp of oil over medium heat. Cook the sliced sausage until slightly browned, about 5 minutes. Set aside.

In the same skillet, over medium heat, add the okra and cook until no longer slimy and slightly browned, about 5 minutes. Set aside.
MAKE THE GUMBO
In a large soup pot, or Dutch oven, heat the butter over medium heat. Add the onion, celery, bell pepper, poblano, jalapeno and sauté until soft and translucent, about 4 to 8 minutes. Add the garlic and cook for another 1 minute.

Add salt (1 tsp), black pepper (1 tsp), white pepper (1 tsp), chili powder (1 tsp), smoked paprika (1 tsp), and filé powder (1 tsp) to the vegetables. Stir and cook for 1 to 2 minutes.

Add the stock and bring to a boil. Lower the heat to medium and simmer for 15 minutes.

Add 1 cup of the dark roux into the pot and stir to incorporate.

Add the chicken and simmer for 30 minutes. Skimming oil from the surface when visible.

Add the sausage and simmer for another 30 minutes, continuing to skim excess oil.

In the last 5 minutes, add the sauteed okra.

Taste and add salt, if necessary.

Serve over steamed white rice and cayenne hot sauce. Garnish with sliced scallions, if desired.
Notes
The roasted chicken, roux, sausage, and okra can be prepared up to 1 day in advance. Keep chilled in separate containers in the refrigerator.
You can substitute rotisserie chicken for roasted.
The roux typically takes 30 to 40 minutes over low heat to reach a dark brown color. Use a whisk instead of a wooden spoon. Don't leave the cooking roux unattended as the flour can catch on fire. Be very careful when stirring the roux and then transferring it to a heat-proof bowl. It will be very hot and can burn exposed skin if any splatters.
We recommend sauteeing the okra (fresh or frozen) to eliminate the slimy texture.
This gumbo is not terribly spicy, but there is a little heat. If you want very little spicy heat, then omit the jalapeno and chili powder.
As with many dishes, this gumbo is even better the next day.
The gumbo will keep in the refrigerator for up to 1 week and freezes perfectly for up to 2 months.
Serve in serving bowls filled with approx. 1 cup of steamed white rice.
If you can't find Cajun seasoning, make your own by mixing together:
2 tbsp paprika
1 tsp cayenne pepper
1 tsp dried oregano
1 tsp dried celery seed (optional)
2 tsp each: garlic powder and onion powder
½ tsp each: salt and black pepper
Nutrition
Calories: 498kcal | Carbohydrates: 50g | Protein: 31g | Fat: 19g | Saturated Fat: 7g | Cholesterol: 84mg | Sodium: 669mg | Potassium: 827mg | Fiber: 3g | Sugar: 5g | Vitamin A: 876IU | Vitamin C: 34mg | Calcium: 69mg | Iron: 2mg
POST UPDATE: This recipe was originally published in March 2014 but was updated with improved tweaks to the recipe and new photography, expert tips, and a fabulous new video!