If we had to choose one of our most favorite sides dishes of all time, this would be very near the top.

Crunchy, a little salty, and soft on the inside. They are truly addictive and so simple to prepare! They are classic Southern fare, without a doubt. A big ole plate of Chicken Fried Steak along site a pile Mashed Potatoes with Cream Gravy just wouldn't be complete without these perfectly fried little gems.


NOTE: If you liked this video, please subscribe to our YouTube Channel! And don't forget to click the little 'bell' notification icon so you won't miss a single recipe video!
How To Make Fried Okra
Okra is commonly used in Southern dishes such as Shrimp and Okra Gumbo or Stewed Tomatoes and Okra.
It has a bit of a "slimy" texture on the inside, but don't worry, a quick deep-fry takes care of any kind of slime factor.
Okra is not only delicious, but it also has awesome health benefits, too. But more than anything…it's just downright delicious.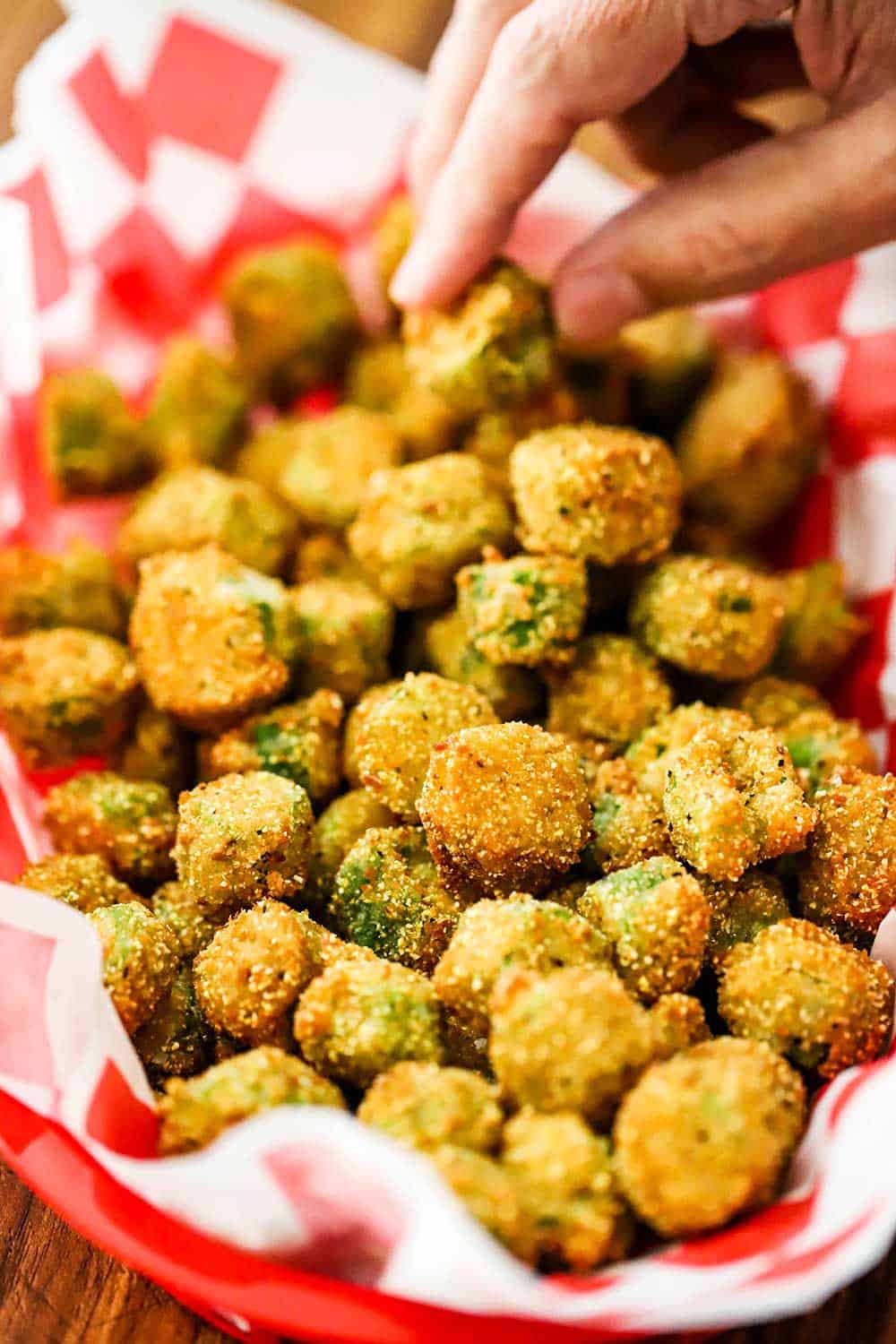 An Easy Technique for Breading Okra
We're going to set up our standard dredging station for fried okra.
Take three bowls, or pans, and fill the first one with all-purpose flour (about 1 cup), and then the second with whole milk (about 1½ cups), and then the third with a combination of fine bread crumbs (about ⅓ cup), fine/medium yellow cornmeal (about ⅓ cup), onion powder, salt, and pepper.
EXPERT TIP: We think a thin layer of breading is all that's needed for each piece of okra. It's okay if some of the green is showing through the breading. If you prefer an extra-crunchy breading, then run the okra through the dredging line-up twice. You'll need to increase all of the quantities if you do this.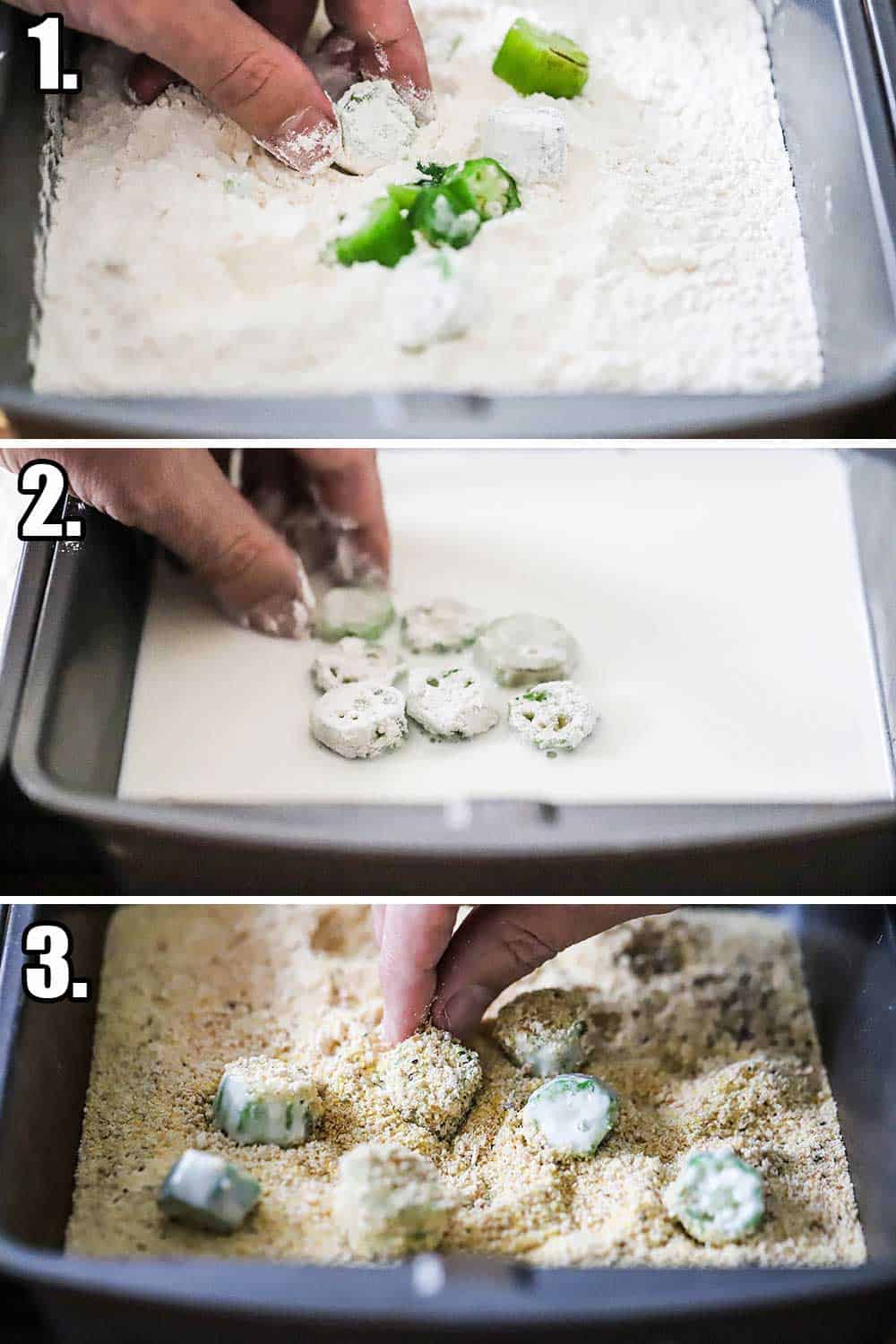 Tips for Making Fried Okra
Is Frozen Okra Okay To Use? Absolutely! In fact, we find that it works best. Frozen okra, once it thaws out, is naturally very wet and the flour adheres perfectly to it when added. Of course, fresh is great, too. We find that fresh okra can sometimes be a little less tender, but it's still wonderful.
Can I Bake Okra? Yes, you can. The baked version won't get that classic deep-fried taste and texture, but it will still be delicious. Turn your oven to 425°F and spray a baking sheet liberally with cooking spray or oil. Bake for about 20 minutes, moving the okra around on the pan about halfway through baking.
Can I Use My Air Fryer? Absolutely! This method is great! Preheat your air-fryer to 400°F. Working in batches, place the breaded okra into the basket and then liberally spray the okra with cooking spray. Cook for 5 minutes, open the basket and shake the okra, and then cook for another 5 minutes, or until golden and crisp.
What About My Skillet? You bet! Add about ½-inch of vegetable oil in a sturdy (ie, cast-iron skillet) and heat over medium-high heat. Add the breaded okra in batches, stirring often, and cook until golden and crispy on the outside.
Can I reheat the following day? Yes! Reheat in an oven set at 325°F for about 15 minutes, or heat in an air-fryer at 350°F for about 5 minutes. It won't be as crispy and as fresh as it was the previous day, but the okra will still be yummy.
Mmmm…perfectly fried okra. A thing of beauty.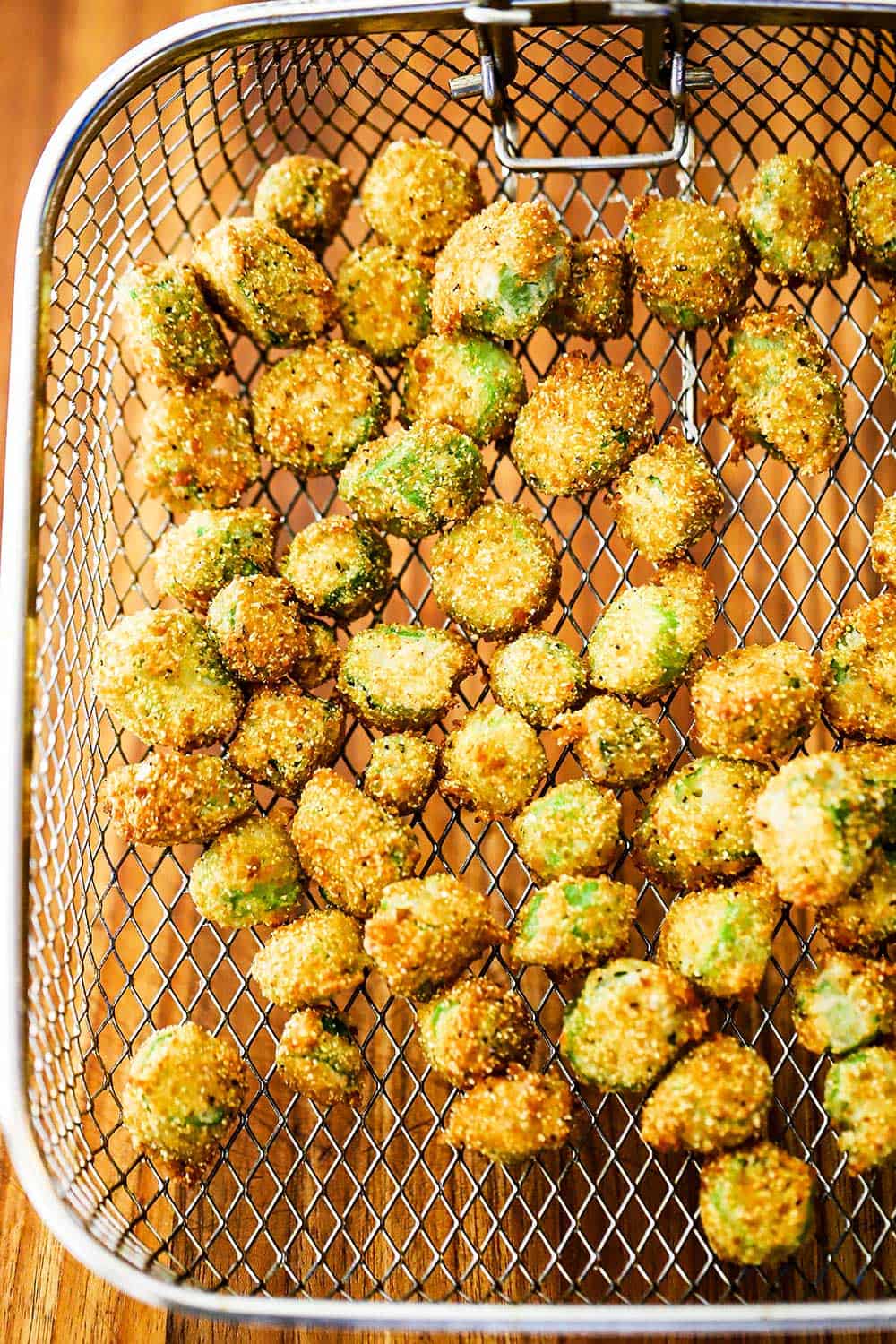 When and How To Serve
You can bread the okra up to 24 hours in advance before frying. Simply store in an air-tight container with a lid in the fridge. Allow it to come to room temperature before frying, baking, or air-frying.
As mentioned, this is the perfect side dish for so many classic dishes, including Chicken Fried Steak, Southern Fried Chicken, Cowboy Ribeye, or Grilled Marinated Chicken.
We love serving fried okra buffet-style, and let folks get as much as they want. We do recommend serving as soon as it's ready, but don't worry if it cools off a bit, these little babies are so loaded with flavor, folks will be coming back for more and more.
Oh, and did we mention this okra if even better with a little cream gravy poured over the top?
Or, plunged into a pool of warm cream gravy in a pile of mashed potatoes?
Hungry yet?
Ready to make the best side dish this side of the Alamo? Go for it!
And when you do, be sure to take a photo of it, post it on Instagram, and tag @HowToFeedaLoon and hashtag #HowToFeedaLoon!
Fried Okra
This fried okra is yet another Southern classic. So good and so tasty. Serve with your favorite Southern entree (aka Chicken Fried Steak), and you'll be in Heaven!
Print
Pin
Rate
Servings: 6 people
Calories: 295kcal
Equipment
Deep fryer, or sturdy skillet with candy-thermometer
Ingredients
2 lbs okra cut, thawed (if frozen)
1 cup all-purpose flour
1½ cup milk
¾ cup cornmeal fine, or medium-fine
¾ cup breadcrumbs plain
1 tsp onion powder
½ tsp seasoned salt
1 tsp salt
1 tsp black pepper
Vegetable oil for frying
Instructions
Heat the oil to 350°F.

Set up a dredging station with 3 bowls or plans. Place the flour in the 1st bowl, the milk in the 2nd bowl, and mix together the cornmeal, breadcrumbs, onion powder, seasoned salt, salt, and pepper.

Working in batches, drop some of the okra in the flour and toss to coat. Add the coated flour to the milk and move around to coat with milk. Add to the cornmeal/breadcrumb mixture and toss around to coat. If you prefer an extra crunchy breading, repeat this process.

Once all of the okra has been breaded, working in batches, carefully add to the hot oil. Use a fork, or metal spatula, to gently nudge the frying okra. This will keep the okra from sticking to each other.

Drain on paper towels. Repeat and then serve.
Notes
We find that frozen cut okra works wonderfully for this recipe. Allow the okra to thaw (this can be expedited by rinsing in a colander with cool water). The okra will be moist, which will help the flour adhere to the okra. Fresh works great, too. Just make sure the okra is ripe and soft to the touch. This okra is best served piping hot. But, it's still super tasty even after it becomes room temperature. The okra can be reheated in a warm oven for about 15 to 20 minutes. The okra can be prepped up to 12 hours in advance. Fry just before serving.
Nutrition
Calories: 295kcal | Carbohydrates: 55g | Protein: 11g | Fat: 12g | Saturated Fat: 2g | Polyunsaturated Fat: 1g | Monounsaturated Fat: 1g | Cholesterol: 6mg | Sodium: 719mg | Potassium: 653mg | Fiber: 8g | Sugar: 7g | Vitamin A: 1183IU | Vitamin C: 35mg | Calcium: 225mg | Iron: 3mg
POST UPDATE: This recipe was originally published in September 2015, but was updated with improved tweaks to the recipe with new tips and photography and a fabulous new video in September 2021!