These slowly braised green beans in tomatoes and onions have such a rich, deep flavor. You can make these any time of the year, but, of course, using nice, thick beans straight from the farmer's market, when they're in season, is the best of the best. Pull out your sturdy Dutch Oven, and the come together in a snap! Have I mentioned how much I love my Dutch Oven? Once you own one, you'll wonder how you ever got along in the kitchen without one!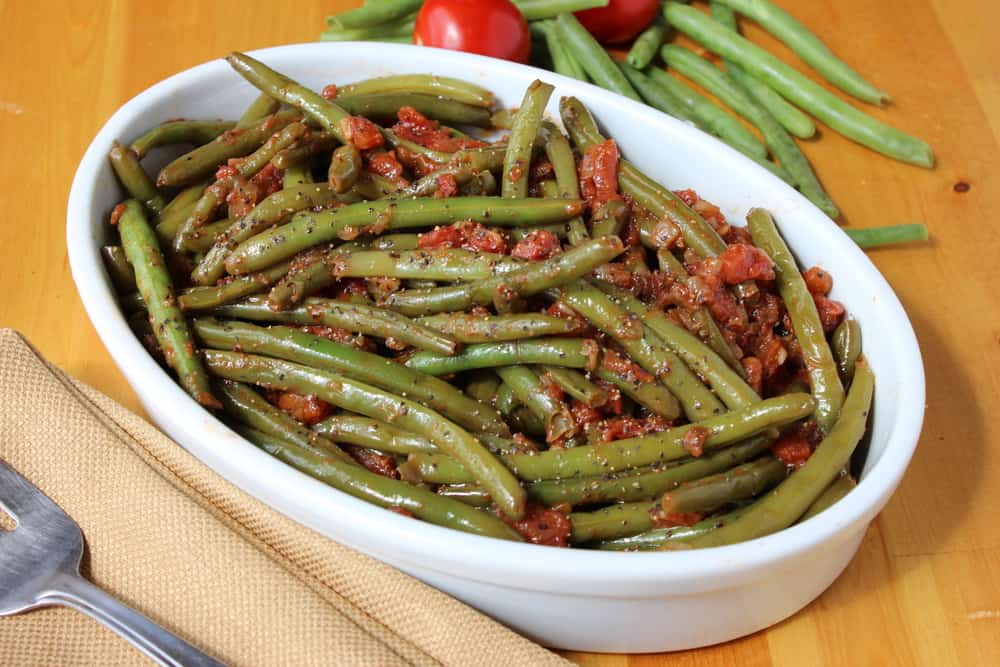 Braised Green Beans and Tomatoes
Braised green beans and tomatoes have a richness and a depth are are wonderful, anytime of the year!
Print
Pin
Rate
Servings: 8 people
Calories: 214kcal
Ingredients
2 tbsp olive oil
1 yellow onion chopped
2 cloves garlic minced
1 tsp ground cumin
1/4 tsp ground cinnamon
1/4 tsp red pepper flakes or more, to taste
1 1/2 lbs fresh green beans ends trimmed
1 can 14.5 oz dice Roma tomatoes
2 tsp red wine vinegar
Salt and pepper to taste
Instructions
Over medium heat, in a Dutch oven, warm the olive oil.

Add the onion and saute until soft, about 5 minutes.

Add the garlic and saute for about 30 seconds.

Stir in the cumin, cinnamon, and red pepper flakes.

Add the green beans and stir them to coat with the spices.

Cook, stirring, until beans are barely tender...about 4 minutes.

Stir in tomatoes, cover, reduce heat to low, and cook until beans are very tender, about 20 minutes.

Stir in the vinegar and season with salt and pepper. Serve at once.
Nutrition
Calories: 214kcal