If you're like us, you're always looking for a special side dish that is a twist on a classic. Well, here you go.
There is just everything to love about this deeply flavorful side dish. The fresh beans are braised until they are tender and infused with warming spice. The dish is gorgeous and is perfect for any holiday feast. Or, just an easy meal at home! And it comes together very quickly!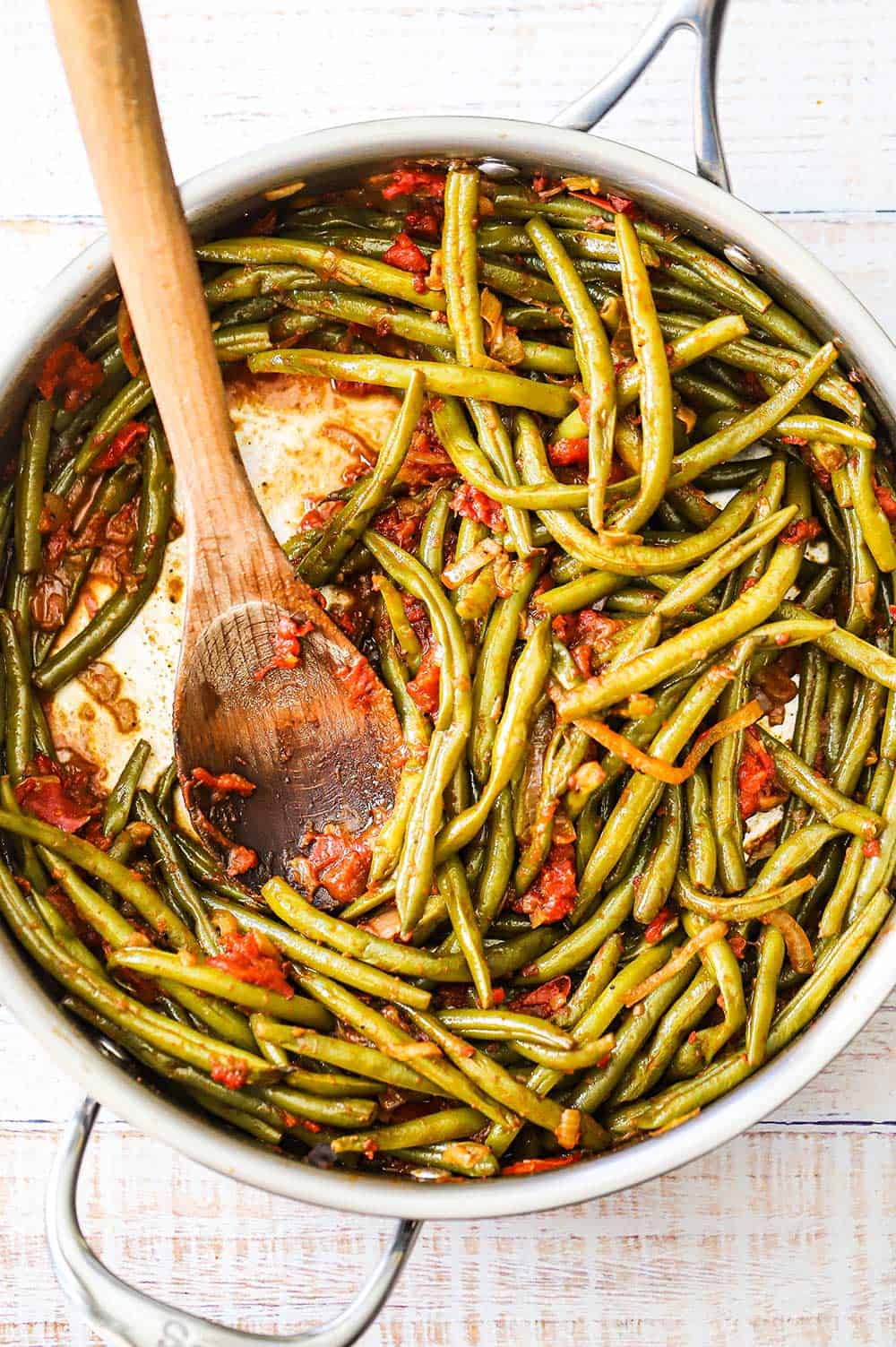 How To Make Braised Green Beans with Tomatoes
When you see how easy this dish is to prepare, you'll want to run out and get the ingredients immediately.
And you can prepare the dish (up to braising) well in advance of serving.
One word of warning: Be prepared for folks asking for the recipe. It's always a crowd favorite.
NOTE: If you liked this video, please subscribe to our YouTube channel. Remember to click the "bell" icon so you'll never miss a new video! Thank you!
How To Cook Green Beans
Fresh green beans are loaded with farm fresh flavor and are loaded with health benefits.
But you may be wondering: "how do you keep green beans from being rubbery?"
That's easy! Braising is the key to soft, tender, flavorful green beans.
EXPERT TIP: When purchasing fresh green beans, make sure they are bright green and not brown in spots and beginning to shrivel. If they have stems at the end of them, simply clip them off. If you prefer short green beans (like what you get in a can), just slice the beans in half with your knife.
What Can I Add to Green Beans for Flavor?
This is where we are going to transform the everyday green bean into a dish that is layered with warming flavors.
Once the green beans have begun to soften, you're going to add the following seasonings:
Ground Cinnamon
Ground Cumin
Red pepper flakes
Salt and pepper
EXPERT TIP: The addition of diced tomatoes will add even more flavor and will serve as the perfect ingredient to braise the seasoned beans. A final splash of red wine vinegar brings it all together. You'll want to make sure you start with a large skillet (or Dutch oven) with a lid for the braising process.
When and How To Serve Braised Green Beans with Tomatoes
This has become a staple side dish for our Easter table. It really is the perfect accompaniment to our Slow-Cooker Spiral Ham or Honey Bourbon Glazed Ham.
Other classic holiday dishes:
EXPERT TIP: For added flavor and a little crunch, we like to sprinkle sliced almonds over the top of the beans. For even more flavor, you could toast them, but keep an eye on them, they burn easily!
If you're looking for a new twist on a classic side dish, this is one you'll want to try.
The flavors aren't exotic, but just comforting, tender, and so delicious.
Always a favorite at the table. And it's ideal for holiday feasts or just an easy weeknight dinner at home. Perfect in every way!
Braised Green Beans with Tomatoes
Braised Green Beans with Tomatoes is a wonderful twist on a familiar vegetable. The ground cinnamon gives a bit of warmth and the cumin and red pepper flakes add an amazing depth of flavor. Perfect for your holiday table or just a simple meal at home.
Print
Pin
Rate
Servings: 6 people
Calories: 122kcal
Equipment
1 12-inch saucepan (or Dutch oven) with lid
Ingredients
2 tbsp extra-virgin olive oil
1 yellow onion sliced
2 cloves garlic minced
1 tsp ground cumin
¼ tsp ground cinnamon
¼ tsp red pepper flakes or more, to taste
1½ lbs green beans fresh, ends trimmed
1 14.5 oz can diced tomatoes with their juice
2 tsp red wine vinegar
1 tsp Kosher salt
½ tsp black pepper
¼ cup almonds sliced, toasted, for garnish (optional)
Instructions
Over medium heat, in a large skillet (with lid) or a Dutch oven, warm the olive oil.

Add the onion and saute until soft, about 5 minutes.

Add the garlic and sauté for about 30 seconds.

Stir in the cumin, cinnamon, and red pepper flakes.

Add the green beans and stir them to coat with the spices.

Cook, stirring often, until beans are barely tender, about 4 minutes.

Stir in tomatoes, cover, reduce heat to low, and cook until beans are very tender, about 20 minutes.

Stir in the vinegar and season with salt and pepper. Transfer to a serving bowl and top with almond slices/slivers (if using).
Notes
See the video near the top of the blog post for visual guidance. If you liked the video, please subscribe to our YouTube channel.
The dish can be made in advance up to braising. 30 minutes before serving, add the tomatoes with juice and then follow the recipe as written.
In a pinch, three (3) 14.5 oz. cans of green beans (drained) can be used in place of fresh. Follow the recipe as written, but remember, beans will be very, very soft (but still delicious).
The entire dish can be made in advance (up to 12 hours), chilled, and then reheated on the stove until heated through and simmering. You may need to add a little vegetable broth or water if the beans are a little dry.
Leftovers will keep for up to 4 days in the fridge and can be frozen for up to 2 months. Reheat on the stove over medium heat.
Nutrition
Calories: 122kcal | Carbohydrates: 12g | Protein: 4g | Fat: 8g | Saturated Fat: 1g | Polyunsaturated Fat: 1g | Monounsaturated Fat: 5g | Trans Fat: 1g | Sodium: 398mg | Potassium: 325mg | Fiber: 4g | Sugar: 5g | Vitamin A: 813IU | Vitamin C: 16mg | Calcium: 69mg | Iron: 2mg
POST UPDATE: This recipe was originally published in April 2014, but was updated with improved tweaks to the recipe with new tips and photography and a fabulous new video in April 2022!