If there was ever a soup that was the definition of Spring vibrance, this would be it.
There is something spectacular about pure juice extracted from carrots and ginger root. The flavor is truly unmatched and it just doesn't get much more beautiful of a presentation than this soup. The fresh herb mousse is the perfect garnish. Ideal for your Easter feast or anytime you are looking for a delicious and gorgeous soup to serve.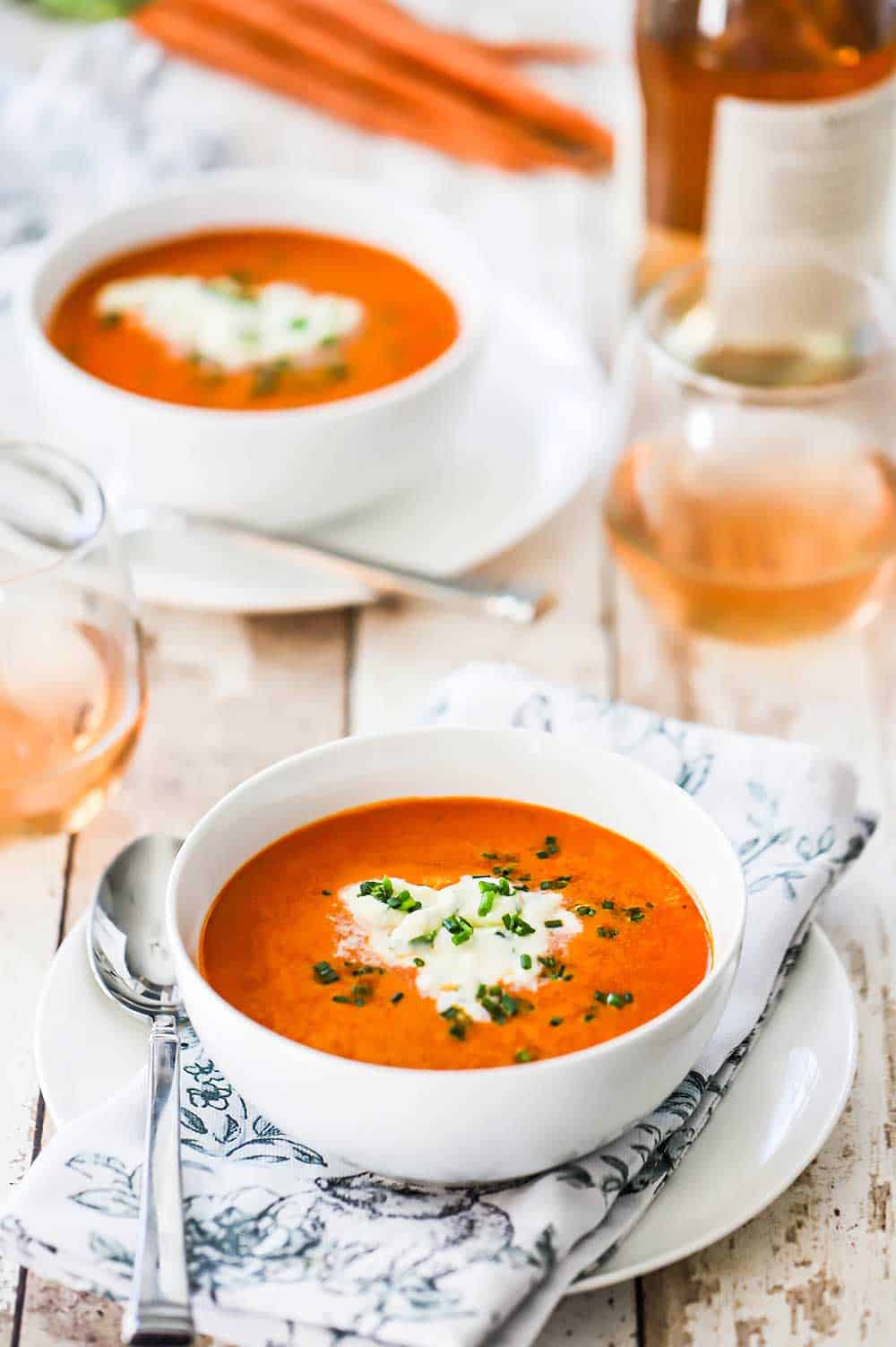 How To Make Carrot Ginger Soup
Carrot Ginger soup is not difficult to make.
It is truly so delicious because of the simplicity and freshness of the ingredients.
NOTE: If you liked this video, please subscribe to our YouTube channel. Remember to click the little 'bell' icon so you'll never miss a new video! Thank you!
How To Juice Carrots and Ginger
The short answer to this question is with a juicer.
There is a myriad of juicers available to consumers nowadays, but we recommend going with a quality brand.
Our favorite (and the one we use all the time) is our Breville Juice Fountain Cold Centrifugal Juicer.
EXPERT TIP: If you don't have a juicer, no worries. Fresh carrot juice can be found in many the produce area of many well-stocked supermarkets. Whole Foods and Central Market both carry it. If you can't find ginger juice, simply peel and finely mince 1 tbsp and include it during the sautéing process.
To make this soup as deep in carrot and ginger taste as possible, we combine both fresh with sautéed vegetables.
In a large skillet, you'll need to sauté fresh carrots with onion until softened. The addition of honey and ground ginger adds another depth of flavor that is slightly sweet and slightly savory.
EXPERT TIP: A little ginger juice goes a long way. You'll be tempted to add more to the soup, but add in small amounts, and taste test. The addition of orange zest adds another layer of freshness that is just wonderful. The star taste of this soup is the carrots, but the ginger and orange bring it to another level.
Carrot Ginger Soup FAQs
Do You Cook Carrots Before Putting in Soup?
We highly recommend sautéing 2 lbs of fresh carrots before adding the fresh carrots. The onion and honey will infuse into the softened carrots and another layer of flavor that is amazing.
What are the Benefits of Carrot Soup?
Carrots are abundantly loaded with beta-carotene, the same pigment that gives carrot its bright orange color. Beta-carotene helps improve eyesight and keep seasonal infections at bay. Carrots and ginger are both known for helping the body heal and stay healthy through their immunity-boosting powers.
How Long Does Homemade Carrot Soup Last?
This soup will keep in the fridge in a container with a lid for up to 1 week. It freezes beautifully for up to 2 months. Thaw and gently reheat over medium heat on the stove.
EXPERT TIP: When it's time to purée the soup, you have a couple of options.
Immersion Blender: An immersion blender is easy to use, but it can cause quite a bit of splattering and you will most likely still have chunks of carrots.
Free-Standing Blender: When using a blender (our preferred method), carefully ladle the soup into the blender and cover the top with a kitchen towel to prevent leakage. Always take extra care when transferring hot liquids!
How To Serve
Carrot Ginger soup is wonderful served chilled, at room temperature, or warmed. Our favorite is slightly chilled, just slightly cool. This usually requires four to five of hours of chilling in the fridge before serving.
The herbed mousse can be made hours in advance and is really a wonderful addition to the soup.
For a gorgeous presentation, transfer the soup to a food-safe pitcher and then pour it into guests' soup bowls at the table.
The carrot ginger soup is really the perfect beginning to a spectacular Springtime feast – Easter, for example.
Looking for other Easter dish ideas? How about our:
And, trust us, when you serve this, you will be setting the stage for a feast that your guests will be talking about for quite some time.
Ready to make the most delicious (and delicious) soup in town? Go for it!
And when you do, be sure to take a photo of it, post it on Instagram, and tag @HowToFeedaLoon and hashtag#HowToFeedaLoon!
Carrot Ginger Soup
Carrot Ginger Soup is truly a spectacular dish that is wonderful served chilled, room temperature, or warm. The herbed mousse puts it over the top and can also be made in advance. This soup is truly as gorgeous as it is delicious.
Print
Pin
Rate
Servings: 8
Calories: 219kcal
Equipment
Blender or immersion blender

Hand mixer
Ingredients
For the Carrot Ginger Soup
2 tbsp olive oil
1 medium onion chopped, about 1 cup
2 lbs carrots peeled and sliced
1 tsp Kosher salt
½ tsp black pepper
2 tbsp honey
6 cups carrot juice fresh
¼ cup ginger juice fresh
orange zest from 1 orange
orange juice about 2 tbsp, from 1 orange
For the Herbed Mousse
8 oz crème fraîche
1 tsp oregano fresh, chopped
1 tsp parsley fresh, chopped
1 tsp chives fresh, snipped, plus more for garnish
Instructions
Make the Soup
If juicing the carrots and ginger, do this first and set aside.

In a large saucepan/skillet, heat the oil over medium heat. Add the onions and sliced carrots and cook until softened, about 5 minutes.

Stir in the honey, salt, and pepper. Cook until the carrots are very soft, about 15 more minutes.

Add the carrot and ginger juices and bring to a simmer. Stir in the orange zest and orange juice. Taste and add more salt, if desired.

Purée the soup in a blender (transferring the liquid very carefully) or in the skillet with an immersion blender. If not serving hot, allow to cool somewhat before serving. If serving cool or chilled, transfer to a large container with a tight-fitting lid and place in the refrigerator for 4 to 5 hours for slightly chilled, or overnight for fully chilled. Serve with a dollop of herbed mousse and a sprinkling of chopped chives on top.
Make the Herbed Mousse
In a medium bowl, use a hand mixer to incorporate the fresh herbs into the crème fraîche for about 1 to 2 minutes, or until light and fluffy. Store in the fridge, covered, until ready to use, up to 1 day.
Notes
See the video near the top of the blog post for visual guidance. If you liked the video, please subscribe to our YouTube channel.
Fresh carrot juice can be found in the refrigerated produce section of many well-stocked supermarkets or at fresh juice establishments. We find it at Whole Foods and Central Market.
See the blog post for a link to the juicer we use to easily juice carrots and ginger.
If you can't get fresh ginger juice, add 1 tbsp of minced fresh ginger to the carrot slices and onion while sautéing. After adding the fresh carrot juice, use a box grater to grate about 1/4 cup of fresh ginger into the mixture.
Our favorite way to serve this soup is slightly chilled. It's wonderful fully chilled and also warm, too. If the soup is fully chilled, then let sit out for about 1 hour for slightly chilled or warm in a large skillet to heat through.
The soup will keep in the fridge for up to 1 week and freezes beautifully for up to 2 months.
This soup is delicious and gorgeous, but also extremely healthy and high in immunity-boosting attributes.
Nutrition
Calories: 219kcal | Carbohydrates: 35g | Protein: 4g | Fat: 8g | Saturated Fat: 3g | Polyunsaturated Fat: 1g | Monounsaturated Fat: 3g | Sodium: 516mg | Potassium: 911mg | Fiber: 5g | Sugar: 18g | Vitamin A: 52806IU | Vitamin C: 23mg | Calcium: 89mg | Iron: 1mg
NOTE: This recipe is somewhat adapted from "The Home Cook" by Alex Guarnaschelli.