This air fryer dish is easy, fast, authentic, and more than anything…delicious.
We are crazy about eggplant parmesan, and we do love making it the traditional way of frying eggplant medallions and then baking them with layers of mozzarella and Parmesan cheese. But, folks, when you take one bite of this air fryer version, you may never go "traditional" again! It's just as delicious and so much easier and healthier!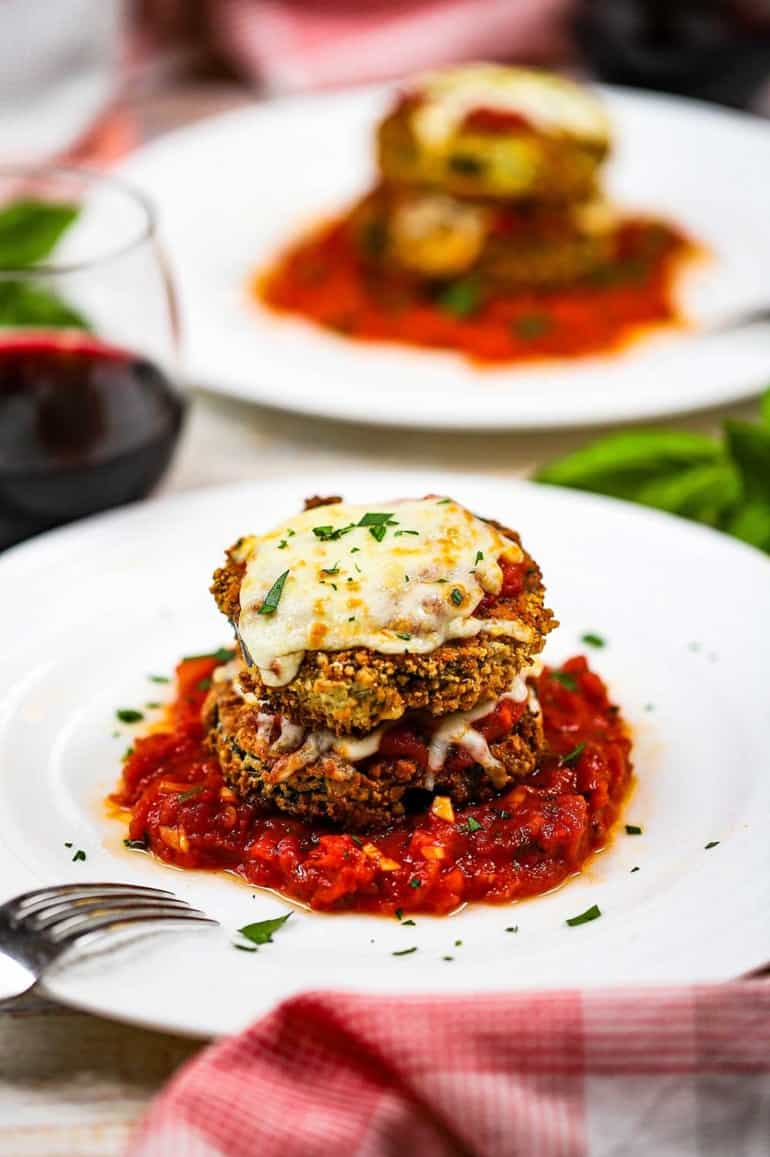 How To Make Air Fryer Eggplant Parmesan
If you're looking to purchase an air fryer, we love our Ninja Air 5.5 Qt Air Fryer that can also air roast, bake, reheat, and dehydrate. If you're happy with your current air fryer, then this recipe will work perfectly!
To make this eggplant parm the best it can be, we make our marinara sauce from scratch, but top-notch purchased marinara will work just fine, too.
NOTE: If you liked this video, please subscribe to our YouTube channel. Remember to click the little 'bell' icon so you'll never miss a new video!
The Ingredients You Will Need
This recipe is incredibly pantry-friendly. You'll probably have many of the ingredients on hand. You can easily grab 1 or 2 eggplants from the produce section of your local grocery store.
Here's What You'll Need
Eggplant – Medium size is perfect, but large or small will work, too
Flour – All-purpose
Egg – 1 beaten with a little water
Bread crumbs – Go with your favorite, we love Panko
Parmesan cheese – Grated
Seasoning – Italian, or just good ole dried oregano
Salt – Just a pinch
Cooking spray – Makes the breading extra crunchy
Mozzarella – Shredded works well
Marinara – Homemade can be made days in advance!
Parsley – Fresh, for a pretty garnish (but totally optional)
EXPERT TIP: Set up a simple dredging station. We use baking pans, but you could use a combination of plates (for the flour and then for the breadcrumb mixture) and a bowl (for the egg bath). For an extra crunchy breading (recommended), dredge each breaded eggplant a second time through the egg and then again through the breadcrumb mixture.
Tips For Perfect Air Fryer Eggplant Parmesan
Mise en Place (Everything In Its Place) – Because air frying is so fast, you'll want to have all of your ingredients ready to go before you start air frying. Go ahead and gently heat your marinara before you start preparing the dish. It only takes about 8 minutes to fry the eggplants and then another couple of minutes to "bake" the final dish.
Prepare the Marinara in Advance – This dish is so authentic tasting, you shouldn't skimp on the marinara sauce, which is a key component to the taste. You can easily make our homemade marinara up to 4 or 5 days in advance. You can even make a double batch and then freeze batches of it for up to 2 months. Of course, in a pinch, purchased marinara will be perfectly fine.
Keep An Eye on Things During the Air Frying Process – Honestly, most air fryers will cook your food perfectly in a very short amount of time. It's absolutely okay to open the basket periodically to check on the doneness. Remember, when you flip the eggplants, they will be close to finished, and not need long to finish them off.
How To Serve
Two stacked breaded eggplant medallions layered with marinara sauce, melty mozzarella, and Parmesan cheese, resting on a bed of more marinara sauce is an ideal main-course serving for one hungry adult. We love to serve it with a side of cooked pasta and extra marinara.
If you're serving more than two people, then fry up the eggplant and keep them warm in a low-temp (200°F) oven.
If you want to make a traditional dish of eggplant parm, then fry the eggplant up as directed, and then layer them in a 9×13-inch baking dish. Start with a thin layer of marinara, then a layer of air-fried eggplant, then add mozzarella, and parmesan. You could even double-stack all of this if desired. Bake in a 350°F oven for 20 minutes, or until cheese is melty and bubbly.
EXPERT TIP: We recommend using "farm cut" or "wide cut" shredded mozzarella, if possible. It melts wonderfully and can easily be piled on top of each eggplant in the fryer. If your air-fryer doesn't have the "bake" or "or bake" or "roast" setting, then simply just air fry like you normally would. Keep an eye on them and don't let the cheese burn!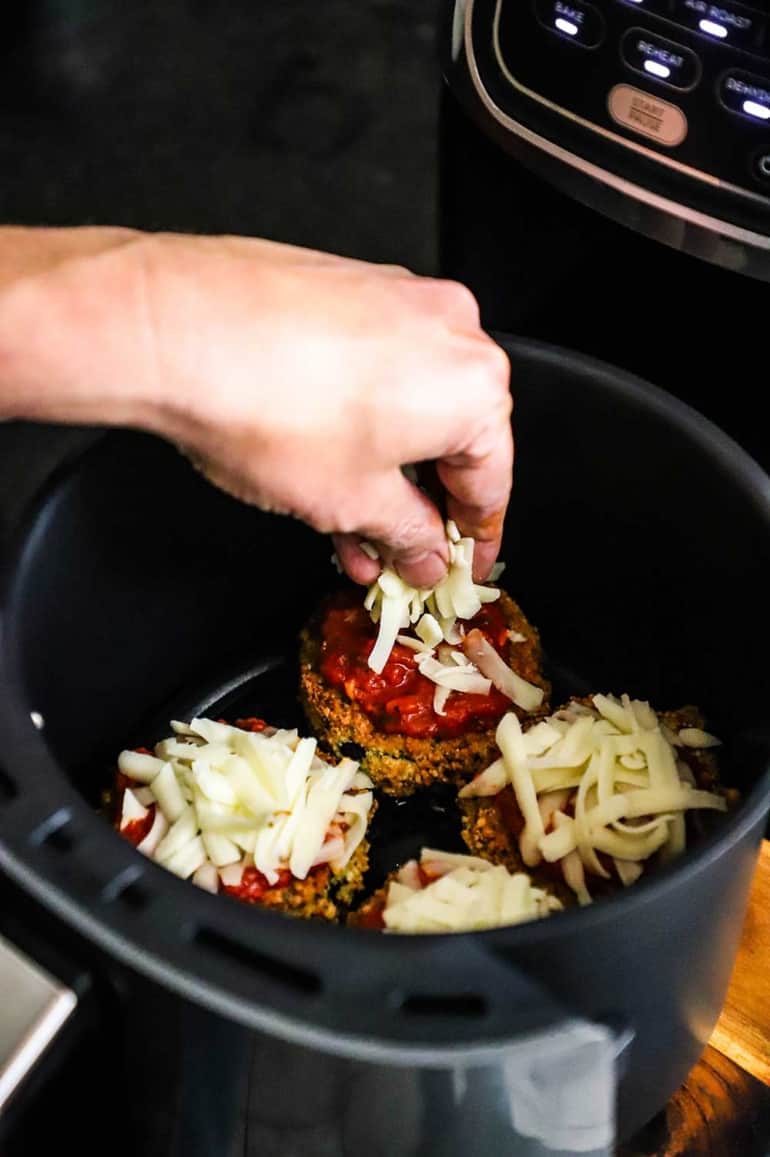 Other Air Fryer Recipes to Try
As we are publishing this eggplant parmesan recipe, we are just beginning a new series dedicated to air fryer dishes.
Therefore, our air fry catalog of recipes is thin at the moment. But don't worry, we'll be adding many more in the coming months.
We'll include appetizers, side dishes, main dishes, desserts, and more. You should check out:
Air Fryer Shrimp and Artichoke Phyllo Triangles
Air Fryer Cordon Bleu Meatloaf
In the meantime, doesn't this look like an amazing dish to whip up in your air fryer?
Air frying is an absolutely wonderful way to prepare almost any dish you are craving.
It's fast. It's easy. It's healthy (or at the very least: healthier). And it's amazingly delicious.
If you are new to air frying or a seasoned pro, we guarantee you will love this eggplant parmesan!
One bite, and you'll understand why!
Ready to make an air fryer main dish that will rival your favorite Italian eatery? Go for it!
And when you do, be sure to take a photo of it, post it on Instagram, and tag @HowToFeedaLoon and hashtag #HowToFeedaLoon!
Air Fryer Eggplant Parmesan
This dish is incredibly simple (and fast) to prepare, and it is amazing how authentic the taste and texture are. If you can, make the homemade marinara in advance, but if not, quality store-bought is perfectly acceptable.
Print
Pin
Rate
Servings: 2
Calories: 426kcal
Ingredients
1 medium eggplant sliced into ½-inch medallions
Kosher salt
½ cup all-purpose flour
2 large eggs
1½ cup breadcrumbs
1 cup Parmesan cheese grated, divided
1 tsp Italian seasoning or dried oregano
Cooking spray
3 cups marinara sauce
1 cup mozzarella shredded
Instructions
Place the sliced eggplant medallions in collander and sprinkle with salt all over. Place over another large bowl or in the sink. Let them rest while you prep the ingredients and air fryer.

Set up a dredging station with three separate vessels (plates and/or bowls). In the first vessel, add the flour. In the second vessel, beat together the eggs with two teaspoons of water. In the third vessel, mix together the breadcrumbs, ½ cup Parmesan cheese, Italian seasoning, and a pinch of salt.

Rinse the salt off of the eggplant medallions with tap water. Pat dry with paper towels.

Bread the eggplant medallions by dredging them first through the flour, shaking off excess, and then dredging them in the egg/water mixture. Allow excess egg to drip off each medallion, and then dredge through the breadcrumb mixture. For extra crispy eggplant, repeat dredging through the egg and then again through the breadcrumb mixture. Place on a platter.

Preheat the air fryer to 350°F.

Liberally spray the breaded medallions all over with cooking spray.

Place the breaded eggplant medallions into the basket of the air fryer and air fry for 6 to 8 minutes. Check on them after about 5 minutes. Once they are golden brown, you'll want to use a rubber spatula to carefully flip them over. Close the basket door and air fry for another couple of minutes.

Remove the basket from the air fryer and spoon a healthy tablespoon of wamr marinara on the top of each eggplant. Top with a heaping mound of mozzarella, and then sprinkle each with parmesan cheese.

Close the door and "air bake" or "roast" or leave on "air fry" for about 2 to 3 minutes. Check about halfway through. They will be done when the cheese is completely melted and lightly browned in spots.

Remove fried eggplant medallions from the basket, and if desired, double-stack them. Spoon about ½ to 1 cup of warm marinara sauce in the middle of a dinner plate and place the stacked fried eggplant on top. Garnish with chopped parsley, if desired.
Notes
See the video near the top of the blog post for visual guidance. If you liked the video, please subscribe to our YouTube channel.
The recipe can easily be doubled or tripled. After frying each batch of eggplant medallions, place them on a baking sheet with a rack in a low temp oven (200°F). If desired, you can bake them in the oven with the marinara, mozzarella, and Parmesan already added. Bake at 350°F for about 15 minutes.
Leftovers will keep in the fridge for up to 2 days, although, the eggplant will lose its crispiness.
The marinara sauce (if making) can be prepared up to 5 days in advance and kept covered in the fridge, or frozen for up to 2 months.
Nutrition
Calories: 426kcal | Carbohydrates: 118g | Protein: 45g | Fat: 12g | Saturated Fat: 4g | Polyunsaturated Fat: 2g | Monounsaturated Fat: 3g | Trans Fat: 0.02g | Cholesterol: 220mg | Sodium: 1408mg | Potassium: 1936mg | Fiber: 17g | Sugar: 17g | Vitamin A: 2325IU | Vitamin C: 31mg | Calcium: 863mg | Iron: 11mg