These babies are the perfect appetizers for entertaining. Or, for serving for a special date night at home.
We absolutely love using our IKICH 6 QT Air Fryer to make these amazingly delicious, healthy, and gorgeous treats! And they only cook (air fry) for 5 minutes per batch!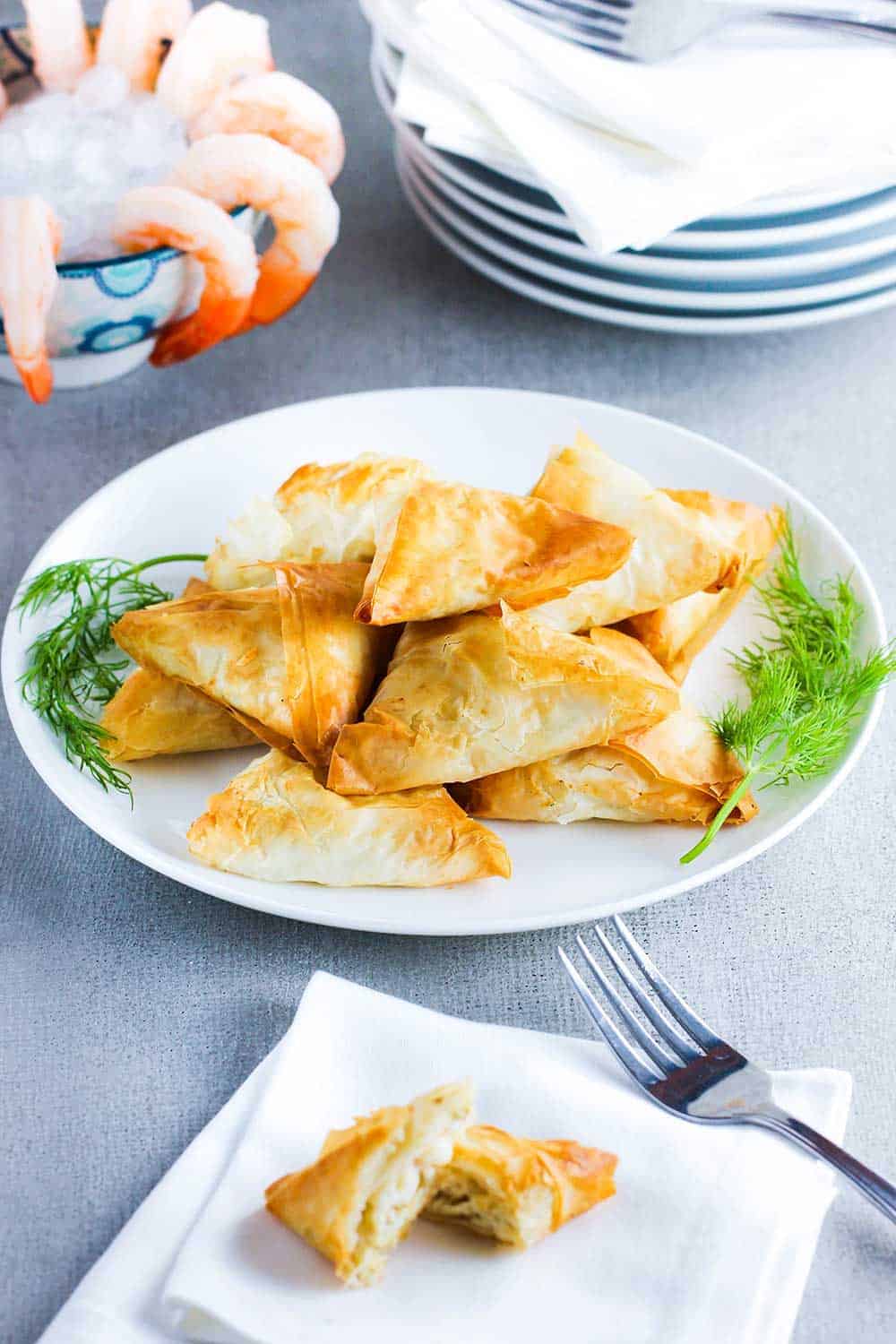 HOW TO MAKE AIR FRYER SHRIMP AND ARTICHOKE PHYLLO TRIANGLES
Pick up some pre-cooked medium-sized shrimp from the seafood department in your local market. If the tails are still on, remove them and then roughly chop the shrimp.
Mix together with the remaining filling ingredients. And then build the phyllo triangles!
Watch us show you how to make these delicious and easy appetizers!
Phyllo dough is usually found in the frozen section of your grocery store, typically near the frozen desserts.
Be sure to let the dough completely thaw before starting the recipe.
EXPERT TIP: These appetizers are so delicious, and you can adapt them to whatever your tastes are. Fresh herbs are always a nice touch, as is a little acid, such as lemon juice, Dijon mustard, a little cheese, and a protein such as shrimp or chicken is wonderful.
HOW TO MAKE THE FILLING
Preparing the filling for Air Fryer Shrimp and Artichoke Phyllo Triangles couldn't be easier.
Simply add them all to a medium-sized bowl and stir with a fork until well blended.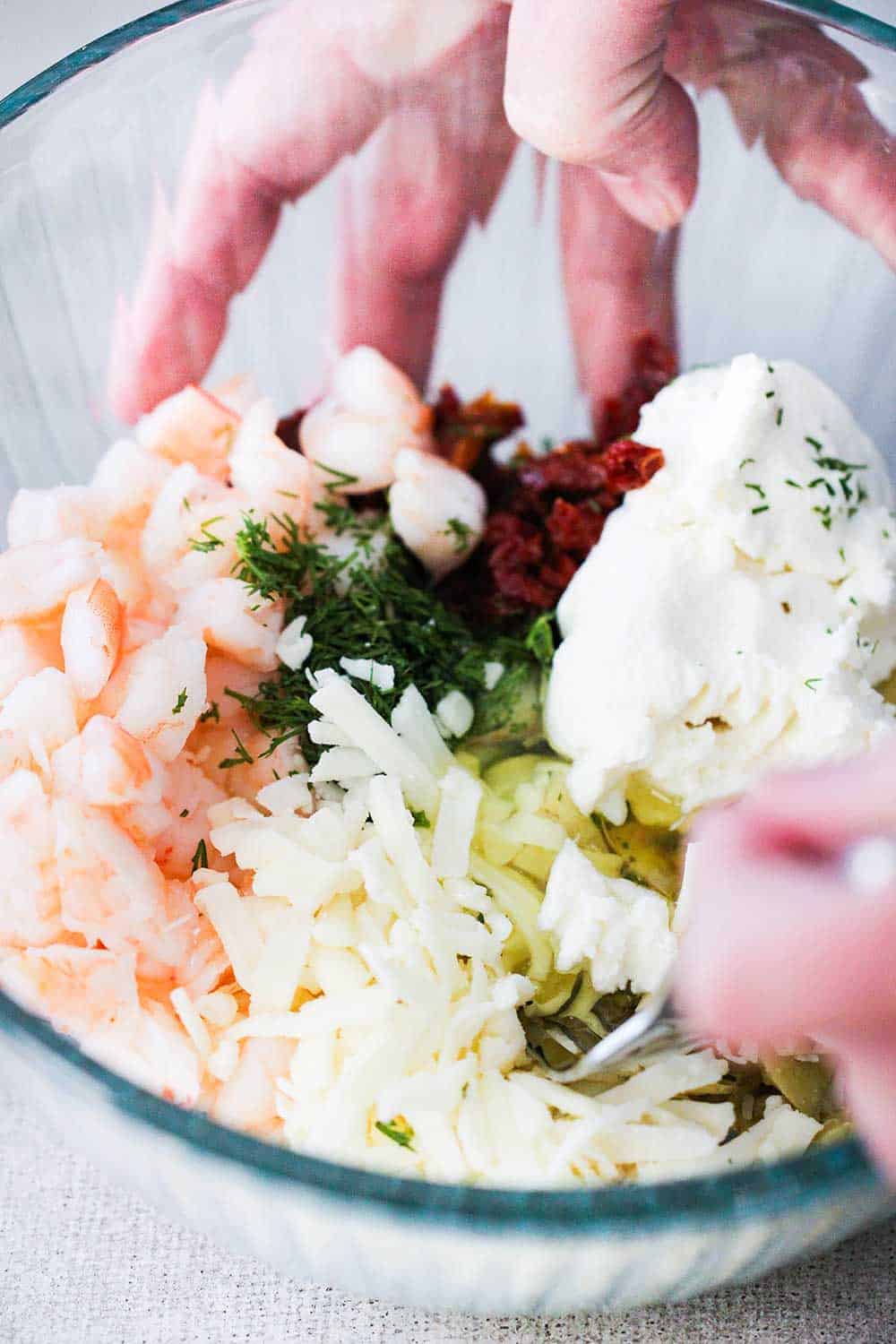 FOLDING THE PHYLLO TRIANGLES
Creating the phyllo triangles is really easy and actually kind of fun.
Start by taking one sheet (thawed) of the phyllo dough and lay it flat on a clean surface. Brush with melted butter, and add another layer of dough.
Cut the layered dough into 3 strips, length-wise. At the end of each strip, add 1 heaping tablespoon of the shrimp and artichoke mixture.
If you've ever folded a flag into a triangle, then this next part will be snap. If you haven't folded a flag before, we're going to show you how.
Simply carefully grab the bottom right-hand corner of the phyllo strip near the filling you just added. Fold the corner of the dough over the filling to connect to the other side, forming a triangle.
Keep folding, in the same manner, always forming a triangle as you go. Once you've folded all you can, seal the edges with more melted butter.
AIR FRYING IS HEALTHY AND EASY
It's now time to cook our Air Fryer Shrimp and Artichoke Phyllo Triangles! Our IKICH 6 QT Air Fryer has a large square basket, which can serve food for 2-6 persons at one time.
We add six triangles at a time into the basket.
You can open the basket at any time and check on the triangles. This is awesome because as soon the door opens, the air fryer stops cooking. We move the triangles around at this point for even browning. Then we close the basket and then the cooking resumes with us not even having to re-set the timer!
You won't believe how quickly these amazing appetizers cook up!
IKICH utilizes 360° hot air technology and circulates hot air at a high speed from every angle, cooking your favorite dish without losing the nutrition and taste. The air fryer contains upgraded non-stick coating and the material is PFOA-Free. And the basket is dishwasher-safe.
This sleek and gorgeous stainless steel air fryer cooker is equipped with a mirrored touchscreen and is so simple. We simply set the temperature to 370°F and the timer to just 5 minutes!
AIR FRYER SHRIMP AND ARTICHOKE PHYLLO IS PERFECT FOR ENTERTAINING
These really are gorgeous in presentation and when your guests bite into one, they will love the taste and texture.
If you're looking for a dipping sauce, we think our Classic Cocktail Sauce is perfect. You might also like our Kickin' Remoulade Sauce.
And let us say again, that we just love our IKICH 6QT Air Fryer. And talk about the PERFECT Christmas gift!
Ready to make the best appetizer in town? Go for it!
And when you make these, be sure to tag @howtofeedaloon and #howtofeedaloon!
Air Fryer Shrimp and Artichoke Phyllo Triangles
This really is the quintessential appetizer. Perfect for serving at parties and during the holidays. You can adapt the recipe to your own tastes. Sauteéd mushrooms are delicious, and you can easily substitute sausage or chopped cooked chicken for the shrimp.
Print
Pin
Rate
Servings: 10
Calories: 147kcal
Ingredients
¼ lb shrimp fully cooked, tails removed and roughly chopped
⅓ cup artichoke hearts marinated, drained, roughly chopped
⅓ cup sun-dried tomatoes in oil, drained, chopped
2 tbsp ricotta cheese
3 tbsp mozzarella cheese shredded
1 tbsp lemon juice
1 tbsp Dijon mustard
1 tbsp dill fresh, chopped
1 large egg white
½ tsp Kosher salt
¼ tsp black pepper freshly ground
12 sheets phyllo dough thawed (if frozen)
3 tbsp unsalted butter melted
Instructions
In a medium bowl, add all the ingredients except for the phyllo dough and butter. Mix until combined.

Place one sheet of phyllo dough on a clean work surface and brush with melted butter. Cover the remaining sheets with a damp towel to prevent them from drying out.

Place another sheet on top of the butter sheet and gently press. Brush a little more butter on top of the second sheet.

Cut the sheets into thirds, lengthwise.

Place 1 heaping tbsp of the filling at the end of each strip.

Fold the bottom right-hand tip of phyllo over the filling to connect with the other side, forming a triangle. Continue folding in this manner (like folding a flag) until you've reached the end of the phyllo strip. Brush the edges with butter to help them seal.

Repeat with the remaining phyllo sheets and filling.

Place 6 triangle in the air fryer basket and cook for 5 to 6 minutes at 370°F, or until the phyllo is golden and crisp. Repeat with remaining triangles. Serve at once!
Notes
We love using our IKICH 6 QT Air Fryer to make this recipe!
Make sure the phyllo dough is completely thawed before starting to prepare the recipe.
See video for exactly how to fold the dough to form the triangle.
Open the basket midway through cooking and gently move the triangles around - this will allow for more even browning and crisping of the dough.
You can keep the prepared triangles in a low temp oven (220°F) for up to an hour before serving.
These are wonderful by themselves, but also good with Homemade Cocktail Sauce or Kickin' Remoulade Sauce.
Nutrition
Calories: 147kcal | Carbohydrates: 15g | Protein: 6g | Fat: 7g | Saturated Fat: 3g | Cholesterol: 43mg | Sodium: 385mg | Potassium: 157mg | Fiber: 1g | Sugar: 2g | Vitamin A: 247IU | Vitamin C: 4mg | Calcium: 54mg | Iron: 1mg