If you love shrimp and if you love pasta, you will flip for this dish.
This is one of those dishes that is so simple to prepare but the results are truly spectacular. To put it over the top, make a batch of homemade marinara sauce in advance and then it all comes together in about 20 to 30 minutes!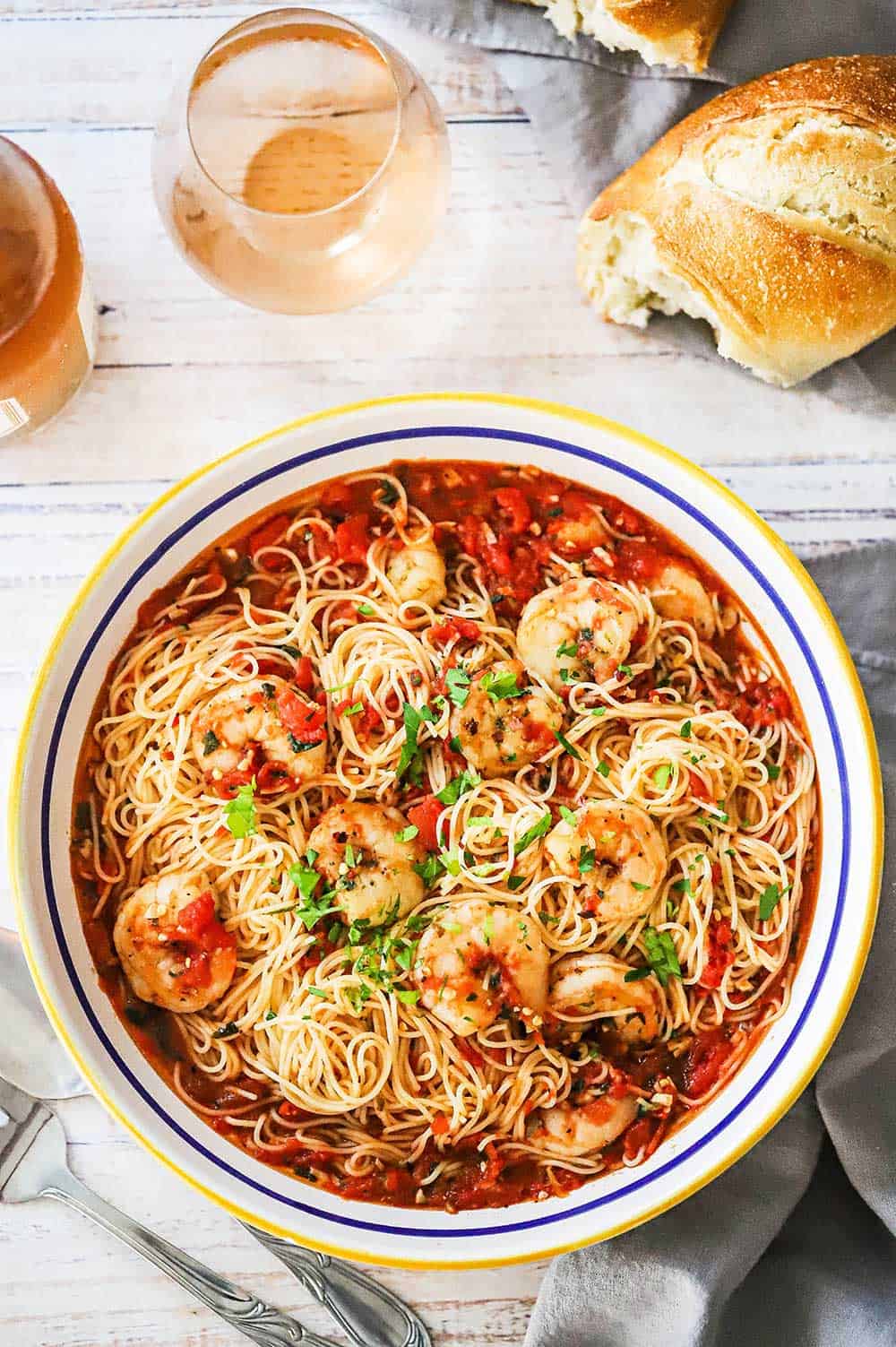 How To Make Shrimp Marinara
This honestly could not be easier to prepare.
Because you're cooking with shrimp, it comes together very quickly.
You'll want to make sure you have all of your ingredients prepped and ready to be before you start cooking.
NOTE: If you liked this video, please subscribe to our YouTube channel. Remember to click the 'bell' icon so you'll never miss a new video!
Choosing the Right Shrimp
Purchasing frozen shrimp from your supermarket is perfectly fine.
In fact, unless you're shopping at a seafood market where shrimp was caught the same day (usually along the coast), the shrimp you see in the display came from the same bags you see in the frozen section.
EXPERT TIP: A shrimp's size is measured by the number of individual shrimp it takes to make up a pound. A label of 16/20 means that there are between 16 and 20 of these shrimp in a pound. The main takeaway? The smaller the number, the bigger the shrimp. Learn more here.
Seek out shrimp that is deveined and peeled to make it easy on yourself. Toss with fresh herbs before adding to the hot skillet with the sautéed garlic.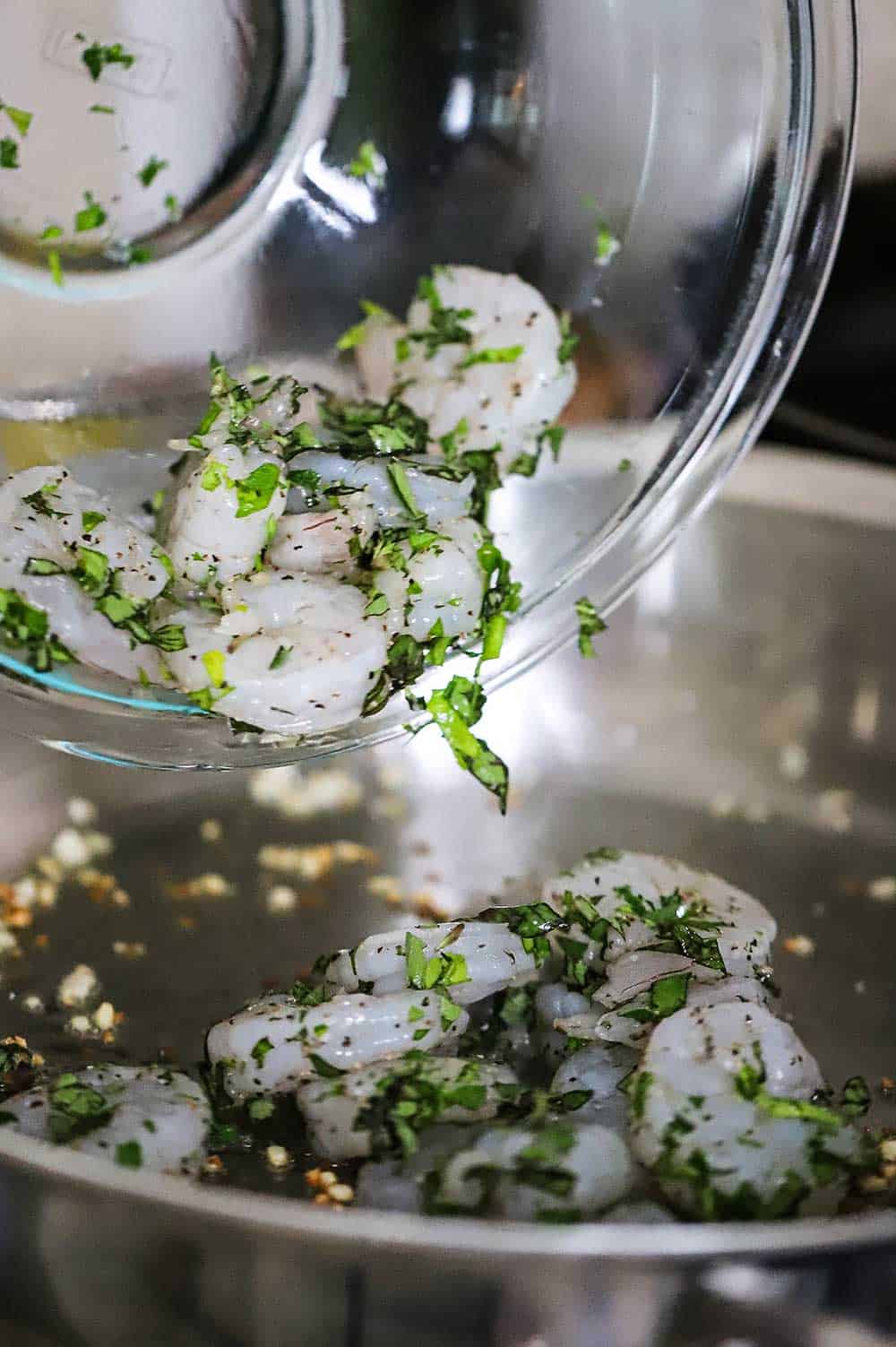 After you've dumped the shrimp into the hot skillet, you'll need to let them sauté for just a few minutes before flipping them.
The shrimp will begin to curl up and turn pink.
EXPERT TIP: Once the shrimp is pink all over, be sure to remove them with a slotted spoon immediately. Overcooking the shrimp will result in an unpleasant rubbery texture.
Tips for Perfect Shrimp Marinara
Mise en Place: As mentioned, this dish comes together very quickly. Be sure to have all of your herbs chopped and ready to go, and measure out the other ingredients. You don't want to have to do any of this once you start cooking.
Quality Marinara: This dish doesn't require a lot of ingredients, so going with quality is best. Go with top-notch marinara sauce, or make it from scratch (in advance). San Marzano tomatoes are a great choice. Squeeze them with your hands as you add them to the skillet.
Choosing the Best Pasta: For this, go with your favorite. We recommend a long tubular pasta, such as angel hair (or favorite), spaghetti, linguine, or fettuccine. Short pasta will work, too, but the chunky sauce is a nice match to the long-style pasta..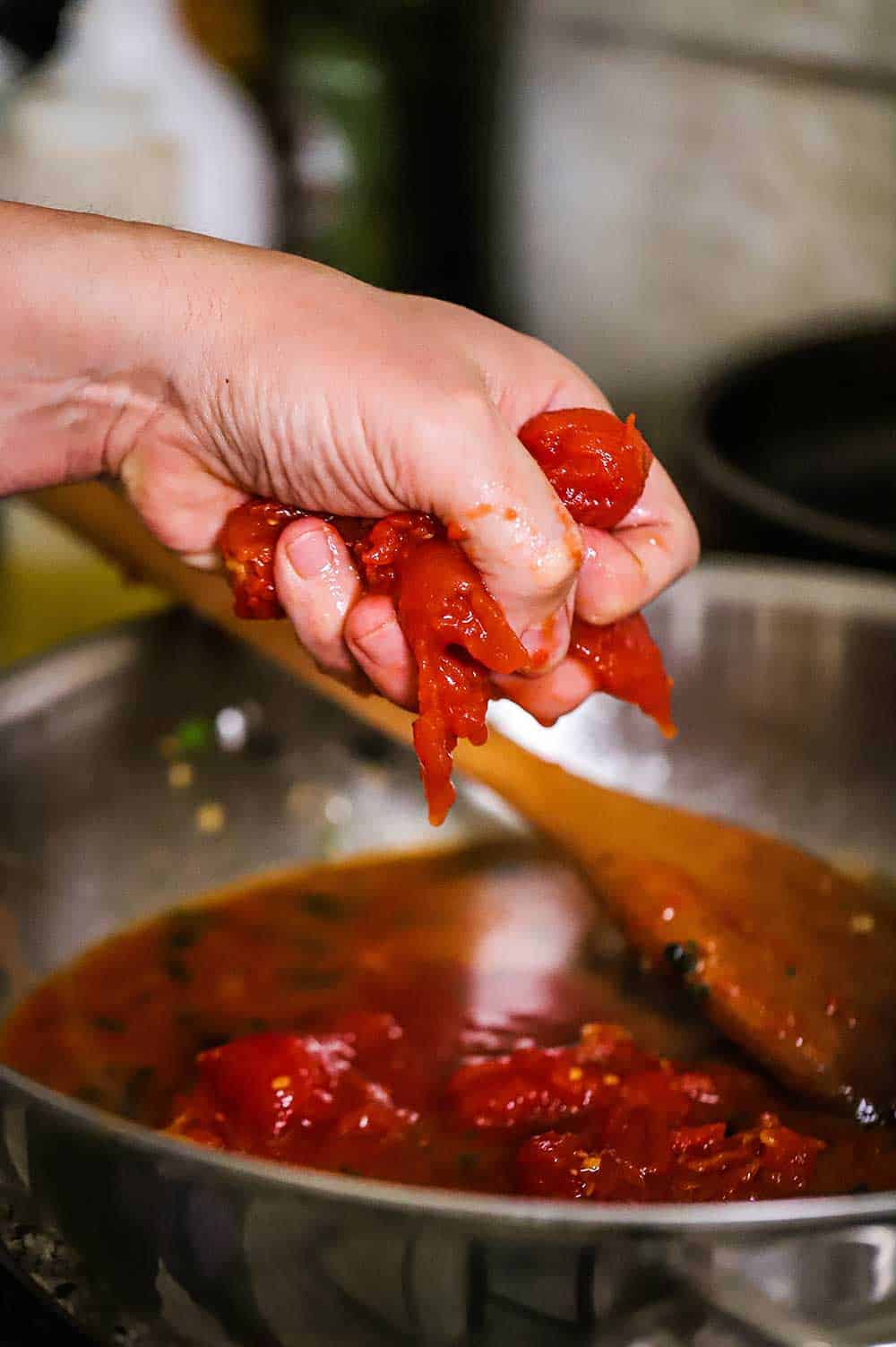 Once you brought the sauce together, it's time to add back in the shrimp.
You're getting very close to serving time.
EXPERT TIP: Be sure to check your cooking time for your pasta. If using fresh pasta, this will only take about 3 to 4 minutes. Completely dried pasta will take up to 12 minutes. It also depends on the type of pasta you are using. Remember to get your salted water boiling well in advance so everything will time out perfectly.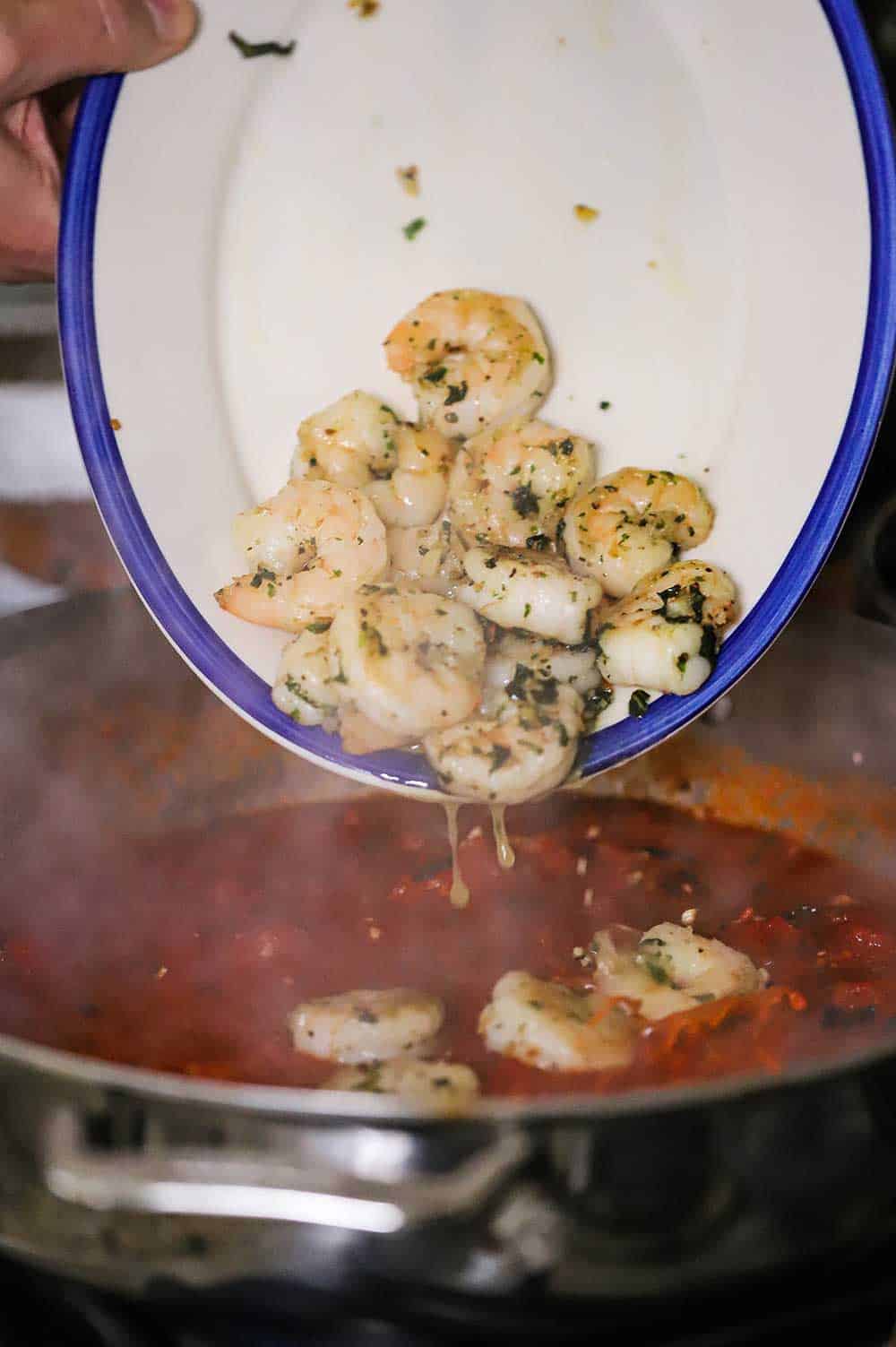 How To Serve and Store
You can easily pour the sauce with the shrimp directly over the cooked pasta.
However, we like to grab a second large skillet, add a little of the sauce, then add the pasta. Use tongs to coat the pasta. Transfer the remaining sauce and mix until completely mixed. Save a little pasta water if you need to to loosen then sauce a bit.
The sauce will keep covered in the fridge for up to 5 days and freezes beautifully for up to 2 months. Reheat the pasta in the microwave in 1 minutes intervals until hot. Or, reheat in a skillet, adding a little water, if needed.
Wine Pairing: You can't go wrong with white, red, or our favorite, rosé. The marinara sauce matches well against a Cabernet or Pinot Noir, but the shrimp matches well with Pinot Grigio, Chardonnay, Sauvignon Blanc. A light rosé is wonderful, too.
This pasta is without a doubt one of our all-time favorites.
It's so easy and quick, it's perfect for a weeknight dinner, but it's elegant and so delicious, it's also great for serving to guests.
No matter what, with just one bite, you'll be a believer. Delizioso!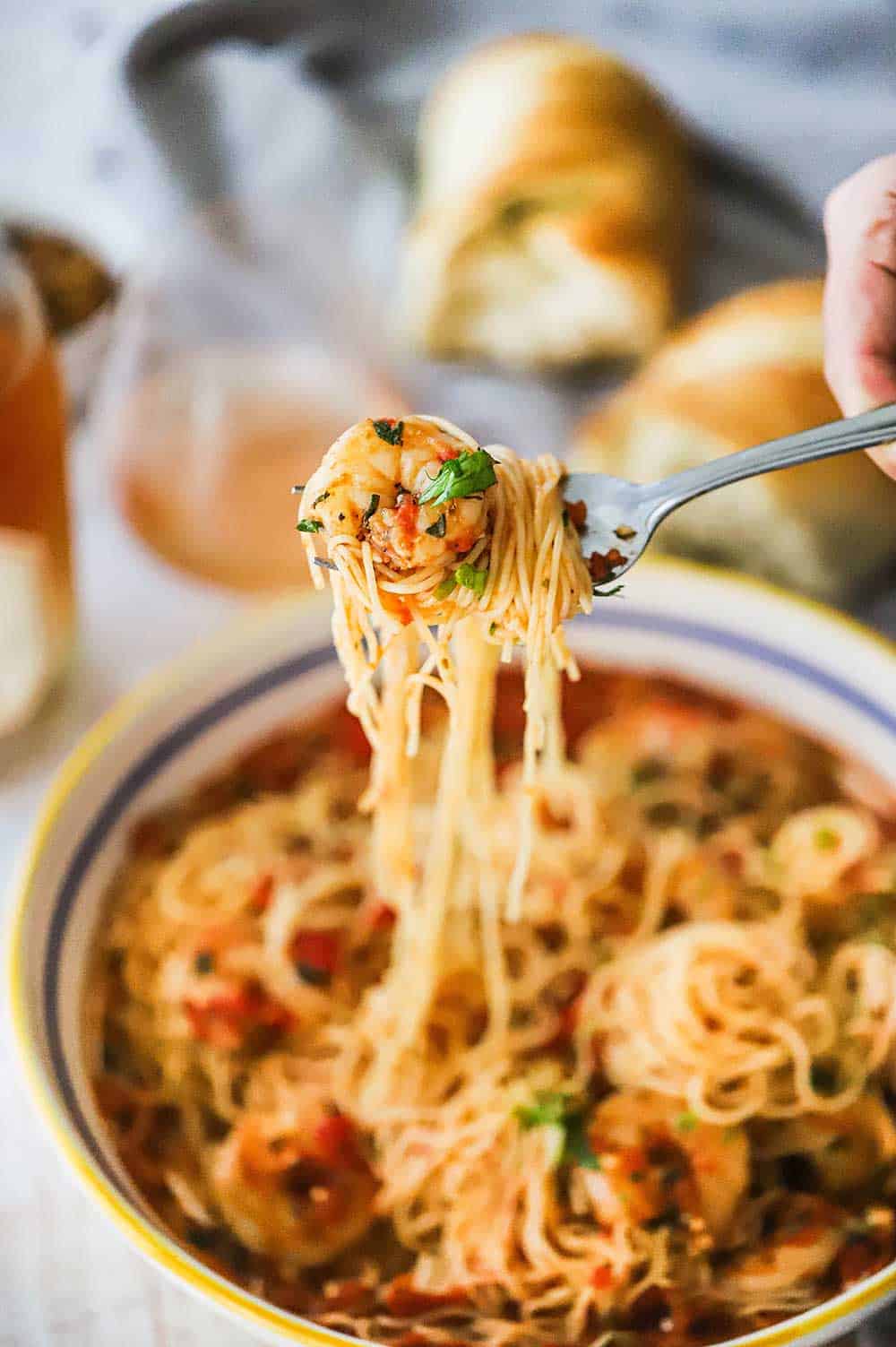 Ready to make one of the best shrimp pasta dishes this side of Sicily? Go for it!
And when you do, be sure to take a photo of it, post it on Instagram, and tag @HowToFeedaLoon and hashtag #HowToFeedaLoon!
Shrimp Marinara
Shrimp Marinara is such an amazing dish that literally comes together in about 20 to 30 minutes. The are other components to the sauce other than
Print
Pin
Rate
Servings: 4
Calories: 372kcal
Equipment
1 large skillet or saucepan

1 pot for cooking pasta
Ingredients
¼ cup olive oil
6 cloves garlic minced
1 lb shrimp medium to large, peeled and deveined
1 tsp oregano fresh, chopped
1 tbsp Italian parsley fresh, chopped
¼ cup basil fresh, chopped
¼ cup white wine
1 15 oz can whole tomatoes drained
½ cup clam juice
½ cup marinara sauce
½ lb pasta i.e., angel hair, spaghetti, linguine
Salt and pepper
Instructions
Add water to a large pot and liberally add salt. Bring to a boil.

In a large skillet/saucepan, heat the olive over medium heat until shimmering. Add the garlic and sauté until just starting to turn a light brown, 1 to 2 minutes.

Meanwhile, place the shrimp in a bowl and stir in the oregano, parsley, and basil.

Add the shrimp to the hot skillet and cook until the shrimp is curled and pink, about 4 to 5 minutes. Remove the cooked shrimp with a slotted spoon to a platter and set aside.

In the same skillet, over medium-high heat, add the wine and stir it around for about 1 minute.

Carefully squeeze the drained tomatoes with your hands into the skillet. Add the clam juice and marinara sauce and cook fro about 4 minutes. Stir in ¾ tsp of salt and ½ tsp black pepper.

During this process, add your pasta to the boiling water and cook until just cooked, or al dente, according to package directions.

Carefully add the shrimp into the sauce and simmer for a few minutes.

Drain the pasta and either stir into the sauce, or place on a platter (or bowls) and pour sauce over the top, or get a new skillet, add a little of the sauce over medium heat, stir in the pasta, and then stir in the remaining sauce. Taste and add more salt, if desired. Serve at once.
Notes
See the video near the top of the blog post for visual guidance. If you liked the video, please subscribe to our YouTube channel.
You don't have to make the marinara sauce from scratch, but you won't regret that you did. We make a batch in advance and then freeze what you don't need.
The sauce will keep in the fridge for up to 5 days and freezes beautifully for up to 2 months. Reheat leftover pasta in the microwave on a skillet on the stove over medium heat (you may need to add a little water to loosen the sauce).
Nutrition
Calories: 372kcal | Carbohydrates: 50g | Protein: 8g | Fat: 13g | Saturated Fat: 2g | Polyunsaturated Fat: 2g | Monounsaturated Fat: 10g | Sodium: 258mg | Potassium: 289mg | Fiber: 3g | Sugar: 4g | Vitamin A: 351IU | Vitamin C: 7mg | Calcium: 40mg | Iron: 2mg