This dish is beautiful to serve and is equally as delicious in taste.
We just love solid Italian food and this is about as solid as they come. It has a similar taste as Eggplant Parmesan but is easier to prepare and also healthier. And our homemade marinara puts it over the top. And it is surprisingly easy to prepare!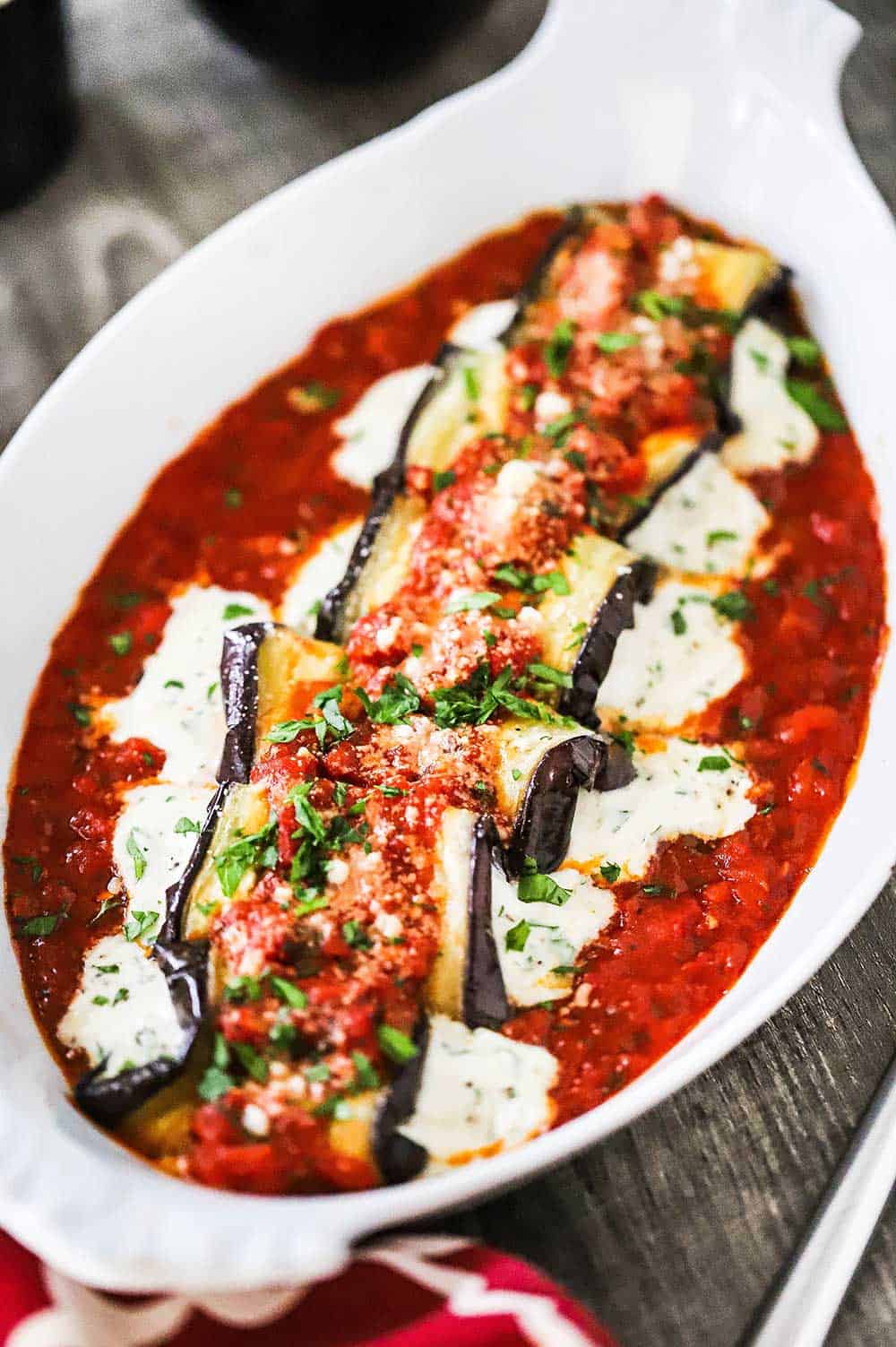 How to Make Baked Eggplant Rollatini
Besides wonderful eggplant, the key ingredient in this dish is our homemade marinara sauce.
Fortunately, this sauce can be made several days in advance.
Assembly truly is a snap.
NOTE: If you liked this video, please subscribe to our YouTube channel. Remember to click the little 'bell' icon so you'll never miss a new video. Thank you!
What Is The Difference Between Eggplant Rollatini and Eggplant Involtini?
This is easy to answer. They are the same dish.
In Italy, it's called Eggplant Involtini (involtini di melanzane) and in Italian-American is Eggplant Rollatini.
How To Prepare the Eggplant
Before you assemble the dish, you are going to need to roast strips of eggplant.
Depending on the size of your eggplant, you'll probably need two medium-sized eggplants to get anywhere from 8 to 12 rolls.
EXPERT TIP: ¼" to ½" sheets of eggplant that have been sliced lengthwise are best. You'll want to try and make them all as uniform in size as possible. A mandolin makes this very easy, but a sharp knife and a steady hand will work just fine. Sprinkle the layers all over with salt and set in a colander for 20 to 30 minutes. This will soften the eggplant.
Line a large baking dish with parchment and then spray it with cooking spray. Roast in a 450°F oven for 10 minutes. Carefully flip, and then bake another 8 minutes.
Helpful Tips for Eggplant Rollatini
The Marinara Sauce: If you don't make the marinara sauce from scratch, then make sure you get good quality marinara. This really is key to authentic taste. Check with your local Italian eatery, they will often sell you their fresh marinara.
Selecting the Best Cheese: We recommend using whole milk ricotta. It adds depth of flavor and luxuriousness that is essential. For the mozzarella, get fresh, if at all possible. Simply chop it up and mix it in. Also, Parmiggiano-Reggiano is our favorite grated cheese, but regular Parmesan or Pecorino will work just fine, too.
Make-Ahead – The dish can be fully assembled up to 4 to 6 hours in advance of baking. Loosely cover and keep in the fridge until ready to bake.
For best results, ladle enough of the marinara sauce in the bottom of the pan to nestle each rollatini into. Use a spoon or ladle to add another layer of the marinara sauce down the center of the line of rollatini. You can arrange the rollatini any way you want in your baking dish. Just be sure to top with a layer of marinara.
How To Serve
Assembling the rollatini is easy. Simply add a heaping tbsp of the cheese mixture at one end of each roasted eggplant strip, and then roll them up like a hay bail!
You can serve them in individual serving dishes or pans, in a cast-iron skillet, or in a large baking dish.
Add a nice sprinkle of the grated Parmesan over the top layer of marinara just before baking.
EXPERT TIP: This dish can easily be doubled or tripled and served buffet-style in a chafing dish or large pan. It's perfect for entertaining and is always a huge hit.
Other Classic Italian Appetizers To Try
If you're looking for that perfect way to start of an Italian feast, or assembling a group of delicious appetizers for a party, check these out:
Savory Italian Sausage-Stuffed Mushrooms
Classic Baked Clams
Spiendini alla Roma (Roasted Italian Bread with Mozzarella and Sauce)
Marinated Olives
Grissini (Italian Breadsticks)
Fried Calamari
Classic Caesar Salad
Italian Wedding Soup
But in the meantime, check out this amazing baked eggplant rollatini!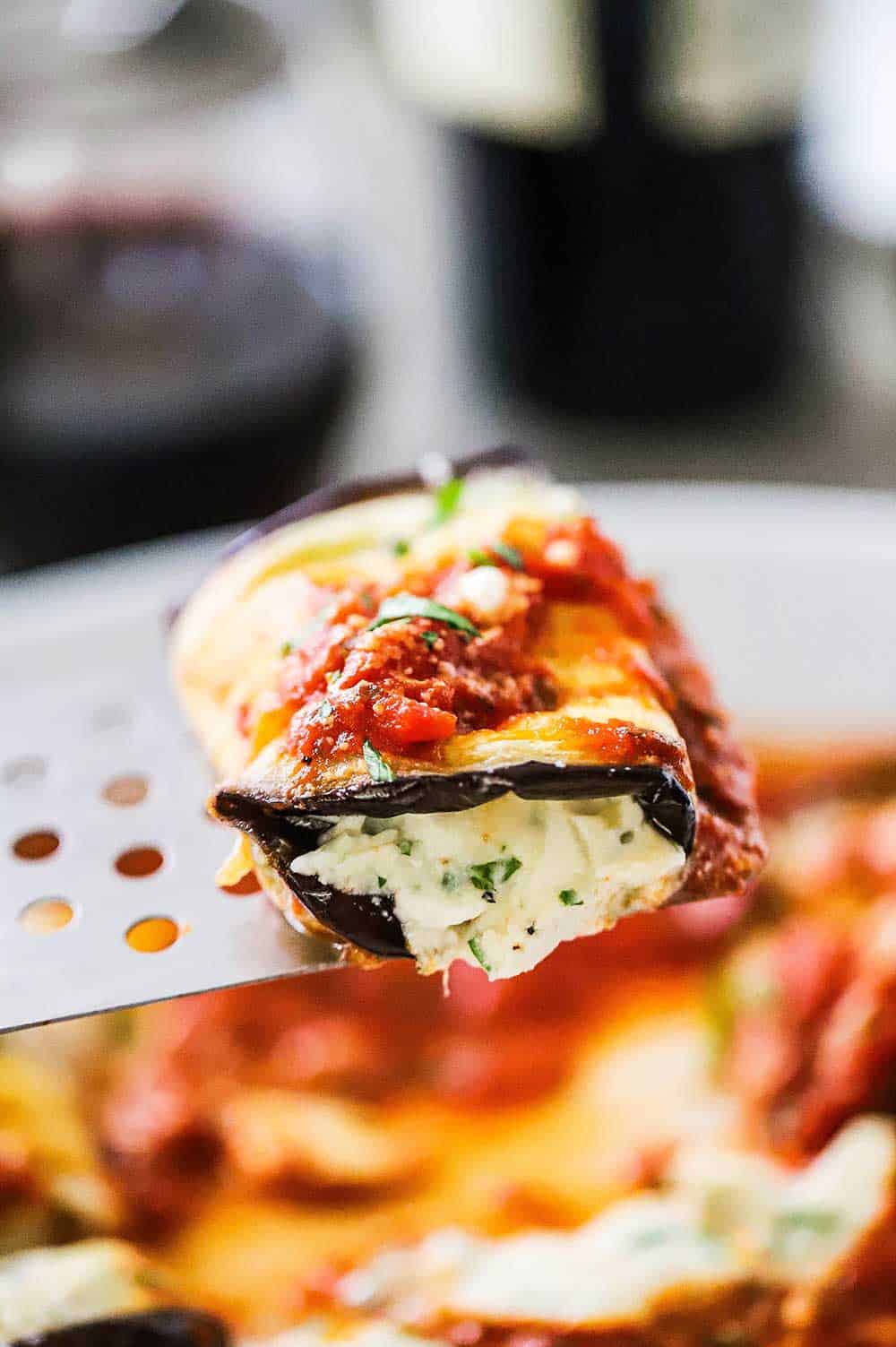 This is, hands down, one of most favorite Italian appetizers to serve.
It is fresh, authentic, cheesy, comforting, gorgeous, and utterly delicious.
Trust us on this one, you will not be disappointed with this dish!
Ready to make an amazing Italian appetizer? Go for it!
And don't forget, when you make it, take a picture, post it to Instagram, and tag @HowToFeedaLoon and hashtag #HowToFeedaLoon!
Baked Eggplant Rollatini with Ricotta
This dish is Italian through and through. Such the perfect start to an amazing Italian feast. Easy and so incredible! We encourage you to make the marinara! You can easily make it days in advance!
Print
Pin
Rate
Servings: 4 people
Calories: 170kcal
Equipment
Baking dish or individual baking dishes

Baking sheet lined with parchments paper and sprayed with cooking oil
Ingredients
3 cups marinara sauce
2 large eggplant
Kosher salt and freshly ground black pepper
1 cup whole-milk ricotta cheese
¼ lb mozzarella cheese fresh, chopped
4 tbsp Parmesan cheese grated
1 tbsp flat-leaf parsley fresh, chopped, plus extra for garnish
Cooking spray
Olive oil for brushing
Instructions
Cut the stems away from the eggplant and slice off the ends. Use a mandolin on the widest setting to slice the eggplant, lengthwise, into slices between ¼ and ½-inch thick. Or, use a sharp knife and a steady hand to slice them as uniformly as possible.

Layer the slices in a colander set over a plate, sprinkling each layer with salt. Let stand for 30 minutes to drain.

Meanwhile, in a bowl, stir together the ricotta, mozzarella, 2 tablespoons Parmesan, parsley, ½ tsp salt, and a pinch of black pepper. Set aside.

Preheat your oven to 450°F.

Line a large baking sheet (or 2 smaller ones) with parchment paper. Spray the parchment paper with cooking spray.

Rinse the eggplant slices under cold running water to remove the salt. Pat each eggplant layer dry with paper towels.

Brush the slices on both sides with olive oil, and arrange them in a single layer on a baking sheet.

Bake the slices until lightly browned, about 10 minutes.

Turn the slices and continue to bake until browned on the second side and nice and tender, 8 minutes longer. Remove from the oven and immediately lower the oven temperature to 350°F.

Ladle marinara into the baking dish. Fill the bottom so there is enough to snuggle the rollatini into the sauce.

To make each eggplant roll, place a spoonful of the cheese mixture near one end of a slice and roll up the slice.

As each roll is formed, place it seam side down in the dish.

Spoon more sauce over the rolls.

Sprinkle with more grated Parmesan.

Bake the rolls until the sauce is bubbling hot and the rolls are heated through, about 20 to 25 minutes. Remove from the oven, garnish with chopped fresh parsley, and serve at once.
Notes
See the video near the top of the blog post for visual guidance. If you liked the video, please subscribe to our YouTube channel.
If you don't have time to make the marinara from scratch, no worries. Pick up good-quality marinara from the Italian section of your market, or, see if your favorite Italian restaurant will sell you some fresh marinara! You'll need about 1 pint.
A mandolin ensures that your eggplant slices will be uniformly cut. This helps so they will roast evenly and be easier to roll up. However, a sharp knife and a slow and steady hand will do the trick, too.
Leftovers (which there will likely be none of) will keep in the fridge for up to 3 days. Reheat in a 350°F oven or in the microwave.
The dish can be assembled 4 to 6 hours in advance of baking. Loosely cover and keep in the fridge until ready to bake. You can freeze it (unbaked) for up to 2 months, but for best results, prepare it fresh.
Nutrition
Calories: 170kcal | Carbohydrates: 16g | Protein: 11g | Fat: 8g | Saturated Fat: 5g | Cholesterol: 26mg | Sodium: 1063mg | Potassium: 791mg | Fiber: 6g | Sugar: 11g | Vitamin A: 1004IU | Vitamin C: 15mg | Calcium: 233mg | Iron: 2mg
POST UPDATE: This recipe was originally published in August, 2014, but was updated with improved tweaks to the recipe with new tips and photography, and a fabulous new video in May, 2022!