This dish is beautiful to serve and equally as delicious in taste.
We just love solid Italian food and this is about as solid as they come. The flavors work so beautifully together and no meat in sight! And it is surprisingly easy to prepare!
HOW TO MAKE EGGPLANT INVOLTINI
Besides a wonderful eggplant, the key ingredient in this dish is our homemade marinara sauce.
Fortunately, this sauce can be made several days in advance.
Start off by slicing your eggplant into thin slices.
THE BEST CHEESE TO USE
For the cheese, we use a combination of mozzarella and XX.
Mix them together in a bowl before assembling the dish.
Be sure to seek out good quality cheese for this amazing Eggplant Involtini. Because there are just a handful of ingredients, it's best to use quality, when possible.
PREPARING THE EGGPLANT
The seeds in eggplant are 100% edible. So, don't worry about that.
However, to help the eggplant cook and become tender and flavorful, we brush on a nice layer of good-quality olive oil.
Assembling the eggplant involtini is so easy.
We like to start with an individual serving dish, but these can also be placed in a larger dish, such as a 9″x13″.
Rolling them up with the cheese on top of the sauce is awesome!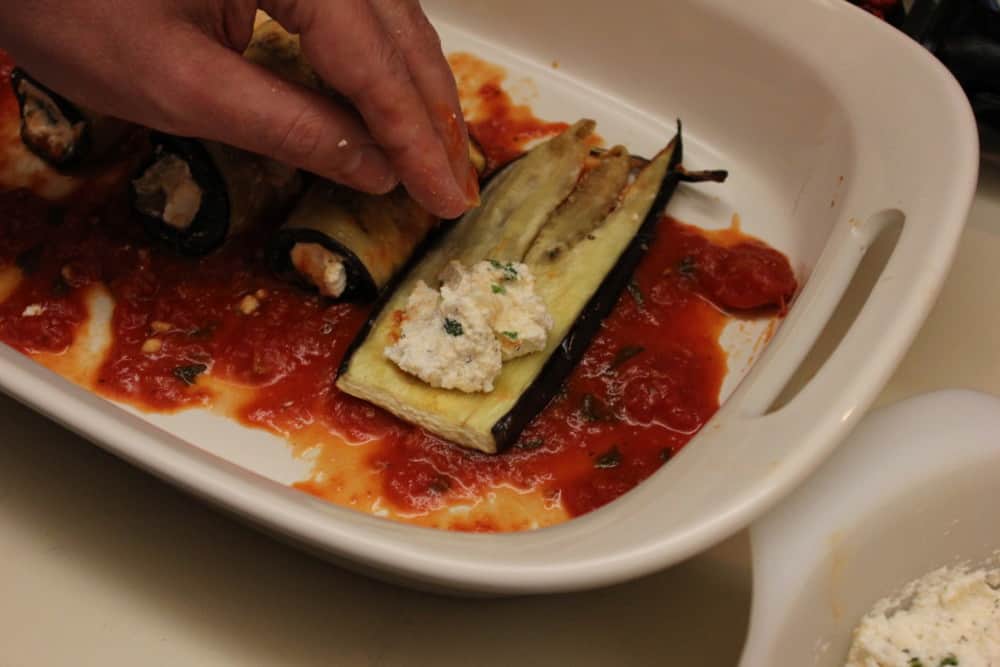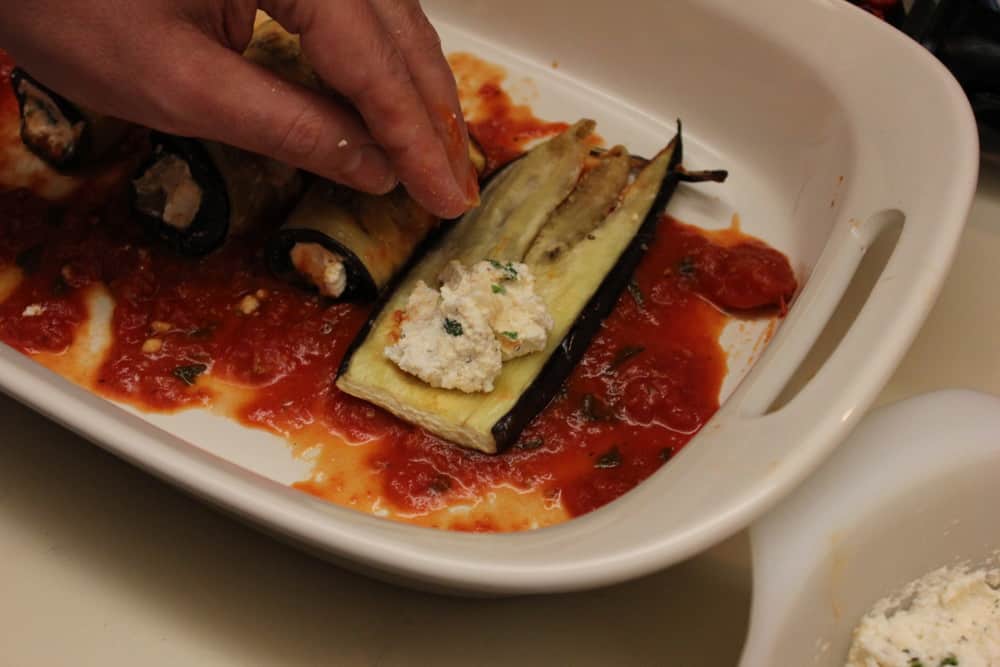 Ready to make an amazing Italian appetizer? Go for it!
And don't forget, when you make it, take a picture, post it to Instagram, and tag @howtofeedaloon!
Eggplant Involtini
This Eggplant Involtini is Italian through and through. Such the perfect start to an amazing Italian feast. Easy and so incredible!
Print
Pin
Rate
Servings: 4 people
Calories: 170kcal
Ingredients
1 large eggplant
Sea salt and freshly ground black pepper
1 cup whole-milk ricotta cheese
¼ lb fresh mozzarella cheese shredded
4 tbsp Parmigiano-Reggiano cheese grated
1 tbsp fresh flat-leaf parsley chopped
Olive oil for brushing
2½ cups marinara sauce
Instructions
Trim the eggplant, then cut crosswise on the diagonal (make the slices as long as possible), about 1/4 inch thick.

Layer the slices in a colander set over a plate, sprinkling each layer with salt.

Let stand for 30 minutes to drain.

Meanwhile, in a bowl, stir together the ricotta, mozzarella, 2 tablespoons of the parm-reg, parsley and pepper to taste.

Pre-heat oven to 450 F.

Rinse the eggplant slices quickly under cold running water and pat dry with paper towels.

Brush the slices on both sides with olive oil, and arrange them in a single layer on a baking sheet.

Bake the slices until lightly browned on the bottom, about 10 minutes.

Turn the slices and continue to bake until browned on the second side and nice and tender, 8 minutes longer.

Remove the eggplant from the oven.

Reduce the oven temp to 350 F.

To make each eggplant roll, place a spoonful of the cheese mixture near one end of a slice and roll up the slice.

As each roll is formed, place it seam side down in the dish.

Spoon more sauce over the rolls.

Sprinkle with the remaining 2 tablespoons of Parm-Reg cheese.

Bake the rolls until the sauce is bubbling hot and the rolls are heated through, about 25 minutes.

Divide the rolls among individual plates, garnish with chopped parsley, and serve at once!
Nutrition
Calories: 170kcal | Carbohydrates: 16g | Protein: 11g | Fat: 8g | Saturated Fat: 5g | Cholesterol: 26mg | Sodium: 1063mg | Potassium: 791mg | Fiber: 6g | Sugar: 11g | Vitamin A: 1004IU | Vitamin C: 15mg | Calcium: 233mg | Iron: 2mg