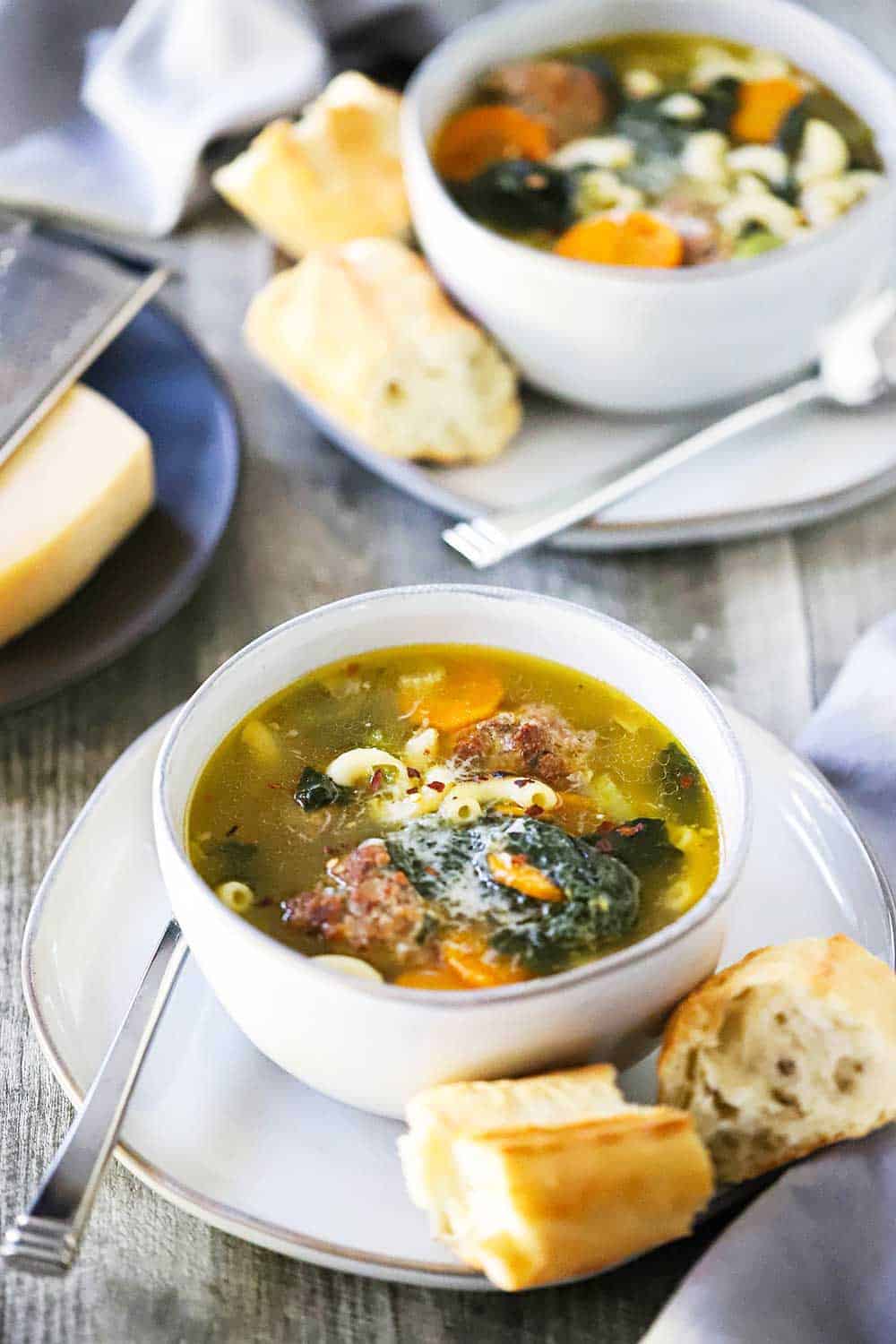 This recipe for Italian Wedding Soup is so very satisfying.  A beautiful marriage of vegetables and meatballs!  This classic soup has been warming souls for hundreds of years.  And it's easy to make!
Watch Kris and Wesley show you how fun, how easy, and how delicious it is when you make Italian Wedding Soup!!
See full recipe below.
Italian Wedding Soup
This Italian Wedding Soup is the perfect marriage of veggies and meat. It will warm you to the bone and make you smile with every satisfying bite! Perfect for when loved one's are coming to visit!
Author: Kris Longwell
Recipe type: Soup
Cuisine: Italian
Serves: 8 - 10
Ingredients
4 quarts chicken stock
1 lb of fresh kale, spinach, or escarole
3 large carrots, peeled and chopped
1 celery stalk, chopped
16 oz. small pasta, such as tubitini or stars
FOR THE MEATBALLS:
½ lb lean ground beef
½ lb ground pork
½ lb Italian sausage (see recipe below)
2 eggs, lightly beaten
½ cup yellow onion, finely chopped
2 garlic cloves, minced
2 tablespoons flat-leaf parsley, minced
½ cup plain dried bread crumbs
½ cup grated pecorino-romano cheese (plus more for garnish)
Sea salt and black pepper
3 tablespoons olive oil
FOR HOMEMADE ITALIAN SAUSAGE:
3 lbs marbled pork butt (Boston pork butt is good), cut into ½-in pieces
2 tablespoons garlic, minced
1 tablespoon + 1 teaspoon smoked paprika
1 & ½ teaspoons toasted fennel seeds
1 tablespoon Kosher salt
1 tablespoon fresh ground black pepper
1 teaspoon cayenne
½ teaspoon ground anise
2 tablespoons flat-leaf parsley, chopped
3 tablespoon dry red wine
Pork casings, optional
Instructions
Bring the stock to a boil over high heat
Add the greens, carrots and celery and turn to low. Simmer for about 30 minutes, until tender
About 15 minutes into the simmering, add the pasta.
MAKE THE MEATBALLS:
In a large bowl, combine the beef, pork, Italian sausage, eggs, onion, garlic, bread crumbs, cheese, and 1 teaspoon of salt and pepper (each).
Moisten hands and shape the mixture small balls. Place them on a platter.
In a large frying skillet over medium heat, warm the oil.
Add the meatballs to the hot oil and brown on all sides, about 6 - 8 minutes.
FINISH OFF THE SOUP:
Using a slotted spoon, carefully add the meatballs to the soup and simmer gently over low heat until they are cooked through, about 20 minutes.
Taste, and adjust the seasonings.
Ladle soup into warmed soup bowl and top with grated cheese.
MAKE THE ITALIAN SAUSAGE (AHEAD OF TIME):
Mix all the ingredients (except casings) in a large bowl, toss well to coat,
Refrigerate covered, overnight.
Pass the mixture through a meat grinder (or, use process in a food processor, in two batches).
Using the sausage attachment on a mixer, stuff the meat into the casings, if being used. Or, shape into patties, or meatballs.
Cook accordingly, or store in fridge for 3 - 4 days, or freeze.