If you like a soup with a hearty combination of vegetables and meat in a deeply flavorful broth, this is for you.
We love making the chicken broth in advance and then the rest of this incredibly satisfying soup comes together quickly and easily. When the temperature starts to drop outside, this is the ticket for warming hearts on the inside!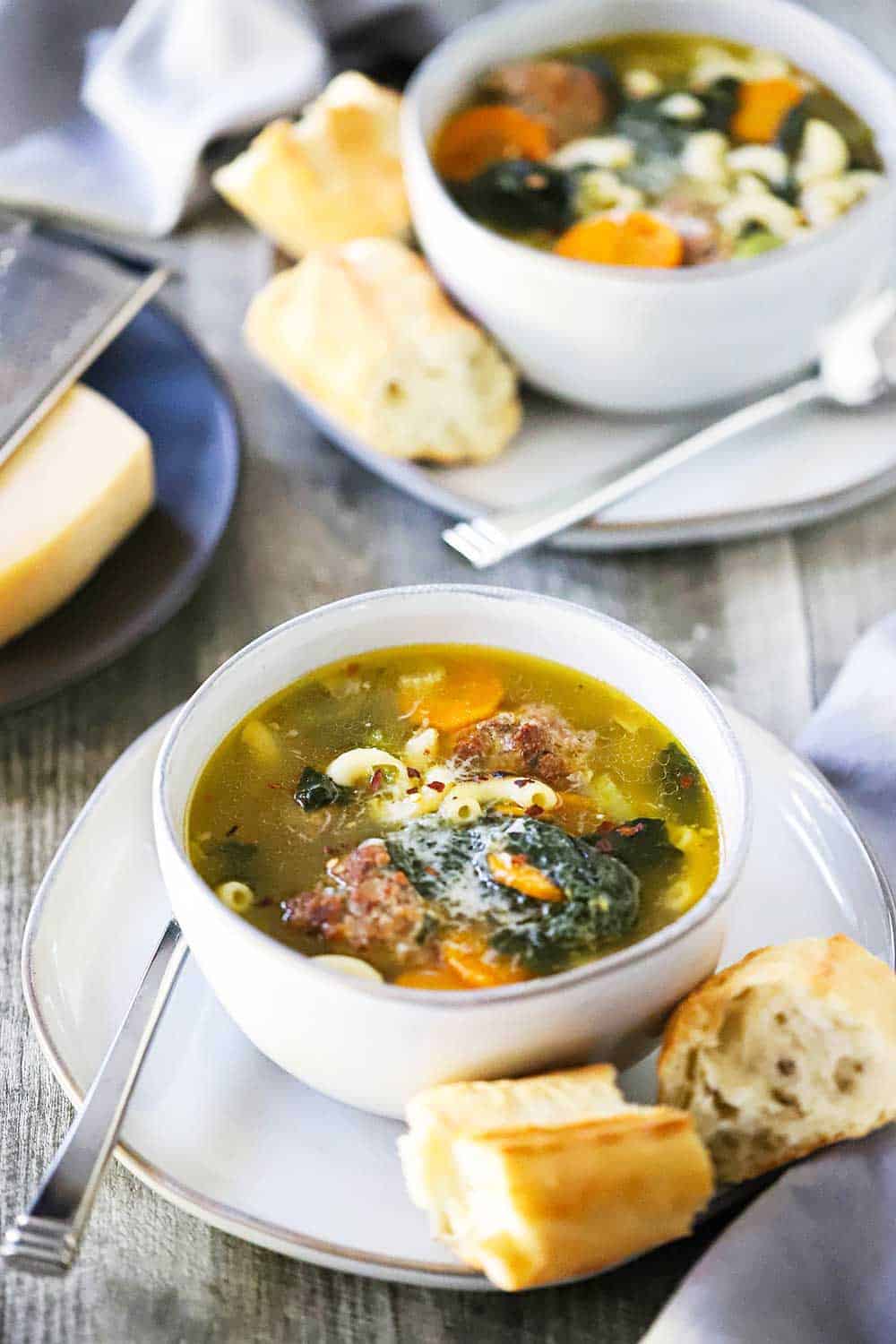 How To Make Italian Wedding Soup
Once you've got your homemade chicken broth ready to go, the rest of putting this soup together is fairly straightforward and simple.
And the smell, while it's simmering on the stove, is just amazing.
Homemade Chicken Broth Is Easy To Prepare
You may be wondering is chicken stock the same as chicken broth? They are very, very similar, and are used in many of the same types of recipes.
Typically, stock is slow-simmered with bones (usually that have been roasted) with a little meat on them. And then also a mirepoix (onion, celery, carrots) and aromatics are added to water with the bones and slow simmered. This soup recipe would also be great with our Roasted Chicken Stock.
A broth is cooked with meat pieces (i.e., bone-in, skin-on chicken breasts) and also a mirepoix and aromatics. Broths are usually seasoned with salt, whereas stocks usually are not.
EXPERT TIP: We recommend making the broth a least one day in advance of preparing the soup. Let the broth cool for 24 hours in the refrigerator. The rendered fat will rise to the top of the broth and then congeal, making it easy to skim off with a spoon the next day.
The Ingredients You Will Need
If you were to ask most people what is Italian Wedding Soup, they would say it's a soup that's served at Italian weddings.
Well, that may be true, but it actually means "minestra maritat", which translates to: "married soup." It's the perfect marriage of vegetables and meat!
Speaking of vegetables, we love using a combination of carrots, celery, and spinach. Other wonderful greens could be used in place of the spinach, such as kale, endive, cabbage, or escarole.
If you want an authentic Italian wedding soup recipe, you've come to the right place.
Homemade meatballs add incredible taste and texture to this amazing soup.
EXPERT TIP: You need to start off with a total of 2 pounds of ground meat. We recommend using a combination of any of the following: Beef, veal, pork, Italian sausage. Ground turkey or chicken or good options, as well. If you like your meatballs a little larger, roll them to about 2 inches in diameter, if you like them small, roll them to about 1 inch in thickness.
Choosing the Right Pasta
Cooked pasta rounds out the flavor profile of this ultimate comfort soup.
We recommend going with a small pasta such as ditalini, gigli, orecchiette, orzo, or small elbow.
Once the veggies have been simmering for 15 minutes, it's time to add the pasta for another 15 minutes of simmering.
After the pasta and vegetables have simmered a total of 30 minutes, it's time to add the seared meatballs.
When searing the meatballs, you want them to be nice and browned on the outside, but not 100% cooked on the inside.
Simmering the seared meatballs in the broth for another 20 minutes will cook them to juicy perfection.
How To Serve Italian Wedding Soup
This soup is so hearty, it makes a wonderful meal when served with a nice crusty loaf of bread.
If desired, sprinkle the individual bowls of soup with a pinch of red pepper flakes.
Grated Parmesan cheese on the top of each serving is beautiful and adds another wonderful layer of flavor.
This is the quintessential comfort soup.
If you don't make the broth (or stock), seek out a good-quality purchased broth. The meatballs can be made up to 3 days in advance.
Talk about a spoonful of deliciousness with every single bite!
Other Classic Soups to Try
We are just crazy about homemade soup. We've seldom met a well-made soup that we didn't absolutely love. Here are a few other favorites you'll want to check out:
But in the meantime, you've got to make this incredible soup! Just look at this bowl of yumminess!
Ready to make a soup that is the perfect marriage of vegetables and savory meat? Go for it!
And when you do, be sure to take a photo of it, and post it on Instagram, and tag @HowToFeedaLoon and hashtag #HowToFeedaLoon!
Italian Wedding Soup
This Italian Wedding Soup is the perfect marriage of veggies and meat. It will warm you to the bone and make you smile with every satisfying bite! Perfect for when loved one's are coming to visit!
Print
Pin
Rate
Servings: 10 people
Calories: 532kcal
Ingredients
1 gallon chicken broth 16 cups
12 oz spinach fresh
3 large carrots peeled and sliced
4 stalks celery sliced
12 oz pasta dried, such as dilatini or small elbow
FOR THE MEATBALLS
1 lb ground beef 85% lean is good
1 lb Italian sausage sweet of hot
2 eggs lightly beaten
½ cup onion finely chopped
3 cloves garlic minced
2 tbsp parsley fresh, flat-leaf, chopped
½ cup bread crumbs plain, dried
½ cup Parmesan cheese plus more for garnish
Sea salt and black pepper
3 tbsp olive oil
Instructions
Bring the broth to a boil over high heat.

Add the carrots, celery, and spinach and turn to low. Simmer for about 30 minutes, until tender

About 15 minutes into the simmering, add the pasta.
Make the Meatballs
In a large bowl, combine the beef, Italian sausage, eggs, onion, garlic, bread crumbs, cheese, and 1 teaspoon of salt and pepper (each). Mix until fully combined.

Moisten hands and shape medium-small meatballs. Place them on a platter.

In a large frying skillet over medium heat, warm the oil.

Working in batches, add the meatballs to the hot oil and brown on all sides, about 6 - 8 minutes. The insides won't be completely cooked at this point.

Finish Off the Soup

Using a slotted spoon, carefully add the meatballs to the soup and simmer gently over low heat until they are cooked through, about 20 minutes.

Taste, and add salt accordingly, usually anywhere from 1 tablespoon to 2 tablespoons, depending on if the broth was seasoned or not. Taste and then add in increments, continuing to taste until just right.

Ladle soup into warmed soup bowl and top with grated cheese.
Notes
The broth can be made up to 4 days in advance. It can be frozen for up to 2 months. You need about 1 gallon of broth, which is 4 quarts (16 cups). Be careful when seasoning with salt. Some purchased broths are already seasoned with salt. Just before serving, taste, and add salt in smaller amounts, tasting after each addition, until it's to your liking. Kale, escarole, and cabbage are wonderful in this soup, as well as spinach. Any combination of ground beef, pork, Italian sausage, or veal makes great meatballs. Ground turkey or chicken are good options, too, though they won't make as juicy of a meatball. The soup keeps in the fridge for up to 1 week and freezes for up to 2 months.
Nutrition
Calories: 532kcal | Carbohydrates: 36g | Protein: 25g | Fat: 26g | Saturated Fat: 9g | Cholesterol: 103mg | Sodium: 1937mg | Potassium: 963mg | Fiber: 3g | Sugar: 3g | Vitamin A: 7028IU | Vitamin C: 41mg | Calcium: 172mg | Iron: 4mg
POST UPDATE: This recipe was originally published in November 2015, but was updated with improved tweaks to the recipe with new tips and photography, and a fabulous new video in September 2020!