Cold out? Need something to make you feel warm and cozy. Well, this soup does the trick.
The lentils, slow-cooked with the pancetta, veggies, and stock will definitely warm you to the core. We give it a true Tuscan twist and add sweet Italian sausage, along with the pancetta. But, you can easily make this vegetarian by omitting the pork and use vegetable stock.
HOW TO MAKE RUSTIC LENTIL SOUP
This soup is not difficult to make at all. All you need are less than a couple of hours to let the deeply flavorful stock do its work on the dried lentils, and you'll have one of the most comforting soups you've ever had or made.
We love to go with green lentils, but you can go with whatever type of lentils they have at the market.
Watch us show you how easy it is to make this incredibly delicious soup!
BUILDING THE FLAVOR PROFILE
Pancetta is similar to bacon in that it is pork belly that is cured. All we can say it is loaded with flavor and is very popular in Italian cooking, especially in soups and pasta.
Once the pancetta has cooked and gotten nice and crispy, it's time to add the mirepoix (onions, carrots, and celery). You'll need to saute them for about 5 to 8 minutes, or until they have become soft and translucent.
The garlic and fresh herbs added to the mix help to create a foundation for this Rustic Lentil Soup that is just perfection.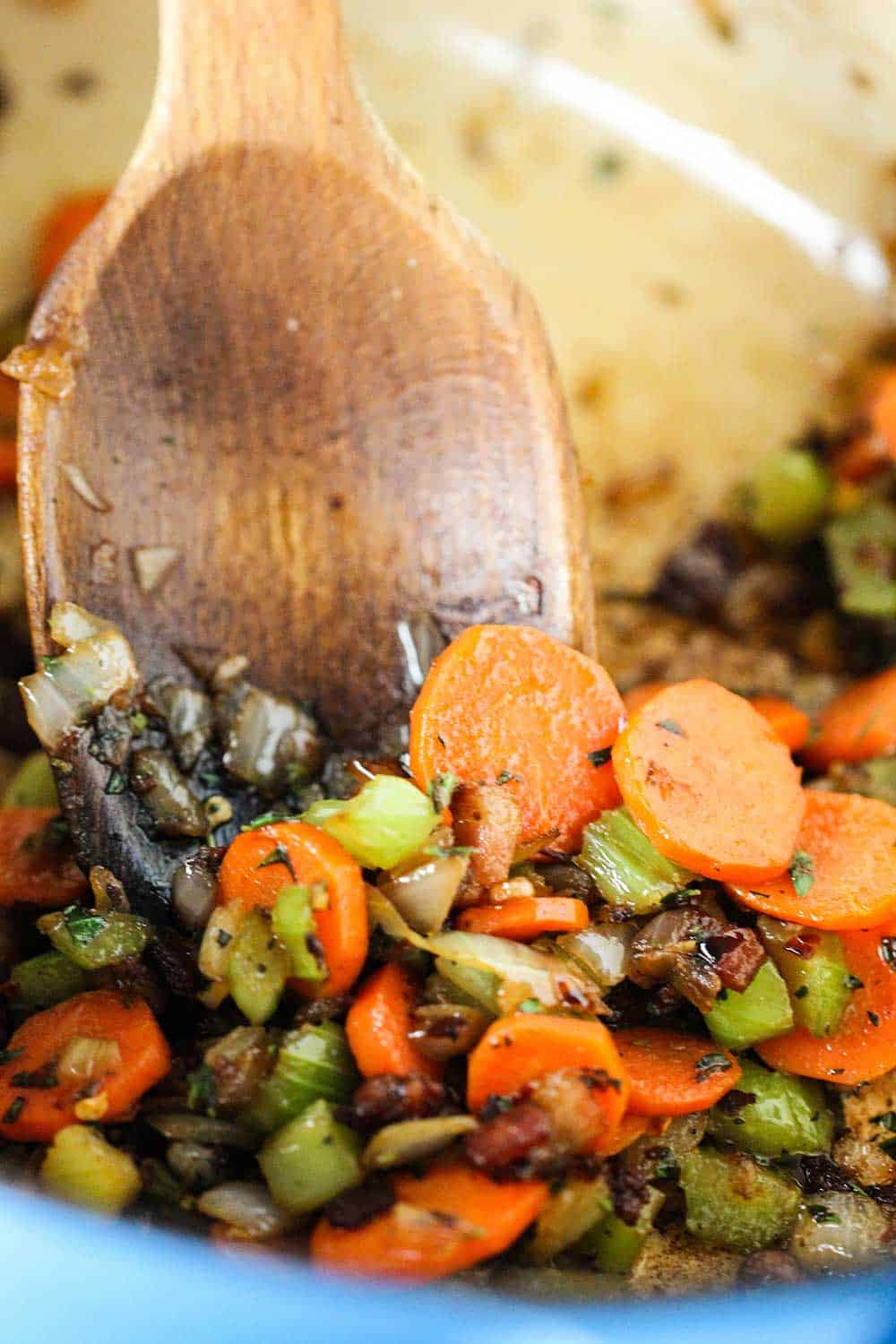 Next, you'll need to add the tomato sauce and the chicken stock. Homemade stock is always the best for soups, but a good-quality purchased stock, or broth, will work just fine, too.
Bring the liquid to a boil, and then lower the heat to a simmer, and then gently add the lentils.
EXPERT TIP: You'll need to keep an eye on the soup as it simmers for a couple of reasons, you don't want it to start to burn on the bottom of the pan, which is why occasional stirring is necessary. Also, after about a half-hour of simmering, as the lentils absorb the liquid, the soup may become too thick. If this occurs, simply add more stock to reach the consistency you prefer.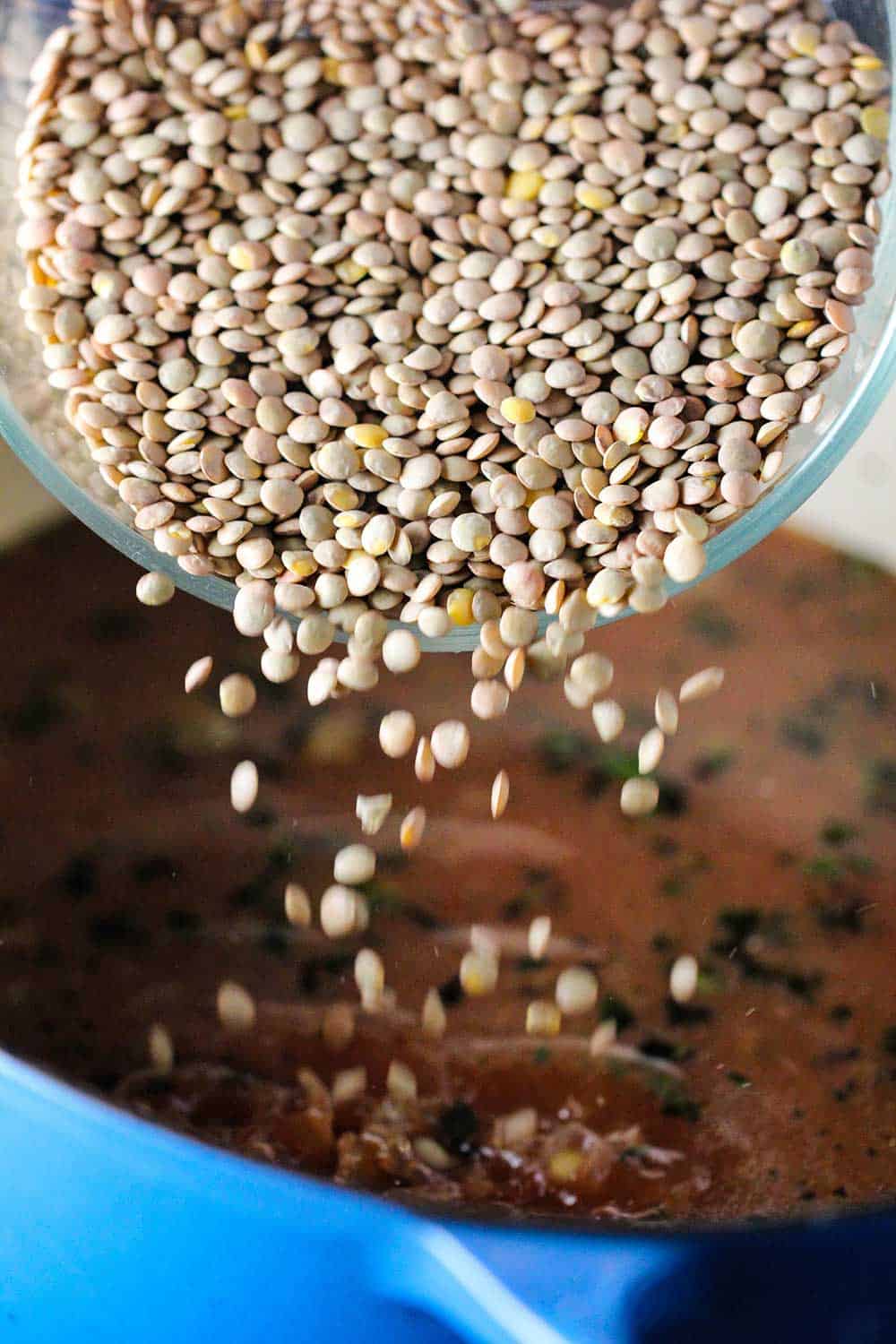 ITALIAN SAUSAGE ADDS DEPTH OF FLAVOR
As we discussed, this soup can absolutely be 100% vegetarian by omitting the pancetta and sausage and using vegetable stock in place of chicken stock.
But folks, we must say, the small bite-size pieces of sausage in the soup is pretty awesome.
Simply purchase Italian sausage links (sweet or hot), remove the casings, and then form little sausage balls. Cook them up in a skillet with a dash of olive oil, and you're good to go!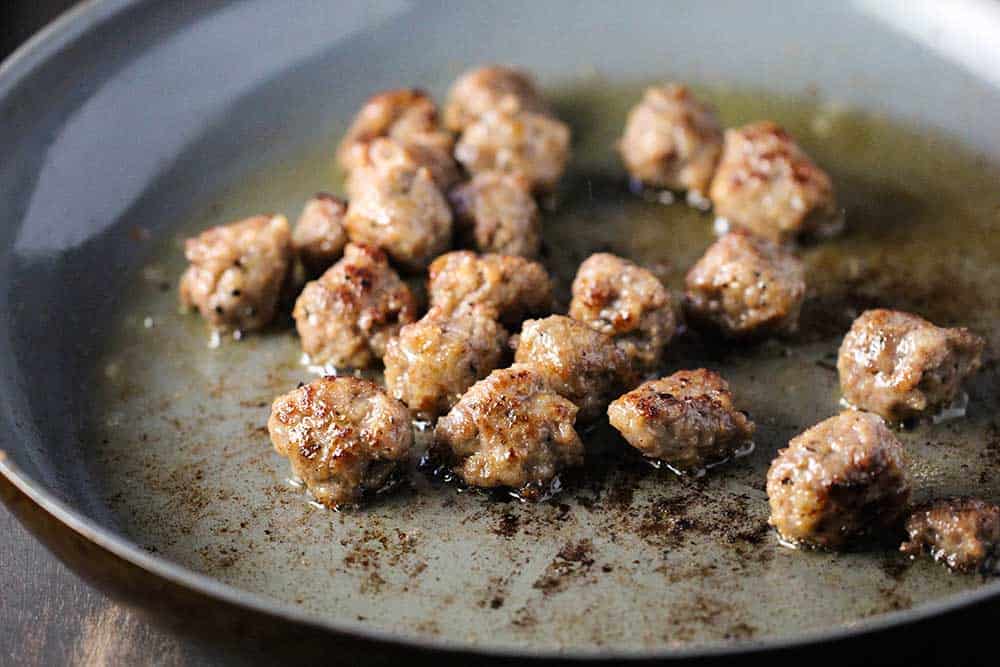 To make the soup even more hearty and delicious, we add cubed russet potatoes.
Peel the potatoes and cut them into small, bite-sized cubes and then drop in them in the soup after 40 minutes of cooking.
EXPERT TIP: The smaller the potato cubes, the less amount of time they'll need to simmer in the soup to become soft and edible. Cubes about ½-inch thick will take only about 15 minutes to become perfectly tender. Again, keep an eye on the soup, at this point, there is a good chance you'll need to add more stock to keep the soup from becoming too thick.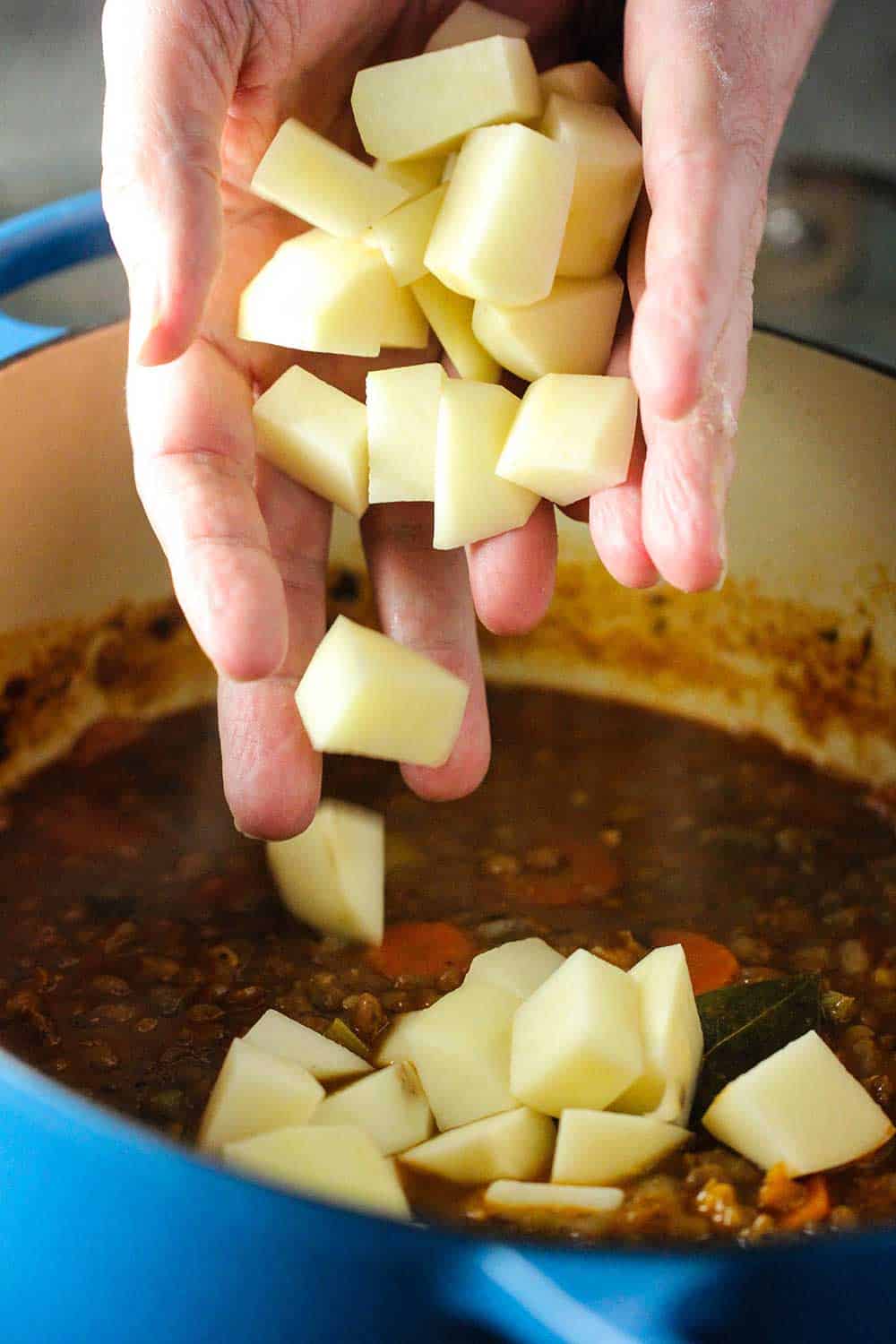 RUSTIC LENTIL SOUP IS THE ULTIMATE IN COMFORT
In the last five minutes of cooking, drop in the cooked sausage balls.
This is also a good time to slice and toast some nice crusty Italian bread.
And did we mention the smell? Oh good heavens, this is the good stuff.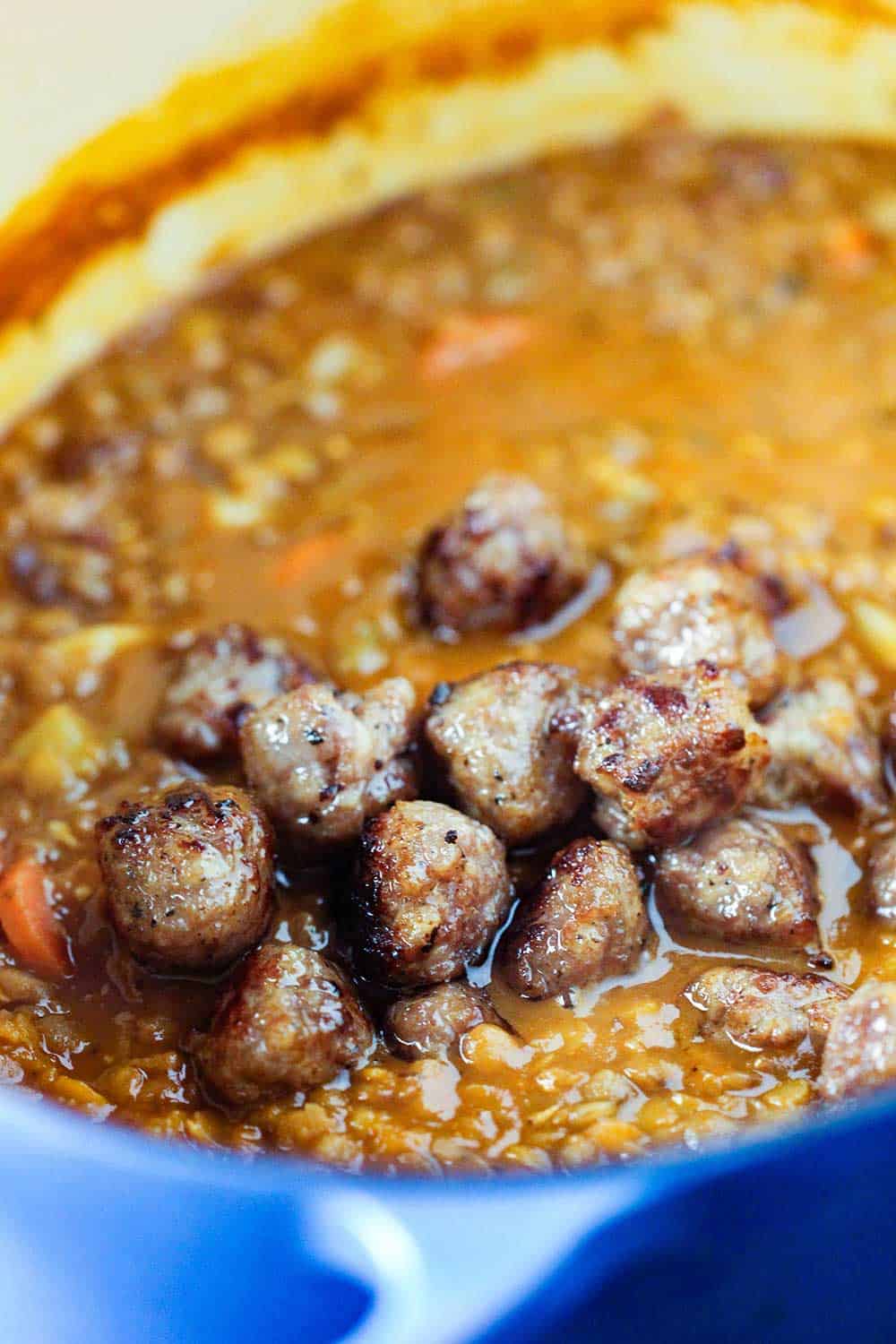 This soup is wonderful on so many levels. Comforting, yes, but because lentils are loaded with so much nutritious goodness (i.e., iron, fiber, etc), this soup is good for you, too!
And did we mention how delicious it is?
Oh my! Just look at this bowl of goodness!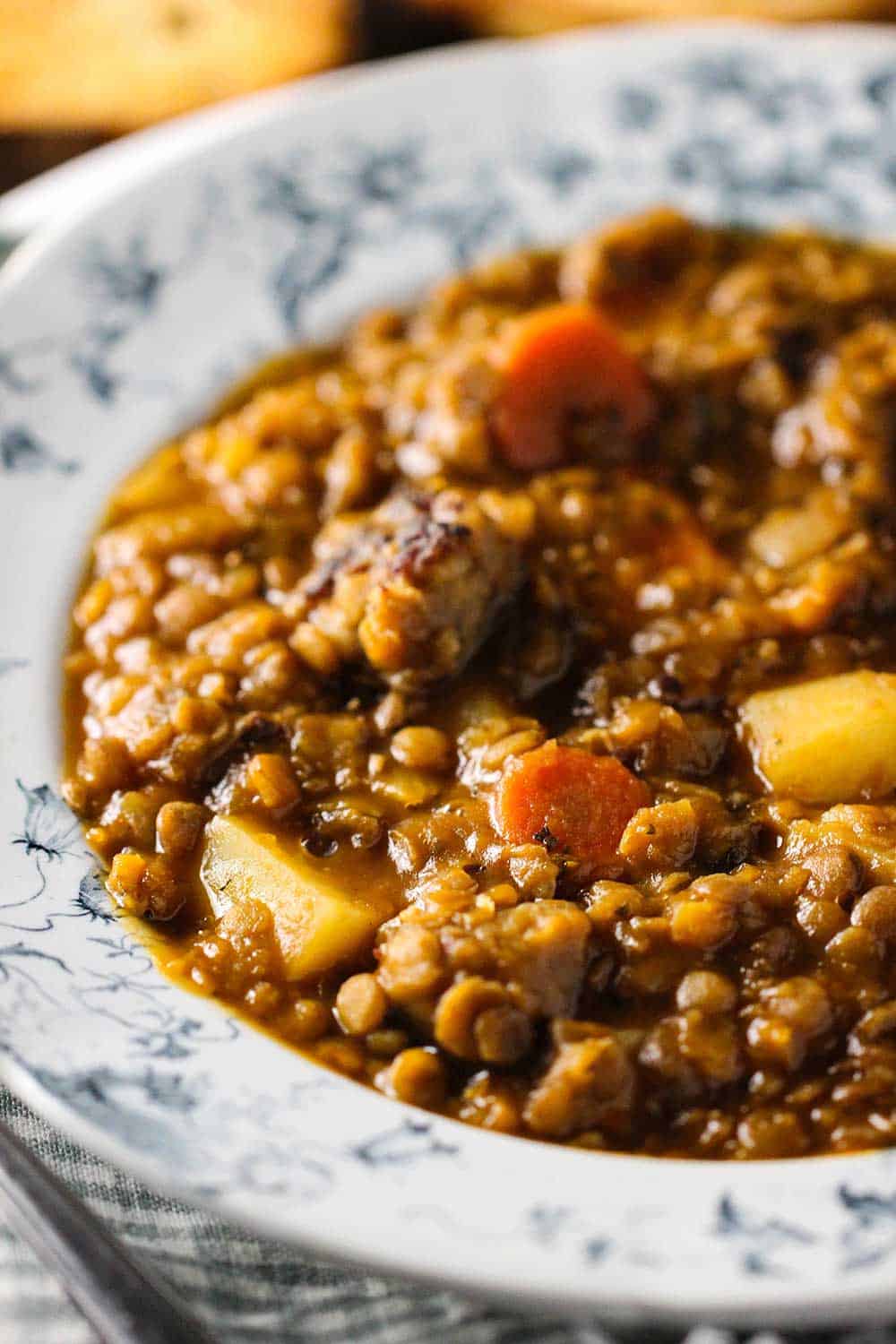 This soup is perfect for a chilly day, or anytime you're in need of a good bowl of comfort.
The soup will keep in the refrigerator for up to 1 week and in the freezer for up to 2 months.
Ready to dig in?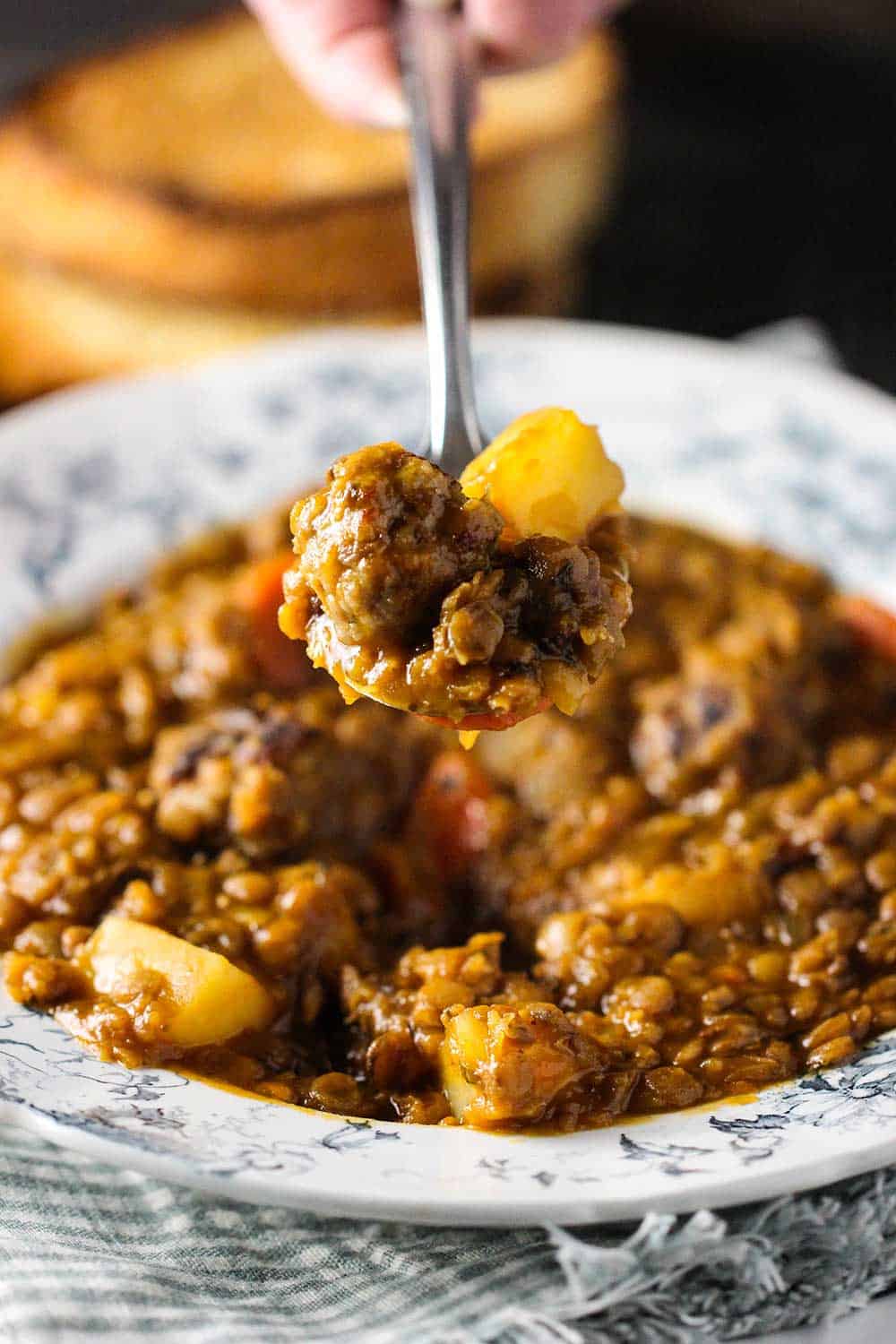 Ready to make one of the most delicious soups of all time? Go for it!
And when you make Rustic Lentil Soup, be sure to take a picture, post it on Instagram, and tag @howtofeedaloon and #howtofeedaloon!
Rustic Lentil Soup
Nothing will warm you up and make you smile much more than this bursting-with-flavor soup, Rustic Lentil Soup. Omit the pancetta and sausage and use veggie stock to make it 100% vegetarian.
Print
Pin
Rate
Servings: 10 people
Calories: 300kcal
Equipment
Large Dutch oven, or soup pot
Ingredients
1 tbsp olive oil
2 oz pancetta cubed
2 cloves garlic minced
1 cup yellow onion chopped
1 cup carrots peeled and sliced, about 2 medium carrots
1 cup celery chopped, about 2 stalks
½ tsp fresh thyme
½ tsp fresh oregano chopped
¼ tsp red pepper flakes
¼ tsp fresh ground black pepper
1 tsp salt
1 cup tomato sauce
6 cups chicken stock plus more, if needed
2 fresh bay leaves
1½ cups lentils rinsed and drained
1 potato peeled and diced
2 Italian sausage sweet or hot
Instructions
In a large pot, heat the olive oil over medium heat. Add the pancetta and cook until crisp, about 6 to 8 minutes.

Add the carrots, celery, and onions and cook, stirring occasionally, until soft and translucent, about 7 to 10 minutes.

Add in the garlic and cook for another 30 seconds.

Add the thyme, oregano, red pepper flakes, pepper, and salt and cook, stirring frequently, for another minute.

Add in the tomato sauce and then the chicken stock. Turn the heat to high and bring the liquid to a boil.

Reduce heat and bring to a steady simmer. Stir in the lentils and bay leaves, partially cover the pot, and let simmer for 40 minutes, stirring occasionally to prevent burning on the bottom. Adjusting the heat, as necessary.

Stir the soup, and if too thick, add more stock. Add the potatoes and cook for another 15 minutes, or until they are tender.

Meanwhile, remove the casings from the sausage links and form small meatballs. Cook them in a medium saucepan over medium heat with a splash of olive oil until cooked and nicely browned

Add the cooked sausage to the soup.

Taste the soup and add salt, if necessary. Remove the bay leaves.

Serve with toasted, crusty Italian bread.
Notes
Green lentils work well with this soup, but so do red or brown. Whatever is available at your supermarket will work. You will find dried lentils in the dried beans section of the grocery store. If using dried herbs, use half the amount called for in the recipe. Keep extra stock on hand, in case the soup gets thicker than desired. Simply add the stock until you reach the desired consistency. Omit the pancetta and sausage, and use vegetable stock/broth, in place of the chicken stock, to make this soup vegetarian. The soup will keep in the refrigerator for up to 1 week and freezes beautifully for up to 2 months.
Nutrition
Calories: 300kcal | Carbohydrates: 30g | Protein: 16g | Fat: 7g | Saturated Fat: 2g | Cholesterol: 25mg | Sodium: 791mg | Potassium: 754mg | Fiber: 10g | Sugar: 5g | Vitamin A: 2316IU | Vitamin C: 9mg | Calcium: 47mg | Iron: 4mg
POST UPDATE: This recipe was originally published in February 2014, but was updated with improved tweaks along with new photography, tips, and a fabulous new video in January 2020!