Roasted Butternut Squash Soup is about as comforting of a soup as you will find.
It's just so warm and wonderful any time of the year, but we love it during the holiday season.
Oh, Roasted Butternut Squash Soup…you're so good.
Roasting the veggies brings out such incredible flavor.
You can easily find pre-cut butternut squash in most supermarkets.
This soup tastes like it took hours to make, but it's very simple!
Just simmer the Roasted Butternut Squash to continue melding the flavors.
This soup is not too heavy, too. It's so creamy tasting, but there's no cream used!  The ginger and the touch of curry powder adds such amazing flavor.
Delicious!
The smell of this Roasted Butternut Squash soup is heavenly.
This is one soup you'll want to make over and over.
You know what's another really delicious and comforting soup? Our Roasted Tomato and Basil Soup!
You can't find a much more comforting soup than Roasted Butternut Squash Soup.
Oh, you probably could…but this one is right up there with the best of the best.
Its deep flavors are so wonderful.
OTHER FAVORITE SOUP RECIPE TO TRY
Cream of Mushroom Soup
Tortilla Soup
Rustic Lentil Soup
Broccoli Cheddar Soup
Chilled Corn Chowder
Jalapeno Cilantro Cheddar Soup
Smoked Ham, Kale and White Bean Stew
But in the meantime, you've got to make a batch of this heartwarming Butternut Squash Soup. You and your loved ones will be so happy that you did!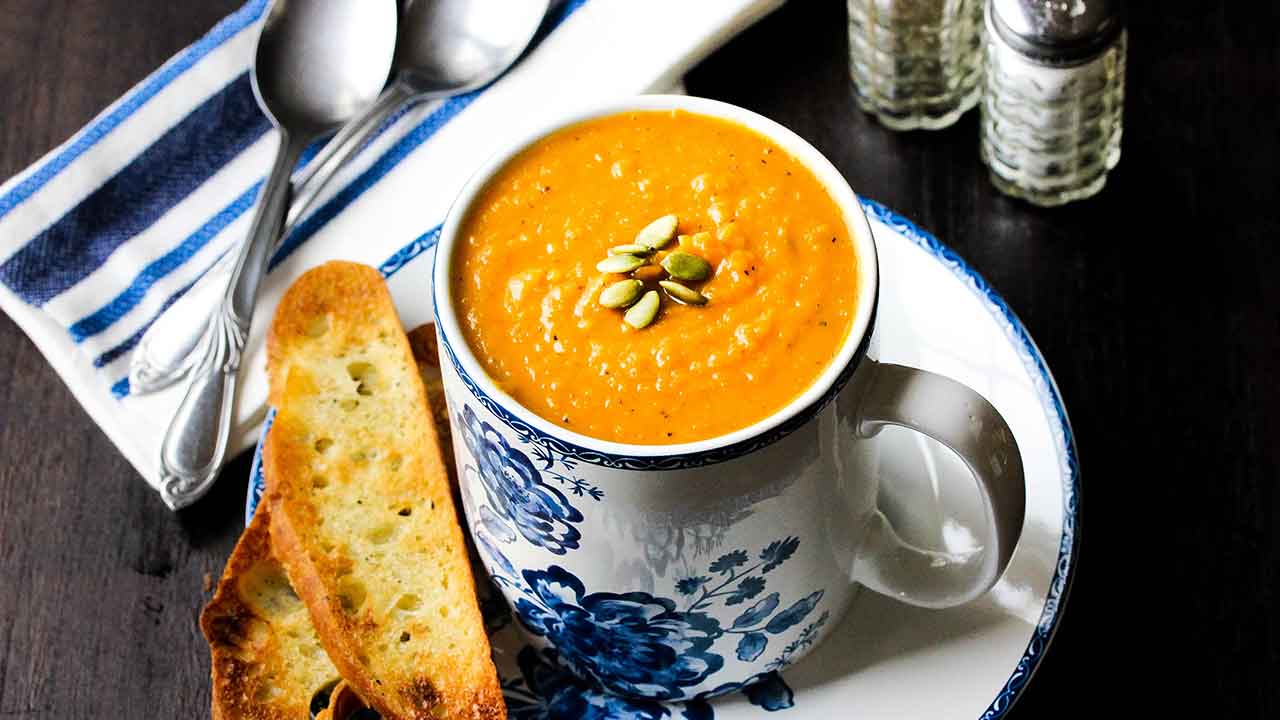 Roasted Butternut Squash Soup
This Roasted Butternut Squash Soup has been a favorite of ours for as long as we can remember. the perfect soup when there is a chill in the air. Warms you right up. Just a wonderful flavor profile!
Print
Pin
Rate
Prep Time: 15 minutes
Cook Time: 1 hour 10 minutes
Total Time: 1 hour 25 minutes
Servings: 4 people
Calories: 272kcal
Ingredients
3 1/2 to 4 lbs butternut squash peeled, seeded and cut into 1 inch pieces
2 yellow onions quartered
2 tbsp olive oil
Kosher salt and fresh ground black pepper
2 tbsp unsalted butter
2 cloves garlic minced
1 tbsp fresh ginger minced
6 cups chicken stock or vegetable stock
1/4 tsp freshly ground black pepper
1 tsp curry powder
Toasted pumpkin seeds optional, for garnish
Toasted croutons optional, for garnish
Instructions
Pre-heat oven to 425 F

Place the squash and onion on two baking sheets. Toss with the olive oil and then sprinkle with salt and pepper.

Bake for 45 minutes, tossing occasionally, until tender.

Once the squash and onion are out of the oven, heat butter over medium heat in a large skillet.

Add the garlic and ginger and saute until fragrant, about 3 minutes.

Stir in the roasted squash and onions.

Add in 4 cups of the stock and simmer for 20 minutes.

Puree in blender, or food processor, until smooth (be careful, liquid is hot!).

Return to the pot and stir in the remaining 2 cups of stock.

Add 1 1/2 teaspoons of Kosher salt.

Add curry and mix. Cook until heated through.

Garnish with toasted pumpkin seeds and/or toasted croutons (optional)
Nutrition
Calories: 272kcal