Roasted Butternut Squash Soup is about as comforting of a soup as you will find.
It's just so warm and wonderful any time of the year, but we love it during the holiday season. An easy roasting in the oven produces deep flavor. And it's so easy to make. And it's healthy, too. No heavy cream! And these are amazing topped with Homemade Croutons!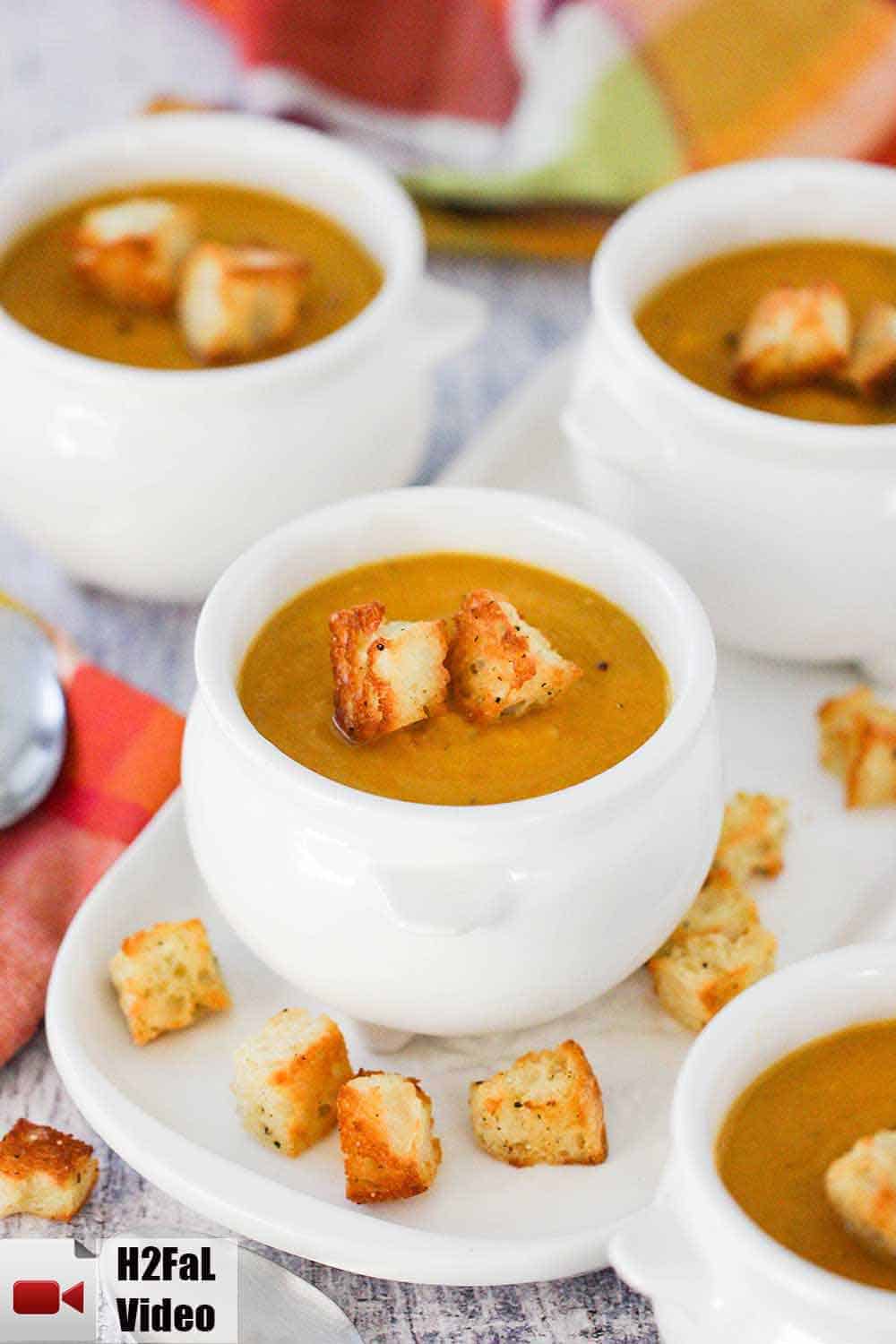 ROASTED BUTTERNUT SQUASH IS EASY TO MAKE
Roasting the veggies brings out such incredible flavor.
And, now days, most well-stocked supermarkets have packaged, pre-cut butternut squash. Score!
Watch us show you how easy it is to make this delicious soup at home!
ROASTING THE VEGETABLES ENHANCE THE FLAVOR</h3?
Roasting the butternut squash and the onions naturally concentrate the taste and result in a delicious soup.
You'll need around 3 to 3 ½ lbs of cut butternut squash. You'll most likely need to place the veggies on two large baking sheets.
EXPERT TIP: Just quarter the onion after you remove the skin. Coating the squash and onion with olive oil, and a sprinkle of salt and pepper, will help to deepen the flavors.
VEGETABLE OR CHICKEN STOCK WORK PERFECTLY
As always, the quality of ingredients that you use will have a significant impact on the end result of this soup. Fresh ginger and garlic are a must.
For the stock, we love using our homemade roasted chicken stock, but good-quality purchased stock or broth will do just fine, too.
EXPERT TIP: To make this soup 100% vegetarian, use vegetable stock in place of the chicken stock.
PUREE THE SIMMERED VEGETABLES
You may need to do this in batches, but now, it's time to puree the vegetables and stock mixture.
We use our trusty blender, but a large food processor will work well, too.
NOTE: When using your blender, make sure you have hit the "stop" button before you remove the lid and the vessel from the base. Otherwise, it could blend again, and you'll have a mess on your hands!
CURRY ADDS WARMTH TO ROASTED BUTTERNUT SQUASH SOUP
After you've pureed the vegetable/stock mixture, you'll need to add it back to your cleaned skillet and thin it with more stock.
Season with salt and pepper, to taste.
And the final step of adding 1 tbsp of good-quality curry powder puts this soup over the top. We love curry for so many reasons, and its subtle flavor boost in this soup just can't be beat.
OTHER FAVORITE SOUP RECIPES TO TRY
Cream of Mushroom Soup
Tortilla Soup
Rustic Lentil Soup
Broccoli Cheddar Soup
Chilled Corn Chowder
Jalapeno Cilantro Cheddar Soup
Smoked Ham, Kale and White Bean Stew
But in the meantime, you've got to make a batch of this heartwarming Roasted Butternut Squash Soup. You and your loved ones will be so happy that you did!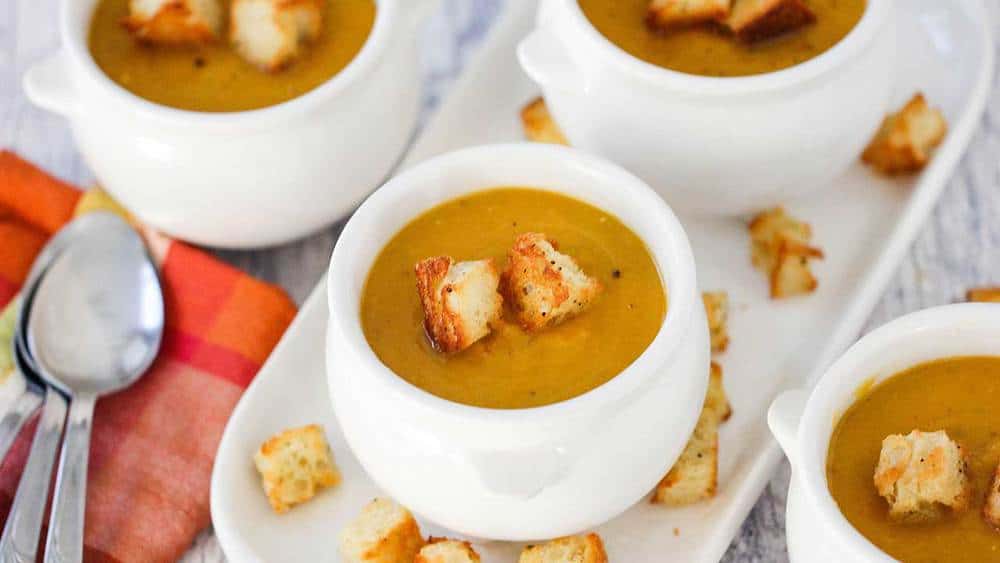 Ready to warm up and get cozy with the best soup in town? Go for it!
And when you make this glorious soup, be sure to take a picture of it, post it on Instagram, and tag @howtofeedaloon and #howtofeedaloon!
Roasted Butternut Squash Soup
This Roasted Butternut Squash Soup has been a favorite of ours for as long as we can remember. the perfect soup when there is a chill in the air. Warms you right up. Just a wonderful flavor profile!
Print
Pin
Rate
Servings: 6 people
Calories: 225kcal
Equipment
Blender or large food processor
Ingredients
3 lbs butternut squash peeled, seeded and cut into 1 inch pieces
2 medium onions quartered
2 tbsp olive oil
Kosher salt and fresh ground black pepper
2 tbsp unsalted butter or olive oil
2 cloves garlic minced
1 tbsp ginger fresh, minced
6 cups chicken stock or vegetable stock
1 tbsp curry powder
Croutons optional, for garnish
Instructions
Pre-heat oven to 425°F.

Place the squash and onion on two baking sheets. Toss with the olive oil and then sprinkle with salt and pepper.

Bake for 45 minutes, tossing occasionally, until tender.

Once the squash and onion are out of the oven, heat butter over medium heat in a large skillet.

Add the garlic and ginger and saute until fragrant, about 3 minutes.

Stir in the roasted squash and onions.

Add in 4 cups of the stock and simmer for 20 minutes.

Puree mixture in blender, or food processor, until smooth (be careful, liquid is hot!).

Clean out skillet and then pour pureed mixture into it over medium heat. Stir in the remaining 2 cups of stock.

Add 1 ½ teaspoons of Kosher salt and 1 tsp pepper.

Add curry and mix. Cook until heated through, about 5 minutes.

Garnish with homemade croutons.
Notes
You'll need 3 to 4 lbs of cut butternut squash. If you are peeling and cutting a whole butternut squash, you'll need two to three before cutting. To make this vegetarian, use vegetable stock. To make this vegan, use olive oil in place of the butter. The soup will keep in the refrigerator for up to 1 week and it freezes beautifully for up to 3 months.
Nutrition
Calories: 225kcal | Carbohydrates: 39g | Protein: 9g | Fat: 6g | Saturated Fat: 2g | Cholesterol: 17mg | Sodium: 356mg | Potassium: 1119mg | Fiber: 5g | Sugar: 10g | Vitamin A: 24235IU | Vitamin C: 51mg | Calcium: 131mg | Iron: 2mg
POST UPDATE: This recipe was originally published in November, 2017, but was updated with minor tweaks to the steps, new photography and a fabulous new video in November, 2019!