Classic Pumpkin Pie. The most classic pie of them all.
We love all kinds of pie, from Homemade Apple Pie, to Classic Pecan Pie, and Sweet Potato Pie with Pecan Topping. But if there's one pie to make this holiday, you've just got to go with Classic Pumpkin. And you won't believe how easy it is to prepare!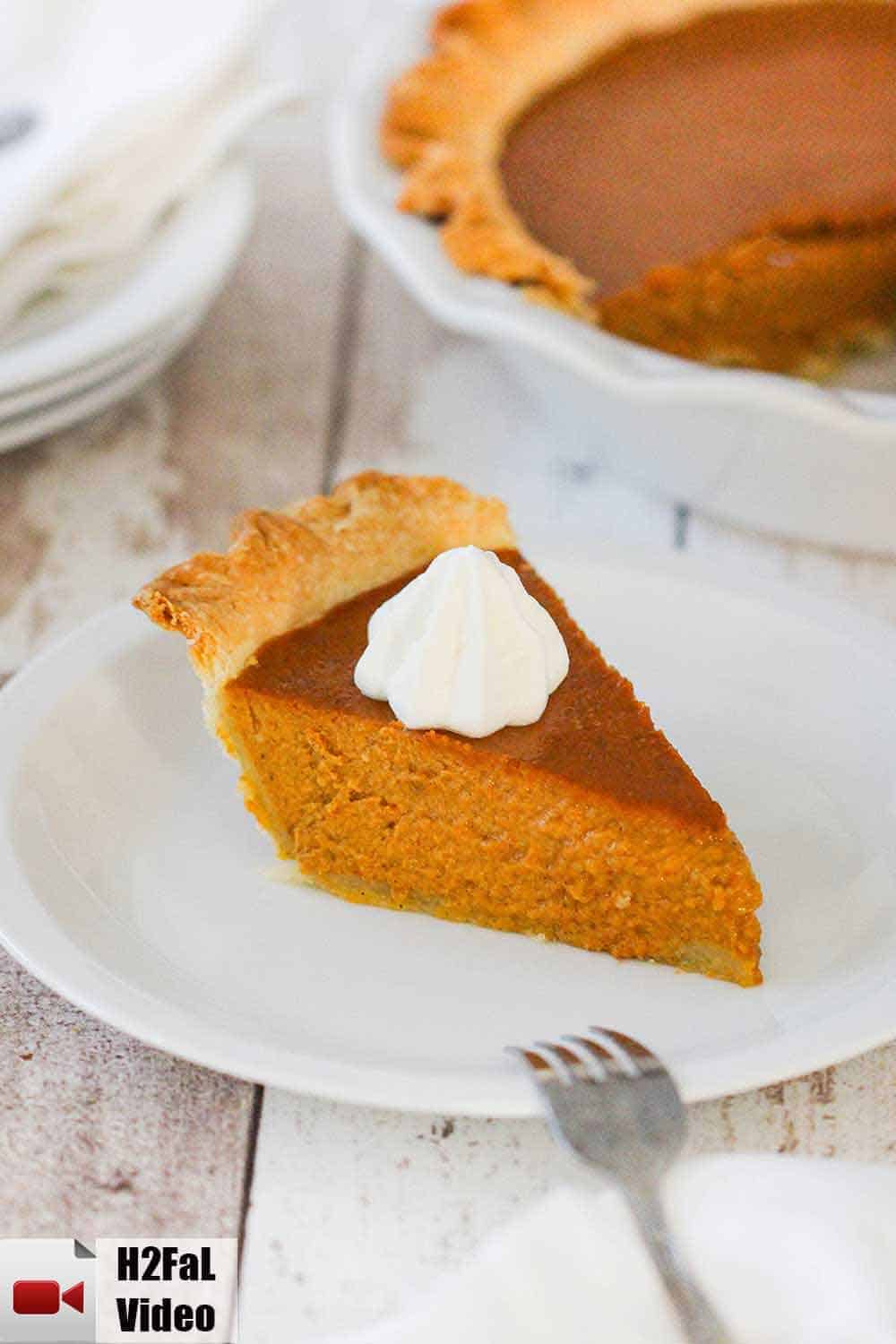 CLASSIC PUMPKIN PIE IS SIMPLE TO MAKE AT HOME
The ingredients list is not extensive to homemade pumpkin pie.
Blending the ingredients in stages helps to produce a smooth, luxurious pie.
Watch us show you how easy it is to make Classic Pumpkin Pie in your own kitchen!
MAKE THE DOUGH FOR THE CRUST AHEAD OF TIME
Homemade crust is a must when you're making pumpkin pie from scratch.
You can make the dough up to 2 days in advance, or even 1 month when frozen.
EXPERT TIP: Be careful to not over-work the dough. And also, don't handle the dough too much. The warmth from your hands will warm the butter in the dough, which will not make the dough as flaky as we like. Folding the dough into quarters makes it easier to transfer to the pie dish.
In a large bowl, thoroughly mix together the eggs with the pumpkin puree.
We like to add one egg at a time, and fully incorporate the mixture before adding the next egg.
EXPERT TIP: Make sure to get 100% pumpkin puree from the market, not pumpkin pie mix. If you want to cook and puree your own pumpkin, don't use field pumpkins (used for jack-o-lanterns), go with the sugar pumpkins or Long Island cheese pumpkins. Honestly…we find the canned variety is delicious and works perfectly.
WORK OUT ANY LUMPS IN THE SPICE MIXTURE
We love using either dark or light brown sugar in this Classic Pumpkin Pie.
Sometimes, however, small chunks of the brown sugar will be present. This is just a little moisture that has caused the sugar to clump.
Use a fork to work the spices until they are uniformly fine.
Evaporateed milk can be found in the baking section of almost all supermarkets.
We think the taste and texture are perfect for this pie, but you could also use half-and-half, or light cream.
EXPERT TIP: Be sure to fully incorporate each round of ingredients as you are building the batter. If you see clumps of pumpkin or spices, use a fork, or your fingers, to fully mix them with the other ingredients. This results in a perfectly smooth and uniform-appearing pie.
Be sure to spray the pie dish with cooking spray before laying in the pie dough.
No need to blind, or pre-bake the dough.
Just pour the gorgeous batter directly into the prepare pie dish.
HOMEMADE WHIPPED CREAM IS AWESOME
So folks, you can't have Classic Pumpkin Pie without whipped cream topping, right?
Well, if you're making the pie and the crust from scratch, let's make the topping, too! It's so easy!
All you need are a couple cups of heavy cream, some sugar, and a dash of vanilla extract.
EXPERT TIP: Placing a metal bowl in the freezer for 15 minutes before mixing the cream helps it become nice and thick, and quicker, too. We use a hand mixer on high to blend it all together, and within minutes, you've got the best tasting whipped cream you'll ever taste!
BAKE CLASSIC PUMPKIN PIE ON HIGH AT FIRST
You'll want to bake the pie in an oven pre-heated to 425°F for just 15 minutes.
This begins the process of cooking the pie and helps to set the filling.
After lowering the temperature to 350°F and cooking for another 40 to 45 minutes, it's time to take the pie out of the oven.
EXPERT TIP: Though it's tempting to eat the pie right out of the oven, it still needs to cool, which will allow the pie to set and become the silky pie that we all know and love.
THE PERFECT HOLIDAY DESSERT
There is just something so comforting and heart-warming about enjoying a slice of Classic Pumpkin Pie with loved ones after a beautiful Thanksgiving or any kind of holiday feast.
The spices, and the whipped cream topping, along with the flaky homemade crust all work together to make a dessert that is truly magnificent.
And the pie can easily be prepared 1 to 2 days in advance. You can even freeze the pie for up to 1 month before thawing and serving. Another great pumpkin recipe is our Pressure Cooker Pumpkin Bread Pudding!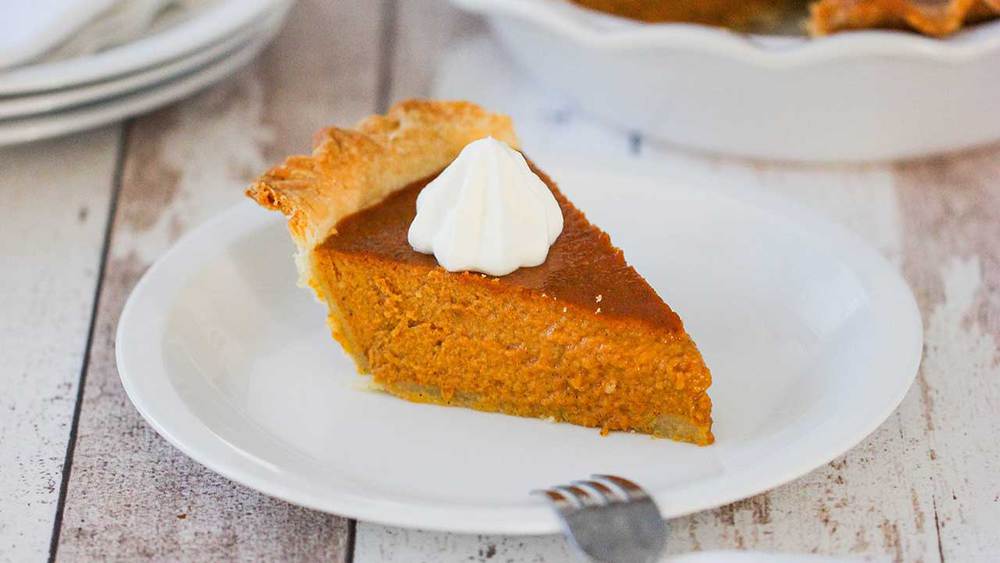 Classic Pumpkin Pie
This Classic Pumpkin Pie is about as classic as they come. The Loon could eat this pie year round. It is really good, and surprisingly easy to make! Be sure to use plain pumpkin puree, and not pumpkin pie filling. Enjoy!
Print
Pin
Rate
Servings: 8 people
Calories: 341kcal
Ingredients
FOR THE PIE FILLING
1 15 oz. can pumpkin puree not pumpkin pie filling
3 large eggs
¾ cup brown sugar light or dark
½ tsp salt
1 ½ tsp cinnamon
1 tsp ground ginger
¼ tsp ground allspice
¼ tsp ground nutmeg
1 12 oz. can evaporated milk
FOR THE CREAM TOPPING
2 cups heavy cream
4 tbsp sugar
¼ tsp vanilla extract
Instructions
Pre-heat the oven to 425F.

Make the Perfect Pie Crust (or use store bought) and place in a lightly greased pie dish.

In a medium mixing bowl, stir together the pumpkin and the eggs, one at a time, until evenly combined.

In a separate bowl, using a fork, stir together the sugar, salt, cinnamon, ginger, allspice and nutmeg until completely mixed. Use back of fork, or your fingers, to break apart any clumps.

Stir the sugar/spice mixture into the pumpkin/egg mixutre. Stir until completely combined.

Add the evaporated milk and again stir until smooth and full combined.

Pour the filling into the unbaked pie shell.

Bake for 15 minutes and then reduce the temperature to 350°F and bake for an additional 40 to 45 minutes, until the filling is set around the edges, but still soft in the middle (The pie will firm up as it cools).

Remove the pie from the oven and place on a rack to cool. Let cool for at least 2 hours.

Meanwhile, prepare the topping by placig a large metal bowl in the freezer for 15 minutes.

Then, remove the bowl and add the cream, sugar and vanilla extract.

Using a handheld mixer, mix on high until stiff peaks form, about 3 to 5 minutes.

Use a pastry bag to pipe the whipped cream along the edges of the pie, or slice, and spoon a dollop of cream on top of each slice.
Notes
Be sure to use pureed pumpkin and not pumpkin pie filling. If you can't find ground allspice, simply increase the nutmeg to 1/2 tsp. Be sure to work any clumps out of the sugar/spice mixture before adding to the pumpkin/egg mixture. Adding the ingredients in stages helps to ensure everything is completely blended, which will yield a luxurious, and uniform looking pie. Store the pie in an airtight container for up to 3 days to 1 week. The pie will also freeze nicely for up to 1 month. The whipped cream can be made up to 4 hours in advance. Keep chilled in the refrigerator.
Nutrition
Calories: 341kcal | Carbohydrates: 29g | Protein: 4g | Fat: 24g | Saturated Fat: 14g | Cholesterol: 160mg | Sodium: 204mg | Potassium: 101mg | Fiber: 1g | Sugar: 26g | Vitamin A: 1008IU | Vitamin C: 1mg | Calcium: 71mg | Iron: 1mg