Homemade Croutons are the perfect topping to your favorite salads and soups.
There is just something so comforting about homemade croutons. They are amazing on top of Caesar Salad, Warm Spinach and Bacon Salad, or Roasted Butternut Squash Soup. And they only take about 20 minutes to make!
HOMEMADE CROUTONS ARE EASY TO MAKE
You don't need a ton of ingredients to make homemade croutons.
Grab a nice loaf of bread, and you've probably got everything else you need. So simple!
Watch us show you how easy it to make them in your own kitchen!
CHOOSING THE RIGHT BREAD
Look for a good quality loaf of bread from you bakery.
We often use a medium-sized Italian loaf. A baguette works wonderfully, too, however, the croutons will be a little more dense.
EXPERT TIP: Cut the bread into approximately ¾-inch slices. Then cut those slices into strips and then cube. We usually cut the bottom layer of the crust away but leave the crust on the side and top edges. The crust adds a little more texture to some of the croutons, which we like. But if you want crustless, uniform croutons, then cut away all the crust before cubing.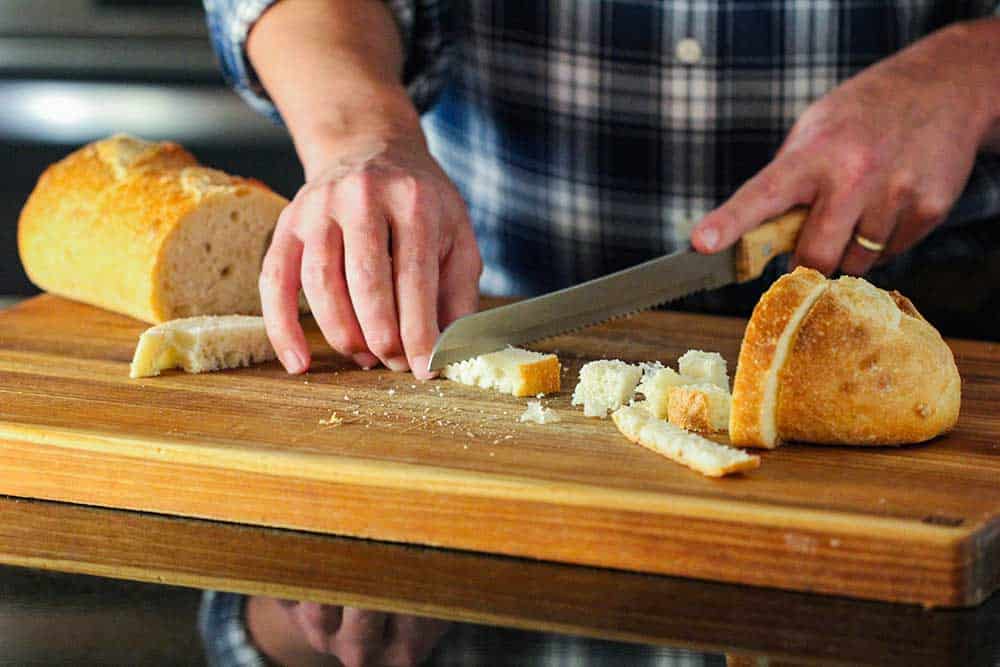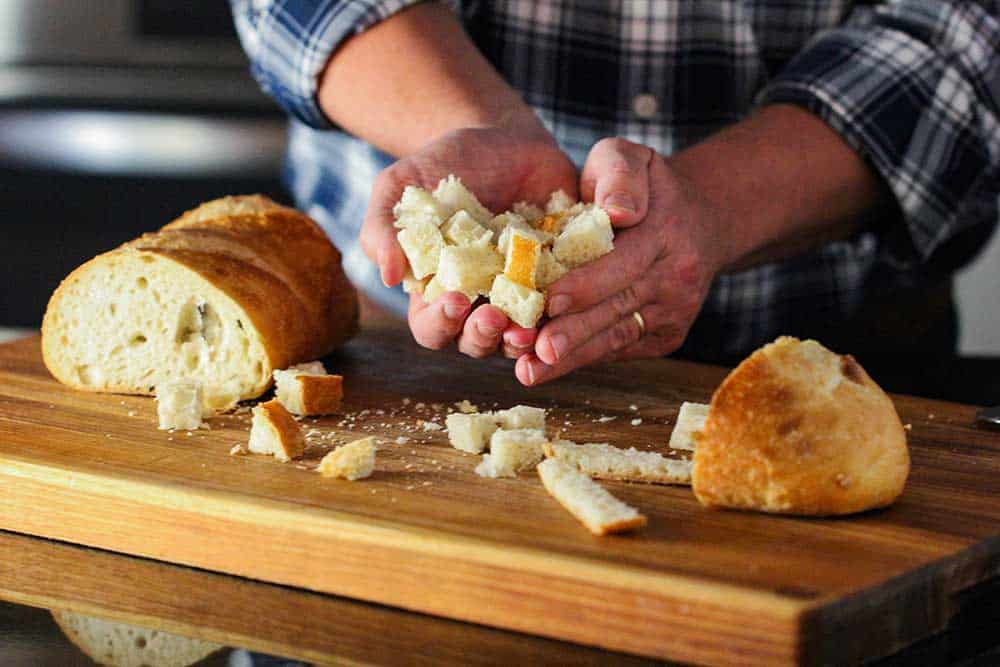 SEASON TO TASTE
Now it's time to coat the cubed bread with melted butter, olive oil, or a combination of both. We love both.
You can season the croutons however you like. A healthy pinch of salt and pepper is a great start. Minced garlic adds an amazing depth of flavor.
You can then toss in dried herbs, such as oregano, thyme, or rosemary. Another wonderful addition is a tablespoon of grated parmesan cheese. Toss until the bread is fully coated.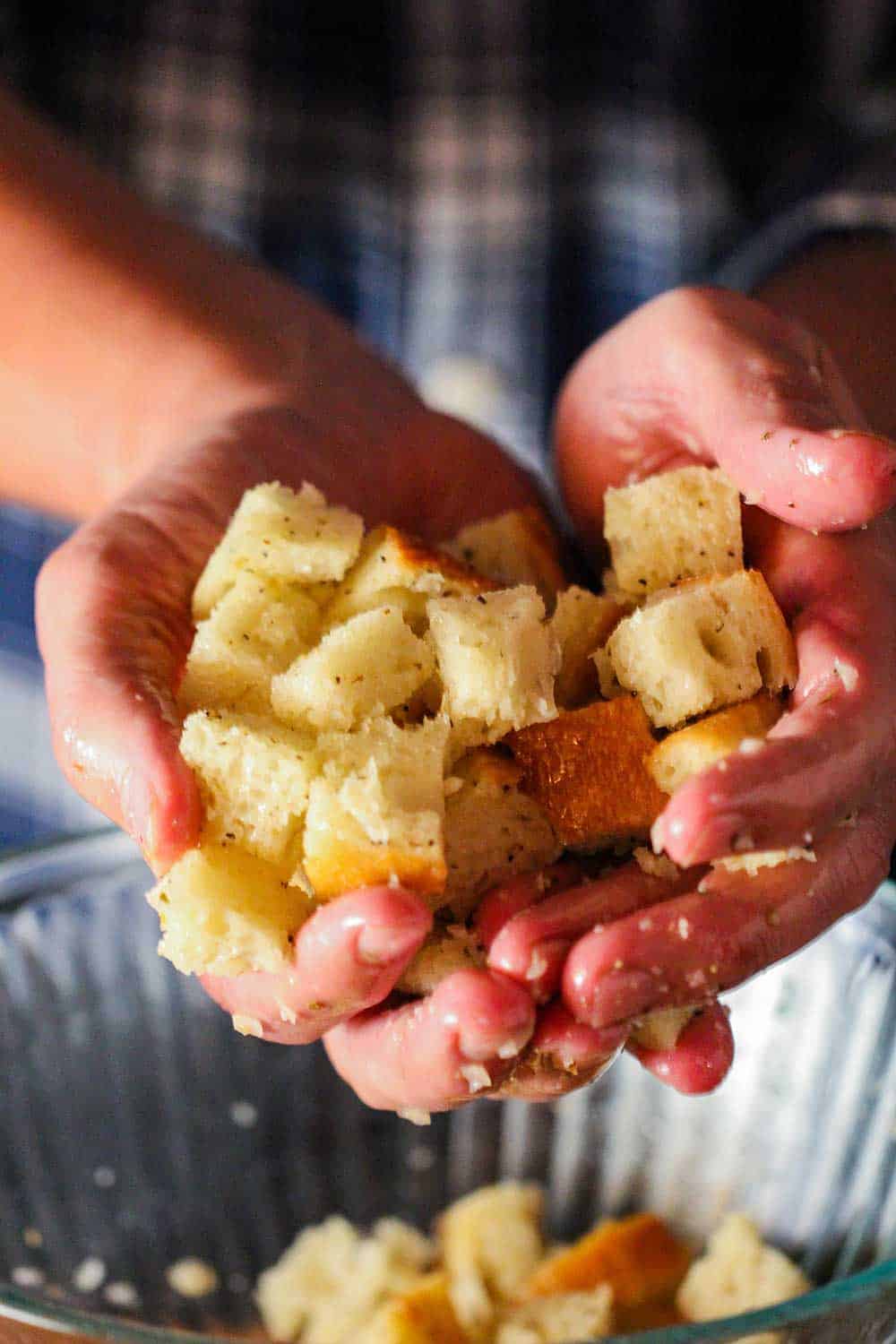 HOW TO STORE HOMEMADE CROUTONS
Homemade croutons will stay perfectly crunchy and delicious in a bowl on your counter for a couple days. You can store them in a baggie or in an airtight container for up to 1 week (no need to refrigerate).
Our favorite way to keep them though is to freeze them. They thaw very quickly and are perfect when you need them for warm bowl of soup or a delicious salad.
When they are fresh out of the oven, we hit them with just another sprinkle of salt.
EXPERT TIP: Baking time will depend on how golden and how crunchy you like your croutons to be. Typically, 15 minutes will get them nice and golden with the perfect texture. Give them a good stir mid-way through cooking. The sides of the croutons that are touching the pan will brown more deeply, which is why we recommend tossing them halfway through the cooking process.
HOMEMADE CROUTONS FAQs
Will sliced sandwich bread work? In a pinch, yes. We like our croutons to not be too small. Sandwich bread from the supermarket is sliced pretty thin and therefore your bread cubes will be small. We also think fresh bread from the bakery yields better tasting croutons.
Can I use fresh herbs? Absolutely! For our Casear salad croutons, we add fresh parsley and parmesan cheese to the mixture. Just remember, you only need about half the amount of dried herbs vs. fresh. Fresh basil or thyme, finely chopped, would be delicious, too.
Do croutons freeze well? Indeed! As mentioned, this is our favorite way to keep them. Grab a couple loaves of bread from the bakery, and double or triple the recipe and then freeze batches in freezer bags for up to 2 months. They thaw very quickly and stay crunchy and delicious.
Did we mention how amazing these homemade croutons are on top of your favorite soup? Mmmmmm…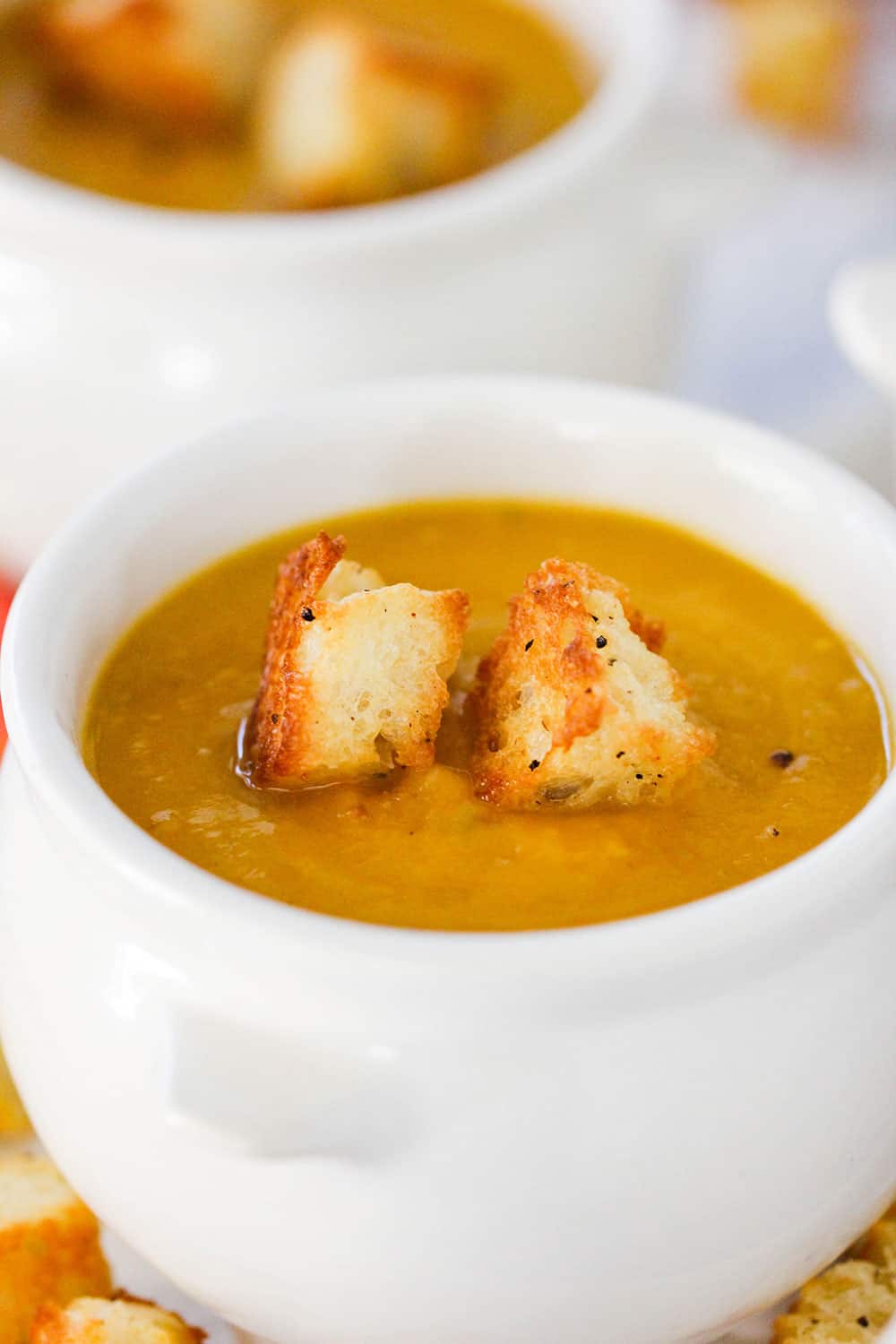 Now you know how to make croutons from scratch! Go for it! You'll be so glad that you did.
And when you make them, be sure to take a picture, post it on Instagram, and tag @howtofeedaloon and #howtofeedaloon!
Homemade Croutons
Homemade Croutons are so easy to make and truly take your favorite salad, soup, or stew to the next level. They freeze beautifully for up to 2 months!
Print
Pin
Rate
Servings: 6
Calories: 118.69kcal
Ingredients
5 slices bread cut from an Italian loaf or French baguette
2 tbsp unsalted butter melted
1 tbsp olive oil
1 clove garlic minced
½ tsp Kosher salt
½ tsp black pepper freshly ground
½ tsp oregano dried
Instructions
Pre-heat oven to 400°F.

After cutting the bread into approximately ¾-inch slices, cut into ½-inch strips, and then cube.

Add the melted butter, oil, garlic, and seasonings to a medium-sized bowl. Stir until mixed.

Add the bread cubes and toss until fully coated.

Spread the coated bread cubes onto a baking sheet. Drizzle any leftover butter/oil/garlic mixture over the bread.

Bake for 10 minutes, or until just starting to brown. Open the oven and stir the cubes around with a wooden spoon. Close the door and bake for another 5 to 10 minutes, or until the croutons are golden.

Remove from oven and transfer croutons to a plate lined with paper towels. Sprinkle with a little more salt, if desired.

Store in an airtight container for up to 1 week, or freeze for up to 2 months.
Notes
Using a fresh, unsliced loaf of bread works best. We love Italian or a French baguette. White, sourdough, pumpernickel, or whole wheat are all great choices. Cubed sliced sandwich bread will work in a pinch. Use a combination of your favorite herbs, either dried or fresh. About 1 tsp for fresh, and ½ tsp for dried. Grated parmesan cheese is a great addition, too. We'd recommend about 1 tbsp, if using grated cheese. This recipe is easily doubled or tripled. If you like your croutons extra crunchy, leave them in the oven longer until they've reached the desired texture. These will keep on the counter in a bowl for up to 2 days, in an air-tight container, or baggie, for up to 1 week, and frozen in a freezer bag for up to 2 months.
Nutrition
Calories: 118.69kcal | Carbohydrates: 11.93g | Protein: 2.52g | Fat: 4g | Saturated Fat: 2g | Cholesterol: 10.03mg | Sodium: 315.61mg | Potassium: 42.47mg | Fiber: 1.09g | Sugar: 1.43g | Vitamin A: 116.62IU | Vitamin C: 0.16mg | Calcium: 34.86mg | Iron: 0.88mg