Teriyaki Chicken Wings are a true taste sensation.
These wings are so good, they don't even need a dipping sauce! Baked, instead of fried, and exploding with flavor. Perfect party fare! Perfect with Fried Mozzarella, Tex-Mex Queso, and Classic Spinach & Artichoke Dip!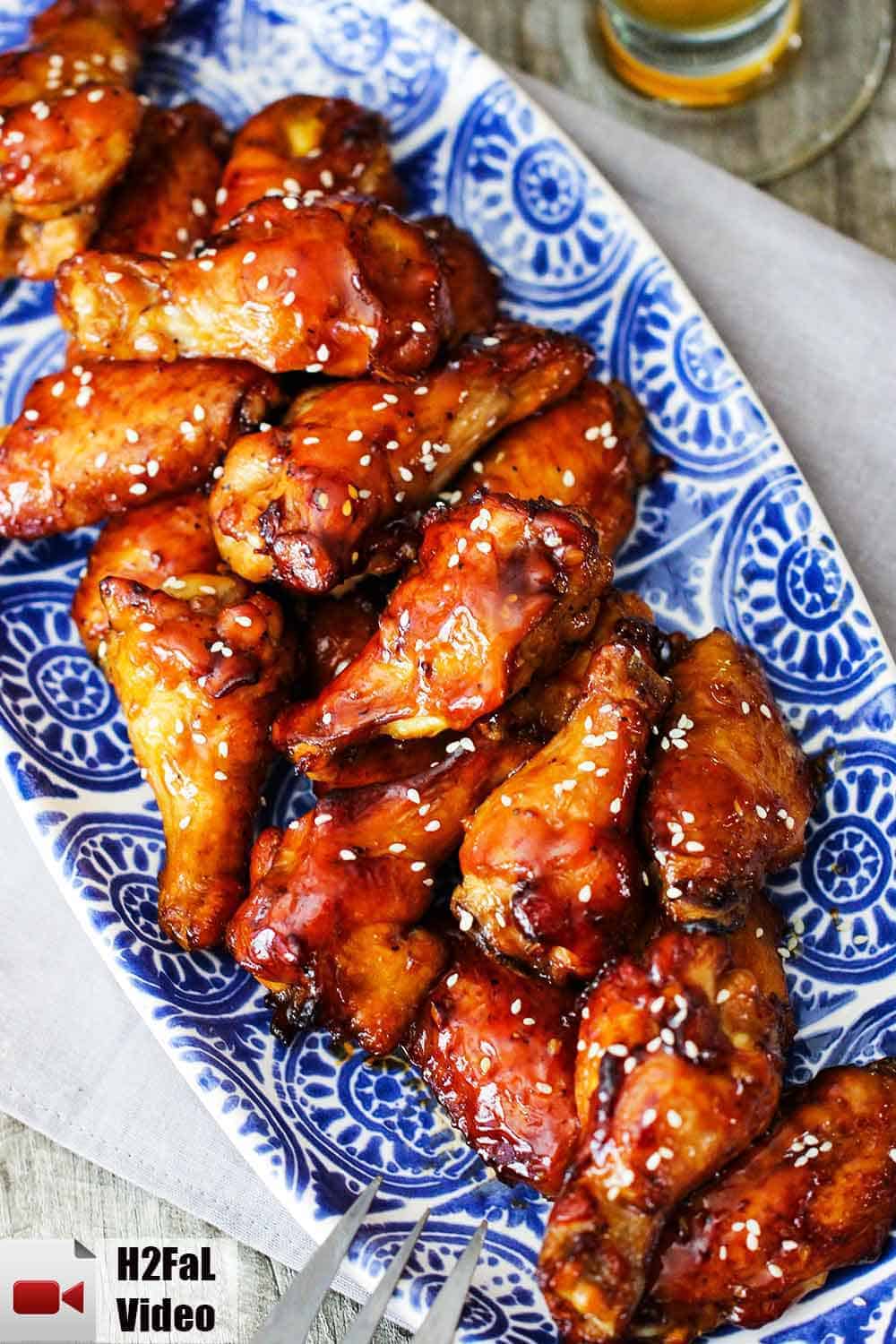 TERIYAKI CHICKEN WINGS ARE EASY TO PREPARE
Many of the steps for making these amazing wings can be done well ahead of serving.
Marinating the wings locks in incredible flavor.
Watch us show you how easy it is to make Teriyaki Chicken Wings at home!
BAKED CHICKEN WINGS ARE DELICIOUS
Marinating the chicken wings for at least 1 hour, or even better, overnight, ensures they will be deep in flavor with every bite.
A combination of freshly minced garlic and ginger, combined with soy and sesame oil is the perfect marinade for teriyaki chicken wings.
EXPERT TIP: When looking for wings, you're going to want to go with drumettes and wingettes (or flats), and you'll want them separated. There is a third part of the wing, called the tips, which are pointy and have very little meat. Most well-stock supermarkets carry the drummettes and wingetter/flats packaged and labeled as such, sometimes they're called "party wings."
Baking the wings is healthier than deep frying them, and we think teriyaki chicken wings deliver better flavor when roasted. We bake them for 50 minutes, until nicely browned, flipping them over about halfway through.
Teriyaki is a Japanese method of cooking that often involves grilling. When most of think of teriyaki, however, it's the sauce that we remember and love.
The sauce is a luscious combination of pineapple juice, soy sauce, brown sugar and mirin, which is a Japanese sweet cooking wine.
Once the sauce has reached the right consistency, it's time to coat the wings, just before another short baking period.
EXPERT TIP: A combination of corn starch and cool water, mixed together, is called a 'slurry.' This will slightly thicken the sauce, which is ideal. Use equal amounts of corn starch and water, typically 1 tbsp each. After adding the slurry to the sauce, stir constantly until slightly thickened. If you prefer a thicker sauce, make another slurry, and add more. Be careful, it can thicken up quickly. If it gets too thick, thin with a little water.
AN EXRTA LAYER OF SAUCE IS PERFECT
Once the baked wings have been coated with half of the prepared teriyaki sauce, it's back to a 425°F oven for 15 minutes.
At this point, the wings will be almost impossible for you not to devour immediately. But hold the phone, just for a moment.
Brushing another layer of sauce on the wings right out of the oven brings the taste and texture to teriyaki perfection.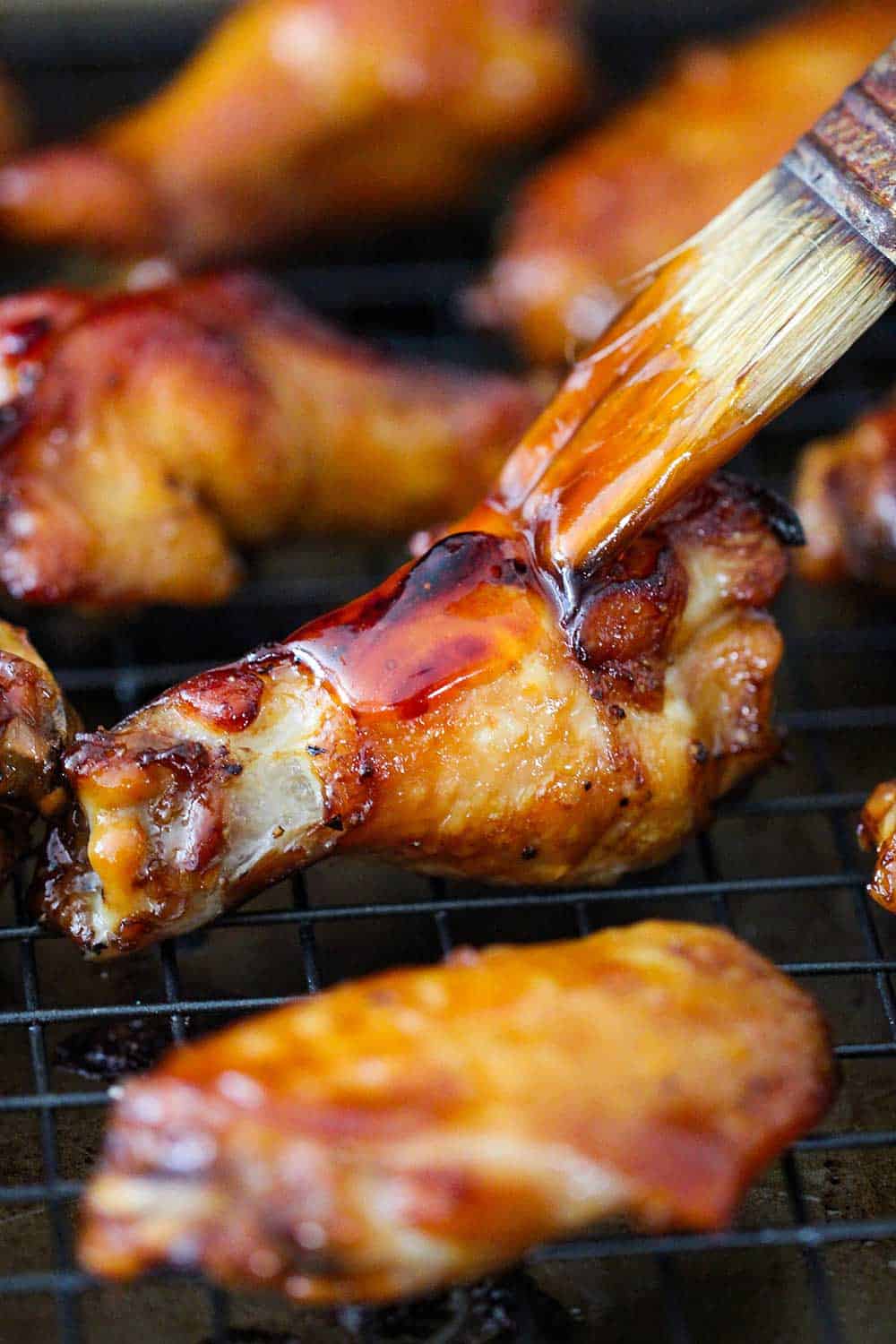 PERFECT FOR PARTIES OR GAME-DAY GRUB
We love all kinds of wings, without a doubt. We love traditional Classic Buffalo Wings, Grilled Thai Wings, Garlic Parmesan Wings and Italian-Style Wings.
Without doubt, whenever we serve these teriyaki chicken wings, they are always such a crowd favorite. They are a little different than traditional hot wings, but so incredibly flavorful.
A sprinkling of sesame seeds on the finished wings adds a nice contrast in color, but also a delicious texture and taste. Just look at these wings, folks.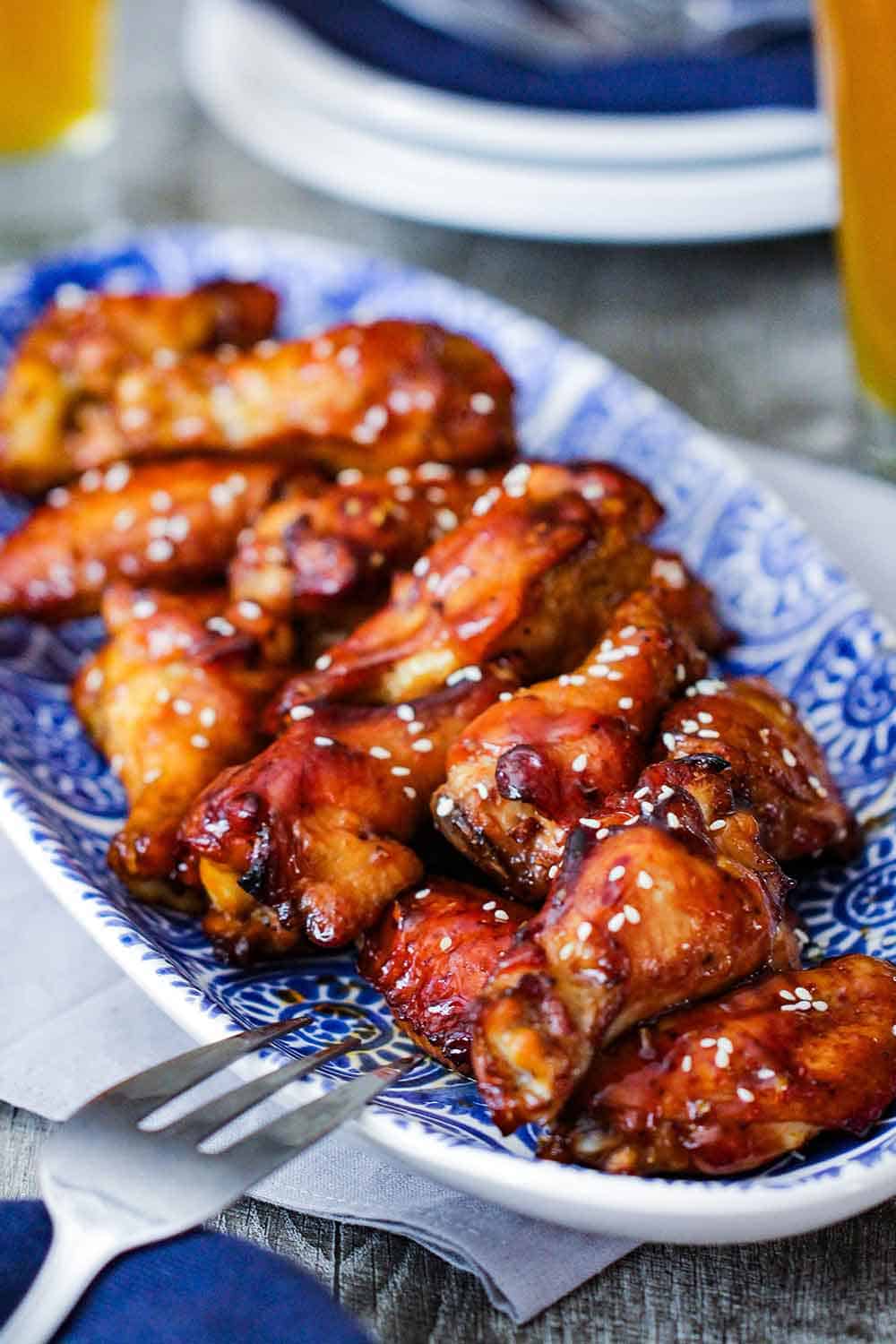 TERIYAKI CHICKEN WINGS FAQs
Where do I find mirin? Mirin is a Japanese sweet cooking wine that can be found in the Asian section of most well-stocked supermarkets. It can certainly be ordered online, too. You could use sake in place of Japanese mirin, or combine 1 tbsp of sugar into sherry or chardonnay, before adding to the sauce.
Can this recipe be used for other types of chicken? Absolutely! You can marinate chicken pieces (legs, thighs, breasts) and then roast or grill them, finishing them off with the sauce. You'll need to adjust cooking times to make sure the chicken reaches 165°F.
Can these be made in advance? Most of it! Marinate the chicken in advance. Make the sauce up to a day in advance. Roast up to several hours in advance. And then do the final round of baking (with the sauce applied), just before serving. These are best served hot, right out of the oven.
Do these need a dipping sauce? You will most likely have some of the teriyaki sauce leftover, so you can serve them with that. But honestly, these are so loaded with flavor, they are dynamite by themselves!
Ready to make what we think is one of the best party dishes we've ever come up with? Go for it!
And when you make these teriyaki chicken wings, be sure to take a picture, post on Instagram, and tag @howotofeedaloon and #howtofeedaloon!
Teriyaki Chicken Wings
These Teriyaki Chicken Wings are always a crowd favorite. Be sure to marinate the wings for at least 1 hour (or up to overnight) to ensure best flavor. Then bake, apply the incredible sauce, and then bake again until cooked through and nice and crispy on the outside. Incredible.
Print
Pin
Rate
Servings: 6 people
Calories: 386kcal
Ingredients
3 lbs chicken wings drumettes and wingettes (flat) only
1 tsp Kosher salt
1 tsp black pepper freshly groudn
3 tsp garlic minced - divided (1 teaspoon for marinade and 2 for sauce)
4 tsp fresh ginger grated or finely chopped - divided (2 teaspoons for marinade and 2 for sauce)
1 cup soy sauce divided, ½ cup for marinade and ½ cup for sauce
1 tsp sesame oil
1 tsp olive oil
¼ cup pineapple juice
½ cup mirin
¼ cup brown sugar
1 to 2 tbsp corn starch
Sesame seeds for garnish
Instructions
Season the wings with salt and pepper.

In a large bowl, stir together the garlic, ginger, soy sauce and sesame oil.

Add the seasoned wings and turn to fully coat.

Transfer to a wide dish, cover and refrigerate for at least 1 hour, or up to overnight.

Pre-heat oven to 350°F.

Remove the chicken wings from the marinade and place on a large rimmed baking sheet, preferably on a baking rack.

Bake for 50 minutes.

Meanwhile, heat the olive oil over medium-high heat.

Add the garlic (2 teaspoons) and ginger (2 teaspoons) and saute until soft, about 2 minutes.

Add the soy sauce (½ cup), pineapple juice, mirin and brown sugar. Bring to a boil then reduce heat to medium.

Make a slurry by adding the corn starch in a small bowl and add 1 tablespoon of cold water. Stir until combined.

Add the corn starch slurry to the sauce and cook until reduces to the consistency of syrup. About 15 minutes. Cover and reserve until wings are done baking. Add more slurry if thicker sauce is desired.

Remove the wings from the oven and increase the temperature to 425°F.

Pour half of the sauce into a large bowl and carefully add the wings to the bowl and gently stir to coat.

Place the wings onto a clean baking sheet lined with a rack and put back into the oven and bake for another 15 minutes. Wings should start to brown a little on the edges.

Remove from the oven and coat with the remaining sauce with a small brush.

Plate the wings and then sprinkle sesame seeds over the top. Serve at once.
Notes
Look for drumette and wingette/flats chicken wings. They are usually packaged in the poultry section in the meat dept. of most well-stocked markets. Sometimes they are called 'party wings.' Mirin can be found in the Asian section of most supermarkets. Japanese sake can be substituted. Or, add 1 to 2 tbsp of sugar to white wine and mix, and then add to the sauce with the other ingredients. The wings are best if marinated for several hours, or overnight. The sauce can be made up to 1 day in advance. The marinated wings can be baked several hours before serving. Bake with the sauce just before serving. The wings are best served piping hot, fresh from the oven. Snipped chives also make a nice garnish, in addition to the sesame seeds.
Nutrition
Calories: 386kcal | Carbohydrates: 23g | Protein: 27g | Fat: 8g | Saturated Fat: 2g | Cholesterol: 94mg | Sodium: 2791mg | Potassium: 298mg | Fiber: 1g | Sugar: 15g | Vitamin A: 180IU | Vitamin C: 2mg | Calcium: 33mg | Iron: 2mg
POST UPDATE: This post was originally published in September, 2016, but was updated with tweaked improvements to the recipe, new photograph, and a fabulous new video in October, 2019