This post is kindly sponsored by Kroger, but the recipe, photography, video, and opinions are 100% ours.
If you are looking for a recipe that is a celebration of summer grilling, you've come to the right place.
This recipe is almost beyond description in how scrumptious it is. We are thrilled to have partnered with Kroger to share this "cook-in" recipe! Whether you're grilling inside our out, this recipe is one you'll want to make time and time again!
HOW TO MAKE GRILLED BOURBON MAPLE CHICKEN WINGS
There are several components to this dish that we feel put these wings in real contention for winning the battle of best wings ever.
The rub, the sauce, and even the prepping of the wings can all be done in advance, meaning that when it's time to fire up the grill, you're almost done!
The bourbon and the maple syrup are key, of course, and we'll get to that soon.
The Perfect BBQ Rub is the perfect match against the slightly sweet sauce.
One batch is all you need for these wings, but the rub is so perfectly wonderful, we double the recipe, just to have extra on hand!
PREPARING THE CHICKEN
We love using whole chicken wings for this recipe. These wings are good and messy, and you want a whole wing that you can solidly grab with two hands (with plenty of napkins nearby!).
Place the chicken wings in a large bowl, add some olive oil and apple cider vinegar, and then dump all the BBQ rub. Toss with a couple of large wooden spoons until fully coated.
EXPERT TIP: The BBQ rub is so deeply flavorful, you could throw them on the grill right after coating them, and they would be delicious. But letting them chill and marinate in the refrigerator for at least 30 minutes, or even better, overnight, is recommended. You can simply cover the bowl with plastic wrap, or transfer to a large freezer baggie until ready to grill.
QUALITY INGREDIENTS MAKE A BIG DIFFERENCE
It's no surprise to say the two most important ingredients for our Bourbon Maple sauce are…you guessed it: Bourbon and maple syrup.
There are lots of awesome bourbons on the market. Ask that bourbon drinker in your life for a good option.
For the maple syrup, we always turn to Kroger's Private Selection 100% Pure Grade A Amber Color Maple Syrup. The taste and texture are truly the best, and a MAJOR reason these wings are so epic in taste.
The Worcestershire sauce, tomato paste, dried oregano, salt, and pepper round out the taste perfectly
Simmer until just thickened, about 5 minutes. Oh, the smell! Just amazing! Now it's time to fire up the grill! Grilled Bourbon Maple Wings are getting close to a reality!
EXPERT TIP: Both the rub and the sauce can be made in advance. The rub will stay for weeks in an airtight container and the sauce will keep in the fridge for up to 1 week.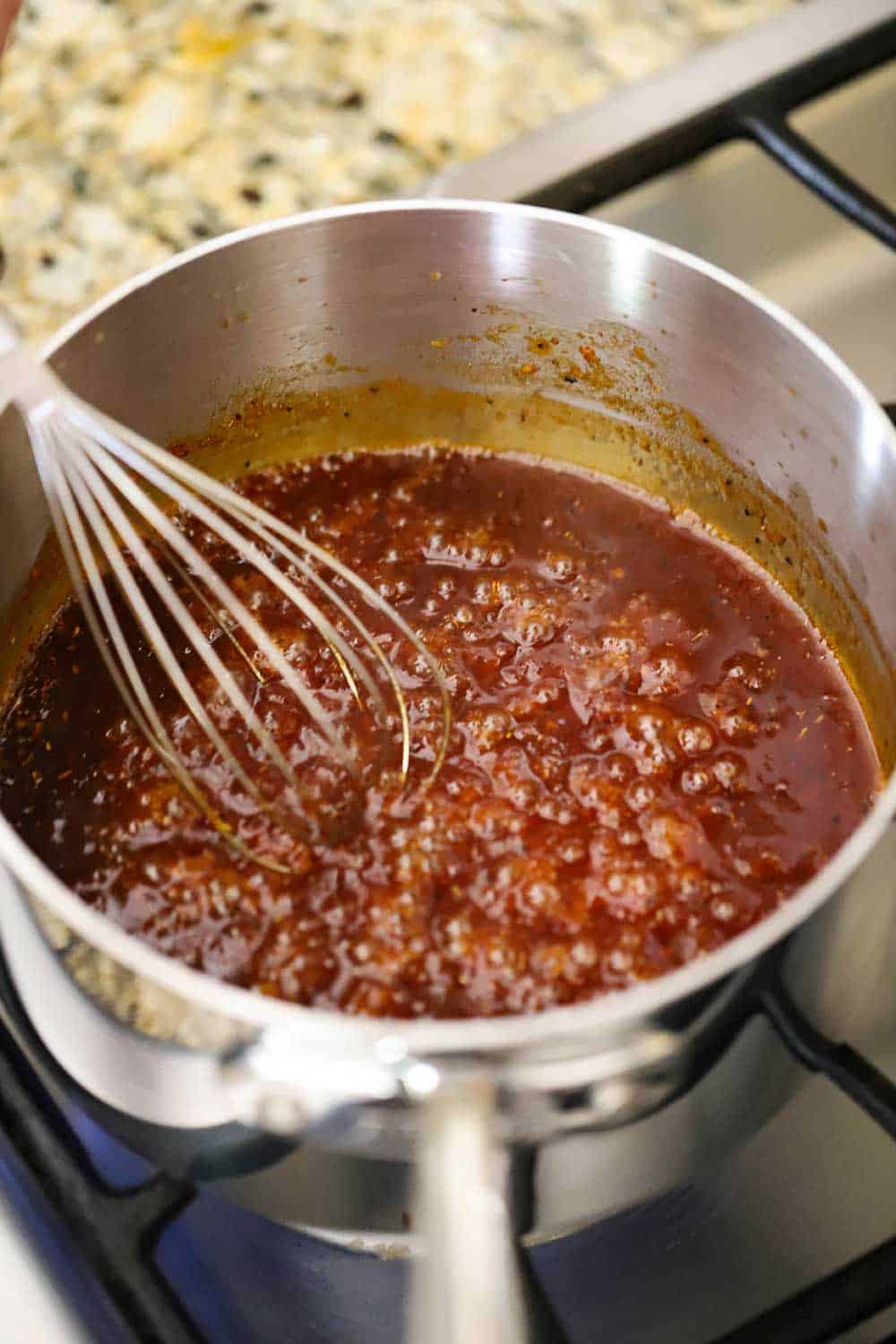 GRILL THE WINGS OVER DIRECT HEAT
We're getting close to prime-time folks!
Fire the grill up to a nice medium-hot and place the wings on the grates, turning once after 5 minutes, and allowing them to cook for another 5 minutes. Slather on the sauce all over and let cook for another 3 minutes per side, or until fully cooked through and lightly charred
EXPERT TIP: You can absolutely cook these on your indoor grill if you don't have an outdoor grill. Baking them is an option, too! Bake them at 350°F for 45 minutes, and then baste them all over with the sauce, and let them go another 15 minutes, or until nicely browned.
This is a bold statement, but these wings are what all other wings wish they could be.
Bold. Messy. Insanely Delicious.
As mentioned, you'll want to have an extra roll of paper towels handy before you start devouring these gems!
CELEBRATE SUMMER AT HOME WITH KROGER
If you're stuck at home, that doesn't mean you can't celebrate summer and still have AMAZING summertime food to whip up and to chow down on!
For the best products, we consistently turn to Kroger. They always deliver freshness and quality and have everything we need to make our summer grilling a HUGE success.
And what's even better is that Kroger offers easy pickup and delivery options to allow you to get all of your provisions in one easy place!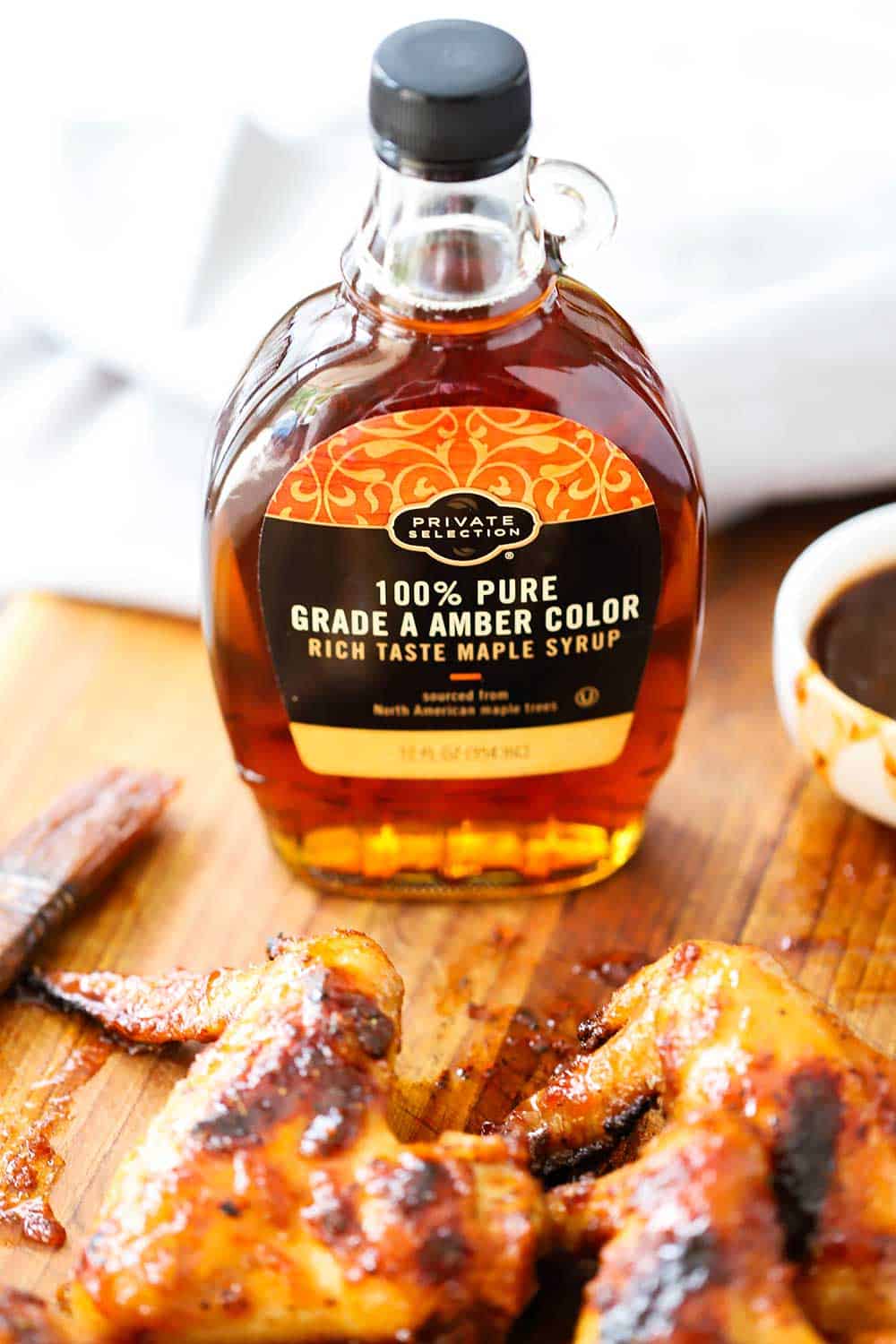 These Grilled Bourbon Maple Wings are off-the-hook delicious.
Perfect for summer cookouts or summer cook-"ins"!
Just take a look at this baby and try not to have a mouth-watering experience.
Ready to make and serve the most awesome grilled chicken wings ever? Go for it!
And when you do, be sure to take a photo, post it on Instagram, and tag @howtofeedaloon and @Krogerco and hashtag #howtofeedaloon and #RECIPEHASHTAGE (need to get this)
Grilled Bourbon Maple Wings
Grilled Bourbon Maple Wings...Really, what else needs to be said? Be sure to make the Perfect BBQ Rub, it really makes a huge difference in the taste! The rub and sauce can all be made a couple of days in advance. Let the wings marinate for at least 30 minutes, and up to 12 hours, or overnight!
Print
Pin
Rate
Servings: 6 people
Calories: 422kcal
Equipment
Grill: Gas, charcoal, or electric. Indoor electric grill.
Ingredients
FOR THE WINGS
2 lbs chicken wings whole
2 tbsp olive oil
2 tbsp apple cider vinegar
½ cup BBQ rub
FOR THE SAUCE
2 tbsp unsalted butter
¼ cup onion grated on the medium holes of a box cutter
½ cup bourbon
¾ cup maple syrup pure
2 tbsp tomato paste
1 tbsp Worcestershire sauce
½ tsp oregano dried
½ tsp salt
¼ tsp black pepper freshly ground
Instructions
DO AHEAD
Make the Perfect BBQ Rub.
MARINATE THE WINGS
Place the wings in a large bowl and add the oil, vinegar, and BBQ rub and toss with large wooden spoons until the wings are completely coated. Cover with plastic wrap and chill in the refrigerator for 30 minutes, or up to overnight.
MAKE THE BBQ SAUCE
Melt the butter in a medium-sized saucepan over medium heat. Add the grated onions and cook for three minutes.

Add the bourbon, maple syrup, tomato paste, Worcestershire sauce, oregano, salt and pepper, and stir to incorporate.

Simmer for 5 minutes. Remove from heat and set aside.
GRILL THE WINGS!
Fire up your grill to medium-high heat.

Once the grill is ready, add wings to the grill.

Cook on each side until slightly charred, about 5 minutes per side.

Slather on the BBQ sauce, and cook for another 2 minutes each per side.

Remove and serve immediately with remaining BBQ sauce
Notes
We strongly recommend making the BBQ rub for this recipe. It matches perfectly against the sauce. We love using whole chicken wings for this recipe, but you could certainly go with 'party wings' which only include the drumette and the wingette (but not the flap). If so, you'll need to reduce the grilling time to just 3 to 4 minutes per side. Be sure to use Pure Maple Syrup, and not imitation pancake syrup. Again, this makes a huge difference. The alcohol will 99.9% cookout through the simmering and grilling process. The rub and sauce can be made up to 2 days in advance. We recommend letting the wings marinate for at least 30 minutes, but they're even better after they've chilled for at least a couple hours, or overnight. We love to serve them with extra sauce, but they're so loaded with flavor, they don't really need it. Be sure to serve these with lots of napkins!
Nutrition
Calories: 422kcal | Carbohydrates: 29g | Protein: 15g | Fat: 16g | Saturated Fat: 4g | Cholesterol: 73mg | Sodium: 328mg | Potassium: 304mg | Fiber: 1g | Sugar: 25g | Vitamin A: 320IU | Vitamin C: 3mg | Calcium: 59mg | Iron: 1mg