Homemade Blue Cheese Dressing is so incredibly delicious and so easy to make!
Grab a block of good-quality blue cheese, and you've probably got everything else in your fridge or pantry!
This dressing comes together in a matter of minutes! Homemade blue cheese dressing with buttermilk is so creamy and bursting with flavor.
Perfect on a salad or as a dip!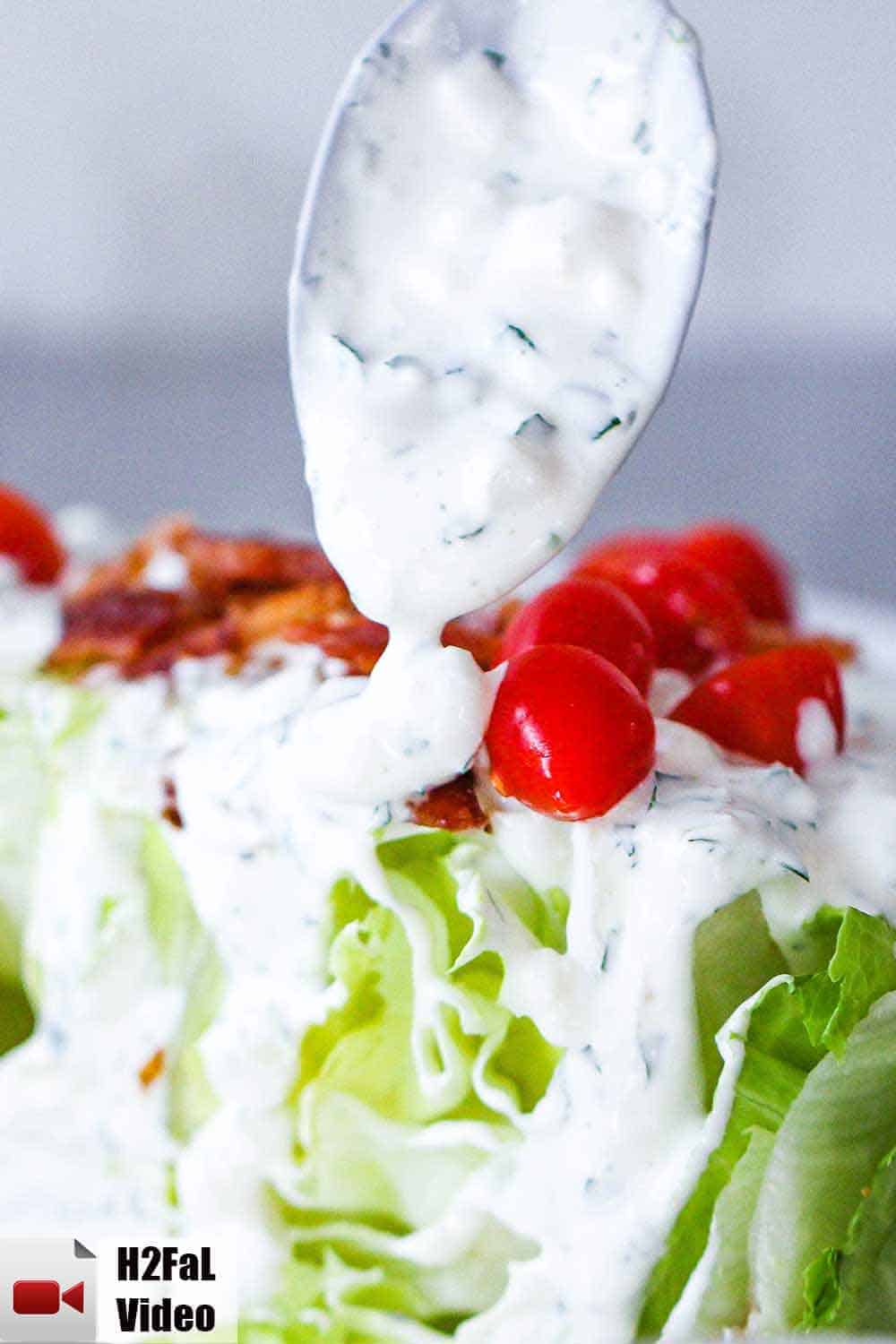 HOW TO MAKE HOMEMADE BLUE CHEESE DRESSING
The difference between homemade blue cheese dressing and the bottled variety is night and day.
It's so simple to make and truly elevates salads and dips to delicious heights you just have to taste to believe.
Watch us show you how easy it is to make homemade blue cheese dressing at home!
INGREDIENTS YOU NEED
EXPERT TIP: We find that using a good-quality block of blue cheese is better than purchasing the pre-crumbled blue cheese. The end result is a creamier texture for the dressing because the pre-crumbled variety is drier than a block.
In addition to the block of blue cheese, you'll need
Mayonnaise – homemade is great, but a quality store-bought will work, too
Sour cream – adds a little tartness
Buttermilk – this makes it even more creamy
Lemon juice – fresh is best
White wine vinegar – a little acidity is so good
Fresh parsley, we love the color and the peppery taste
Fresh onion and fresh garlic – neither overpower, just elevate the taste
Salt and pepper – to your own liking
HOMEMADE BLUE CHEESE DRESSING FAQs
What is the best kind of blue cheese to use? Here are our favorites: Stilton, Maytag, Gorgonzola, and Cabrales.
How long will it stay fresh? The dressing will stay deliciously fresh in your refrigerator for up to 2 weeks. You can freeze for up to 2 months.
Can I make it light? Of course! You won't get the same luxurious taste, but you can substitute non-fat Greek yogurt for the mayonnaise and even the sour cream. Again, the taste will not be quite the same, and it will be a little less creamy, but it's still very good.
Are there health risks with homemade mayonnaise? Our homemade mayo contains raw eggs. Therefore, very young children, the elderly, and anyone with a compromised immune system should take caution before consuming. Consult your doctor if you're unsure.
OTHER DELICIOUS DRESSING AND DIPS
Scallion-Buttermilk Dressing
In the meantime, you're just going to love this incredible Homemade Blue Cheese Dressing!
Ready to make the best blue cheese dressing in the world? You're all set!
And once you make it, be sure to take a picture, post it to Instagram, and tag @howtofeedaloon and #howtofeedaloon!
Homemade Blue Cheese Dressing
This homemade blue cheese dressing is so easy and so good. Awesome on a wedge salad, or perfect for dipping with your favorite wings.
Print
Pin
Rate
Servings: 10
Calories: 221kcal
Ingredients
1 cup mayonnaise
½ cup sour cream
¼ cup buttermilk
lemon juice juice of ½ a lemon
1 tbsp white wine vinegar
1/4 cup onion finely chopped
2 cloves garlic minced
¼ cup flat-leaf parsley finely chopped
Pinch Salt and pepper each
4 oz. blue cheese use block, not pre-crumbled
Instructions
Place all the ingredients, except the blue cheese into a medium-sized bowl

Use your hands to crumble the blue cheese into the mixture.

Use a fork to stir until mixed. Flatten some of the cheese with the fork against the side of the bowl.

Cover and refrigerate for at least an hour.
Notes
We find that crumbling a block of blue cheese with your fingers is better than going with pre-crumbled cheese. The texture is creamier.
The blue cheese will stay good in the refrigerator for up to 2 weeks. It can also be frozen for up to 2 months.
This blue cheese is spectacular poured over a crisp, cold wedge of iceberg lettuce and then topped off with cooked, crumbled bacon and sliced cherry tomatoes.
It's also the perfect dip for Classic Buffalo Wings.
Nutrition
Calories: 221kcal | Carbohydrates: 2g | Protein: 3g | Fat: 23g | Saturated Fat: 6g | Cholesterol: 25mg | Sodium: 316mg | Potassium: 64mg | Fiber: 1g | Sugar: 1g | Vitamin A: 183IU | Vitamin C: 1mg | Calcium: 82mg | Iron: 1mg
POST UPATE NOTE: This recipe was originally post in January, 2014, but was updated with recipe improvements, new photography, and awesome video in September, 2019.