Everyone loves a classic, right? Well, it doesn't get much more classic than this amazing appetizer.
We are nuts about wings. We love all kinds, including Teriyaki Chicken Wings, Garlic and Parmesan Wings, Grilled Thai Wings, and Italian-Style Wings. But for us, it just doesn't get much better than the original.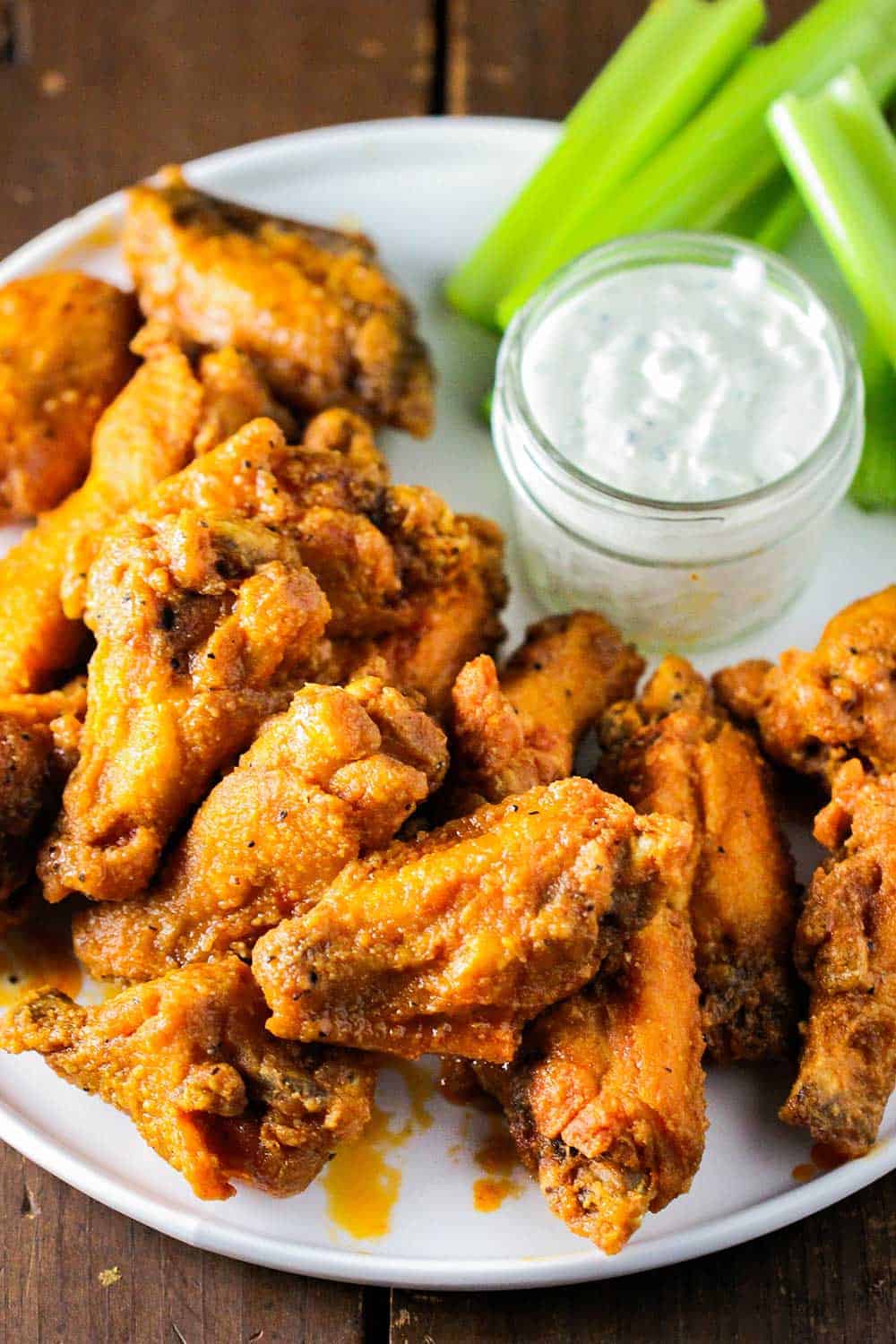 HOW TO MAKE CLASSIC BUFFALO WINGS
Classic buffalo wings are typically deep-fried with a wonderfully seasoned flour coating. If you're interested in learning more about how this amazing appetizer became such a national institution, read here.
The sauce is simple, yet huge on flavor.
Watch us show you how to make the original buffalo wings recipe!
CHOOSING THE RIGHT TYPES OF WINGS
When picking up wings from the market, you'll want to seek out the wingettes (or flats) and the drummettes.
If you get full wings, and you stretch them out, you'll see there are three parts to the wing. The first part is called the tip. Sometimes these wings are packaged and labeled "party wings" or "wingette and drumette" portions.
EXPERT TIP: After you have completely coated the wings with the seasoned flour, we recommend placing them on a baking sheet with a baking rack and refrigerating them for at least 30 minutes. This allows the flour mixture to fully adhere to the chicken wings and will result in an extra crunchy wing.
HOW TO COOK CLASSIC BUFFALO WINGS
The traditional method for preparing these wings is to deep-fry them. If you prefer, you can bake the wings in a 350°F oven for approximately 50 to 60 minutes, or until fully cooked.
If you're doing the traditional method (which is what we suggest for these wings), it only takes 11 minutes at 360°F to cook them perfectly, until they are golden brown.
EXPERT TIP: If you don't have a deep-fryer, a large sturdy pot, or cast-iron skillet, will work filled with vegetable oil. Use a candy thermometer to maintain an oil temperature of 350° to 365°F. Fry in batches, and if you need to keep the wings warm after frying, simply place them on a baking sheet lined with a baking rack in a low-temp oven: 220°F.
THE PERFECT SAUCE
There several key factors in making the best Classic Buffalo Wings in the world:
Texture and flavor of the wing (we've nailed that)
A sauce that's has the right amount of heat and flavor (just follow our lead here)
A perfect blue cheese dipping sauce (we'll get to this soon)
We've experimented and found the perfect combination of butter, hot sauce, and seasoning. NOTE: If you like your wings extra spicy, then increase the amount of hot sauce. This recipe produces just enough heat to make you feel good, but not hurt.
After you've poured the sauce all over the wings, use a couple of wooden spoons to fully coat all the wings.
The smell is intoxicating.
Have we talked about the homemade blue cheese dressing yet? Hold on, let's look at these wings first.
HOMEMADE BLUE CHEESE PUT THEM OVER THE TOP
You're going to have to trust us on this one.
These wings are so good it would be a crime to not give them the best tasting blue cheese dressing in town.
EXPERT TIP: Make the blue cheese dressing ahead of time. In fact, if you make it the day before, it gets even better after sitting in the fridge for 24 hours. Heavenly.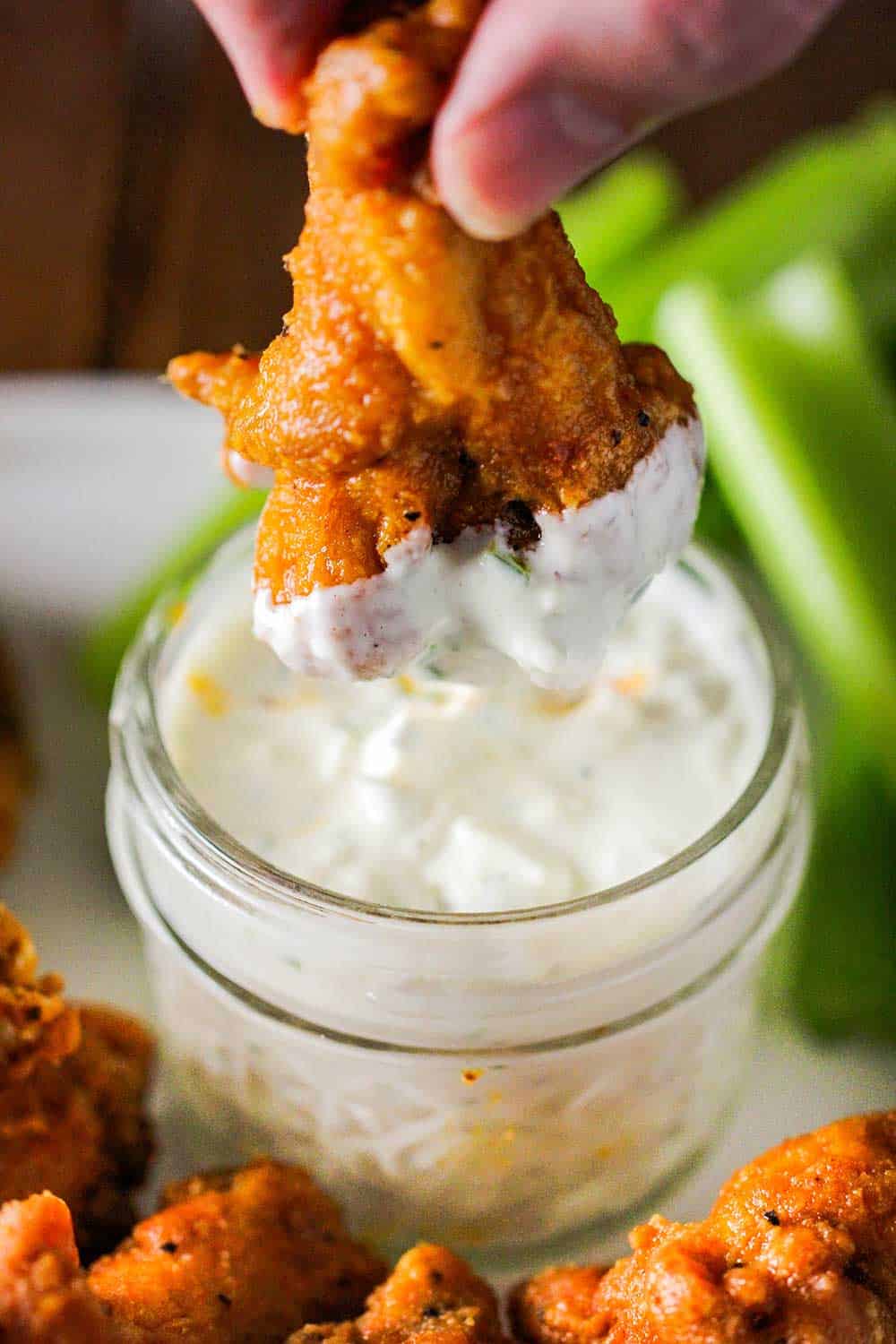 THE PERFECT APPETIZER
Classic Buffalo wings have been a favorite appetizer for so many years. Another favorite of ours is our Garlic Parmesan Chicken Wings.
We are so excited to share our recipe with you that we believe will rival any wing you've ever devoured.
And you can make them in your very own kitchen! NOTE: Keep fried wings warm in an oven and then toss with the sauce just before serving. We do, however, recommend serving them within at least a couple hours of deep-frying them.
Ready to make the best wings in town? Go for it!
And when you do, be sure to take a picture of them, post on Instagram, and tag @howtofeedaloon and #howtofeedaloon!
Classic Buffalo Wings
Classic Buffalo Wings are so perfect! Especially for game day, or parties, or anytime you want the perfect appetizer. This recipe is classic in all the right ways. Serve with homemade blue cheese dressing and celery, and you won't believe the results. Amazing!
Print
Pin
Rate
Servings: 6 people
Calories: 267kcal
Equipment
Deep fryer, or sturdy pot with a candy thermometer
Ingredients
1½ lb chicken wings drumettes and wing flats
½ cup all-purpose flour
¼ tsp smoked paprika
¼ tsp cayenne pepper
¼ tsp Kosher salt I like Kosher
⅓ cup unsalted butter
⅓ cup hot sauce i.e., Franks
¼ tsp ground black pepper
¼ tsp garlic powder
Vegetable oil for frying
Blue cheese dressing for dipping
Celery cut into strips
Instructions
In a small bowl, mix together the flour, paprika, cayenne pepper, and salt.

Place the wings into a large bowl and then sprinkle the flour mixture over them, tossing the wings with a large spoon, making sure the wings are fully coated.

Place the wings on a baking sheet lined with a baking rack and refrigerate for at least 30 minutes.

Meanwhile, heat the oil in a large skillet, or a deep fryer, to 350° to 360° F.

In a separate small saucepan, combine the butter, hot sauce, garlic powder, and ground pepper over low heat. Stir until the butter has melted and the ingredients are well blended.

Carefully place the wings into the hot oil and fry them for 10 to 11 minutes, or until they are crispy and golden.

Remove the wings to a plate with lined paper towels to drain.

Add the cooked wings to a large bowl.

Add the prepared wing sauce, and gently stir, coating all the wings evenly.
Notes
Look for wing portions in the meat section of your supermarket called 'wing drumettes' and 'wing portions.' Or 'party wings' or 'drummettes and flats.' You don't want the 'tip' portion of an entire wing.
Once you have completely coated the wings with the seasoned flour, it is important to allow them to rest in the refrigerator for 30 minutes. If you plan to keep them in the fridge longer than 30 minutes, gently cover them with a kitchen towel. They can stay in the fridge for up to 6 to 8 hours before frying.
Though deep-frying is the traditional method for cooking classic buffalo wings, you can bake them instead of frying. Place the floured wings in an oven set to 350°F on a baking rack for 60 minutes. Internal temperature should reach 165°F. An air fryer works well set at 350°F for 30 minutes.
The homemade blue cheese dressing is essential and can be made up to 2 days in advance.
Don't overcrowd the wings in the oil when frying. Frying in batches is recommended. If doubling, or tripling the recipe, keep the fried wings in a low temp (220°F) oven until just before serving. Add the wings to a large bowl, toss with the sauce, and then serve.
Nutrition
Calories: 267kcal | Carbohydrates: 8g | Protein: 13g | Fat: 17g | Saturated Fat: 6g | Cholesterol: 74mg | Sodium: 496mg | Potassium: 126mg | Fiber: 1g | Sugar: 1g | Vitamin A: 502IU | Vitamin C: 10mg | Calcium: 10mg | Iron: 1mg
POST UPDATE: The recipe was originally published in November 2014, but was updated with improved tweaks to the recipe with all-new photography, tips and a fabulous new video in January 2020.