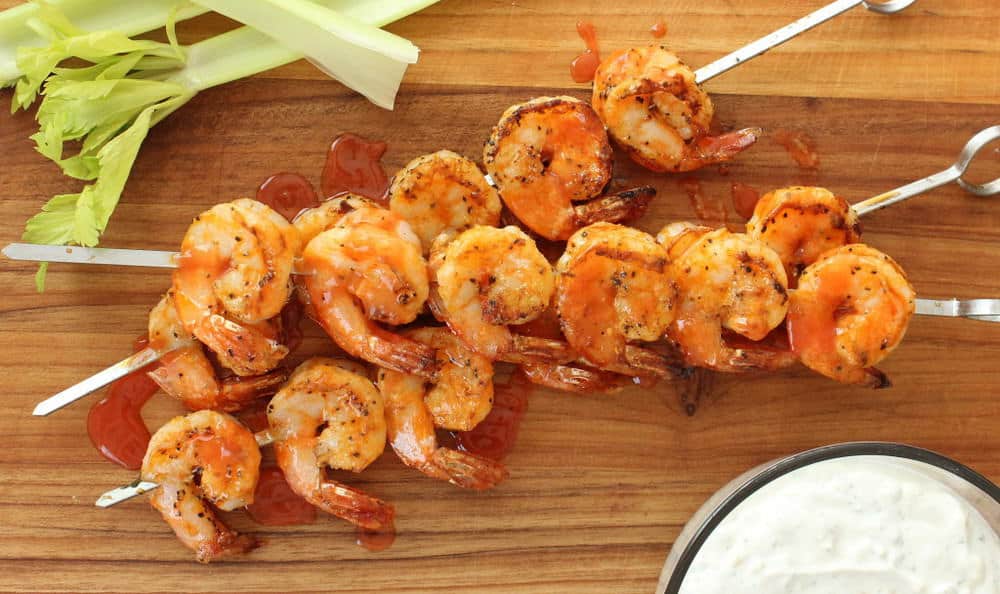 Grilled Buffalo Shrimp:  Oh, we just love everything about these!  Grilling, shrimp, skewers, Buffalo-style, homemade blue cheese…how can you get better than that! These are great for a BBQ, or a party, or just a fun afternoon.  Make the blue cheese ahead of time, and you'll just love how fast it is to pull these delectable gems together.  Truly one our favorite things to make, and always a crowd favorite.   135% Loon Approved!
Grilled Buffalo Shrimp
If you like Buffalo hot wings, and if you like grilled shrimp, you are going to love these Grilled Buffalo Shrimp! Be sure to make the homemade blue cheese dressing, it's super easy and takes the dish to the next level. This is a crowd pleaser without a doubt!
Author: Kris Longwell
Recipe type: Appetizer
Cuisine: American
Serves: 4 - 6
Ingredients
Homemade Blue Cheese Dressing (click for easy recipe)
4 wooden skewers, soaked in water for 30 minutes (or, metal skewers)
18 jumbo shrimp, peeled, deveined, leaving the tails on
2 tablespoons olive oil
1 teaspoon onion salt
1 teaspoon garlic powder
1 teaspoon smoked paprika
4 tablespoons (1/2 stick) unsalted butter
¼ cup hot sauce (Frank's is good)
½ bunch celery
Instructions
Prepare your grill for direct cooking over medium heat.
Toss the shrimp with the oil and then sprinkle all over with the onion salt, garlic powder and paprika.
Skewer all of the shrimp.
Grill the shrimp, turning once, until just cooked through, 7 - 8 minutes.
Meanwhile, heat butter and hot sauce in a small saucepan over medium heat until better is melted. Stir to combine.
Add shrimp to bowl and pour in sauce. Toss to coat.
Serve with blue cheese dip and celery.
Enjoy!