Grilled Buffalo Shrimp brings together three of our most favorite things in the culinary world: Grilling. Buffalo Sauce. Shrimp.
Shrimp is so versatile and is amazing with so many different types of seasoning. This variation using Buffalo wing sauce with homemade blue cheese is awesome. And grilling them puts them over the top. And they come together in no time at all!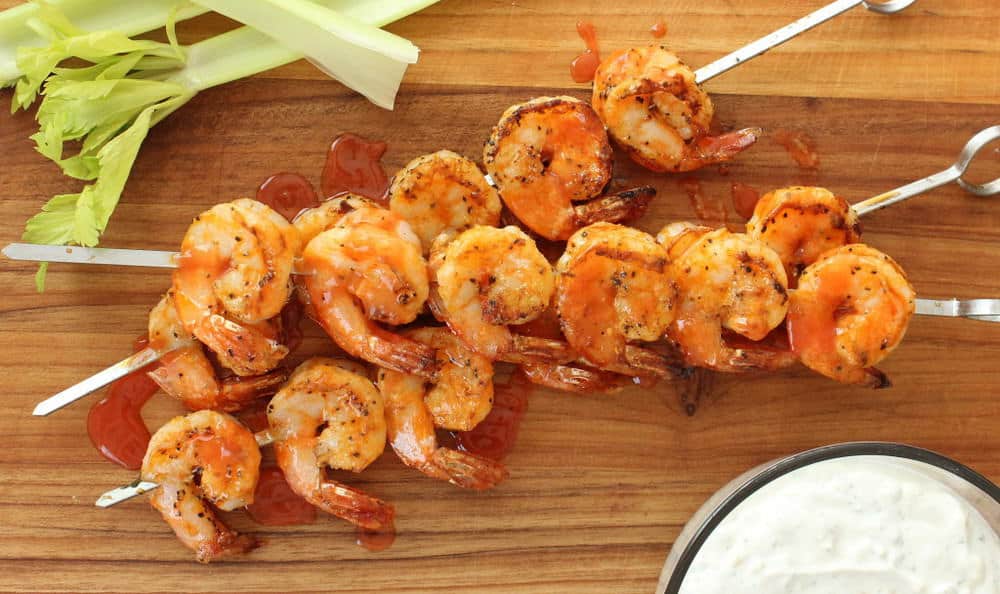 CHOOSING THE RIGHT SHRIMP
You really can't go wrong with choosing shrimp for grilled buffalo shrimp.
But we do feel the large shrimp, or even jumbo work best.
EXPERT TIP: Shrimp are sold by count per pound in the United States. The number on the label will indicate the number of shrimp in the package. If it reads 21/25, you know there should be from 21 to 25 shrimp in each pound.
We find that placing the shrimp, even the big ones, on skewers will ensure you won't lose any through the gate. That would be a travesty!
A simple seasoning of salt and pepper is all that's needed before they hit the grill. The smokey taste from the grill will depend the flavor immensely.
EXPERT TIP: If you are using wooden skewers, it's not a bad idea to soak them in water for about 30 minutes. Because the shrimp cooks so quickly, you probably won't run the risk of the wooden skewers catching on fire, but just to be safe, we recommend it.
HOMEMADE BLUE CHEESE IS IDEAL WITH GRILLED BUFFALO SHRIMP
Folks, these buffalo shrimp are so easy to make, why not go ahead and make some amazing blue cheese.
These babies are just begging to be dipped into this incredible dressing. We love everything about buffalo chicken wings. And we feel the same way about these shrimps, too!!
Let's hear it for homemade blue cheese!
Grilled Buffalo Shrimp: Oh, we just love everything about these! Grilling, shrimp, skewers, Buffalo-style, homemade blue cheese…how can you get better than that! These are great for a BBQ, or a party, or just a fun afternoon. Make the blue cheese ahead of time, and you'll just love how fast it is to pull these delectable gems together. Truly one our favorite things to make, and always a crowd favorite. 135% Loon Approved!
Grilled Buffalo Shrimp
If you like Buffalo hot wings, and if you like grilled shrimp, you are going to love these Grilled Buffalo Shrimp! Be sure to make the homemade blue cheese dressing, it's super easy and takes the dish to the next level. This is a crowd pleaser without a doubt!
Print
Pin
Rate
Servings: 6 people
Calories: 214kcal
Ingredients
Homemade Blue Cheese Dressing click for easy recipe
4 wooden skewers soaked in water for 30 minutes (or, metal skewers)
18 jumbo shrimp peeled, deveined, leaving the tails on
2 tbsp olive oil
1 tsp onion salt
1 tsp garlic powder
1 tsp smoked paprika
4 tbsp 1/2 stick unsalted butter
1/4 cup hot sauce Frank's is good
1/2 bunch celery
Instructions
Prepare your grill for direct cooking over medium heat.

Toss the shrimp with the oil and then sprinkle all over with the onion salt, garlic powder and paprika.

Skewer all of the shrimp.

Grill the shrimp, turning once, until just cooked through, 7 - 8 minutes.

Meanwhile, heat butter and hot sauce in a small saucepan over medium heat until better is melted. Stir to combine.

Add shrimp to bowl and pour in sauce. Toss to coat.

Serve with blue cheese dip and celery.
Nutrition
Calories: 214kcal