This is a sponsored post written by us on behalf of Tom Thumb. All opinions are 100% ours.
Everyone loves pizza, right? Well, wait until you sink your teeth into this incredible culinary creation.
We love all kinds of pizza, from Chicago-Style Deep-Dish to Thin-Crust Soppressata and Mushroom Pizza. But when you roll it all up with high-quality meats and cheeses and then bake to perfection, you've got something truly magical to serve. And you won't believe how easy it is to prepare!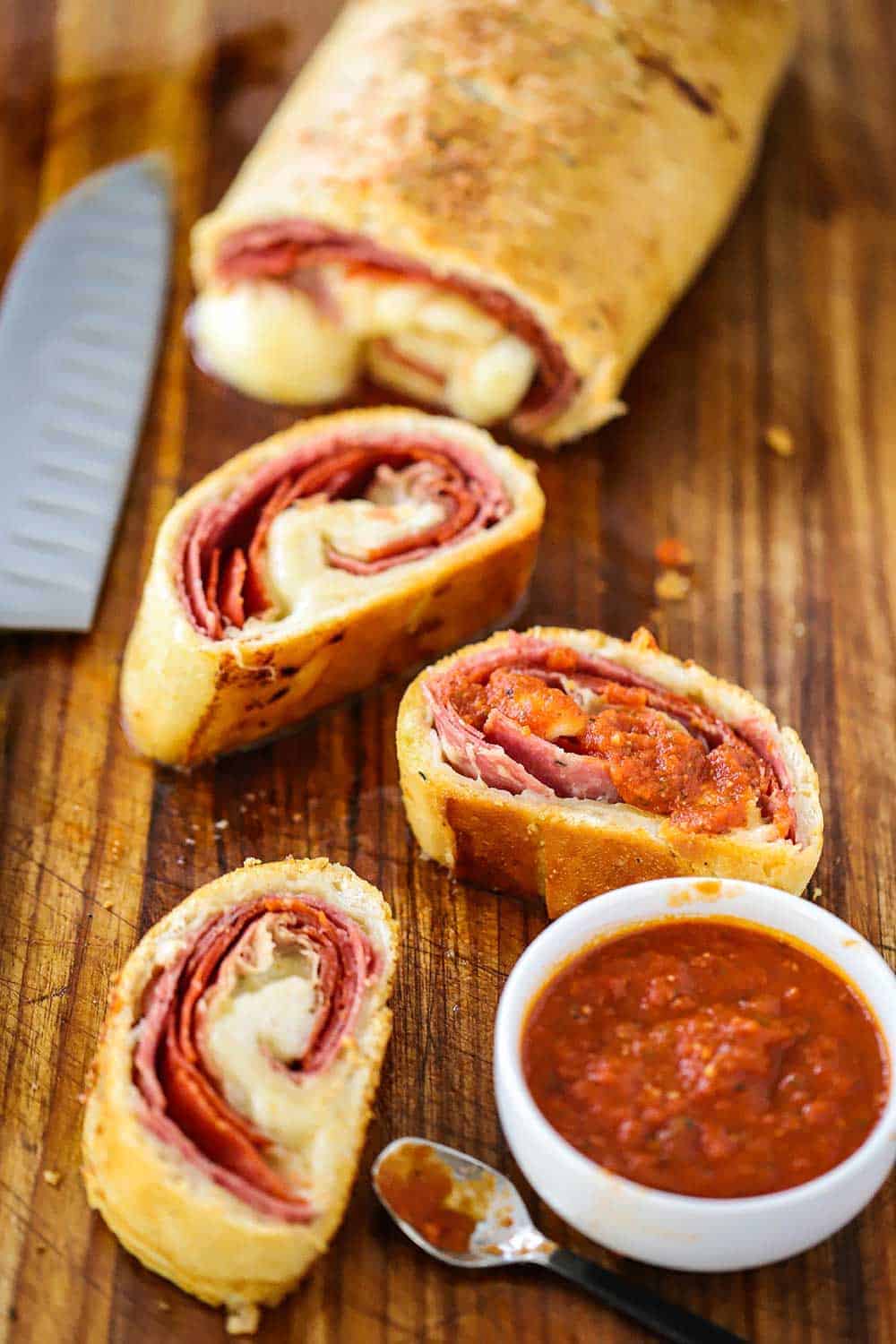 How To Make Stromboli
This stromboli recipe is not difficult to prepare and is fun to bring the kids in to help out.
We love going with our homemade pizza dough, but you can certainly pick up some dough from your favorite local pizza joint.
Stuffing the stromboli with quality meats and cheese ensures the end result is stellar. More on that in just a moment.
Choosing the Best Ingredients
We've said this many times before, but it bears repeating: A recipe is only as good as the ingredients you choose to make it with.
To make the best homemade stromboli in town, we always make a trip to our most favorite supermarket in the world, Tom Thumb, and head immediately over to the Primo Taglio® section.
Primo Taglio® is a premium line of meats and cheeses and is made with the finest ingredients.
We start by rolling our pizza dough out to a rectangle that is approximately 10″ x 13″ in size. Brush on some melted butter, and then add a nice layer of Primo Taglio® Grated Parmesan Cheese.
Next, we add a layer of sliced pepperoni, and then a layer of amazing Primo Taglio® Italian Dry Salami.
This salami is so delicious and is the perfect Italian meat for our homemade stromboli.
EXPERT TIP: When you are layering the meats onto the dough, be sure to leave about a 1-inch border around the edges. This will allow you to easily seal the dough once it's rolled up.
A layer of thinly sliced Primo Taglio® Prosciutto adds a depth of flavor that we think is just incredible.
This prosciutto has been dry-cured for 7 months and is expertly cut into paper-thin slices.
It completes what we think is the trifecta of meats for our stromboli.
The Difference Between Calzone and Stromboli
We love all kinds of pizza, and stromboli is one of our all-time favorites. But we love a nice calzone, too.
Stromboli vs Calzone. What's the difference you make ask.
That's easy, a stromboli is rolled up jelly-roll style with the ends sealed. A calzone has similar ingredients as a stromboli, but is folded over like a taco and sealed along the edges.
EXPERT TIP: Start to roll the stromboli by gently folding the long edge of the rectangle inwards. Keep rolling until you reach the other edge. Use your fingers to pinch and seal the stromboli. Tuck the ends in and use your fingers to help form a seal on both sides. Use a sharp knife to cut several diagonal slits on the top of the log. Gently transfer the stromboli to a baking sheet, seam side down. Brush all over with an egg wash.
Place in a 375°F preheat oven and bake for 30 minutes.
The smell of a stromboli pizza, while it is baking, is heavenly.
You'll love the oozing cheese when you cut the slices. You'll want to make sure you have a nice warmed serving of fresh marinara sauce for dipping.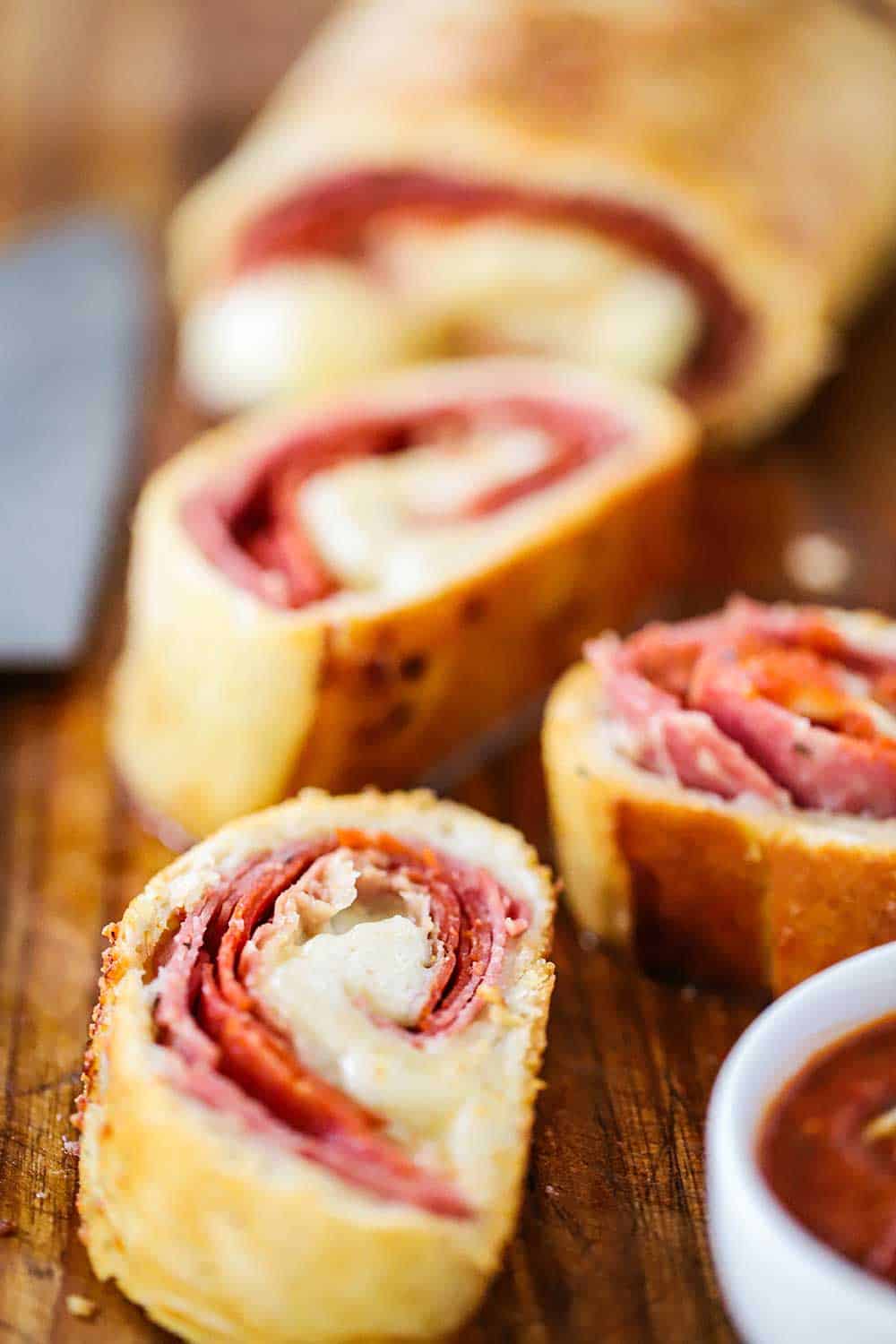 Primo Taglio® Delivers Superior Taste
We just can't rave enough about the quality line of meats and cheeses that we rely on from Primo Taglio®. Another wonderful array of delicious products offered at Tom Thum is O Organics®.
Serving this homemade stromboli for 'at home' tailgating parties always gets huge cheers and approval from family and friends.
And picking these wonderful ingredients from our local Tom Thumb supermarket couldn't be easier! Tom Thumb also offers Grocery Delivery and Drive Up & Go™ for convenient ways to shop!
There is just something extra festive about a homemade stromboli.
Besides being incredibly delicious, especially when served with homemade marinara sauce, it's just perfect for entertaining.
Folks love to graze over the delectable slices and consistently come back for more until it's all gobbled up!
Ready to make the best Italian stromboli in town? I shopped at Tom Thumb, but you can also find O Organics & Primo Taglio products at the Albertsons Companies family of stores, including Albertsons, Safeway, ACME Markets, Jewel-Osco, Randalls, Shaw's Supermarket, Star Market, and Vons.
And when you do, be sure to take a photo of it, post it on Instagram, and tag @HowToFeedaLoon and @TomThumbTx
Homemade Stromboli
Homemade Stromboli is almost as fun to prepare as it is to eat. Almost. The loaded pizza roll is bursting with amazing flavors from the Italian meats and cheese. And it is perfect for entertaining.
Print
Pin
Rate
Servings: 6
Calories: 646kcal
Instructions
Preheat oven to 375°F.

Lightly dust work surface with flour. Use a rolling pin to roll the dough out to a 10 x 13-inch rectangle, with the long side facing you.

Brush the melted butter all over the dough. Sprinkle ½ cup of the Parmesan cheese over the butter. Add a layer of the pepperoni, overlapping each slice slightly, leaving a 1-inch border along the edges of the dough. Then add a layer of the salami over the pepperoni, also slightly overlapping. Top with sliced prosciutto and then cheese.

Use your hands to start rolling the dough inwards, lengthwise. Continue rolling until the other side of the dough is reached. Carefully pinch the edges to form a seal. Also, use your hands to fold in and seal both ends of the stromboli.

Transfer to a baking sheet, seam side down. Cut three diagonal slits in the top of the stromboli. Brush the egg wash all over the tops and sides and then sprinkle 1 tbsp of Parmesan cheese and the dried oregano over the top. Place in the preheated oven and bake for 30 minutes, or until golden on top.

Remove from the oven and let rest for 5 to 10 minutes. Use a serrated knife to cut the stromboli into 1-inch slices. Place on serving platter and serve with warmed marinara sauce.
Notes
We love the combination of pepperoni, salami, prosciutto, and whole milk mozzarella. Other common stromboli filling ingredients include deli ham and shredded provolone cheese. We think homemade pizza dough makes a big difference in the final dish, but often you can find excellent pizza dough available for purchase from your local pizza place or Italian eatery. The stromboli is best when served warm, but it's also delicious at room temperature. Homemade marinara is the perfect dipping sauce for this stromboli.
Nutrition
Calories: 646kcal | Carbohydrates: 35g | Protein: 31g | Fat: 32g | Saturated Fat: 10g | Cholesterol: 131mg | Sodium: 2395mg | Potassium: 525mg | Fiber: 2g | Sugar: 7g | Vitamin A: 774IU | Vitamin C: 6mg | Calcium: 267mg | Iron: 4mg