This iconic appetizer has been served for years at favorite chain restaurants across the globe.
Now, you can make them better than ever in the comfort of your own home. Don't skimp on the quality of bacon and cheese, and you won't believe how fast these will go when you serve them to friends and family.
How To Make Loaded Potato Skins
These potato skins are so much easier than you might think to make at home.
And the great thing is you can make them all the way up to finishing them off in the oven hours before serving them.
These are our all-time favorite appetizers!
NOTE: If you liked this video, please subscribe to our YouTube Channel. And remember to click the little 'bell' icon so you'll never miss a new video. Thank you very much!
The Best Potato for Skins
There are many types of potatoes to choose from when cooking with them.
We highly recommend the trusted Russet potato for that classic taste and texture.
EXPERT TIP: You'll need to remove much of the flesh (the inside) of the potato before frying the skins. Keep the potato flesh and make mashed potatoes! We simply heat the potatoes in the microwave for 10 to 15 minutes, which makes them soft and easy to split and clear out the flesh.
Deep-frying is traditional, but you could also fry them in an air-fryer or bake them on HIGH in your oven.
Cook up the bacon and then load the skins with shredded cheddar and crumbled cooked bacon.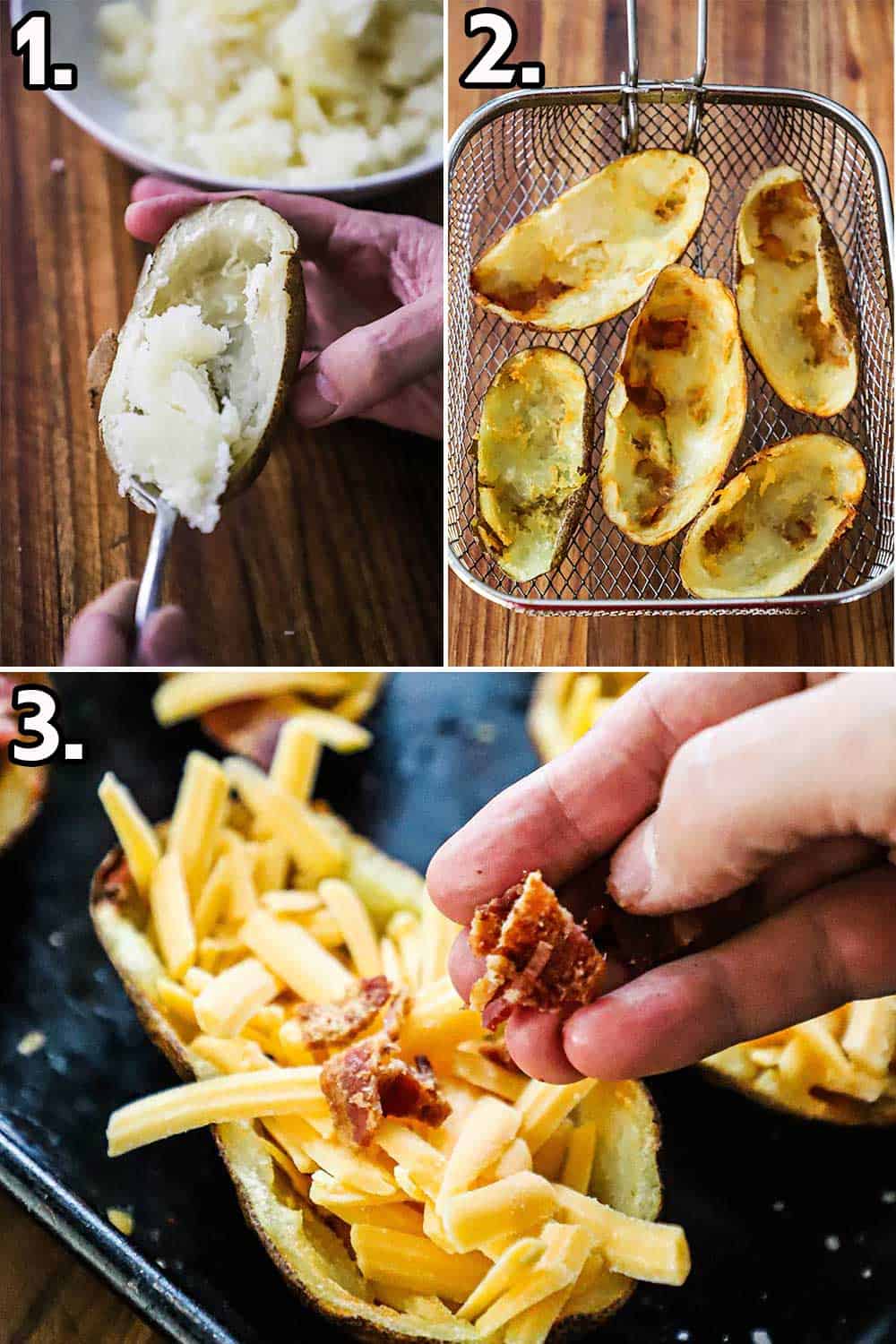 When To Serve Loaded Potato Skins
Whenever we are having friends and/or family over to watch the big game, or for a summer get-together, we always serve these and they immediately get devoured.
They are really perfect for parties because they can be prepped ahead of time.
We serve them year-round and they are always requested.
Other Party Favorite Foods
These skins are always a crowd favorite when served at parties. But, these gems get lots of "oohs" and "ah's," too.
Jalapeno Poppers
Classic Buffalo Wings
Swedish Meatballs
TexMex Queso
Stuffed Mushrooms
Spinach and Artichoke Dip
In the meantime, aren't you ready to sink your teeth into these babies?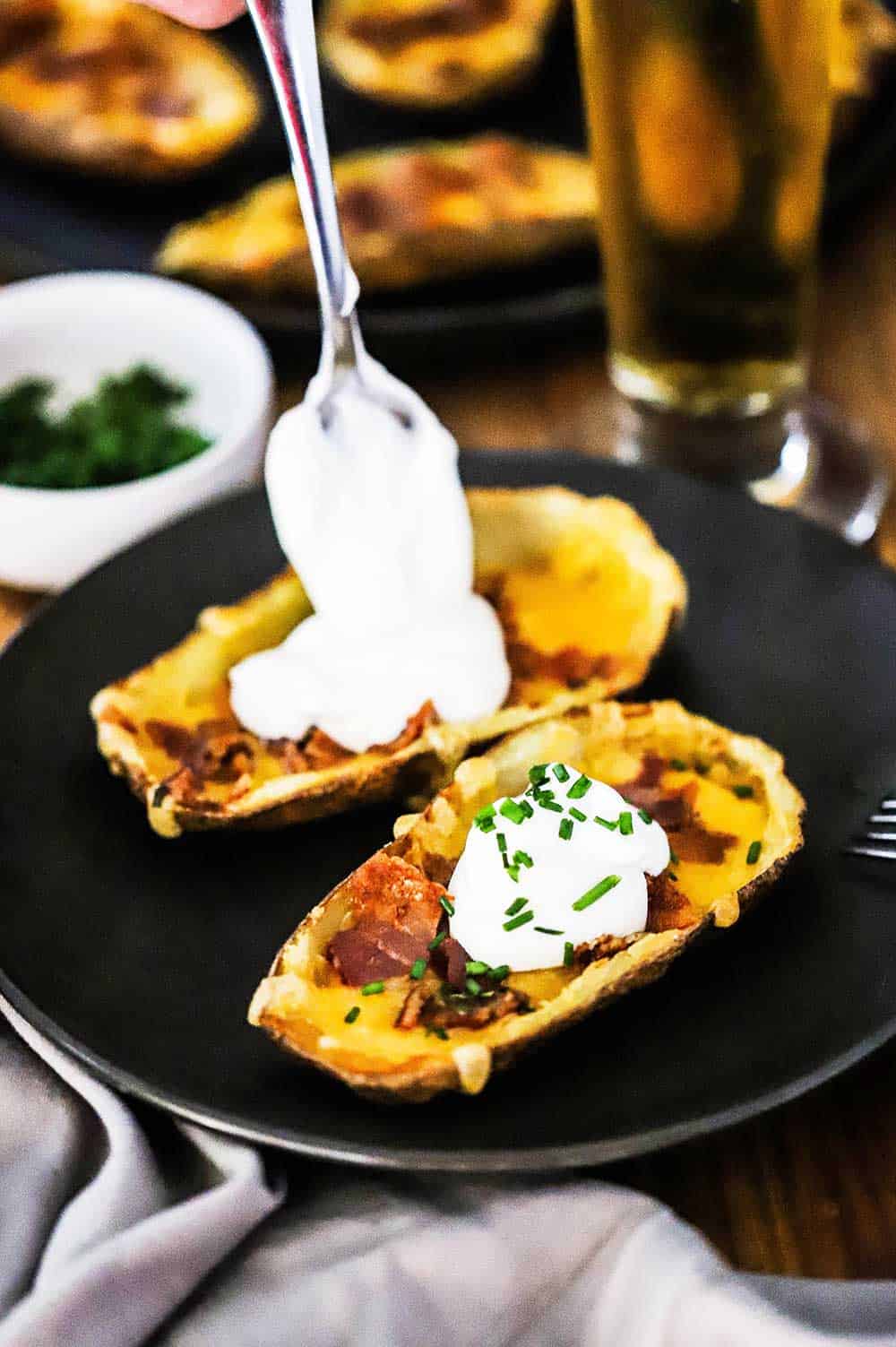 Be sure to have plenty of sour cream and snipped chives so folks can really load their skins up.
Lots of folks would say these loaded potato skins are the original appetizer.
They've been around a long time and they have stood the test of time. Yum.
Ready to make the best skins in the world? Go for it!
And when you do, be sure to take a photo of them, post it on Instagram, and tag @HowToFeedaLoon and hashtag #HowToFeedaLoon!
Loaded Potato Skins
Loaded Potato Skins are always a huge hit when served at parties and gatherings of friends and family. Much of the simple prep work can be done in hours which makes serving them super easy!
Print
Pin
Rate
Servings: 8
Calories: 342kcal
Equipment
Deep fryer, or sturdy skillet with candy-thermometer
Ingredients
1 lb bacon thick-cut, smoked Applewood
8 large potatoes preferably russet
Vegetable oil for frying
4 tbsp unsalted butter melted
Kosher salt
4 cups cheddar cheese shredded
8 oz sour cream for serving
¼ cup chives snipped, for serving
Instructions
Preheat oven to 375°F.

Line a baking sheet with foil and place the bacon strips on it. You may need two baking sheets.

Cook the bacon in the oven until crispy, about 15 minutes. Drain on paper towels. Set aside.

Stab each potato a few times with a fork. Wrap each potato with a paper towel. Place on a microwave-safe plate and cook them on HIGH in the microwave for 10 to 15 minutes, or until a sharp knife will easily pierce through the flesh.

Heat oil to 350°F.

Once cool enough to handle, carefully slice each potato down the middle, lengthwise. Use a spoon to scoop most of the flesh out of each potato half.

Fry the potato halves until crisp and lightly browned. Drain on a paper towel-lined plated. You may need to fry in batches.

Liberally brush the inside of each potato boat with melted butter. Sprinkle salt on the inside of each potato.

Crumble the bacon and then load each potato with a heap of cheese. Top with crumbled bacon. Place on a baking sheet and bake until the cheese is melted and bubbly, about 12 minutes. Serve at once with sour cream and snipped chives on the side.
Notes
See the video near the top of the blog post for visual guidance. If you like the video, please subscribe to our YouTube channel.
The bacon can be made up to 24 hours in advance. The potatoes can be fried up to 6 hours in advance. Simply load them and bake them just before you plan on serving them.
Other wonderful ingredients to serve with the skins are hot sauce, chopped jalapeños, and chili.
These skins are best served fresh out of the oven, but they can be reheated in a 350°F oven for about 10 to 15 minutes. We don't recommend freezing them.
Nutrition
Calories: 342kcal | Carbohydrates: 2g | Protein: 8g | Fat: 31g | Saturated Fat: 8g | Polyunsaturated Fat: 4g | Monounsaturated Fat: 13g | Trans Fat: 1g | Cholesterol: 67mg | Sodium: 399mg | Potassium: 158mg | Fiber: 1g | Sugar: 1g | Vitamin A: 427IU | Vitamin C: 1mg | Calcium: 37mg | Iron: 1mg