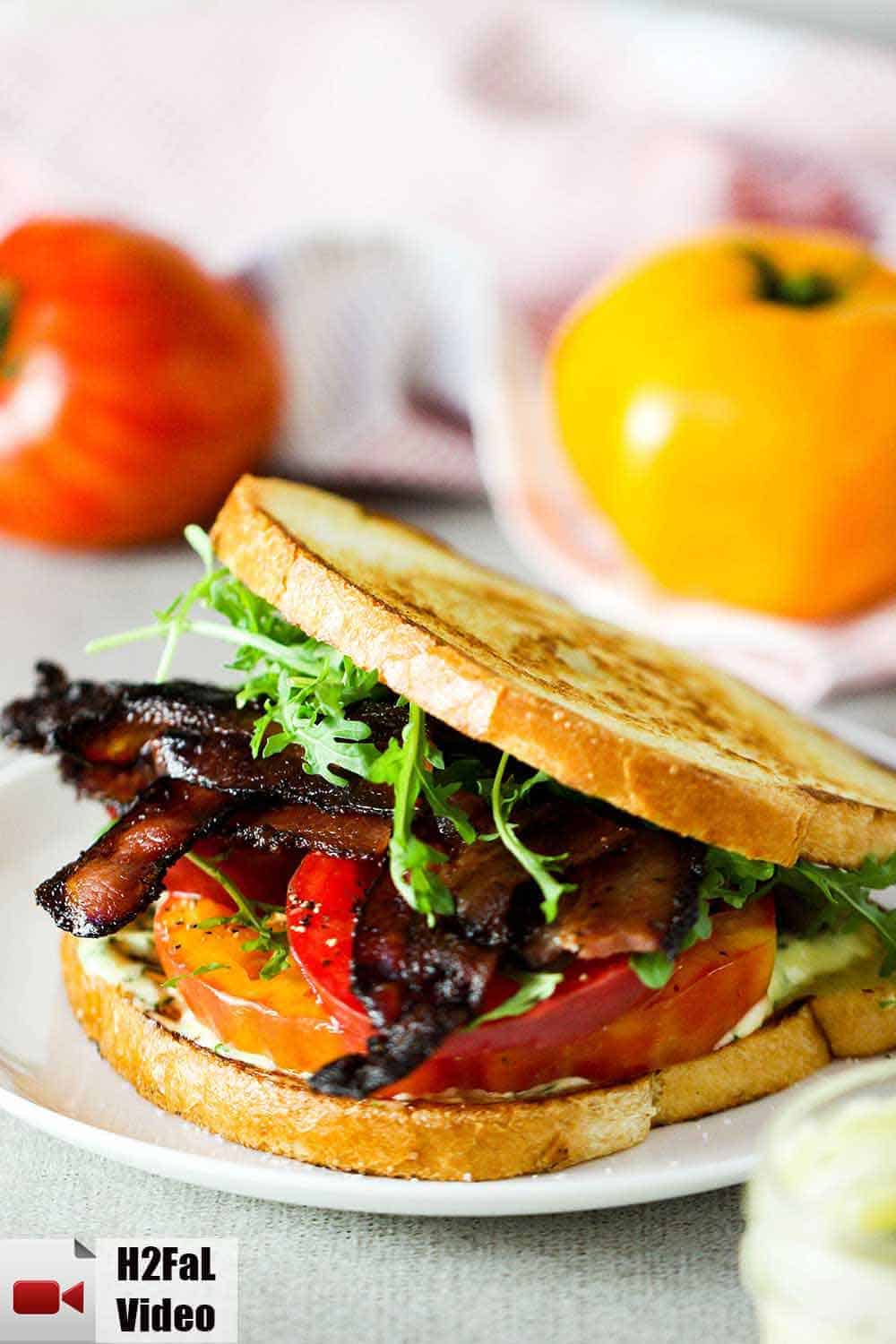 This Classic BLT with Garlic Basil Aioli is so over-the-top good it probably should be outlawed.  All I can say…when you can get amazing tomatoes (like fresh heirloom) at their peek…go for it.  Get yourself a nice thick bacon.  Go with some peppery arugla.  Delicious toasted sourdough bread.  And the topper-twister to end all topper-twisters…garlic basil aioli.   Wow, oh wow.  This classic sandwich just got brought up a few notches.   Amazing.  150% Loon Approved!
Classic BLT with Garlic Basil Aioli
This isn't just any ole BLT...this Classic BLT with Garlic Basil Aioli is about as good as they come. Especially good when tomatoes (we love heirloom) are at their peak. The garlic basil aioli puts this iconic sandwich over the top!
Print
Ingredients
1 cup garlic basil aioli click for recipe
8 slices thick bacon
3 heirloom tomatoes sliced 1/4" thick
Salt and pepper
4 cups baby aruglula
1 sourdough boule cut into eight 1/2" thick slices, toasted
Instructions
Make the garlic basil aioli. Set aside in the fridge.

Bake the bacon in a 400 F pre-heated oven for about 25 minutes, or cook in skillet, until crisp. Transfer to paper-towel lined plate. Reserve.

Spread the aioli on each slice of toast.

Arrange the tomatoes and arugula on 4 of the toasts and sprinkle with salt and pepper.

Top with bacon and the remaining toasts for each sandwich.

Serve and enjoy!