Classic BLT with Garlic Basil Aioli is truly something to behold.
We taken the sandwich everyone knows and loves and elevated it a few notches to quite possibly be the most delicious sandwich we've ever created.
And it all comes together in about 20 minutes, from start to finish!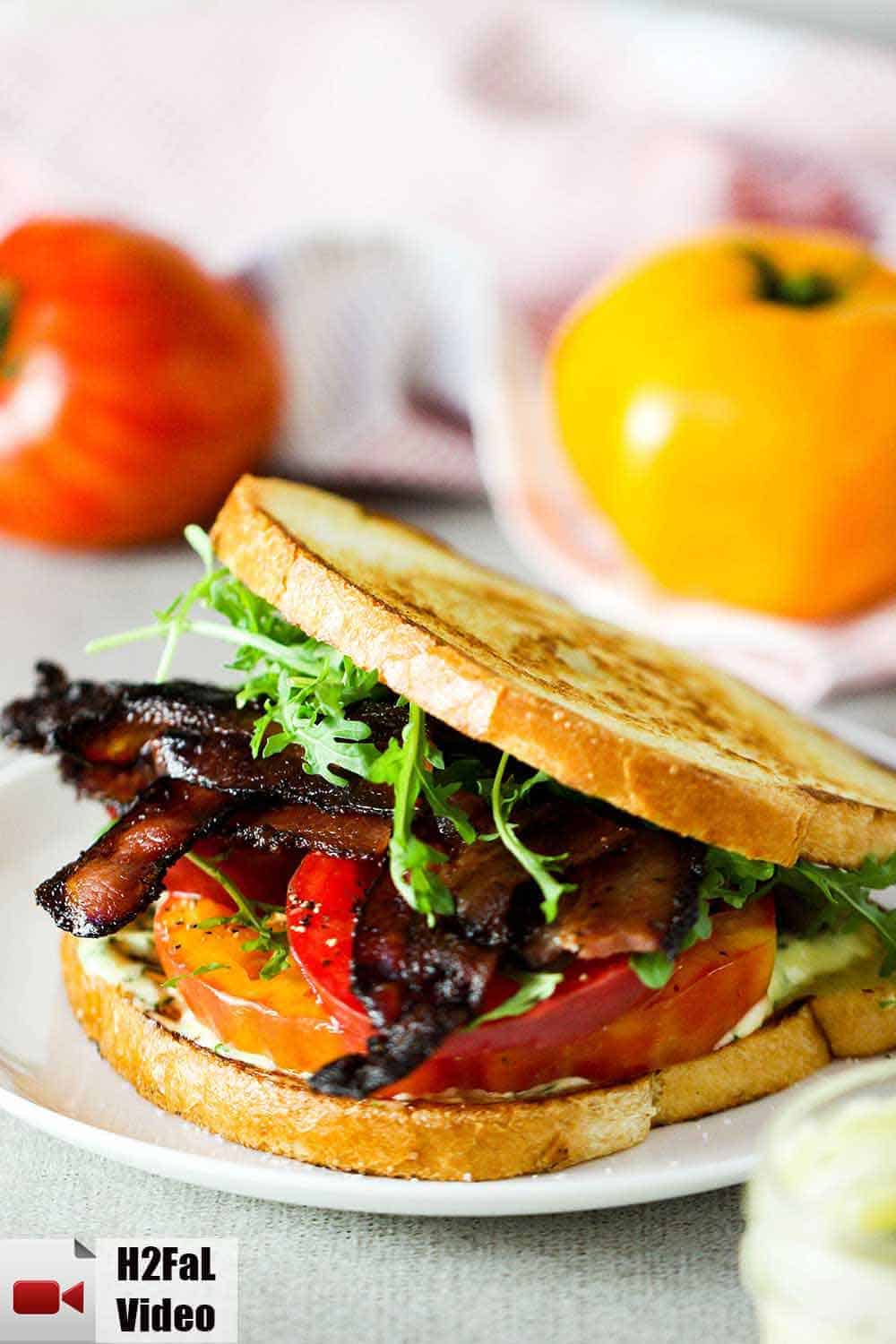 HOW TO MAKE A CLASSIC BLT WITH GARLIC BASIL AIOLI
Some of our favorite sandwiches that have come out of the H2FaL kitchen are:
And don't get us, those are without a doubt, some of the best sandwiches around. But there is something the BLT that gets us so excited.
Watch us make our Classic BLT with Garlic Basil Aioli!
WHAT YOU NEED TO MAKE THIS SANDWICH
Bread slices (we love sourdough)
Tomatoes (we love heirlooms – in the summertime!)
Bacon (can we get an 'amen' for smoked black pepper bacon!)
Arugula (you can't be the peppery taste)
Garlic Basil Aioli (you gotta make this, folks)
Salt, pepper & butter (you'll see what we mean soon)
COOK THE BACON IN ADVANCE
Obviously, bacon is a vital part of the classic BLT. Now days, you can find many varieties in most well-stocked supermarket and your local butcher.
Go with you favorite type of bacon, but our favorite is smoked, black-pepper bacon. Incredible.
EXPERT TIP: Skip the skillet! Pre-heat your oven to 400°F. Take out 1 or 2 rimmed baking sheets and place the bacon flat in rows, trying not to overlap. Bake the bacon for about 8 to 10 minutes (depending on thickness), and then flip until perfectly crisp. Drain on a paper towel. The bacon cooks evenly and stays perfectly flat!
HEIRLOOM TOMATOES ARE PERFECT FOR A BLT
When they are in season, and you can find them, we absolutely the taste and texture of a beautiful heirloom tomato.
We love the variety of heirlooms, some with slightly different taste and often different beautiful colors. They have a very delicate skin, so be careful when transporting and handling them.
If you can't find heirlooms, then go with your favorite variety. Tomatoes at their peak are always best, when possible.
GARLIC BASIL AIOLI IS THE PERFECT ADDITION
Folks, you just won't believe how making your own garlic basil aioli will, dare we say, transform your life.
Okay, maybe that's a bit dramatic, but it's no exaggeration to say it takes this Classic BLT to astronimical culinary heights.
We also love our Balsamic Rosemary Aioli and our Kickin' Remoulade for sandwich spreads!
CLASSIC BLT WITH GARLIC BASIL AIOLI FAQs
What is the best bread for a BLT? You can use whatever kind you prefer. Our favorite is sliced sourdough. To get the perfect texture and flavor, we heat up a skillet and toss in about 1 tbsp of butter. Once melted, add 1 or 2 slices of the bread, move around in the skillet until coated with butter. Cook until perfectly toasted, about 2 minutes. Flip and repeat, adding a bit more butter if necessary.
Can cheese be added to the BLT? Of course! Cheese can be added to practically anything! You can even place a cheese slice (cheddar is nice) on top of the tomatoes and bacon and then place under the broiler just to melt the cheese melts. Assemble the sandwich as directed.
Can I use regular store-bought mayonnaise for the aioli? Absolutely! Get a good quality mayo and stir in the basil and garlic. Or, just use good ole plain mayo. For a less calories, omit the aioli completely, although it will no longer be the best-ever BLT…just sayin'.
Just look at this sandwich and tell us your not craving it right now!
Are you ready to make what we think is one of the very best sandwiches in the entire world? Go for it!
And when you make it, be sure to take a picture, post it to Instagram and tag @howtofeedaloon and #howtofeedaloon!
Classic BLT with Garlic Basil Aioli
This isn't just any ole BLT...this Classic BLT with Garlic Basil Aioli is about as good as they come. Especially good when tomatoes (we love heirloom) are at their peak. The garlic basil aioli puts this iconic sandwich over the top!
Print
Pin
Rate
Servings: 4 people
Calories: 570kcal
Ingredients
1 cup garlic basil aioli click for recipe
8 slices bacon
3 heirloom tomatoes sliced 1/4" thick
Salt and pepper
4 cups baby aruglula
8 slices sourdough bread cut into eight 1/2" thick slices, toasted
Instructions
Make the garlic basil aioli. Set aside in the fridge.

Bake the bacon in a 400°F. pre-heated oven for about 20 to 25 minutes flipping once, half-way through. Alternatively, cook in skillet, until crisp. Transfer to paper-towel lined plate. Reserve.

Meanwhile, heat a large skillet over medium-high heat, add 1 tbsp of butter and swirl untl melted. Add 1 to 2 slices of bread, moving around to coat with butter. Cook until toasted on the bottom-side, about 2 to 3 minutes. Flip, add more butter, if necessary, and cook the other side until toasted, about 1 to 2 minutes more. Set aside and continue with other slices.

Spread the aioli one side of each slice of toast.

Arrange the tomatoes ontop of the aoil-side of the toast and sprinkle with salt and pepper.

Top with bacon and then and the remaining toasts (aioli facing down) for each sandwich. Slice on a diagonal, if desired. Serve with garlic basil aioli on the side.
Notes
We love toasting our sourdough slices in a little butter in a hot skillet, but you can also toast in an oven on a baking sheet for about 5 minutes per side, or in a toaster oven, or, don't toast the bread at all, if you prefer. Hot house, vine, Campari tomatoes will all work as a substitute for the heirloom tomatoes. Garlic basil aioli can be made and refrigerated up to 1 week in advance. Any type of bacon will work, but we love smoked pepper bacon.
Nutrition
Calories: 570kcal | Carbohydrates: 76g | Protein: 21g | Fat: 20g | Saturated Fat: 7g | Cholesterol: 29mg | Sodium: 953mg | Potassium: 470mg | Fiber: 4g | Sugar: 6g | Vitamin A: 785IU | Vitamin C: 13mg | Calcium: 66mg | Iron: 5mg
POST UPDATE NOTE: This was originally posted in August, 2016, but was updated with new tips, photography and video in August, 2019.