Cucumber and Dill Salad is so refreshing and is absolutely one of our most favorite summer salads of all time.
The fresh cucumber and dill match perfectly with the white wine vinegar and Dijon.
The salad is so simple and incredibly flavorful and is always such a big hit when we serve it at an outdoor BBQ or picnic.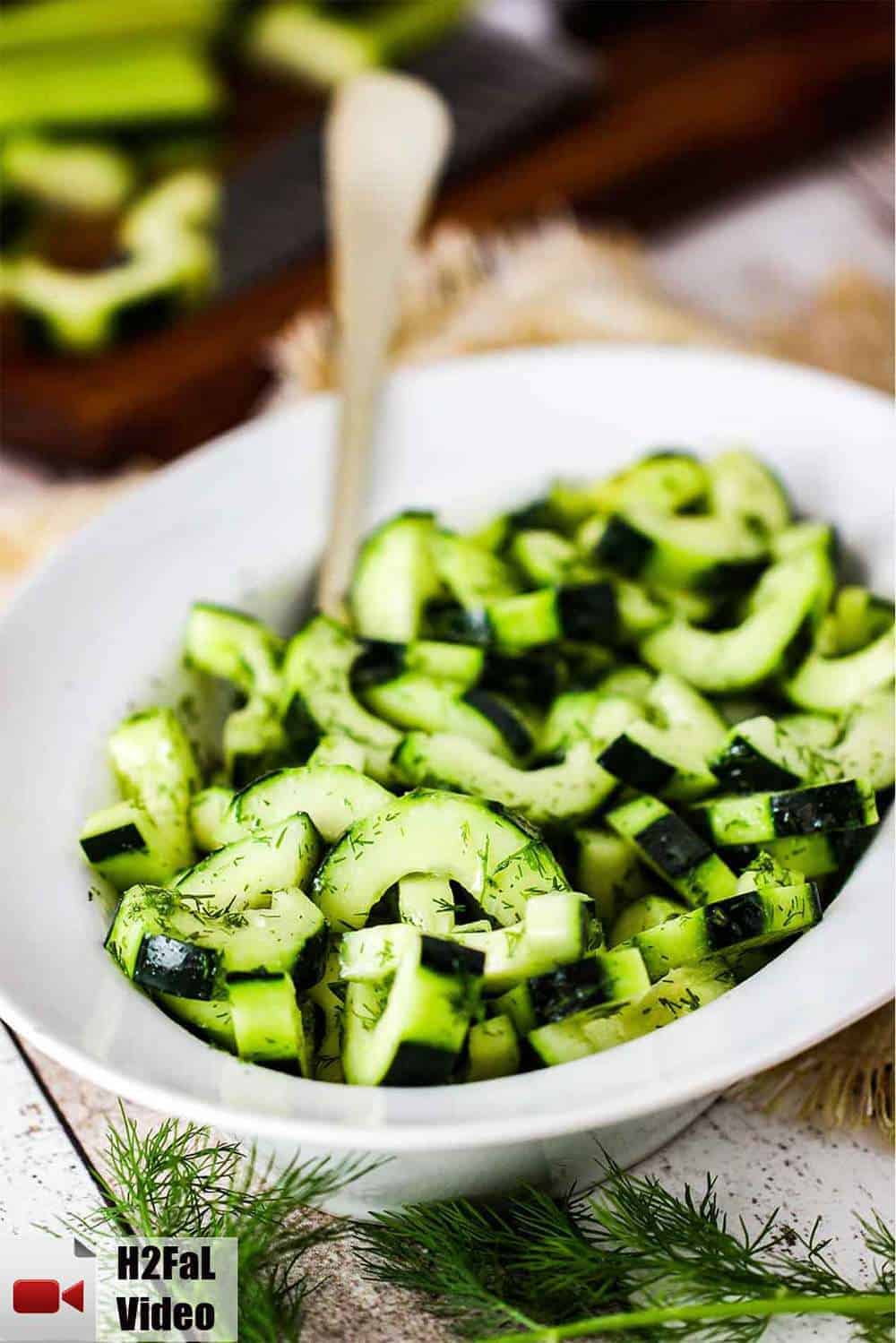 COOL CUCUMBER AND DILL SALAD IS EASY TO MAKE AT HOME
Of course, fresh cucumbers and dill right from the farmer's market are a big part of what makes this easy salad so wonderful.
Watch us show you how fast and easy it is to make this amazing salad!
But the vinaigrette brightens the flavors even more and offers a little tart matched against a hint of sweetness.
This Dijon vinaigrette is the BEST!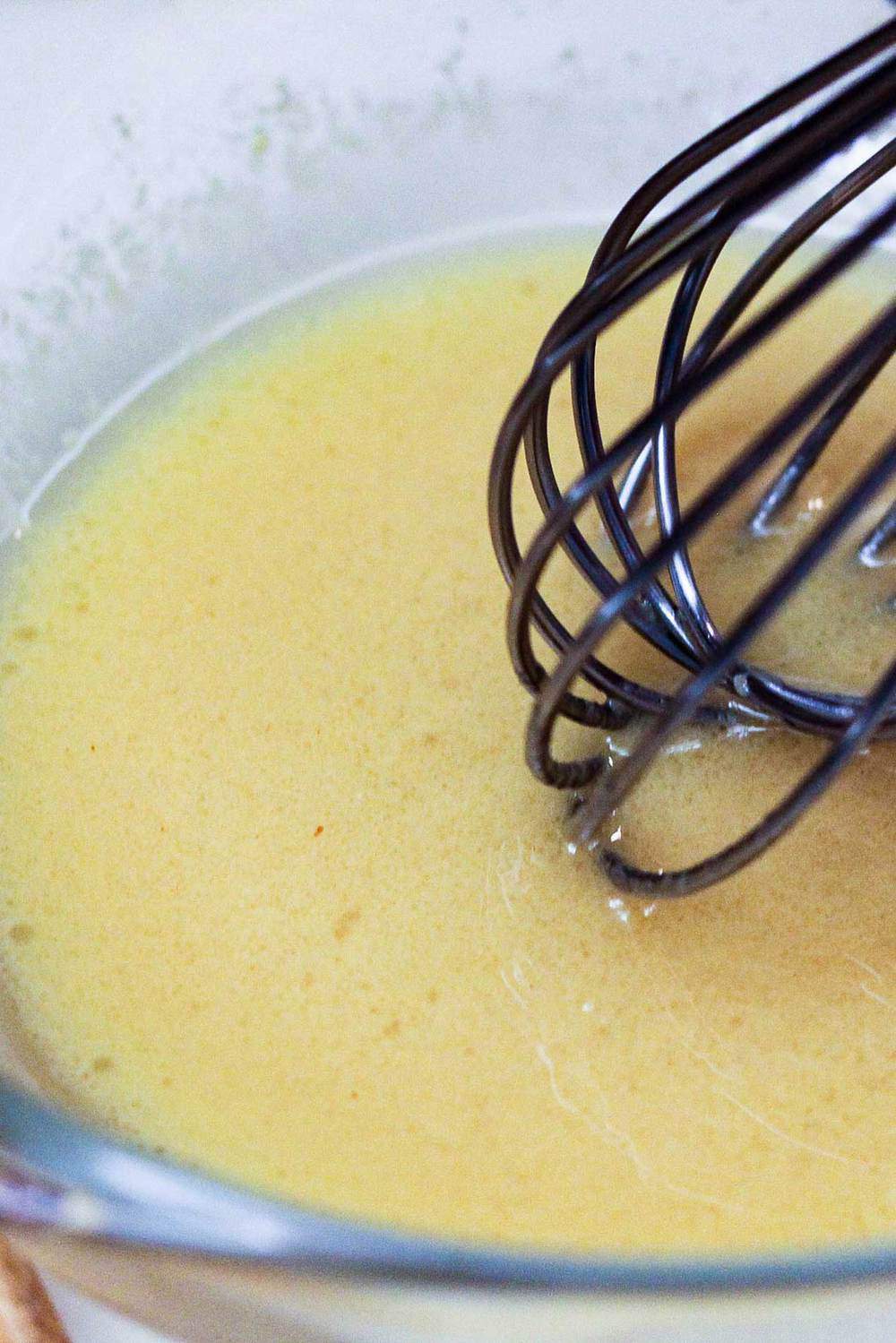 We like to peel strips of the skin off, but leave other strips of the skin on for another pretty 'striped' effect.
This Cucumber and Dill Salad really makes a beautiful presentation!
And easy to prepare!
An easy trick to removing the seeds from the cukes is to simply slice the cucumber lengthwise down the middle, and then just grab a small spoon, or melon baller, and easily scrape out the center.
Removing the seeds isn't required, but we think it makes the final texture better and it also make for an attractive looking dish!
Be gone, seeds!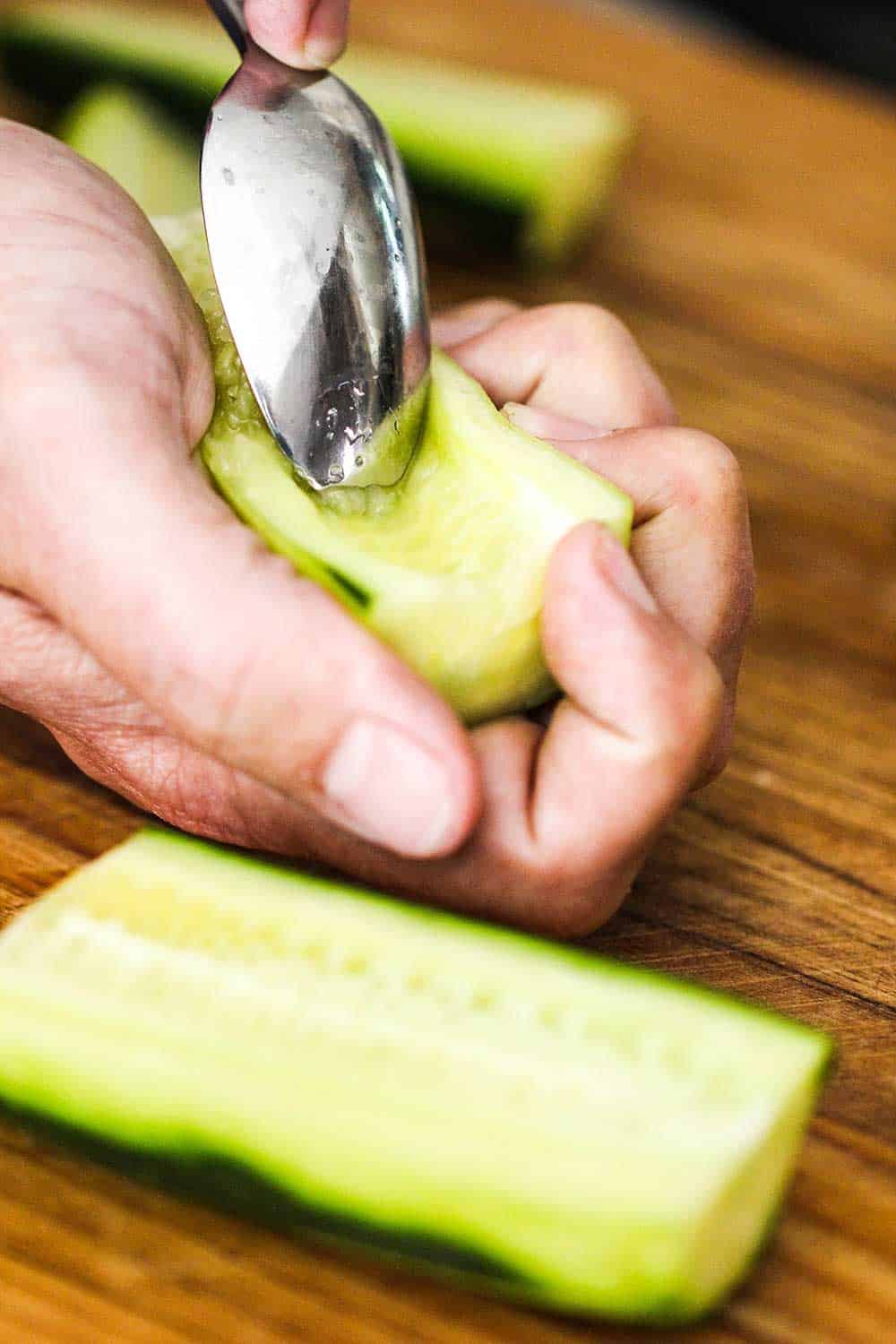 HOW TO SLICE A CUCUMBER FOR THE PERFECT SUMMER SALAD
After scooping out the seeds, all you have to do is slice the cucumber into 1/4-inch slices.
Slicing a cucumber for this awesome Cool Cucumber and Dill Salad couldn't be easier.
We're getting close to the perfect summer salad!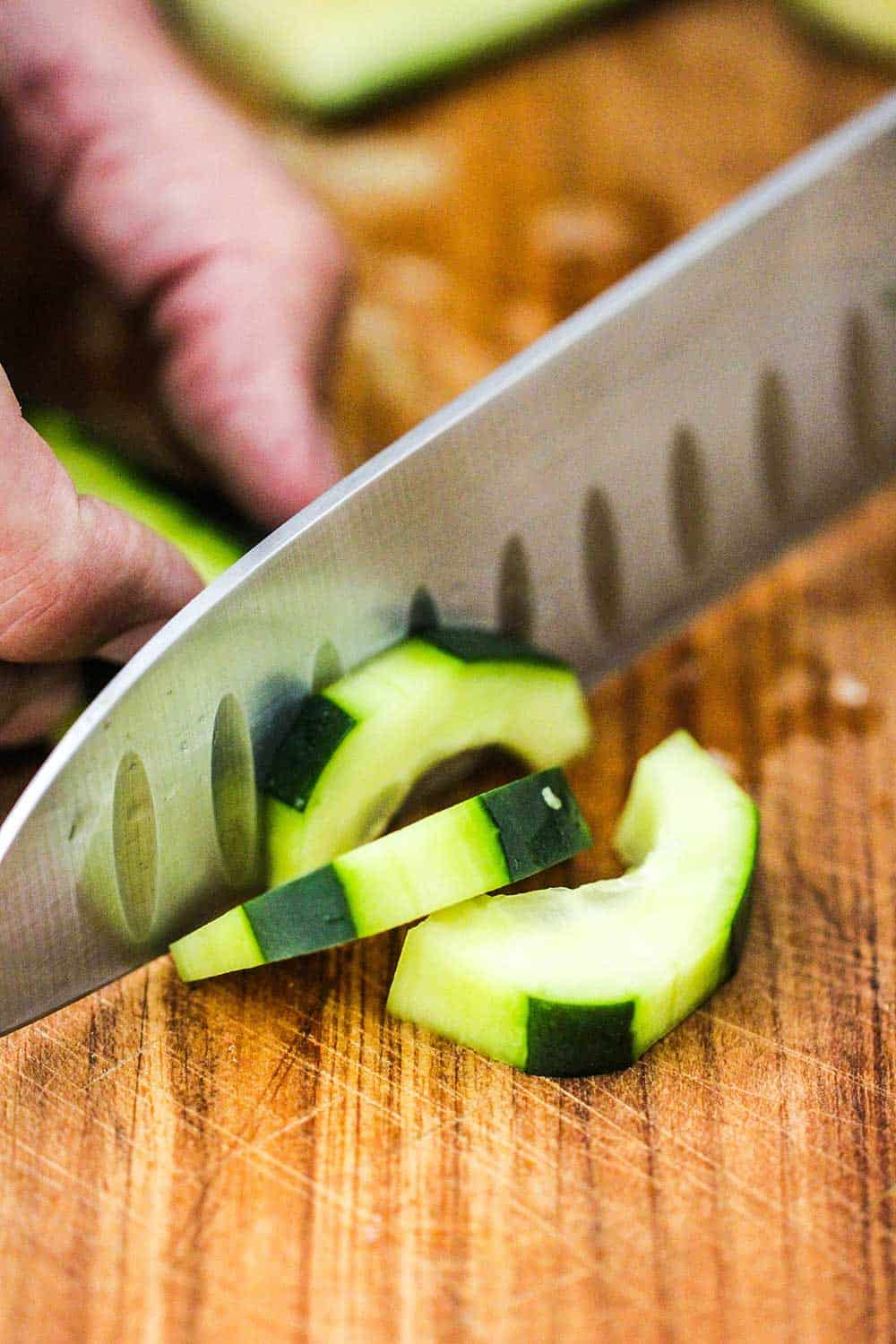 FRESH CUCUMBERS ARE PERFECT FOR AN EASY SUMMER SALAD
We just love everything about cucumbers. Especially Wesley. He always tells me about how as a young Loon, he would sit in front of a cool, loud and rickety electric fan in the hot South Dakota summer heat while eating a whole cucumber one bite at a time.
The only addition to the refreshing treat would be the occasional dash of the salt shaker.
Oh, my Loon. He knows how to find the good things in life.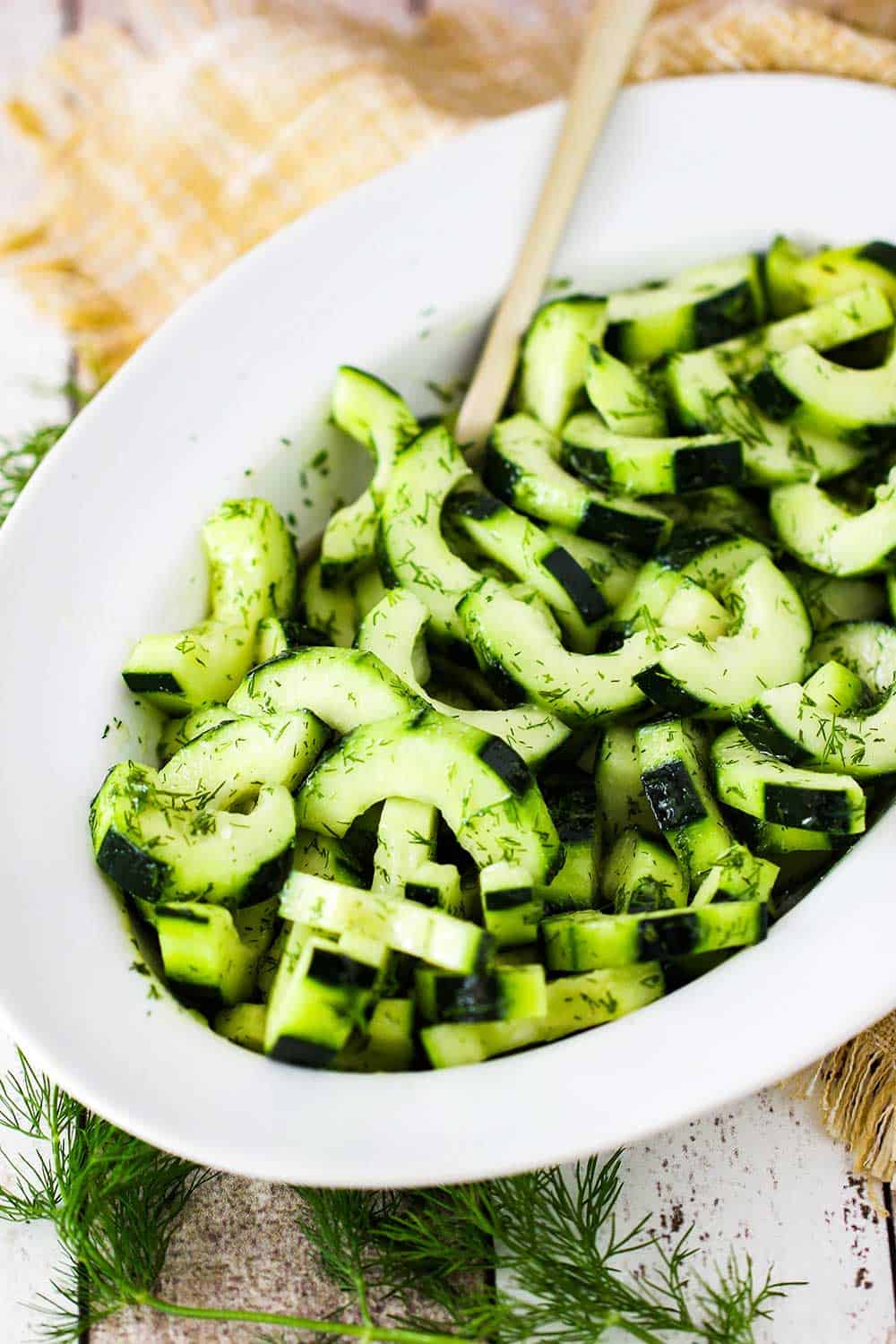 We love cucumbers by themselves, but we love them in all kinds of salads. Check out our Amazing Grilled Chicken Salad or Cucumber Tomato Salad! Yum!
This iconic gourd has been around for 4,000 years, originating in ancient India!
It's history is pretty amazing. Learn more about Cucumber History from VegetableFacts.com. And then…hurry and go make this incredible Cool Cucumber and Dill Salad!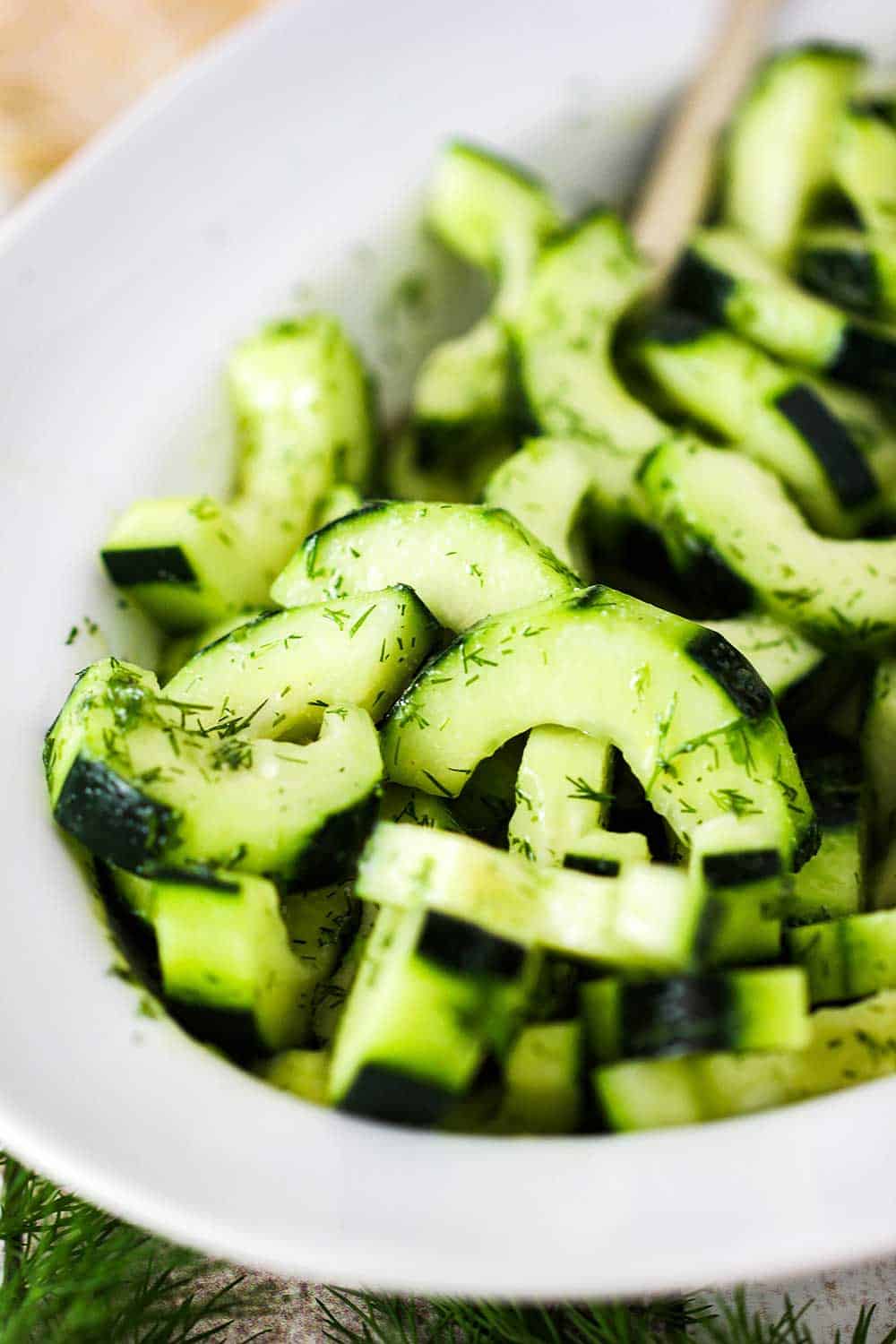 Cool Cucumber and Dill Salad
This Cool Cucumber & Dill Salad is so incredibly simple yet so flavorful. The cucumber and the dill match beautifully, and the slightly sweet and tart dressing are just perfect. This is one of those salads that doesn't stay around long on the serving table. Double the recipe to feed a group! Delicious!
Print
Pin
Rate
Servings: 6 people
Calories: 165kcal
Ingredients
4 tsp white wine vinegar
4 tsp Dijon mustard
1 tsp Kosher salt
3 tsp sugar
2 tbsp good quality olive oil
2 large cucumbers, peeled and seeded
4 tbsp fresh dill, finely chopped chopped
Instructions
Whisk together the vinegar, mustard, salt, and sugar; and then whisk in the oil in a slow stream.

Halve the cucumbers lengthwise and remove the seeds with a small spoon, cut the halves crosswise into 1/4" or 1/8" slices.

Toss the cucumbers and dill with the vinaigrette.

Serve and enjoy!
Nutrition
Calories: 165kcal