If you love fried chicken, we hear you. If you love a good sandwich, we hear you. This is for you.
If you love super crispy fried chicken as much as we do, then you are going to absolutely flip for this sandwich. We round it out with toasted brioche buns, sliced dill pickles, and a smear of kickin' remoulade sauce! Epic doesn't even begin to describe it!
How to Make Crispy Fried Chicken Sandwich
There are just a few easy techniques that you need to follow to make the most amazing crispy chicken sandwich in the world.
You can marinate the chicken for just 1 hour, but we find that overnight produces the most flavorful results.
NOTE: If you liked this video, please subscribe to our YouTube channel. Remember to click the little 'bell' icon so you'll never miss a new video! Thank you!
The Ingredients You Will Need
There are really three important components to make not only an extra-crispy fried chicken cutlet but one that is also deeply flavorful. You need a good buttermilk marinade, a flavorful flour breading, and hot oil.
Here's what you'll need to have on hand
For the marinade:
Chicken – We recommend boneless, skinless, thighs. Boneless, skinless breasts will work, too. Although, you may need to cut them half, lengthwise
Buttermilk – Cold
Garlic powder – Super important
Salt – Kosher
For the Flour Breading:
Flour – All-purpose
Corn starch – This helps make it extra crispy
Salt – Kosher
Garlic powder – Super important
Chili powder – For a tiny amount of kick
Pepper – Black, freshly ground
For Bringing It All Together:
Oil – Vegetable or Peanut is best
Buns – Brioche buns are wonderful
Pickles – Dill, sandwich sliced
Spread – Our Kickin' Cajun Remoulade is amazing, but plain ole mayo is great, too.
EXPERT TIP: You will most likely need to fry the cutlets in batches. Don't overcrowd the pan when frying. Use a candy thermometer to ensure your oil is in the range of 340°F to 350°F. Once one batch is finished, place them on a baking rack over a baking sheet, and if desired, keep warm in a low-temperature oven (225°F) until you've fried all cutlets.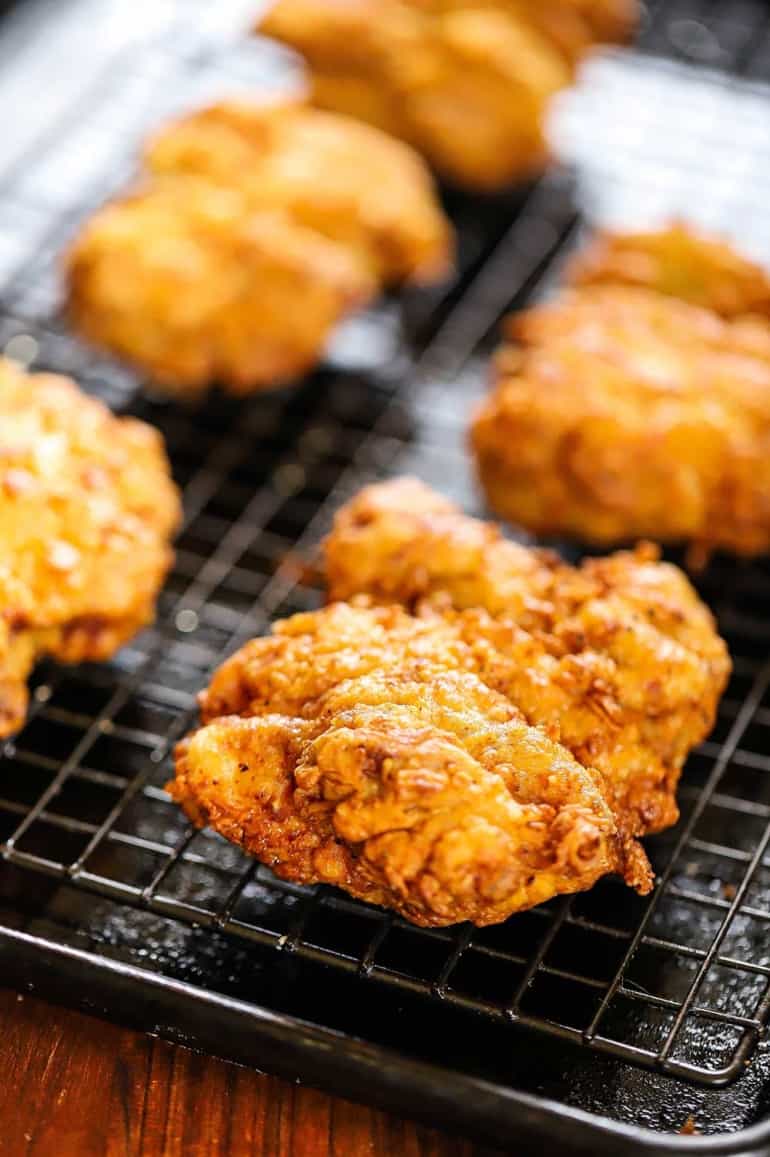 Tips for Perfect Crispy Fried Chicken Sandwiches
Give Time for the Marinade to Work – Although you will still get a delicious fried chicken cutlet if you allow it to sit in the marinade for 1 hour, the best results occur after 12 to 18 hours. The acid in the buttermilk actually tenderizes the chicken and the hot sauce and garlic powder add flavor (but don't worry, it creates very little heat).
Add Marinade to the Flour Mixture – To increase the crunchy exterior, be sure to add about 5 spoonfuls (tablespoons) of the marinade into the flour mixture. Stir it up. Small balls of breading will form and adhere to the chicken, making for extra crunch when deep-fried.
Watch the Oil Temperature – Don't let the oil exceed 350°F, otherwise the breading will brown too quickly and the inside of the chicken won't be fully cooked. Once you add the breaded cutlets to the oil, you'll need to increase the heat to bring it back to 145°F. And don't overcrowd the pan! This will result in less crispy, soggy fried cutlets.
EXPERT TIP: Our Kickin' Cajun Remoulade is the perfect condiment for these sandwiches, but you don't want it to dominate the flavor profile. A good smear on the bottom bun is the ideal amount.
How To Serve
As mentioned, we love serving these with our kickin' remoulade, but plain mayonnaise is great, too. Or, stir a couple of teaspoons of sriracha sauce for a tasty condiment.
Brioche buns are light and toast beautifully. They are the perfect vessel for the super crispy fried chicken cutlets. However, any kind of bun will work just great. Even homemade hamburger buns!
The perfect side for this amazing sandwich, of course, is Perfect Homemade French Fries!
EXPERT TIP: Extra fried chicken pieces can easily be reheated and crisped up on a baking rack on a baking sheet in a 350°F oven for about 15 to 20 minutes!
Other Epic Sandwich Recipes To Try
We're not going to lie, these fried chicken sandwiches are about as good as they come. But, then again, have you checked out these amazing hand-held gems?
Chicken Fried Steak Sandwich
BBQ Pulled Pork Sandwich
Honey Mustard and Bacon Chicken Sandwich
Grilled Salmon Burger
Fried Catfish Po'Boy
Marinated Grilled Steak Sandwich
Classic Muffaletta
Sausage and Peppers Hero
BBQ Chopped Beef Sandwich
Wagyu Pastrami Sandwich
In the meantime, aren't you craving this incredible sammy?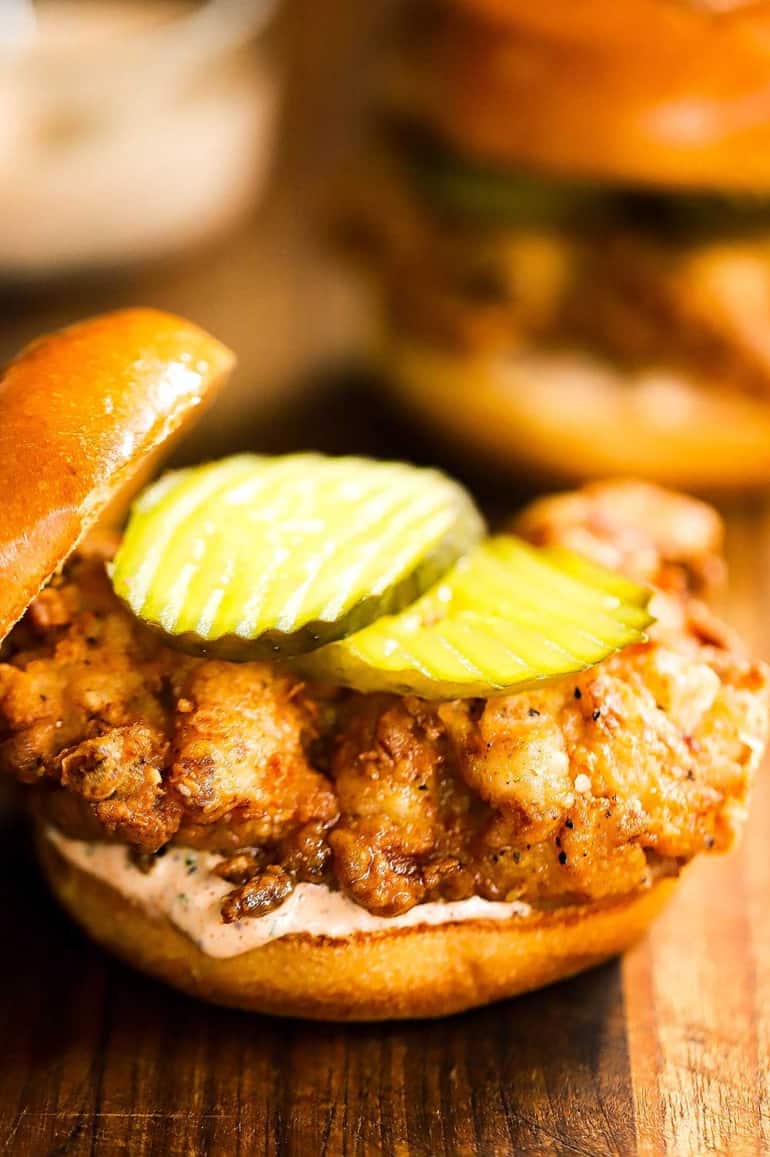 Folks, if you're wanting to serve a sandwich to loved ones that will literally blow them away, this is the one you'll want to go with it.
We're not saying you should consume these on a daily basis, but, boy, oh boy, on that special occasion, it just doesn't get better than this.
Sandwich perfect is putting it mildly! So much better than the fast-food versions! Every bite is a taste sensation!
Ready to make a fried chicken sandwich that is so much better than you'll get from any drive-through? Go for it!
And when you do, be sure to take a photo of it, post it on Instagram, and tag @HowToFeedaLoon and hashtag #HowToFeedaLoon!
Crispy Fried Chicken Sandwich
This fried chicken sandwich is so good! The flavor profile is deep. The chicken is super crunchy. And the remoulade is the perfect match.
Print
Pin
Rate
Servings: 4
Calories: 652kcal
Equipment
1 large sturdy skillet for frying, cast-iron is perfect
Ingredients
For the Chicken and Marinade
4 chicken thighs boneless, skinless
2 cups buttermilk
2 tbsp hot sauce
2 tsp garlic powder
2 tsp Kosher salt
For the Flour Breading
1½ cups all-purpose flour
1 tbsp cornstarch
1 tsp garlic powder
2 tsp chili powder 2 tbsp, for medium spice level
1½ tsp Kosher salt
½ tsp black pepper
For the Sandwiches
Vegetable oil for frying
4 brioche buns toasted
kickin' remoulade for smearing on the buns
dill pickle slices for topping
Instructions
Do Ahead
Make the remoulade sauce

kickin' remoulade
Prep the Chicken
Cut excess fat away from the chicken thighs.

4 chicken thighs

Place the chicken in a medium-sized bowl. Cover with buttermilk. Stir in the hot sauce, garlic powder, and salt. Cover with plastic wrap and keep in the fridge for at least one hour, or even better, overnight.

2 cups buttermilk, 2 tbsp hot sauce, 2 tsp garlic powder, 2 tsp Kosher salt
Prep the Flour Mixture and Chicken for Frying
Heat oil in a large sturdy skillet to 340°F to 350°F.

In a medium-sized bowl or dish, stir together the flour, cornstarch, garlic powder, chili powder, salt, and pepper. Add 5 tablespoons of the chicken marinade into the flour mixture and gently stir until incorporated. There should be clumps that have formed from the marinade in the flour.

1½ cups all-purpose flour, 1 tbsp cornstarch, 1 tsp garlic powder, 2 tsp chili powder, 1½ tsp Kosher salt, ½ tsp black pepper

Working one chicken thigh at a time, remove the chicken from the marinade, and shake the excess off. Place the thigh in the flour mixture, and turn it several times to fully coat the chicken. Place on a baking rack on a baking sheet and continue with the remaining chicken thighs.

Working in batches, carefully place the breaded cutlets into the hot oil. Don't overcrowd the pan! Cook until golden brown and very crispy, using metal tongs to carefully flip the cutlets occasionally and the internal temperature is 165°F, about 8 to 10 minutes. Remove from the oil and place on a baking sheet over a baking pan. Repeat with remaining cutlets.

Vegetable oil
Build the Sandwich
Toast the buns until lightly brown. Add a thin layer of the remoulade on the bottom bun of all sandwiches. Next, place a fried chicken cutlet on the prepared bun. Top with pickles and then the top bun. Serve at once.

4 brioche buns, dill pickle slices
Notes
See the video near the top of the blog post for visual guidance. If you liked the video, please subscribe to our YouTube channel!
Chicken breasts can be used in place of the thighs. If large chicken breasts, cut them in half, lengthwise, before breading them.
Adding the marinade to the flour mixture isn't an exact science. You want to add enough so that small clumps form throughout the mixture when stirred. Usually, 5 tbsp is just enough, but feel free to add more, if desired. Just don't add so much that it makes the flour mixture become wet.
Extra fried chicken fillets can be reheated and crisped up in a 350°F oven on a baking rack on a baking sheet for 20 minutes.
Nutrition
Calories: 652kcal | Carbohydrates: 85g | Protein: 37g | Fat: 28g | Saturated Fat: 12g | Polyunsaturated Fat: 4g | Monounsaturated Fat: 7g | Trans Fat: 0.1g | Cholesterol: 268mg | Sodium: 945mg | Potassium: 503mg | Fiber: 2g | Sugar: 6g | Vitamin A: 1314IU | Vitamin C: 5mg | Calcium: 210mg | Iron: 4mg