Marinated Grilled Steak Sandwich is melt-in-your mouth delicious.
If you're looking for an incredible sandwich that will truly impress, look no further. This is easy to prepare, and is so good. You will probably also like our Grilled Honey Mustard Sandwiches and our Rockin' Black and Bleu Burger, too!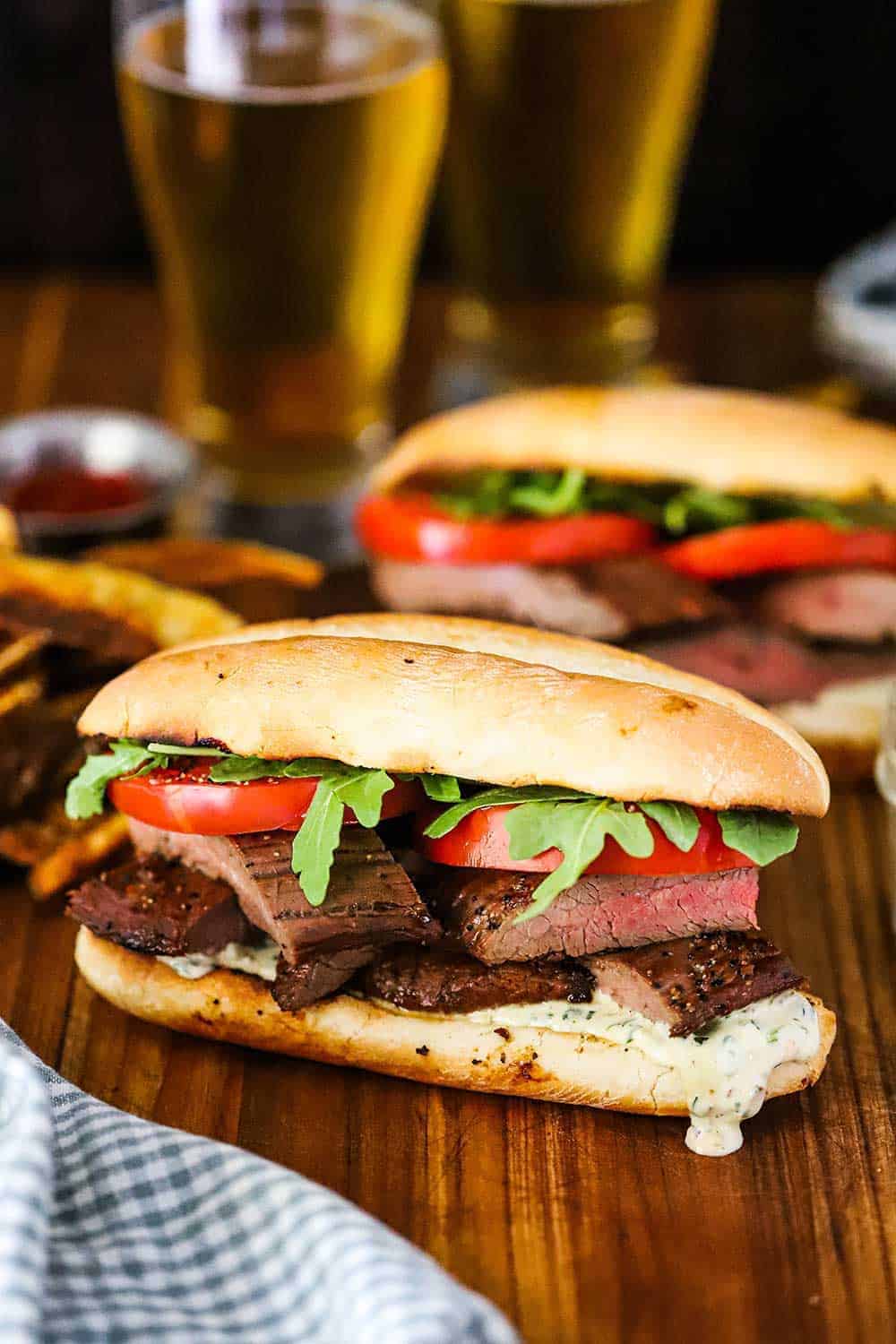 MARINATED GRILLED STEAK SANDWICH IS EASY TO MAKE
The marinade for this grilled steak sandwich is simple but so flavorful.
Choose any nicely marbles cut of steak, but we find flank steak is the perfect cut for these sandwiches.
Look for nice marbling, and you'll be in perfect shape for this amazing sandwich!
GRILL THE MEAT TO MEDIUM OR MEDIUM-RARE
This marinated grilled steak sandwich truly is melt-in-your-mouth amazingly good.
And important factor to remember is to not overcook the steak.
We think 135°F is the perfect internal temperature for the steak. A instant-read thermometer ensure you get exactly the right temperature!
CHIMICHURRI MAYO IS THE PERFECT CONDIMENT
If you're going to make such an amazing sandwich, you might as well and go the slight extra distance and make an incredible condiment to put on the sandwich.
We, of course, are talking about our incredible Chimichurri Mayonnaise.
Exploding with flavor, and the perfect match for the flavorful grilled steak, the peppery arugula and juicy tomatoes.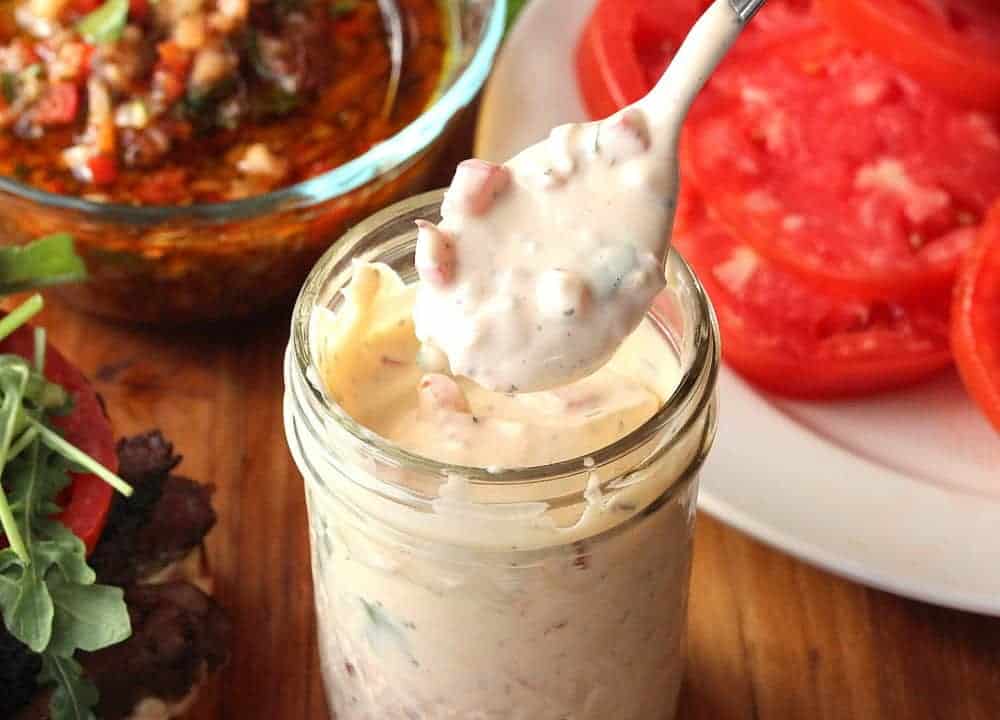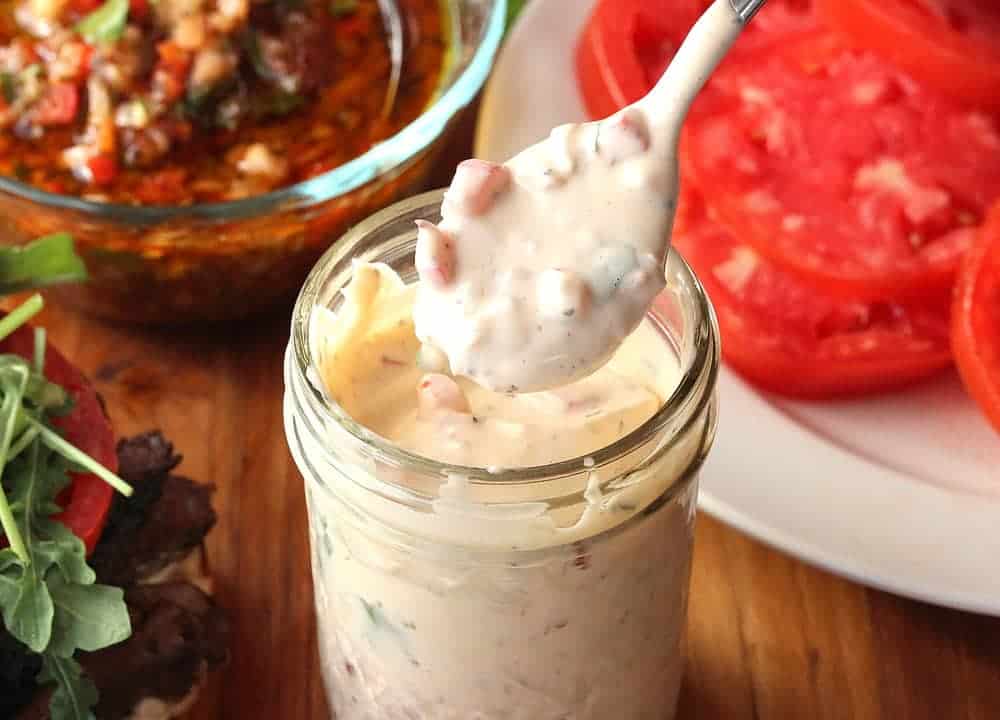 After you've grilled the flank steak, you'll want to let it rest for about 5 to 10 minutes in order to let the juices re-distribute.
If you cut into too soon, you'll lose all that amazing juice!
Let's hear it for flank steak!
EXPERT TIP: Other cuts of meat that will also work well with this sandwich is a hangar steak, or skirt steak. Marinating the meat, especially skirt steak, is a must. We recommend at least 2 hours. Overnight is even better!
Folks, this is the real deal.
Serve this Marinated Steak Sandwich to meat-loving dear friends and family, and your status in their eyes will go through the roof.
Mmmmmm…..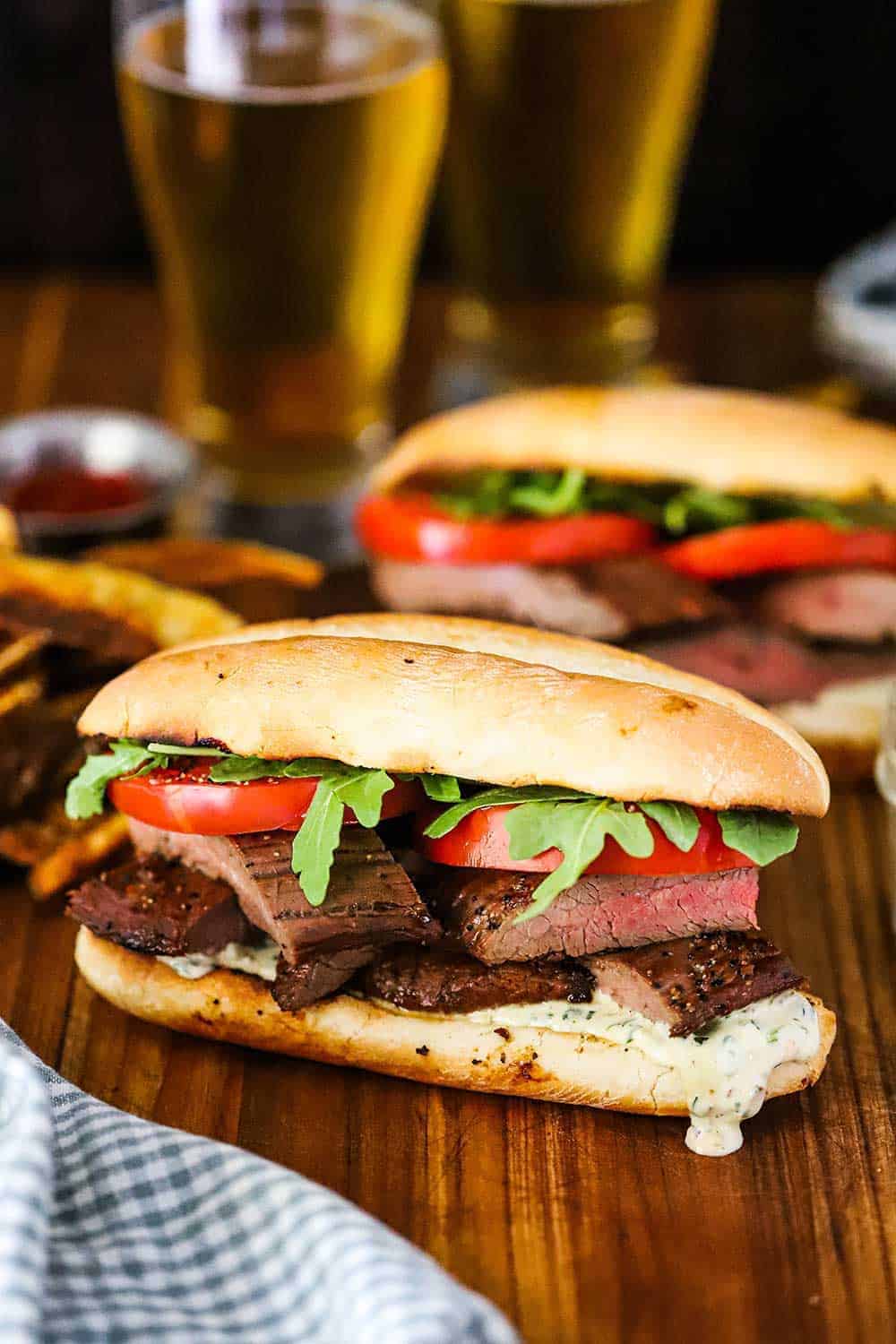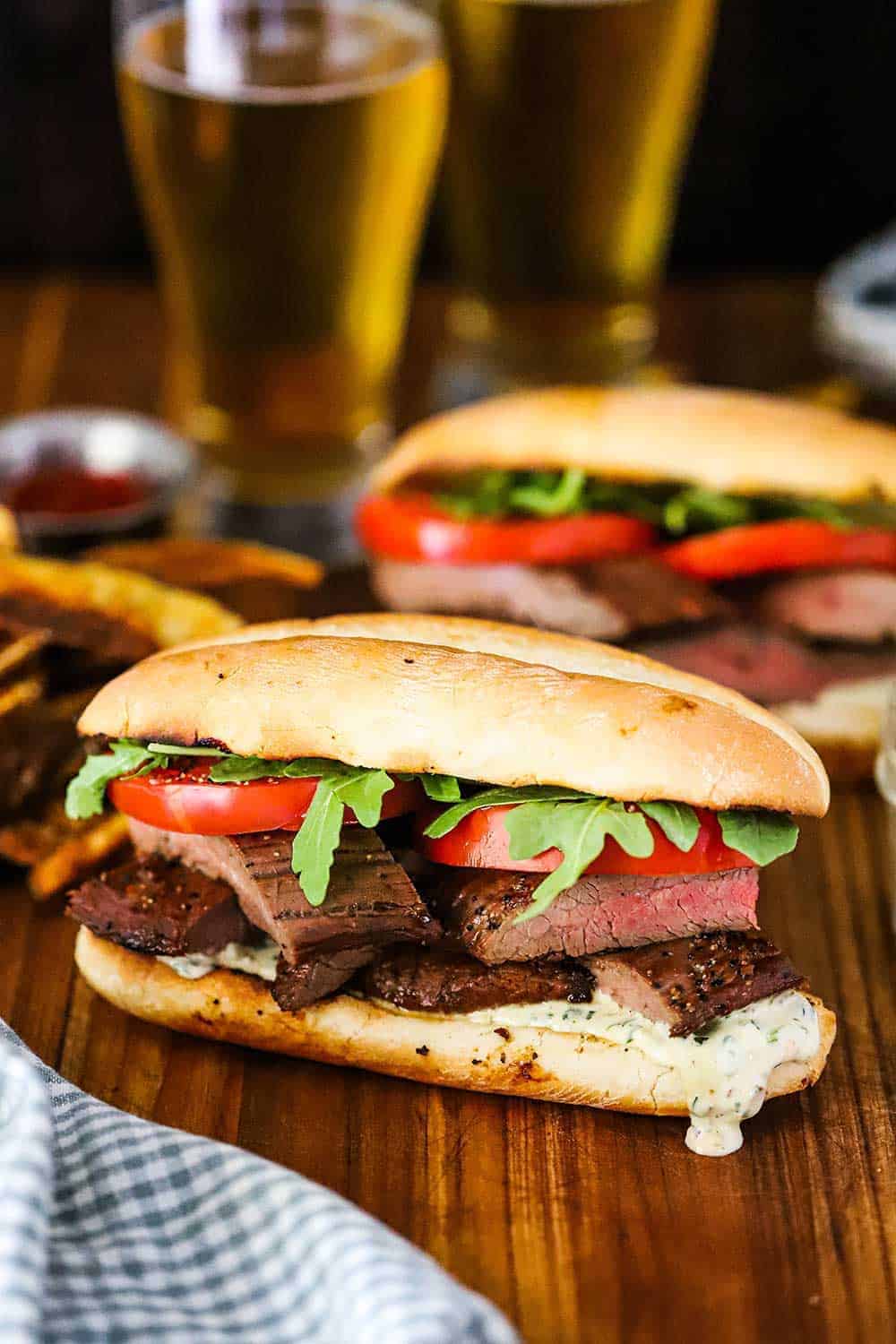 Marinated Grilled Steak Sandwich
This Marinated Grilled Steak Sandwich is unbelievably melt-in-your-mouth good. So flavorful and truly one of the Loon's all-time favorites. He can't stop talking about it. Really delicious.
Print
Pin
Rate
Prep Time: 15 minutes
Cook Time: 12 minutes
Total Time: 27 minutes
Servings: 6 people
Calories: 386kcal
Ingredients
FOR THE MARINADE
1/2 cup soy sauce
3 tbsp freshly squeezed lime juice
1/4 cup Worcestershire sauce
1/4 cup olive oil
4 garlic cloves minced
1/2 tsp sugar
2 tsp freshly ground black pepper
1 2 1/2 to 3 lb flank steak
Instructions
MAKE THE MARINADE FOR THE STEAK
Combine the first 7 ingredients and mix well.

Place the steak into a large freezer bag and pour the marinade into the bag.

Place the bag with the steak and marinade in the refrigerator for 8 hours, or overnight.
MAKE THE SANDWICHES
Prepare your grill to medium-hot heat.

Remove the steak from the marinade and grill until internal temp reaches 130 F for medium rare (about 5 minutes per side), and 135 F for medium (about 8 minute per side) .

Remove the steak from grill and allow the steak to rest for 8 - 10 minutes to allow juices to re-distribute. (The meat will continue to cook as it rests)

Meanwhile, make the chimichurri mayonnaise (this can be made 24 hours ahead of time).

Toast the buttered buns on the grill until toasty and lightly browned.

Slice the meat against the grain.

Slather a good helping of the chimichurri mayo on each bun.

Add several slices of steak.

Top with tomato and arugula.
Nutrition
Calories: 386kcal