Everyone has their favorite type of burger. This has become at the top of the list for us. And thanks to our friends at PowerVision for the use of their amazing PowerEggX Drone and Autonomous Personal AI Camera!
There are a few tricks to making this the best burger you will ever make, serve, or eat. Grilled to perfection and an amazing mushroom sauce that comes together in about 20 minutes. This is one burger you'll want to make time and time again! And why not put it over the top with Homemade Hamburger Buns!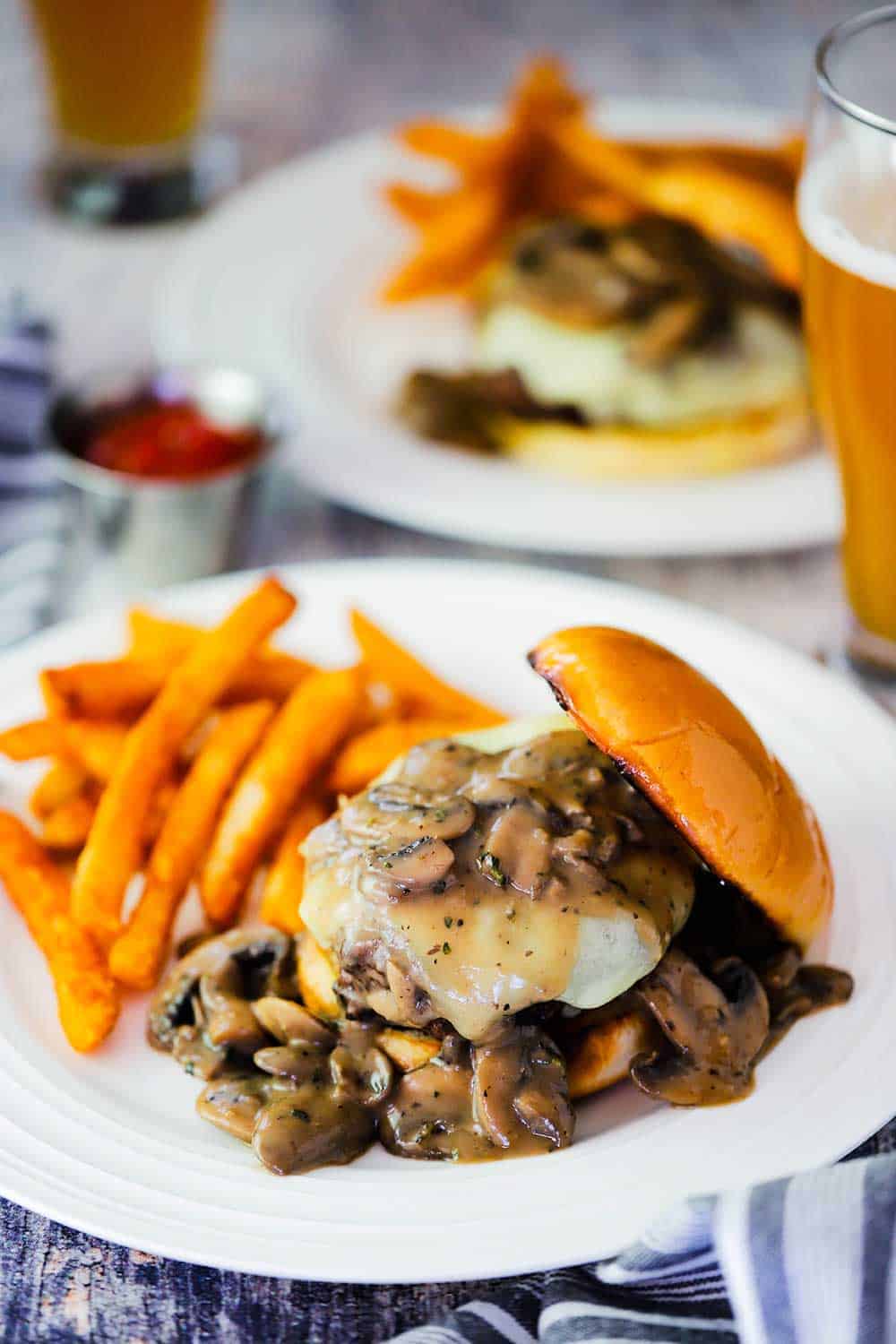 HOW TO MAKE THE BEST-EVER MUSHROOM SWISS BURGER
This burger is not difficult to prepare at all.
After forming our burger patties, we season and marinate them and then get started on the incredible mushroom sauce.
We are so thrilled to use our amazing PowerVision PowerEggX camera in filming this video. It is so awesome and so fun! Click here to learn more about this incredible camera.
CHOOSING THE BEST BEEF
Before you get started on the mushroom sauce, let's get the patties formed and seasoned.
Since this is such a special burger, we recommend using good-quality beef.
EXPERT TIP: Nowadays, ground Wagyu is found in the meat department of most well-stocked supermarkets. Wagyu beef is wonderfully flavored and makes an amazing burger. Grass-fed beef is excellent, too. We go with 85% lean for ideal flavor and juiciness.
We use a metal ring that is 3 inches in diameter to help shape the burger, but you can certainly use your hands. Amp up the flavor profile by seasoning the patties with our Perfect BBQ Rub and then marinating the burgers with a few splashes of Worcestershire sauce on both sides of the patties.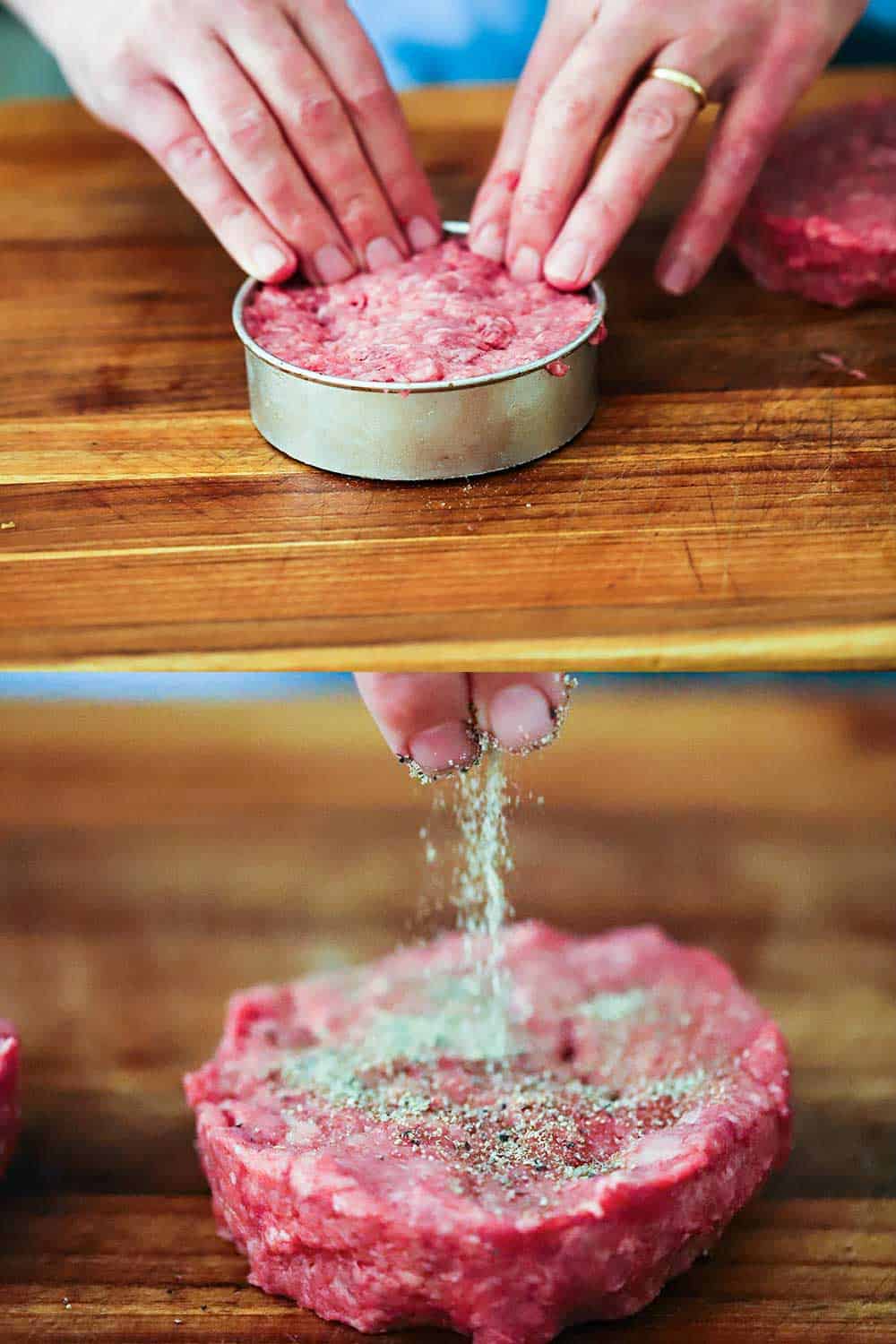 MAKING THE PERFECT MUSHROOM SAUCE
In all honesty, it's the mushroom sauce for this burger that truly puts it over the top. The mushrooms are perfectly seasoned and the sauce is rich and luxurious.
We start with 1 lb of sliced mushrooms and ¼ cup of chopped onions or shallots. After the mushrooms have started to reduce down, the addition of a good quality red wine deepens the flavor incredibly well.
EXPERT TIP: We love using chopped fresh thyme for the mushroom sauce, but you can also go with dried thyme leaves. If you do, reduce the amount to 1 tsp. Dried basil or oregano would be other suitable options, as well.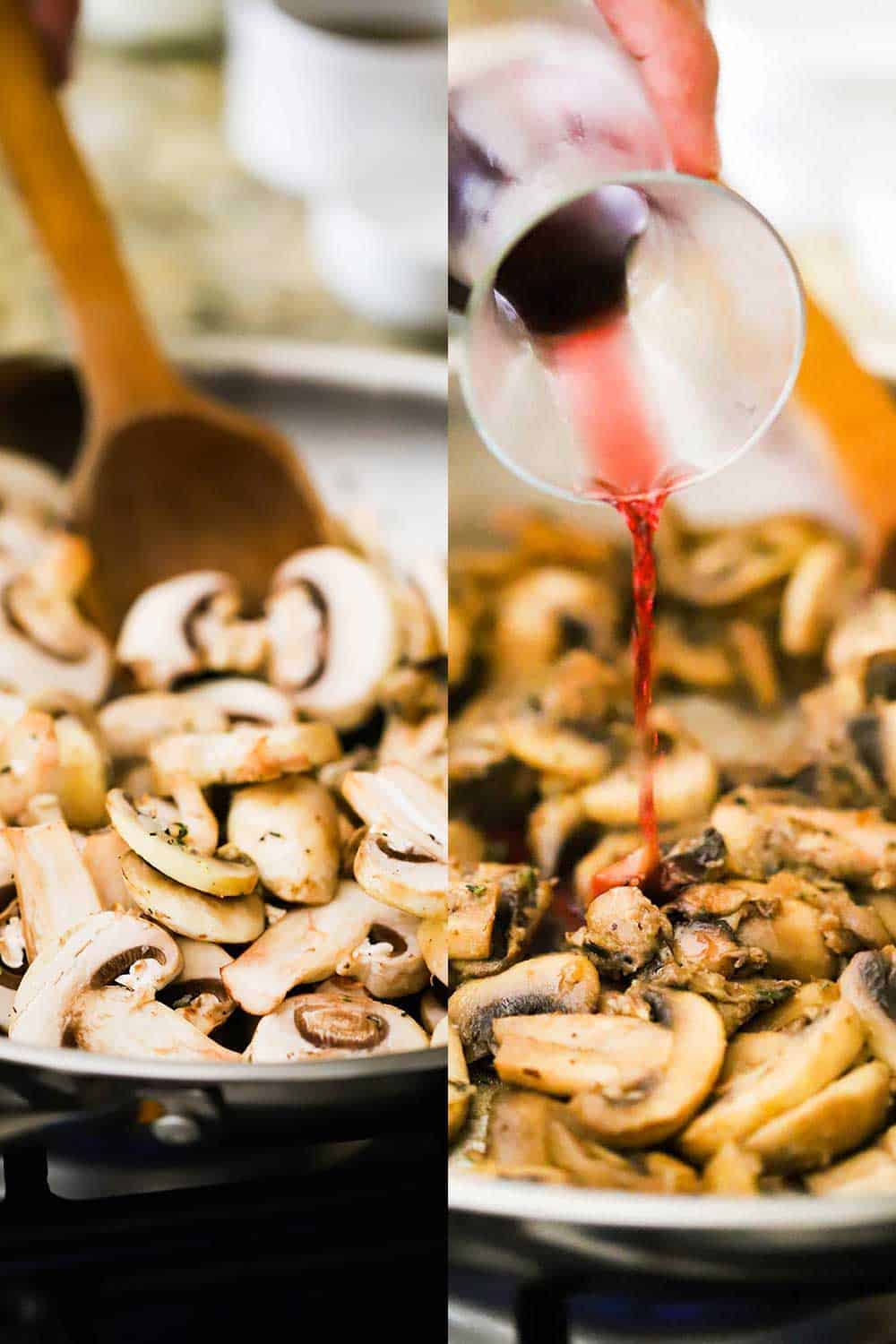 Now, it's time to make a roux.
Simply add 2 tablespoons of all-purpose flour to the mushrooms and cook for a couple of minutes.
EXPERT TIP: It's important to allow the flour to cook in the skillet for at least 2 minutes. By doing this, the flour will be completely incorporated and the flour taste will be eliminated.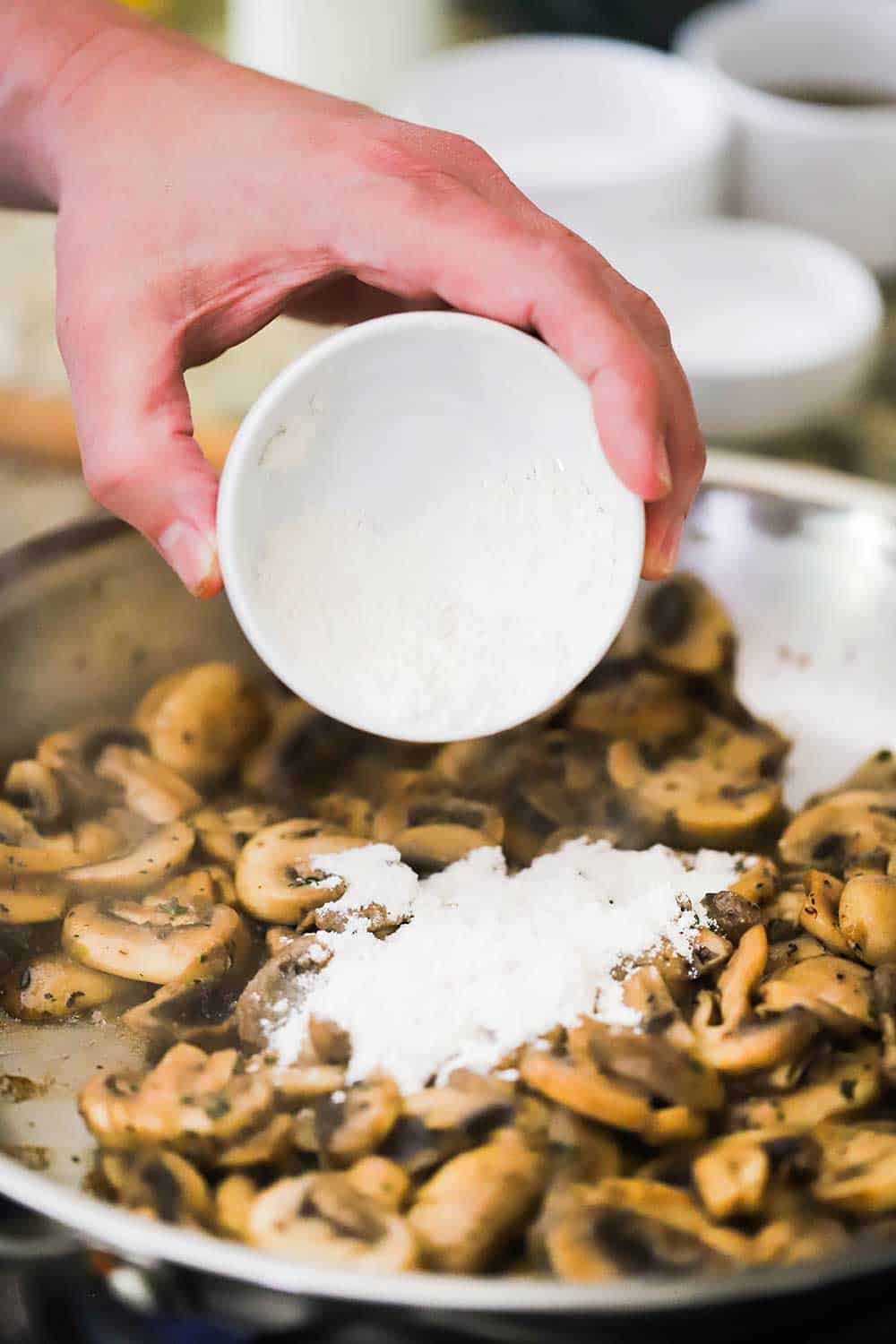 FINISHING THE SAUCE
We use beef stock (or broth) to make the sauce. A touch of cream is the final touch to these amazingly delicious mushrooms.
The mushrooms are deep in flavor and the sauce is rich and creamy.
The perfect match to the grilled burgers and Swiss cheese.
While you are putting the finishing touches on the sauce, it's time to fire up the grill to medium-high heat.
Once the mushrooms are finished, you can keep them warm over very low heat on the stove.
The mushroom sauce can easily be prepared up to a couple of days in advance. Simply reheat over medium heat before serving the mushroom Swiss burgers. We often make the sauce ahead of time and then serve the sauce in a medium-sized slow cooker on warm and let folks serve themselves.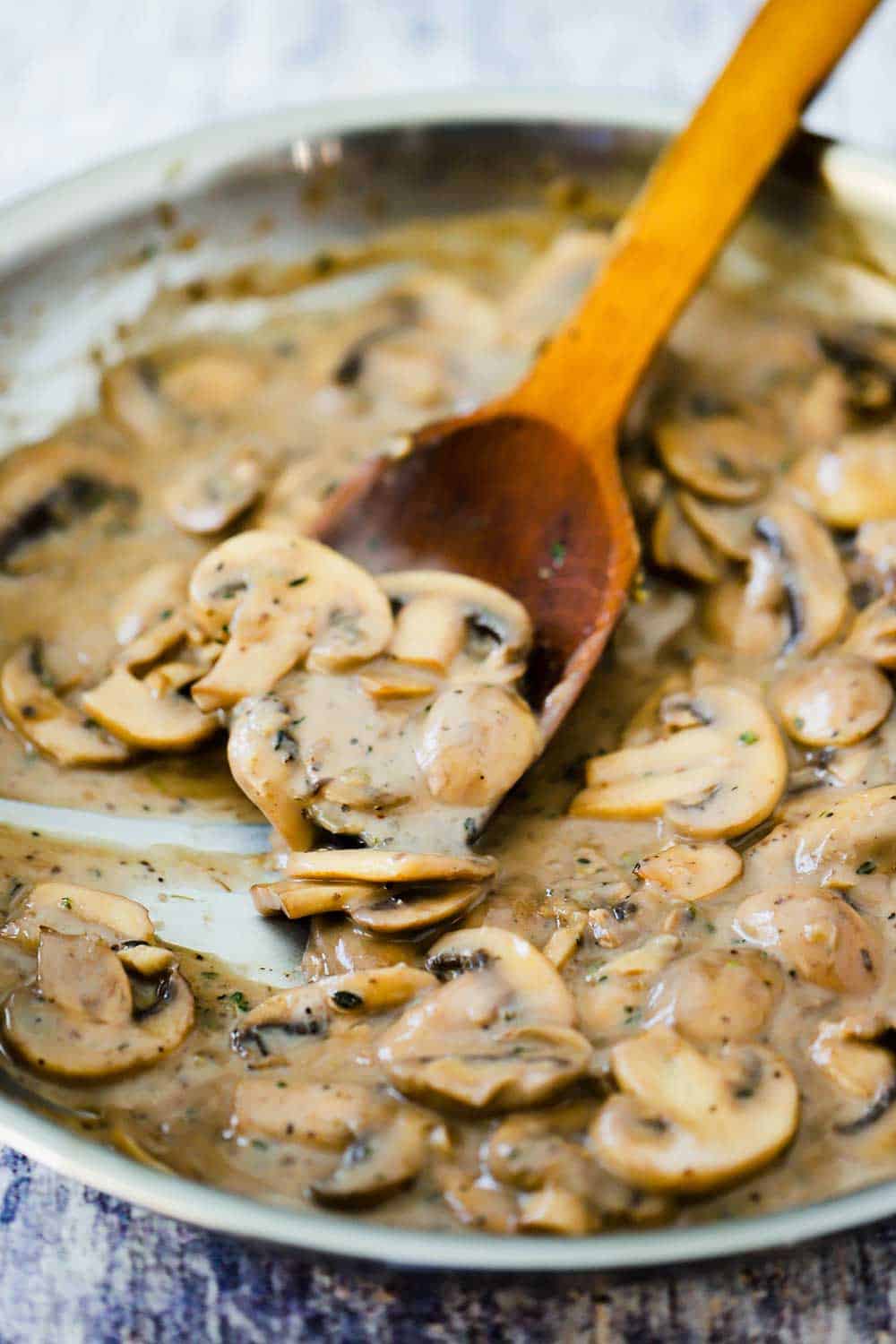 GRILLING THE PATTIES FOR MUSHROOM SWISS BURGERS
Once your grill is nice and hot, it's time to cook the burgers.
For medium to medium-rare, we recommend cooking the hamburgers for about 5 minutes per side.
EXPERT TIP: Use a spoon, or your fingers, to make an indention in the middle of the top side of each patty. Thick hamburgers tend to bloat as they cook, and often lose the patty shape and become more like softballs of cooked meat. The indention reduces this from happening and helps with even cooking.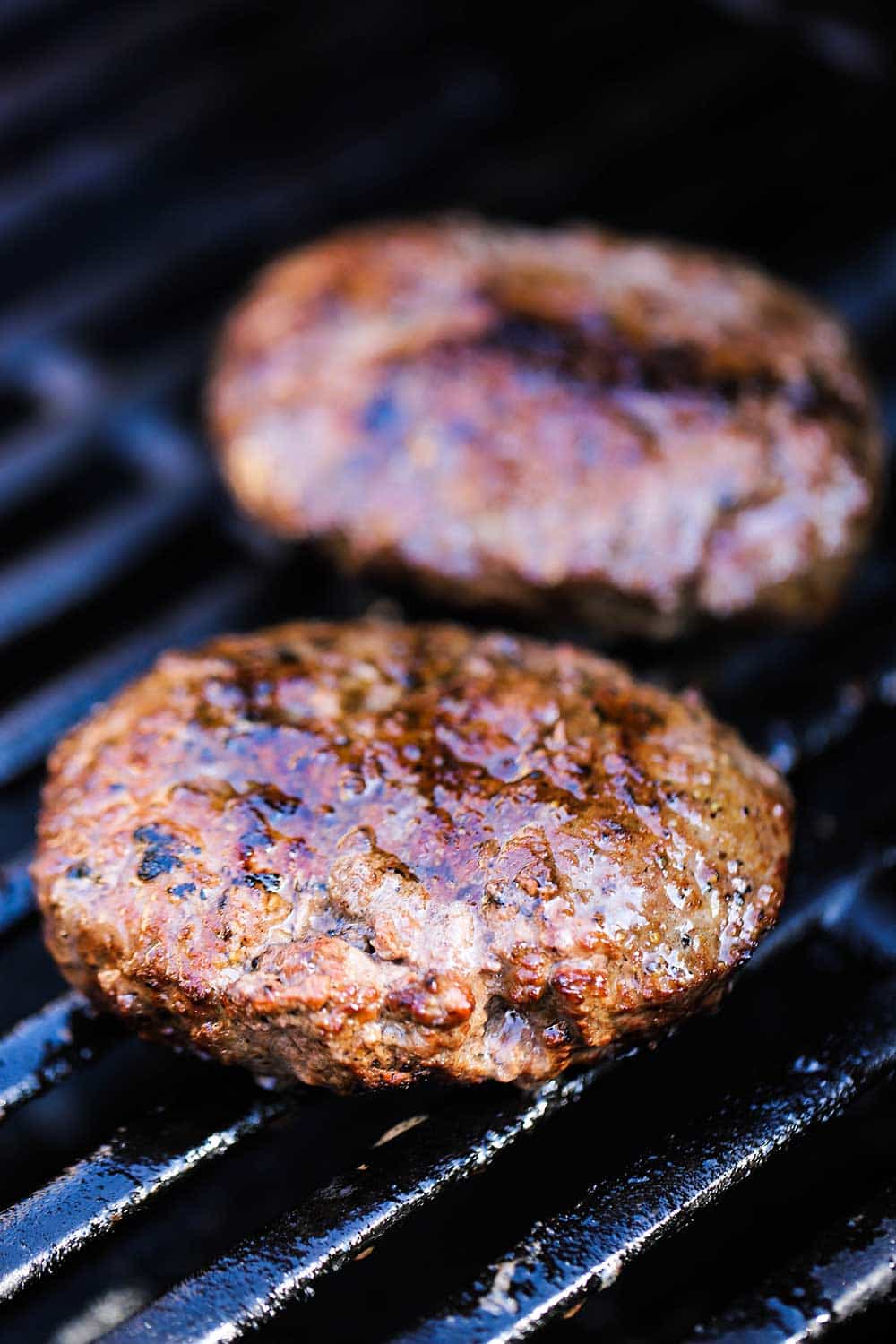 These burgers are always such a huge hit whenever we serve them to friends and family. We love to serve them with our Homemade Hamburger Buns!
Let folks pile as much of the mushroom sauce on top of their perfectly cooked burger as they want.
And these mushroom burgers are matched wonderfully with an ice-cold beer or iced tea, and of course our Perfect Homemade French Fries!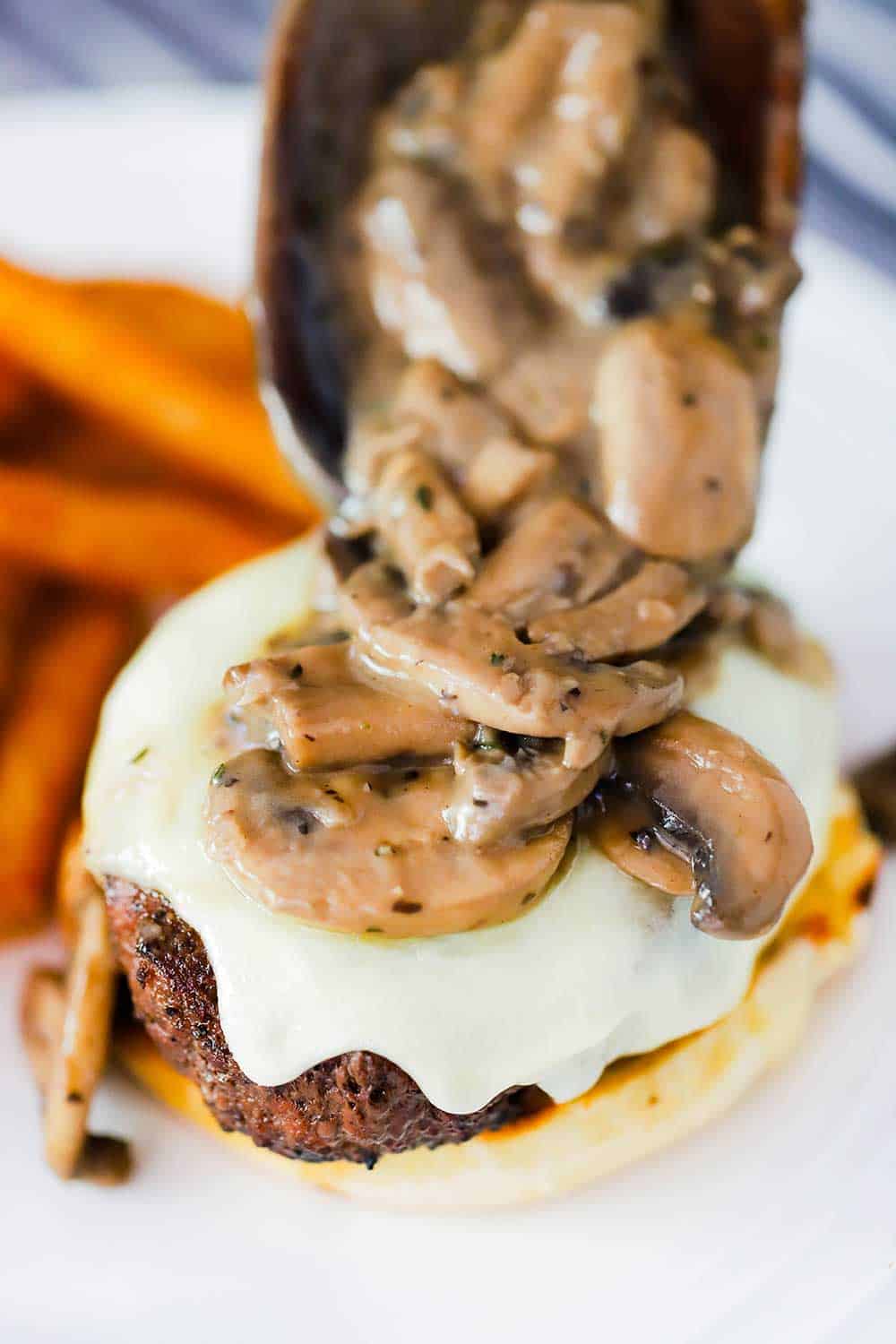 PERFECT FOR OUTDOOR BBQs
These burgers are perfect for entertaining, but also for a fun afternoon in the backyard with the family.
If you don't have access to a grill, you can cook the patties in a hot skillet until cooked to your desired doneness.
This Mushroom Swiss Burger is the ultimate show-stopper of hamburgers. One bite, and you'll be in burger heaven!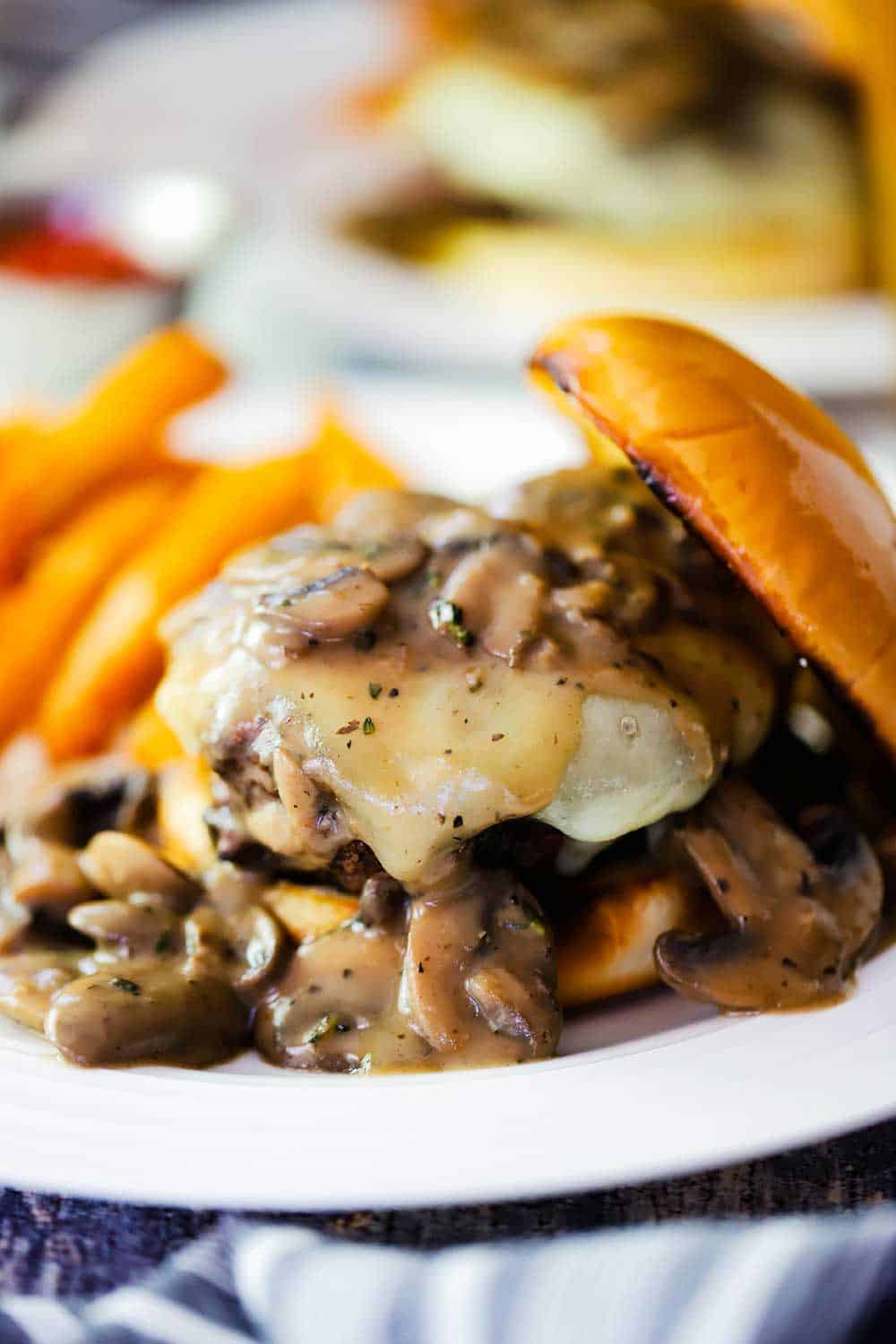 Are you ready to make the best burger in town? Go for it!
And when you do, be sure to take a picture of it, post it on Instagram, and tag @howtofeedaloon and hashtag #howtofeedaloon!
Mushroom Swiss Burger
Perfectly seasoned and cooked burgers with a luscious creamy mushroom sauce with melty Swiss cheese. This a true show-stopper of a hamburger!
Print
Pin
Rate
Servings: 4
Calories: 856kcal
Equipment
Gas or charcoal grill, or indoor grill, or grill pan
Ingredients
2 lbs ground sirloin divided into 4 patties
4 tbsp Perfect BBQ rub or your favorite seasoning
4 tbsp Worcestershire sauce
4 tbsp unsalted butter
8 slices Swiss cheese
FOR THE MUSHROOM SAUCE
2 tbsp olive oil
2 tbsp unsalted butter
¼ cup onion chopped
1 tbsp thyme fresh, chopped
½ tsp Kosher salt
¼ tsp black pepper freshly ground
1 lb mushrooms sliced
1 tbsp Worcestershire sauce
¼ cup red wine
2 tbsp all-purpose flour
1 cup beef stock or broth
2 tbsp heavy cream
Instructions
PREP THE BURGERS
Season the patties all over with the BBQ rub and a small sprinkle of salt and pepper. Place in a dish large enough to hold the patties, and sprinkle a few splashes of Worcestershire sauce over both sides of all patties. Cover and place in the refrigerator.
MAKE THE MUSHROOM SAUCE
Heat the oil over medium-high heat in a large skillet or saucepan. Add the butter and swirl the pan until it is melted.

Add the onions and cook until soft and translucent, about 3 to 5 minutes.

Add the chopped thyme and cook until fragrant, about 30 seconds.

Add the mushrooms and ½ tsp of salt and ¼ tsp black pepper. Stir to fully coat the mushrooms.

Cook until mushrooms are soft and beginning to exude liquid. Add 1 tbsp Worcestershire sauce and the red wine (¼ cup) and cook until the liquid has reduced by about half, about another 4 to 5 minutes.

Sprinkle the flour all over the mushrooms and stir until fully incorporated. Cook for 2 minutes, stirring occasionally.

Add the beef stock and cook, stirring frequently, until thickened, about 4 to 5 minutes. Stir in the cream. Taste and add more salt, if desired. Keep warm on low heat on the stove.
FINISH OFF THE BURGERS
While the sauce is coming together, fire up your grill to medium-high heat.

Place the burgers directly over the heat and grill until desired doneness, about 5 minutes per side for medium to medium-rare.

Just before the burgers are done, place two slices of cheese on each patty. Also at this time, place the buttered side of all of the buns onto the grill.

Remove the burgers from the grill once the cheese has melted. Remove the buns once they are nicely toasted and brown around the edges.

Place burgers on the bottom buns and top with the warmed mushroom sauce. Top with the remaining buns.
Notes
These are 1/2 lb burgers. You can easily adjust the recipe to make smaller 1/4 burgers. You'll need to adjust the grilling time accordingly. We love using ground Wagyu beef, which can be found in the meat department of most well-stocked supermarkets. Grass-fed ground sirloin is an excellent choice, too. We go with 85% lean for the right amount of juiciness for the burger. Use your favorite types of mushrooms. We typically go with white button mushrooms that we slice nice and thick. However, shitake, portabella, or other types of wild mushrooms are great choices. If using dried, be sure to follow instructions on the packaging for re-hydrating. The mushroom sauce can be made up to 2 days in advance and then re-heated on the stove before serving. We often keep the mushroom sauce in a small Crock-Pot on the 'Warm" setting when serving a crowd.
Nutrition
Calories: 856kcal | Carbohydrates: 36g | Protein: 61g | Fat: 28g | Saturated Fat: 18g | Cholesterol: 242mg | Sodium: 1018mg | Potassium: 1402mg | Fiber: 3g | Sugar: 8g | Vitamin A: 1021IU | Vitamin C: 9mg | Calcium: 419mg | Iron: 8mg