This Incredible Key Lime Pie recipe really is INCREDIBLE.   This pie is not difficult to prepare and every time I make this, folks always go back for seconds. The Loon usually goes back for thirds.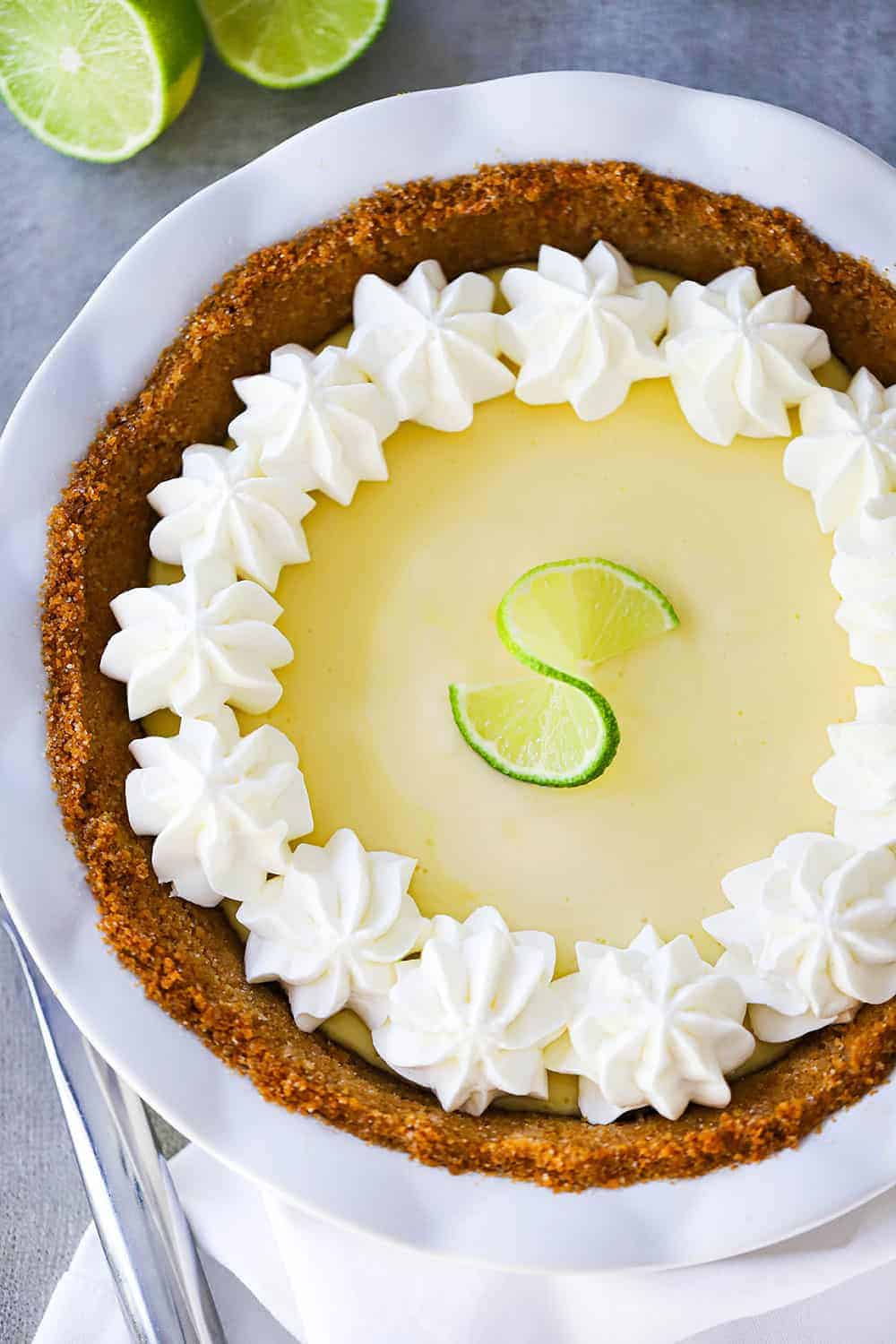 I absolutely love using fresh ingredients in recipes.  But, there are some that are just to difficult to grab.  The Loon and I live in beautiful New Jersey, and there is not an abundance of Key limes available.  Occasionally you'll see them at Trader Joe's.
But let me tell you, using real Key Lime juice makes an amazing key lime pie filling. I love using Nellie and Joe's Key Lime Juice. Ordering it couldn't be easier!
I strongly believe that if you make the three key parts of this pie from scratch, it will be one of the best pies you'll ever have.  The three main parts are: The Crust, the Filling and the Whipped Cream Topping.
Just look at this amazing crust!!
And I am not lying when I tell you how easy it ease to make each of these.   Give it a try…you will NOT be disappointed.  
NOTE:  You will need to let the pie 'set' in the fridge for at least 6 hours before topping and serving.  Overnight is best.
Incredible Key Lime Pie
This Incredible Key Lime Pie is the perfect blend of sweet and tart. This recipe is so much easier to make than you'd think...especially if you go with bottled Key lime juice! Enjoy!!
Print
Pin
Rate
Prep Time: 15 minutes
Cook Time: 30 minutes
Total Time: 45 minutes
Servings: 8 people
Calories: 365kcal
Ingredients
FOR THE CRUST
3/4 cup gingersnap cookies pulverized (use a food processor or rolling pin)
3/4 cup vanilla wafers pulverized (use a food processor or rolling pin)
6 tbsp unsalted butter, melted 3/4 stick
1/2 cup sugar
FOR THE FILLING
14 oz. can sweetened condensed milk
3 egg yolks
1/2 cup Key lime juice or regular lime juice if you can't find Key lime
8 oz sour cream
FOR THE TOPPING
4 tbsp sugar
2 cups heavy cream
1/4 tsp vanilla extract
Lime wedges for garnish (optional)
Instructions
MAKE THE PIE CRUST
Pre-heat the oven to 350 F.

Mix together the pulverized cookies, melted butter and sugar (it will still be very crumbly).

Press into a 9-inch pie dish. Use the back of a spoon or flat measuring cup to compact the mixture, which should go up sides of the dish.

Bake for 15 minutes.

Remove and let cool on rack.
MAKE THE FILLING
Pre-heat oven to 350 F.

Combine the condensed milk, egg yolks, juice and sour cream in a medium bowl, and whisk until fully blended and smooth.

Pour into the cooled pie crust (it will only go about half way up the sides).

Bake the pie for 15 minutes.

Remove and let cool.

Then refrigerate for at least 8 hours to let the filling set.
MAKE THE TOPPING AND FINISH THE PIE
Place a medium/large metal mixing bowl in the freezer for 15 minutes.

Remove bowl from freezer and add sugar, cream and vanilla.

Using an electric hand mixer (or stand up mixer, or by hand with whisk)...beat the cream on high until medium peaks form (about 5 minutes). If doing by hand...this will take about 20 minutes.

Add the whipped cream to the top of the pie.

Garnish with lime wedges, if desired.
Nutrition
Calories: 365kcal