This iconic dessert is the perfect combination of tart and sweet.
We love all kinds of pie and this ranks right up there at the top. Bottled key lime juice is found in most well-stocked supermarkets, or online. Or, if you're wanting a vacation, book a trip to the Florida Keys and have some shipped home! And folks, this pie could not be easier to prepare!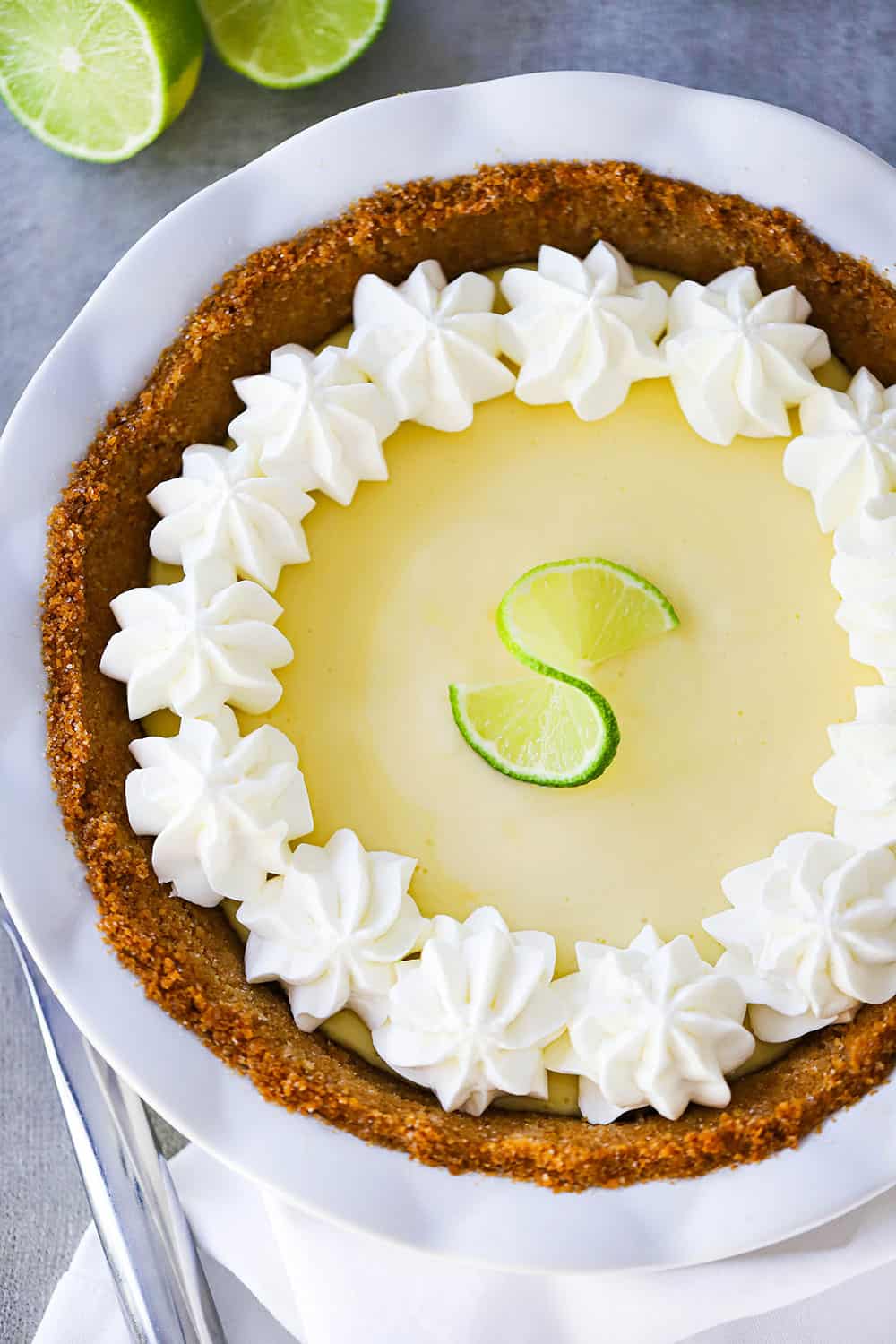 There are three main elements of our Key Lime Pie.
The crust. The filling. And the whipped cream topping.
Each component is really a snap to make. The only hard part is waiting for the pie to completely "set" in the fridge for about 4 hours. But trust us, the wait is worth it!
The Perfect Pie Crust
Of course, you can buy a pre-made graham cracker pie crust from the store. In a pinch, that's just fine for key lime pie.
But folks, it's so easy to make it from scratch, and the difference in taste is night and day.
EXPERT TIP: We love using a combination of crushed graham crackers and vanilla wafers for our crust. You could also do a combination that includes pulverized gingersnap cookies. We use our food processor to pulse them until they are very fine crumbs, but you could place them in a plastic baggie and roll them with a rolling pin or large bottle. After mixing the crumbs with sugar and melted butter, use the bottom of a small bowl or measuring cup to press the crumbs against the bottom and sides of the dish.
The Difference Between Key Limes and Regular Limes
The everyday limes that we turn to for so many recipes are called "Persian" limes. Key limes are a smaller version of these and have been grown in Mexico and the West Indies for thousands of years.
They are more tart than Persian limes, which make them the perfect complement to the sweetness in this pie. If you happen to be visiting the Keys in Florida from June through September, pick yourself some up, or have them shipped to your home.
But an easier, and more economical way of getting the juice for the filling is to go with purchased bottled key lime juice. You can find them in the juice aisle of most well-stocked supermarkets, or it's easily found online.
The batter is a simple combination of sweetened condensed milk, egg yolks, sour cream, and of course, key lime juice. So simple and so delicious!
Baking the crust in the dish for 15 minutes in a 350°F oven allows the crust to tighten together and deepen the flavor.
Be sure to allow the crust to completely cool before pouring the gorgeous sauce into the dish.
EXPERT TIP: To expedite the cooling process, let the crust-filled pie dish cool on a rack for a few minutes. And then place a hot pad on a shelf in the refrigerator or freezer and then set the dish on it. If going the freezer route (which, of course, cools the crust quicker), only allow it to stay in for about 10 to 15 minutes. Don't let it freeze!
This pie is wonderful with just the crust and the filling, but we think the perfect topping is our easy whipped cream.
Simply get a metal bowl, add 1 cup of heavy cream with 1 tablespoon of sugar, and beat on high until thick.
EXPERT TIP: The filling can be made several hours in advance. If making ahead of time, simply keep in the fridge until ready to use.
The Perfect Summer Dessert
There is just something very summery about key lime pie.
Of course, it's delicious year-round, but every time we serve this during the lush, summer months, our guests just flip for it.
EXPERT TIP: As mentioned, key lime pie is a combination of tart and sweet. The whipped cream filling adds another touch sweetness, too. If you love whipped cream, you can cover the entire pie with it. We like to pipe the topping along the edges of the pie. But, it's all really a matter of taste.
A word of warning, slicing that first of pie can be a challenge.
We use the edge of a small metal spatula and a steady hand to cut through the pie and crust to create the first slice.
Use a small sharp knife to help the side of the pie come free from the pan. The crust may crumble a bit, but the following slices will be much easier to cut.
Other Pie Recipes
There is just something magical about a homemade pie. Here are a few of our other favorite pies that you might want to try:
Lemon Meringue Pie
Blueberry Buttermilk Pie
S'Mores Pie
Southern Chess Pie
Classic Cherry Pie
But in the meantime, how about sinking your teeth into this Incredible Key Lime Pie!
This pie is honestly so easy to prepare and when you take that first bite, you will be amazed at how delicious it is.
If you want to make it over-the-top delicious, be sure to make the three main components from scratch. The crust, filling, and whipped cream topping.
Trust us, you and your family will be going back for slice after slice!
Ready to make the best dessert this side of Key West? Go for it!
And when you do, be sure to take a photo of it, post it on Instagram, and tag @howtofeedaloon and hashtag #howtofeedaloon!
Key Lime Pie
This Incredible Key Lime Pie is the perfect blend of sweet and tart. This recipe is so much easier to make than you'd think...especially if you go with bottled Key lime juice! Enjoy!!
Print
Pin
Rate
Servings: 8 people
Calories: 568kcal
Ingredients
FOR THE CRUST
1 cup graham crackers pulverized (use a food processor or rolling pin)
1 cup vanilla wafers pulverized (use a food processor or rolling pin)
8 tbsp unsalted butter melted, 1 stick
½ cup sugar
FOR THE FILLING
14 oz can sweetened condensed milk
3 egg yolks
½ cup key lime juice
8 oz sour cream
FOR THE TOPPING
1 cup heavy cream
2 tbsp sugar
¼ tsp vanilla extract optional
Lime slices for garnish (optional)
Instructions
MAKE THE PIE CRUST
Preheat the oven to 350°F.

In a medium-sized bowl, use a fork to mix together the pulverized cookies, melted butter, and sugar (it will still be very crumbly).

Press into a 9-inch pie dish. Use the back of a spoon or flat measuring cup to compact the mixture, which should go up the sides of the dish.

Bake for 15 minutes. Remove and let cool on a rack.
MAKE THE FILLING
Preheat oven to 350°F.

Combine the condensed milk, egg yolks, juice, and sour cream in a medium bowl, and whisk until fully blended and smooth. Pour into the cooled pie crust (it will only go about halfway up the sides).

Bake the pie for 15 minutes.

Remove and let cool for at least 15 minutes. Then refrigerate for at least 3 hours to let the filling set.
MAKE THE TOPPING AND FINISH THE PIE
Place a medium/large metal mixing bowl in the freezer for 15 minutes.

Remove bowl from the freezer and add sugar, cream, and vanilla (if using).

Using an electric hand mixer (or stand up mixer, or by hand with a whisk)...beat the cream on high until medium peaks form (about 5 minutes). If doing by hand...this will take about 20 minutes.

Pipe the whipped cream to the top of the pie, or spread over completely with a small spatula. Garnish with lime wedges, if desired.
Notes
For the crust, we love using a combination of our favorite cookies that we've pulverized in our food processor. Wonderful choices are graham crackers, vanilla wafers, or gingersnap. If you don't have a food processor, you can place the cookies in a baggy and crush them with a mallet, hammer, rolling pin, or bottle. You will most likely have some of the crust mixture leftover. It's amazing as a topping for ice cream. Be sure to let the crust completely cool after baking before pouring in the batter. You can expedite this process by placing the pie dish on a hot pad in the fridge or freezer for about 10 to 15 minutes. Regular lime juice can certainly be substituted for key lime juice, however, key lime juice can be found in the juice aisle of most well-stocked supermarkets, or bought online. The topping can be made up to 4 hours in advance. The pie keeps in the refrigerator for up 1 one week. You can wrap the pie in foil and freeze for up to 2 months. Let thaw completely before serving.
Nutrition
Calories: 568kcal | Carbohydrates: 63g | Protein: 8g | Fat: 28g | Saturated Fat: 12g | Cholesterol: 176mg | Sodium: 231mg | Potassium: 285mg | Fiber: 1g | Sugar: 50g | Vitamin A: 1199IU | Vitamin C: 2mg | Calcium: 212mg | Iron: 1mg
POST UPDATE: This was originally published in January 2016 but was updated with improved tweaks to the recipe, new tips and photography, and a fabulous new video in August 2020!