There is just something so deliciously satisfying about this Southern Chess Pie recipe.
The lemon flavor isn't overbearing, but just enough to brighten the flavors.
It's not overly sweet, either.  It all comes together quickly to make an absolutely delightful pie.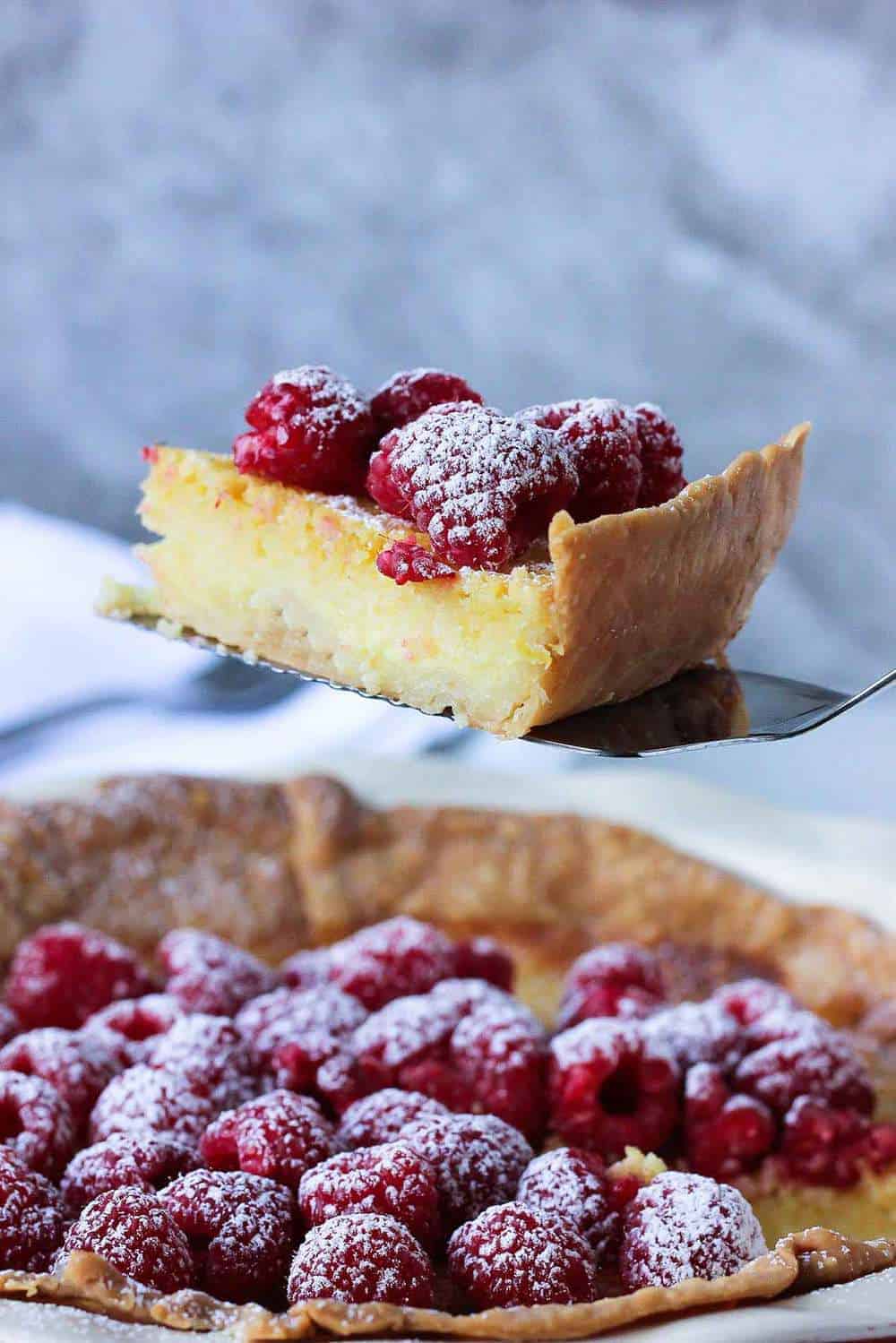 Chess Pie is a custard pie that is very popular in the Southern U.S.  But, have you ever wondered where the name came from?  No?  Well, we have!  Learn more about its strange and unusual history here!
Using Meyer lemons is always a good choice, but if you don't have access to Meyer lemons, just good ole juicy lemons from the supermarket will do!
A handful of fresh fruit, such as raspberries, and then a sprinkling of confectioners' sugar is always a nice addition!
This pie can be put together in a matter of minutes.
It bakes for about 45 – 50 minutes, and then you've got a true crowd-pleasin' pie on your hands.
Making your own pie crust is, of course, always excellent, but store-bought would be perfectly fine, too!
Doesn't that look simply amazing?
Trust us, it tastes as good as it looks!
So, go ahead and make this classic Southern Chess Pie, you won't be sorry!
And when you make this amazingly delicious dessert, be sure to take a photo of it, post it on Instagram, and tag @howtofeedaloon and hashtag #howtofeedaloon!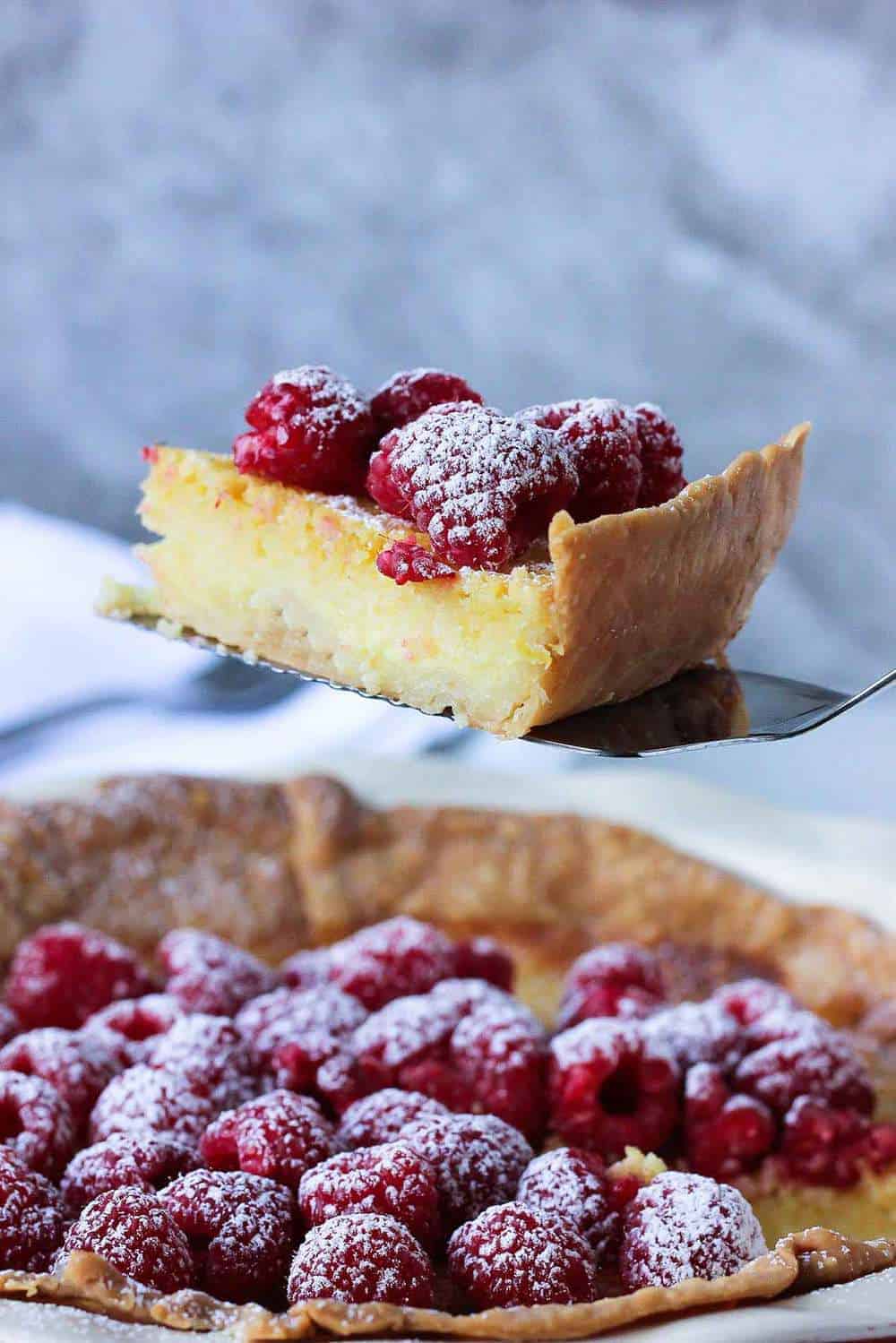 Southern Chess Pie
This Southern Chess Pie recipe is a favorite in our house. The Loon can't stop raving about it. And it's so simple to put together. Top with fresh fruit and confectioners' sugar for added flavor and a beautiful presentation!
Print
Pin
Rate
Servings: 8 people
Calories: 298kcal
Ingredients
1 9-inch pie single pie crust click for recipe
8 tbsp unsalted butter
3 tbsp all-purpose flour
2 tbsp finely ground cornmeal
¼ cup fresh lemon juice
Zest of one lemon
1 cup sugar
1 tsp pure vanilla extract
⅓ cup sour cream
1 cup buttermilk
4 large eggs lightly beaten
1 cup fresh berries optional
¼ cup confectioners' sugar optional
Instructions
Make the pie dough and fit into a 9-inch pie dish.

Preheat the oven to 350°F.

Melt the butter and stir in the flour, cornmeal, lemon juice, zest, sugar, vanilla extract, sour cream and buttermilk.

Add the egg and stir until the mixture is just combined.

Pour into the unbaked pie shell.

Bake the pie on the bottom rack for 45 to 50 minutes, or until the center is set, and an inserted toothpick comes out clean. (The top will be slightly golden brown).

Remove the pie from the oven and allow it to cool before adding a topping.

If desired, top with fresh berries and sprinkle confectioners' sugar over the top.
Nutrition
Calories: 298kcal | Carbohydrates: 33g | Protein: 5g | Fat: 17g | Saturated Fat: 10g | Cholesterol: 132mg | Sodium: 77mg | Potassium: 89mg | Fiber: 1g | Sugar: 31g | Vitamin A: 599IU | Calcium: 62mg | Iron: 1mg