Banana Pudding Trifle with Meringue is something that dreams are made of.
It brings back every delicious memory as a kid when you dug into that bowl of magical banana pudding.
This is the real deal. Topped with a beautiful meringue!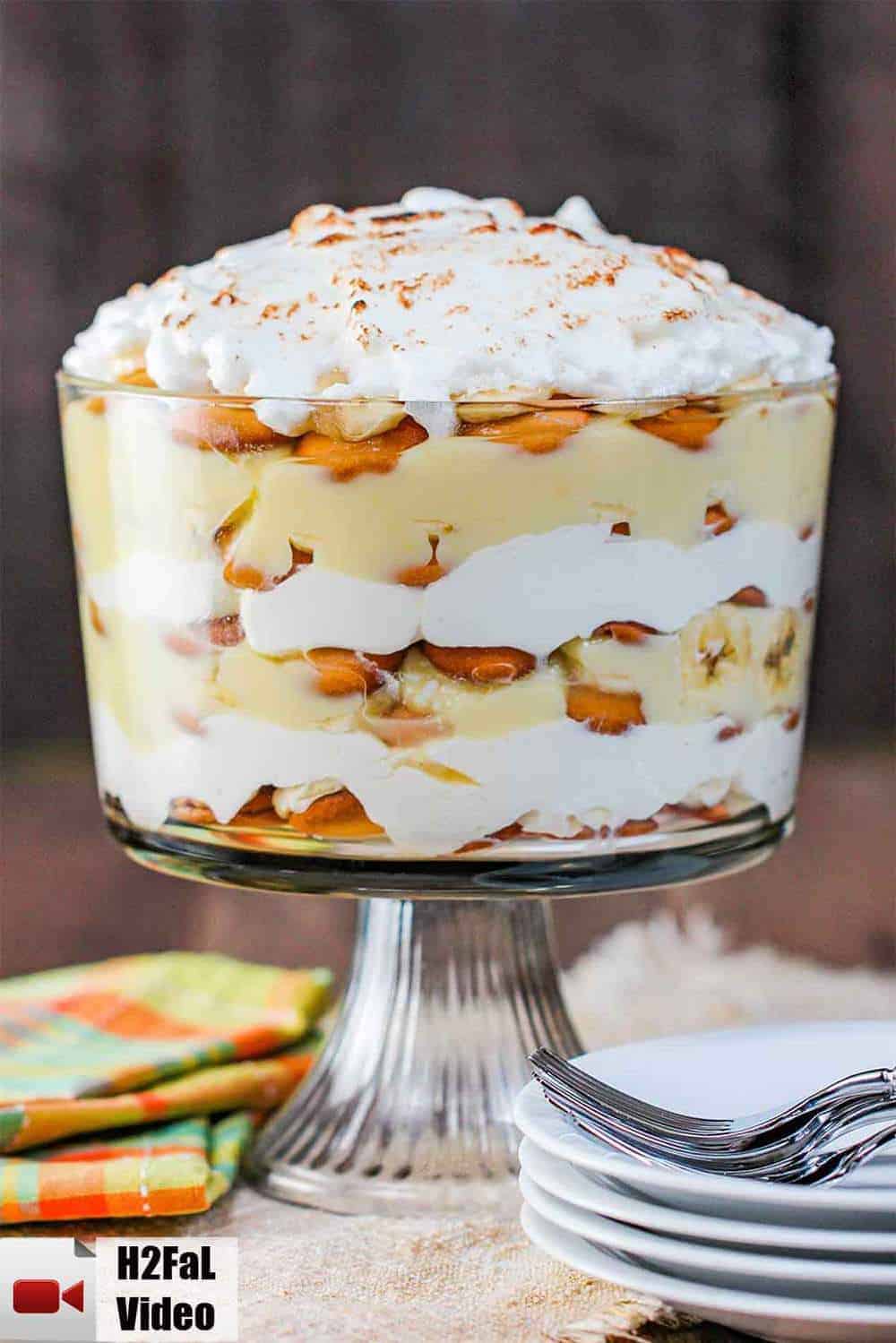 BANANA PUDDING TRIFLE IS NOT HARD TO MAKE
Many of the main components of a banana pudding trifle can be prepared in advance.
Such as the pudding, the whipped cream, and even the meringue.
Watch us show you how easy it is to make this amazing Banana Pudding Trifle with Meringue!
It bears repeating, banana pudding brings back so many wonderful childhood memories for so many of us.
We like to use bananas that are nicely ripened. They have just the right texture.
The other classic ingredients bring it all together, from the vanilla wafers, to the whipped cream and, of course, the homemade vanilla pudding.
THE LAYERS OF WHIPPED CREAM AND PUDDING ARE BEAUTIFUL
The whipped cream comes together in a matter of minutes.
We like to start with a metal bowl that has been chilled in the freezer for at least 15 minutes.
Add the cream, sugar, and vanilla and then mix (we use a hand mixer) on high until thickened, about 4 to 5 minutes. The cream will keep wonderfully in tact in the refrigerator for up to 24 hours.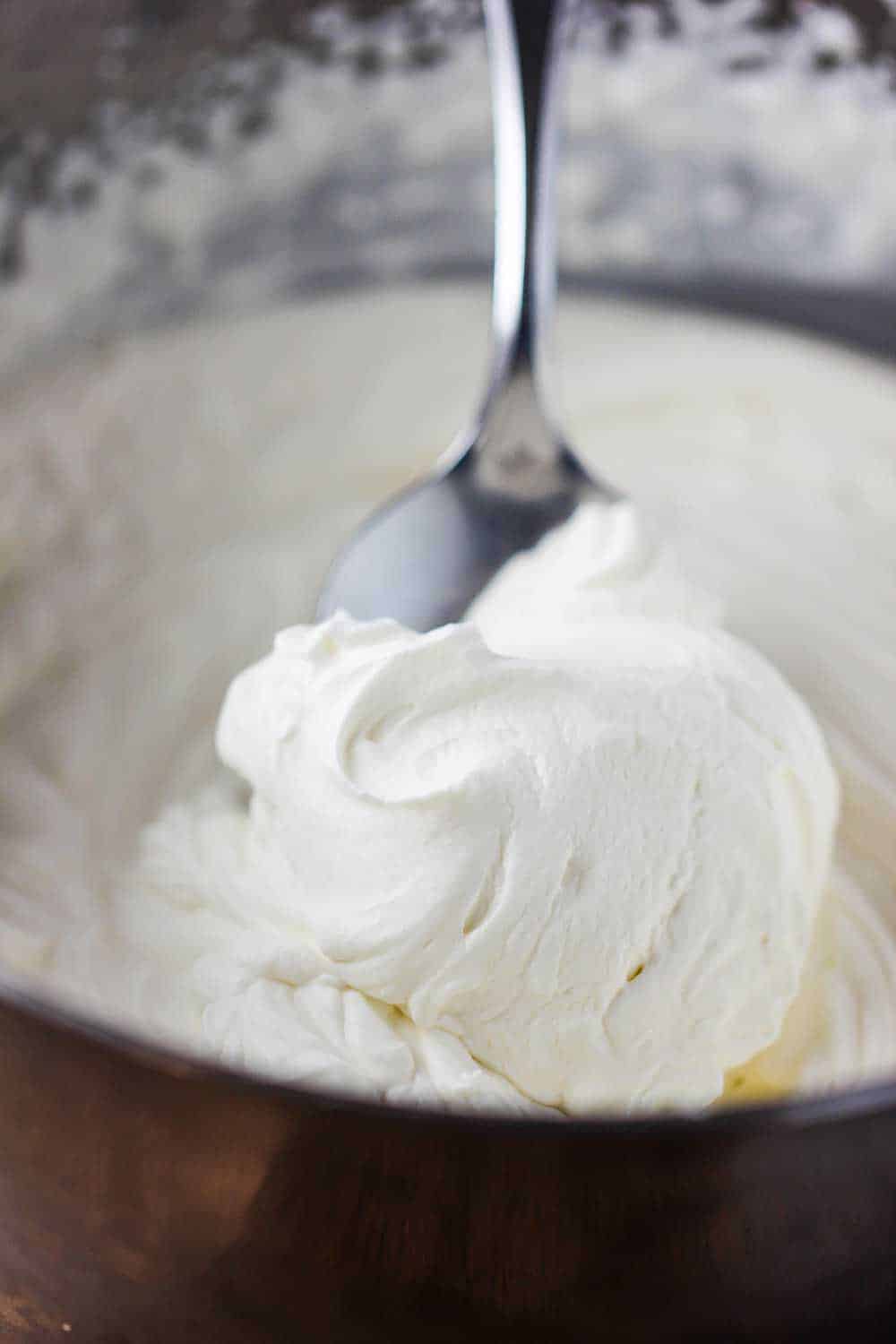 The vanilla pudding is a little more involved, but not too much.
Start by mixing the dry ingredients in a large skillet over NO heat. Then blend in the milk, then egg yolks, then butter. Still over NO heat.
Now, turn on the heat to medium, stirring constantly. Add the vanilla, and continue stirring until the mixture has thickened. Turn off the heat, transfer to a bowl, and refrigerate for at least 4 to 5 hours. It will thicken a little more as it cools.
USE A BLOW TORCH FOR THE MERINGUE
The meringue we use for this banana pudding trifle is a quick version, but works perfectly for what's needed.
You can make this in advance, but we recommend using it within a couple hours of preparing, otherwise, the meringue may start to separate.
Rather than browning the finished trifle in an oven, we use a Kitchen Torch. Just like that…we have a beautifully browned meringue!
BANANA PUDDING TRIFLE IS A REAL CROWD-PLEASER
This beautiful banana pudding trifle makes enough to feed a gathering of about 10 to 12 hungry people.
After assembled, it's best to let it chill for several hours, or even better, overnight.
Bring this to your next BBQ or church pot luck, and you'll be the star of the day. It's really that good.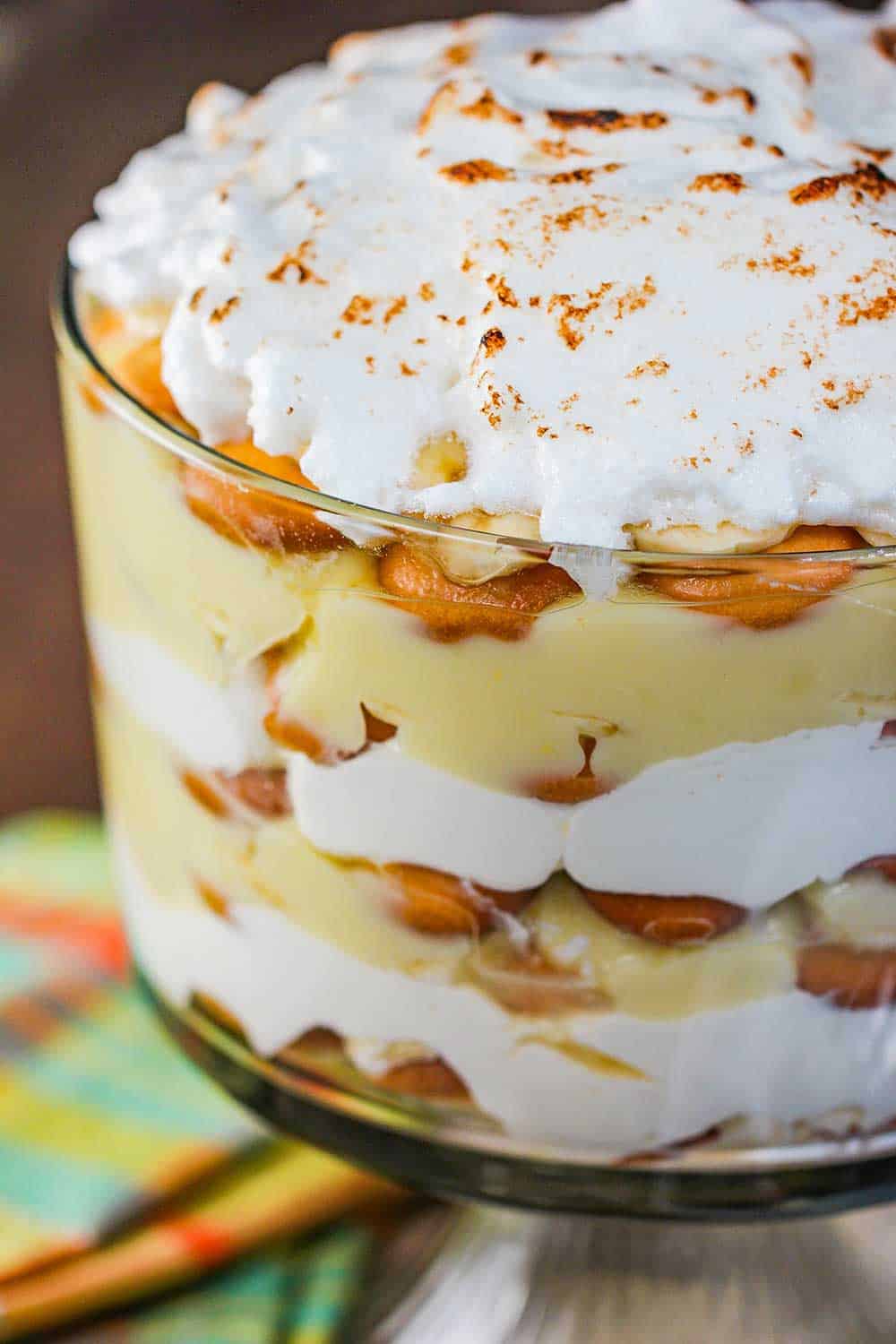 Banana Pudding Trifle with Meringue
This Banana Pudding Trifle with Meringue is the stuff dreams are made of. One bite conjures delicious childhood memories of every kid's favorite (or at least one them) desserts. Made from scratch, not hard to make...and absolutely heavenly.
Print
Pin
Rate
Servings: 12 people
Calories: 512kcal
Ingredients
FOR THE WHIPPED CREAM
4 tbsp sugar
2 cups heavy cream
1/2 tsp vanilla extract
FOR THE PUDDING
1 cup sugar
3 tbsp cornstarch
1/4 tsp Kosher salt
3 cups whole milk
4 large egg yolks room temp, save the egg whites for the meringue
3 tbsp butter unsalted, chilled and cubed
1 1/2 tsp vanilla extract
FOR THE MERINGUE
4 large egg whites room temp
1/4 tsp cream of tartar
1/2 cup sugar
1/2 tsp vanilla extract
FOR ASSEMBLING THE TRIFLE
5 to 7 large bananas ripe, but firm - peeled and sliced
50 to 70 vanilla wafers about 1 & 1/2 boxes
Instructions
MAKE THE WHIPPED CREAM
Place a metal mixing bowl in the freezer for at least 15 minutes.

Add the sugar, cream, and vanilla to the bowl and mix on high until thickened, about 4 to 5 minutes. Chill in the refrigerator until ready to use.
MAKE THE PUDDING
In a large skillet, over NO heat, mix together the sugar, cornstarch, and salt.

Pour in the milk, using a whisk to fully incorporate and dissolve the sugar and cornstarch.

Whisk in the egg yolks until fully incorporated. Now, mix in the chilled butter

Turn the heat on to medium, and stir frequently to avoid scrambling the eggs. Cook until the mixture begins to thicken, about 4 to 5 minutes. Reduce the heat to low, stirring constantly, and simmer for 1 more minute.

Remove from the heat and then stir in the vanilla.

Let cool slightly then transfer to a bowl and chill in the refrigerator until completely cooled. About 4 to 5 hours. The pudding will thicken slightly more as it chills.
MAKE THE MERINGUE (No more than 2 hours before assembling the trifle)
In a metal mixing bowl, beat the eggs whites on medium speed until foamy.

Add the cream of tartar and increase speed to high and beat until soft peaks begin to form.

Add the vanilla and sugar and beat until peaks are stiff and glossy, but not dry, about 4 more minutes.
ASSEMBLE THE TRIFLE
In your trifle, first add a layer of vanilla wafers then add a layer of sliced bananas. Now, spread half of the whipped cream.

On top of the whipped cream, add another layer of wafers then bananas. Next, spread half of the pudding .

Repeat this process with the remaining whipped cream and pudding. Add another layer of wafers and bananas on top of the second layer of pudding.

Use a spatula to add all of the meringue on top of the bananas. If desired, use a kitchen torch to slightly brown the meringue.

Chill for 4 hours, or overnight.
Nutrition
Calories: 512kcal | Carbohydrates: 67g | Protein: 6g | Fat: 22g | Saturated Fat: 8g | Cholesterol: 130mg | Sodium: 238mg | Potassium: 369mg | Fiber: 2g | Sugar: 47g | Vitamin A: 889IU | Vitamin C: 5mg | Calcium: 106mg | Iron: 1mg