These gems may be smaller, but they are just as big in taste and presentation.
During the holiday season, you may be looking for an alternative to a centerpiece turkey as your main course. These small hens are deeply flavorful, gorgeous in presentation, and easy on the wallet. Perfect for serving a small or medium-sized gathering. And the wild rice stuffing is holiday fare at its very best.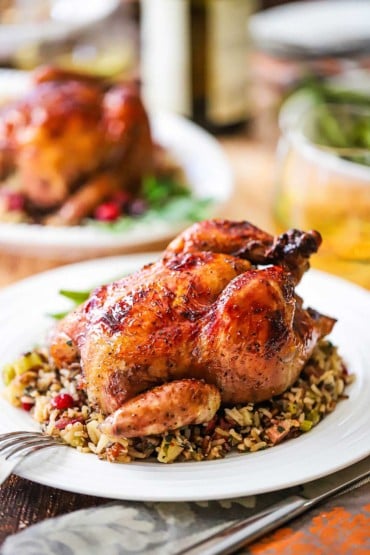 How To Make Glazed Cornish Hens with Wild Rice Stuffing
NOTE: If you liked this video, please subscribe to our YouTube channel. Remember to click the little 'bell' icon so you'll never miss a new video. Thank you!
The Ingredients You Will Need
All of the components for both the hens and the rice are easily found at your local market. Here's what you'll need to have on hand:
For the Rice Pilaf Stuffing:
Rice – We recommend a wild rice blend of white, brown, white, and wild rice.
Chicken stock – Use this to cook the rice instead of water. Go with vegetable stock/broth to keep it vegetarian.
Oil – Olive or extra-virgin olive.
Onion and celery – Chopped.
Garlic – Minced.
Apple – We use Granny Smith, but Fuji and Red Delicious are great options, too. Be sure to cut it into bite-size cubes.
Dried cranberries – Sweetened or unsweetened, whatever you prefer. Both are wonderful.
Pecans – Roughly chopped. Can substitute almonds, too. Check with guests first for any nut allergies.
Herbs – Sage and parsley. Fresh is definitely best.
Seasonings – Salt and pepper.
For the Birds and Glaze:
Cornish game hens – 1½ lbs are great, but anywhere between 1 and 2 lbs will work. They are usually found in the frozen meat section at your local supermarket.
Seasonings – Salt and pepper.
Butter – Unsalted, melted.
Port – We recommend Ruby (not Tawny). Sherry can be substituted in a pinch. If cooking with alcohol is not an option, substitute apple cider.
Sugar – Granulated.
Cinnamon – Sticks are best.
Cloves – Whole.
Garlic – Whole cloves, sliced cut half, lengthwise.
Ginger – Fresh, sliced.
EXPERT TIP:This wild rice stuffing can be prepared up to 1 day in advance. It's delicious served warm or room temperature. We stuff the bird with it to enhance the flavor of the hen during the cooking process.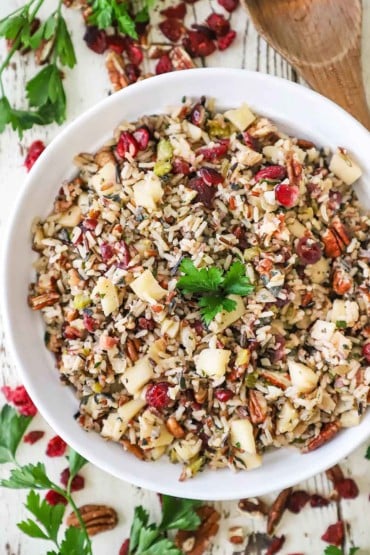 Tips for Perfect Glazed Cornish Hens
Use High-Quality Hens – Seek out hens that are fresh and free-range for the best flavor and texture. Check with your local butcher. Don't worry, though, frozen hens from the supermarket will yield delicious results, too.
Go with a Decent Ruby Port – No need to break the bank when purchasing a ruby port. However, don't go with the cheapest. We go with Porto Valdouro Ruby Port. It adds a rich, sweet flavor to the hens.
Use a Meat Thermometer: We highly recommend using a meat thermometer to ensure that the hens are cooked to the correct temperature. Insert the probe into the thickest part of the bird. The internal temperature should reach 170 to 175°F to ensure a fully cooked hen.
EXPERT TIP: You'll only need to stuff about 1/2 to 3/4 cup of the rice stuffing into the cavity of the hen. The stuffing adds flavor to the hen while cooking. You'll have plenty of the stuffing for a separate serving at the table.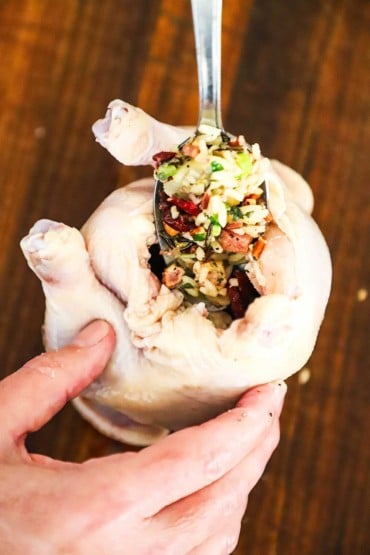 How To Cook the Cornish Hens
You will roast the hens in two stages. First, with an extra hot oven at 425°F. Then, you'll want to lower the heat to 375°F and then begin the basting process.
The total roasting process will take about an hour, maybe a little longer, depending on the size of your hens and how often you open the oven door.
The glaze adds a deep amber color on the skin of the bird. The sugars in the glaze can easily burn, so you'll need to keep a close eye on them.
Have plenty of small pieces of foil ready to cover spots on the bird that are starting to get a little too brown. You'll only need to baste 3 to 4 times.
How To Serve
These hens are truly ideal for serving a small gathering during the holidays (a fabulous feast for 2). But, you can also make enough to feed a larger gathering.
We recommend plating them for you and your loved one(s). They can be a little difficult to navigate from the roasting pan to the plate.
However, if serving multiple guest, simply the hens side-by-side on an attractive platter and garnish with extra sprigs of sage, parsley, and maybe a few clusters of fresh cranberries.
EXPERT TIP: Though the rice pilaf is delicious at room temperature, we recommend serving for the feast warm. Simply reheat in a baking dish covered with foil during the final 15 to 20 minutes of roasting the hens.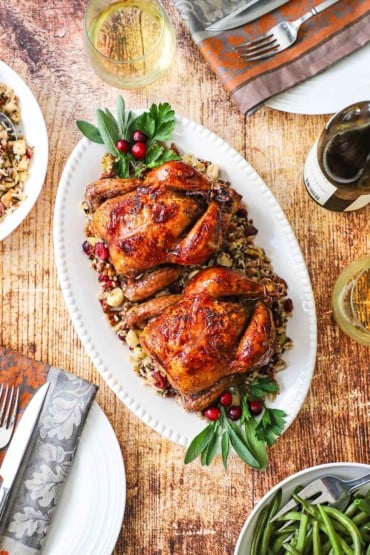 Other Classic Turkey Day Dishes
The Cornish hens will be the centerpiece of your Thanksgiving feast. But, just as important (some may argue the following are even MORE important) are the sides and desserts. Here are some of our favorites:
Mom's Thanksgiving Dressing
Best-Ever Mashed Potatoes
Twice-Baked Sweet Potatoes
Brussel Sprouts Gratin
Gourmet Green Bean Casserole
Southern Oyster Casserole
Cloverleaf Dinner Rolls
Classic Pumpkin Pie
Best Pecan Pie
These are truly the best sides. Don't you think they would be perfectly served alongside this masterpiece?
There are numerous options for when you are considering what the main dish should be for your holiday feast. A perfectly roasted turkey, spatchcock turkey, or roasted turkey breast with herbs are all amazing choices.
But, if you're looking for something a little different, and on a smaller scale, you should really consider these glazed Cornish hens.
Of course, they are wonderful during the holiday season. But, because they are so easy and quite affordable, they are an ideal dinner choice throughout the year.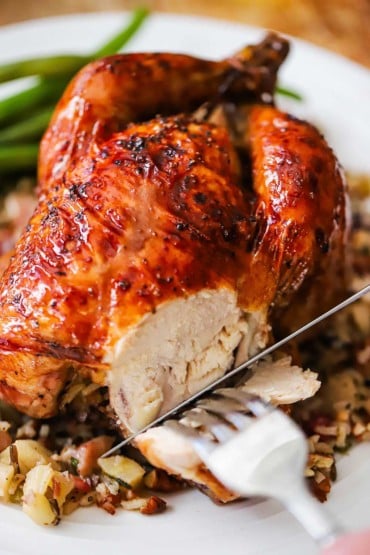 Ready to try something a little different (but equally as delicious) for Thanksgiving this year? Go for it!
And when you do, be sure to take a photo of it, post it on Instagram, and tag @HowToFeedaLoon and hashtag #HowToFeedaLoon!
Glazed Cornish Hens with Wild Rice Stuffing
These deeply flavorful Cornish hens are cooked to perfection with a deeply flavorful port glaze. A delicious mix of sweet and savory and quintessential holiday flavors. The rice can be made up to 24 hours in advance and reheated in a covered dish in the oven as the hens are roasting.
Print
Pin
Rate
Servings: 4
Calories: 452kcal
Equipment
Roasting pan with rack

Kitchen twine
Ingredients
For the Rice Pilaf Stuffing
2¼ cups wild rice blend cooked with chicken (or veggie) broth
chicken stock for cooking the rice
3 tbsp unsalted butter divided
4 oz pancetta cubed
1 Granny Smith apple peeled, cored, and cut into small cubes
1 cup onion chopped
1 cup celery chopped
3 cloves garlic minced
½ cup dried cranberries sweetened or regular
1 cup pecans roughly chopped
2 tbsp sage fresh, chopped
1 tbsp parsley fresh, chopped
1 tsp Kosher salt
½ tsp black pepper
For the Hens
Salt and pepper
4 1½ lb Cornish hens giblets removed if included
2 tbsp unsalted butter melted
For the Glaze
1 cup port Ruby is recommended
2 tbsp unsalted butter
¼ cup sugar
3 cinnamon sticks
6 whole cloves
4 cloves garlic sliced in half
6 slices ginger fresh
Instructions
Prepare the Rice Pilaf Stuffing
Prepare the rice according to the package instructions. Use broth (chicken or vegetable) in place of the water. Once cooked, place in a large bowl. Set aside.

2¼ cups wild rice blend, chicken stock, 3 tbsp unsalted butter

Heat a large skillet over medium heat. Add the pancetta and cook until almost crisp. If more than 1 tbsp of rendered grease, tilt the pan and spoon the excess out. You'll need to leave about 1 tbsp of the grease. Stir in the apples and cook for 2 to 3 minutes, until the apples start to soften. Transfer to bowl with rice.

4 oz pancetta, 1 Granny Smith apple

In the same skillet, heat 2 tbsp of the butter over medium heat. Add the onion and celery and sauté until soft, about 4 minutes. Add the garlic and sauté for another 30 seconds to 1 minute. Transfer to the bowl with the rice, pancetta, and apples.

1 cup onion, 1 cup celery, 3 cloves garlic

To the bowl, add the cranberries, pecans, sage, parsley, 1 tsp salt, and ½ tsp black pepper. Stir together with a large wooden spoon until fully mixed. Set aside.

½ cup dried cranberries, 1 cup pecans, 2 tbsp sage, 1 tbsp parsley, 1 tsp Kosher salt, ½ tsp black pepper
Prepare the Hens
Preheat oven to 425°F.

Liberally salt and pepper the cavities of each hen.

Salt and pepper, 4 1½ lb Cornish hens

Stuff each hen with ½ to ¾ cup of the rice stuffing. Tie the legs together with kitchen twine.

Add about ¼-inch of water to the roasting pan. Place rack in pan. Place the birds on the rack, breast-side up. Brush the breasts and legs of the hens with melted butter. Liberally salt and pepper all over the tops of the hens.

2 tbsp unsalted butter

Roast in the oven for 20 minutes while you prepare the glaze.
Make the Glaze and Finish Off the Hens
In a medium saucepan over medium-high heat, add the port, butter, sugar, cinnamon sticks, cloves, garlic halves, and ginger. Bring to a boil and then lower the heat to medium and simmer for about 15 minutes, until it has reduced to about 1/2 cup and has thickened somewhat.

1 cup port, 2 tbsp unsalted butter, ¼ cup sugar, 3 cinnamon sticks, 6 whole cloves, 4 cloves garlic, 6 slices ginger

If desired, strain the sauce/glaze through a fine-mesh sieve.

After 20 minutes of roasting, remove the hens from the oven. Lower the oven temperature to 375°F. Brush the glaze all over the tops of the hens, including the wings and legs. Return to the oven, and roast for another 45 to 55 minutes, basting another 3 times, every ten minutes or so.

Keep a close eye on the hens. If spots are starting to brown a little too much, cover with a piece of foil. Use a meat thermometer to cook the hens until they reach an internal temperature of 170 to 175°F.

Remove the hens from the oven and let rest for 5 to 10 minutes.

Serve immediately with additional rice pilaf on the side.
Notes
See the video near the top of the blog post for visual guidance. If you liked the video, please subscribe to our YouTube channel.
The rice stuffing can be made up to 24 hours in advance. It is best served warm or at room temperature. (we prefer serving it warm). To reheat, place in a dish, cover with foil, and place in the oven during the last 20 minutes of roasting the hens.
Be sure to keep an eye on the hens once you start adding the glaze. If spots start getting too brown, add small pieces of foil. This will require you to open your oven periodically. This may cause the cooking time to be a bit longer. A meat thermometer ensures you the hens will be fully cooked. 170 to 175°F is highly recommended.
Nutrition
Calories: 452kcal | Carbohydrates: 26g | Protein: 8g | Fat: 19g | Saturated Fat: 8g | Polyunsaturated Fat: 7g | Monounsaturated Fat: 4g | Trans Fat: 1g | Cholesterol: 72mg | Sodium: 547mg | Potassium: 483mg | Fiber: 8g | Sugar: 36g | Vitamin A: 873IU | Vitamin C: 9mg | Calcium: 121mg | Iron: 2mg