My grandma used to make Oyster Casserole every Christmas.  I was a pretty young Texan kid at the time, and oysters scared me a little.  But I remember my sister and my cousin Cindy just loved it.
Now I absolutely love anything with oysters, so I thought I'd go back and play around with my own stab at an oyster casserole.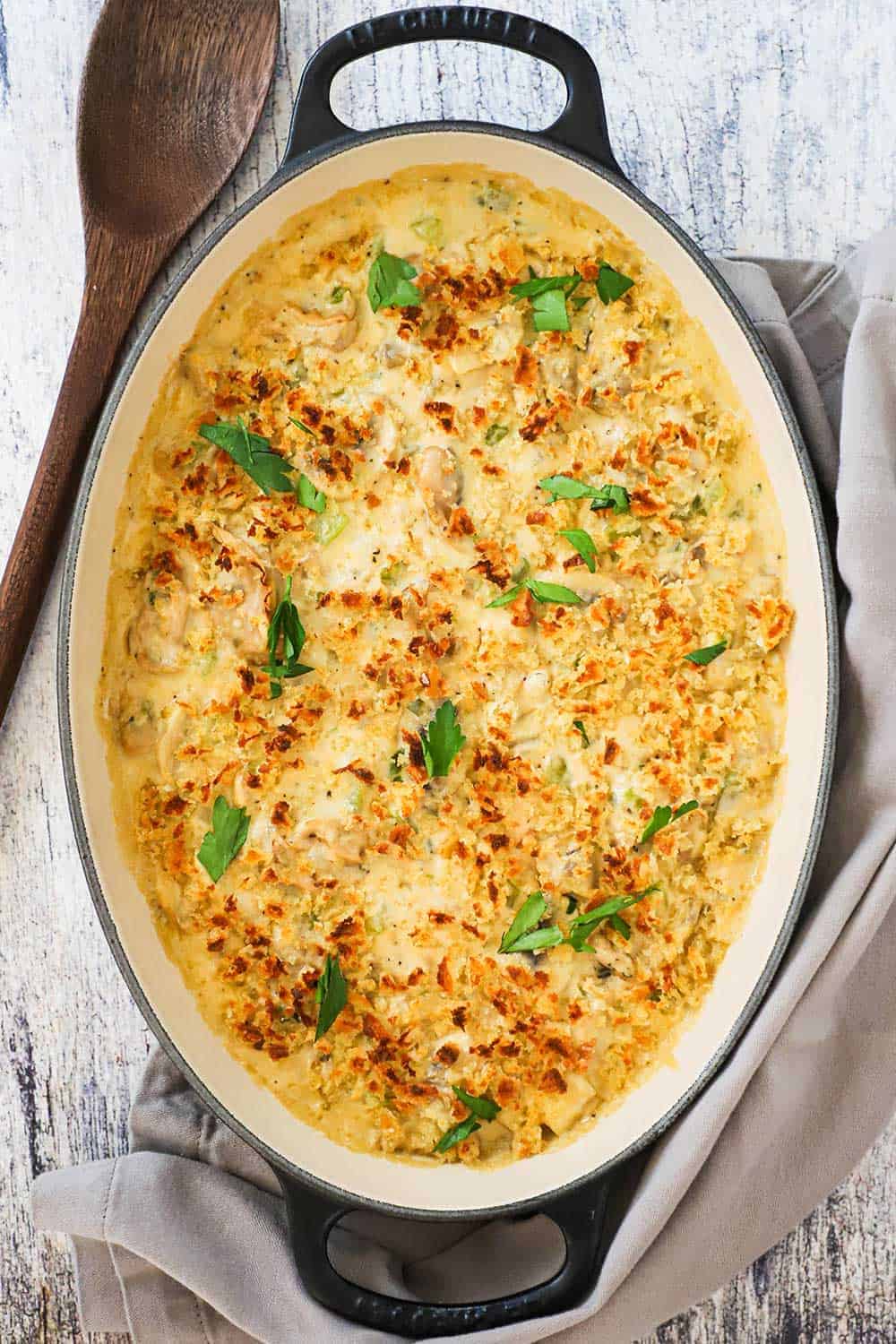 Packaged oysters are found at well stock super markets in the seafood department, or a your local seafood market.  
Just open the bottle and add them to the pot!
The smell as the vegetables and oysters simmer is just amazing.  I wasn't a believer as young boy, but man am I now.  And so is the Loon!
I gotta say, I think grandma (or Munga as many of the grandkids called her) would be impressed.    This is a very popular dish in the Southern states of the U.S., so it's kind of funny that Munga from Missouri had this as a staple on her Christmas table.   But most of us are very happy she did!  If you like oysters, you will LOVE this dish!  130% Loon Approved!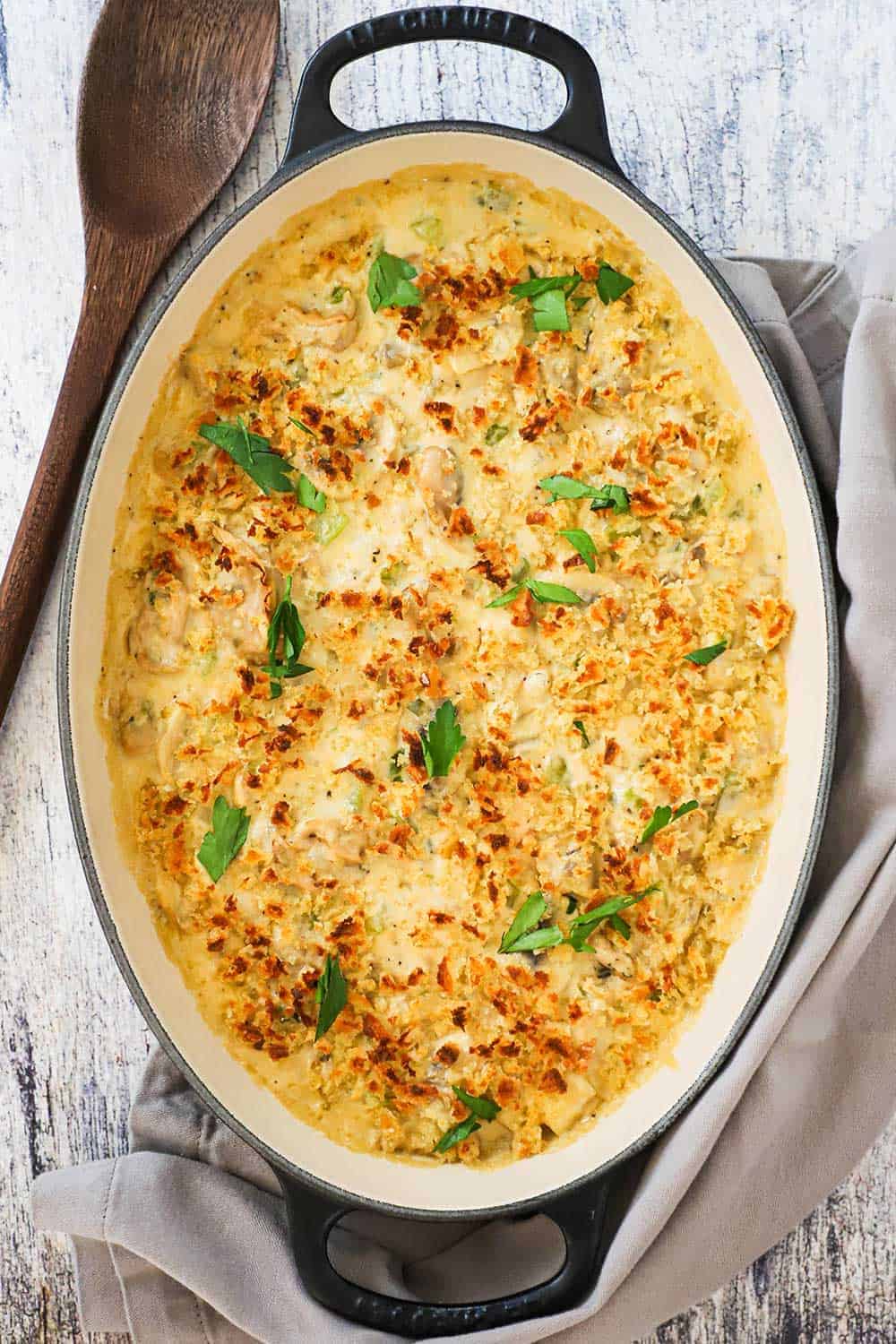 Oyster Casserole
This Oyster Casserole is a favorite on holiday tables all over, but especially in the Southern United States. We just love the briny flavor of the fresh oysters, combined with mushrooms, veggies, bread crumb topping....it just can't be beat!
Print
Pin
Rate
Prep Time: 20 minutes
Cook Time: 15 minutes
Total Time: 35 minutes
Servings: 4 people
Calories: 415kcal
Ingredients
5 tbsp unsalted butter divided
1/4 cup yellow onion chopped
1/4 cup green bell pepper seeded and chopped
1/4 cup celery chopped
3 scallions sliced, white and green parts
3 cloves garlic minced
2 16 oz. containers fresh oysters, drained and rinsed well
4 oz fresh mushrooms
2 tbsp all-purpose flour
3/4 cup whole milk can also use heavy cream for richer sauce
1/4 cup Parmesan cheese grated
1 tbsp fresh lemon juice
1 tsp Worcestershire sauce
3 dashes Tabasco or Crystals Hot Sauce
3/4 tsp Kosher salt
1/4 tsp freshly ground black pepper
1 cup coarse fresh breadcrumbs a baguette works well..use a food processor
Instructions
Turn you broiler on high.

Melt 2 tablespoons of the butter in a skillet over medium-high heat.

Add onion, bell pepper, celery, scallions, and garlic and cook, stirring until vegetables soften, 5 to 7 minutes.

Add oysters and mushrooms and bring to a simmer, stirring often, 5 minutes. Set aside.

Melt 1 tablespoon of the butter in a medium saucepan over medium heat.

Whisk in flour, and cook, whisking constantly, until smooth, 1 minute.

Add milk (or cream), lemon juice, Worcestershire sauce and hot sauce, whisking constantly, until very thick and begging to bubble.

Add Parmesan and cook, whisking constantly, until cheese is melted. Remove from heat.

Using a fine-mesh sieve or colander, strain the oyster mixture, and discard the liquid.

Add oyster mixture to cheese sauce and stir until fully incorporated.

Stir in salt and pepper.

Spread mixture in a lightly greased (with cooking spray) 11x7-inch baking dish.

Melt remaining 2 tablespoons of butter, then toss bread-crumbs with melted butter, then sprinkle the breadcrumbs over oyster mixture.

Broil on middle rack of oven until breadcrumbs are golden brown and mixture is bubbly, about 4 minutes (keep an eye on it..don't let it burn!)

Serve at once and enjoy!
Nutrition
Calories: 415kcal