This dish is so flavorful and a Southern classic, especially during the holidays.
My grandma used to make Oyster Casserole every Christmas. I was a pretty young Texan kid at the time, and oysters scared me a little. But I remember my sister and other family members just loved it. Now, the Loon and I can't get enough of it. Try it, and you'll see what we mean.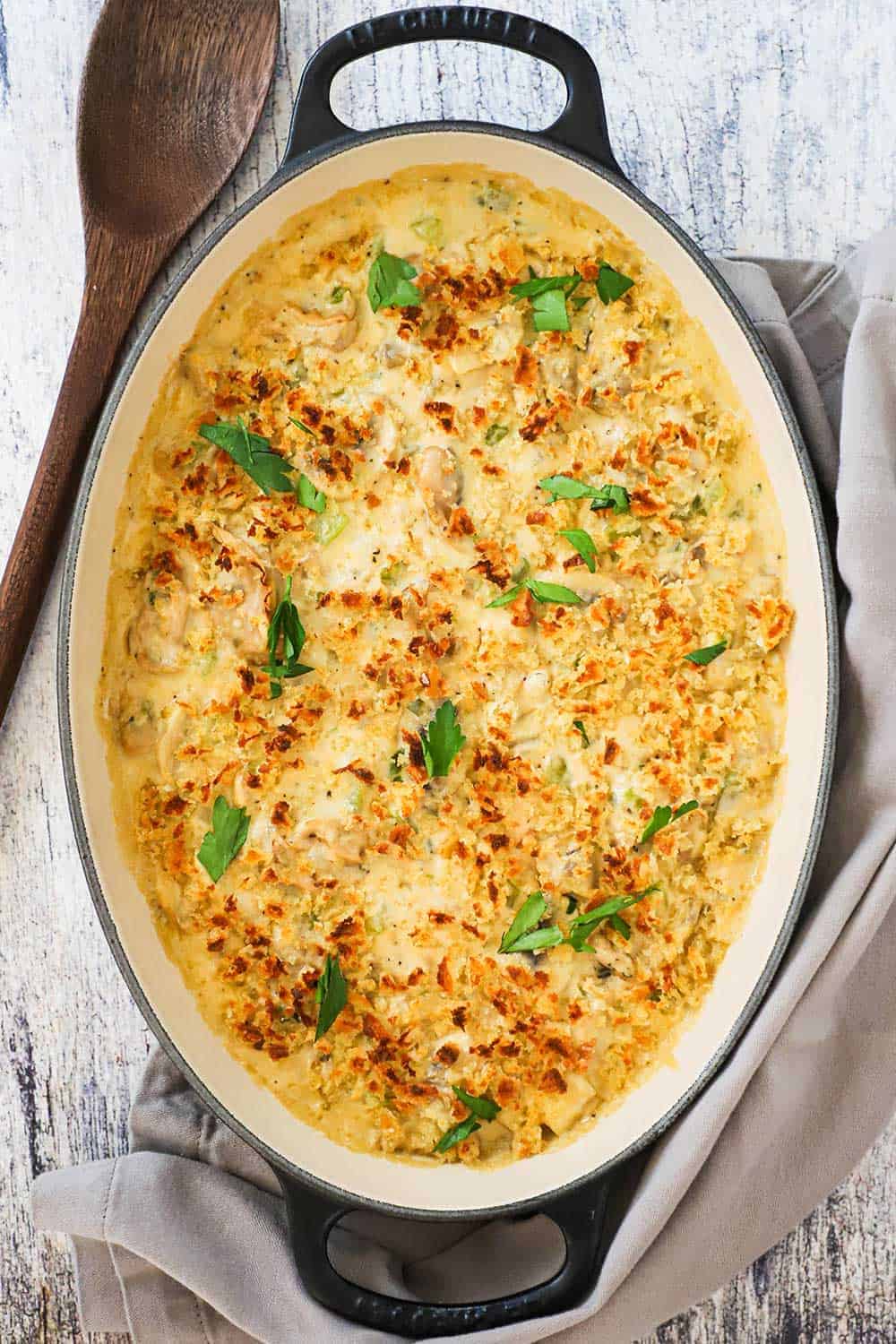 How To Make Oyster Casserole
This casserole is not difficult to prepare at all.
In fact, it can be prepared hours in advance and then baked just before serving (wait to add the bread crumbs until just before placing it in the oven).
As with many Southern dishes, especially Cajun recipes, this dish starts with the holy trinity of veggies: onion, celery, and green bell pepper.
Cook over medium heat in olive oil and butter until nice and tender.
EXPERT TIP: For added flavor, we throw in some chopped scallions (green onions) and garlic in the final 30 seconds of sautéing the veggies.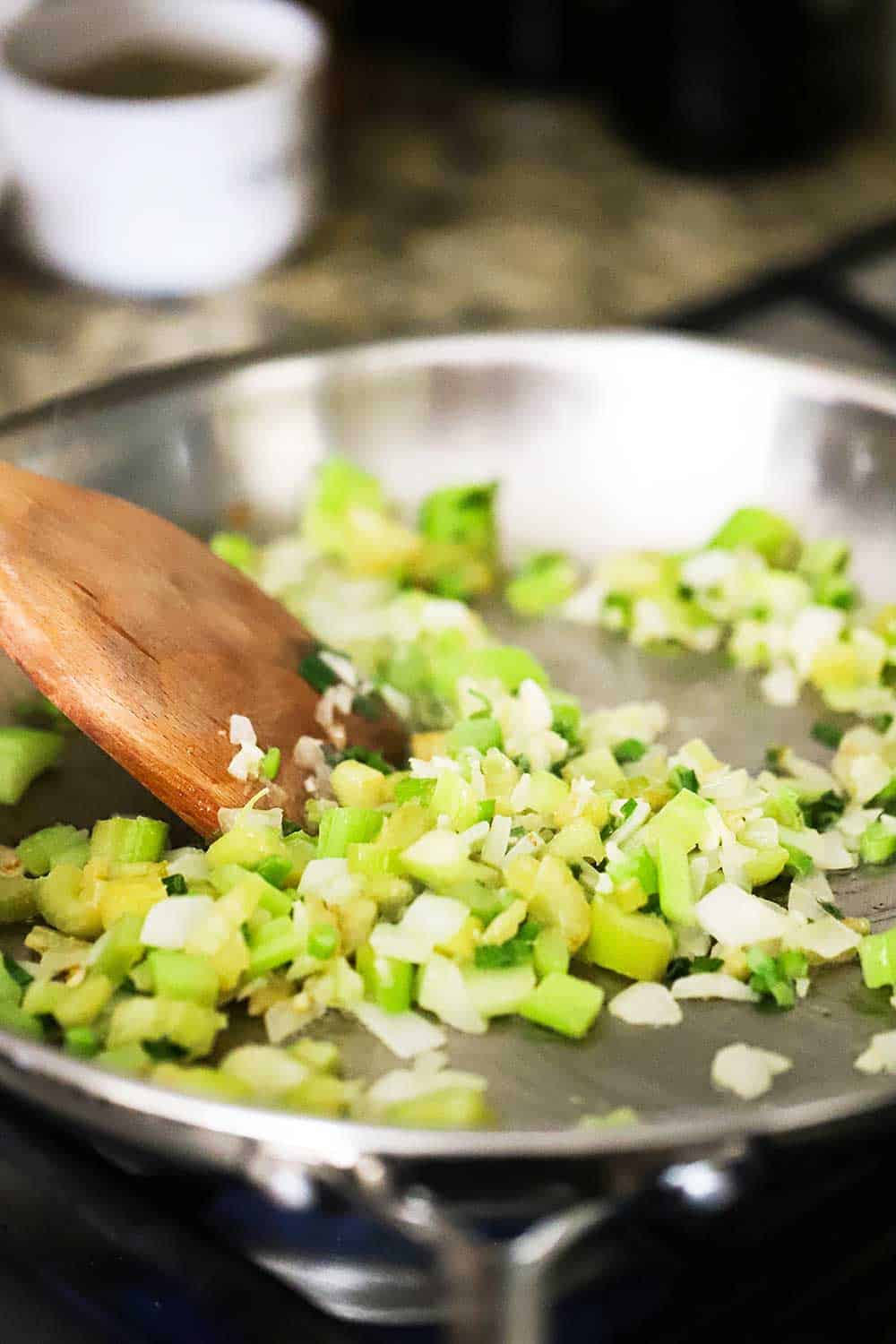 Selecting the Oysters
There are many types of oysters, fresh and packaged. For this recipe, we think the packaged variety is perfectly acceptable.
Packaged oysters are found at well-stock supermarkets in the seafood department, or at your local seafood market.
EXPERT TIP: You'll end up draining the oysters twice for this casserole. First, when you remove them from the container. Drain and rinse them under the faucet in your sink. Add them with the mushrooms into the skillet. The mushrooms will soften and release liquid, along with the oysters. Thus, needing another draining (more on that in a bit).
A Bechamel Sauce Binds the Casserole Together
While the oysters are simmering, or even after they've simmered, it's time to make an easy bechamel sauce.
In a medium-sized saucepan, melt a couple of tablespoons of butter over medium heat. Add two heaping tablespoons of flour and stir for 1 minute.
EXPERT TIP: The flour and butter mixture is called a roux. After adding half-and-half and other flavor enhancements, the liquid will thicken. This will take anywhere from 2 to 5 minutes. The sauce should be pretty thick, see video for reference. Now, add the Parmesan cheese to finish off the sauce.
Now, back to oysters and mushrooms: After 15 minutes of simmering, a decent amount of liquid will have released from the oysters and the mushrooms.
This is normal but you don't want all this liquid in the casserole.
Simply place a colander over a large bowl, or in your sink, and carefully transfer the contents of the skillet into it. Once fully drained, return the satuéed veggies and oyster to the skillet, or the saucepan containing the bechamel sauce.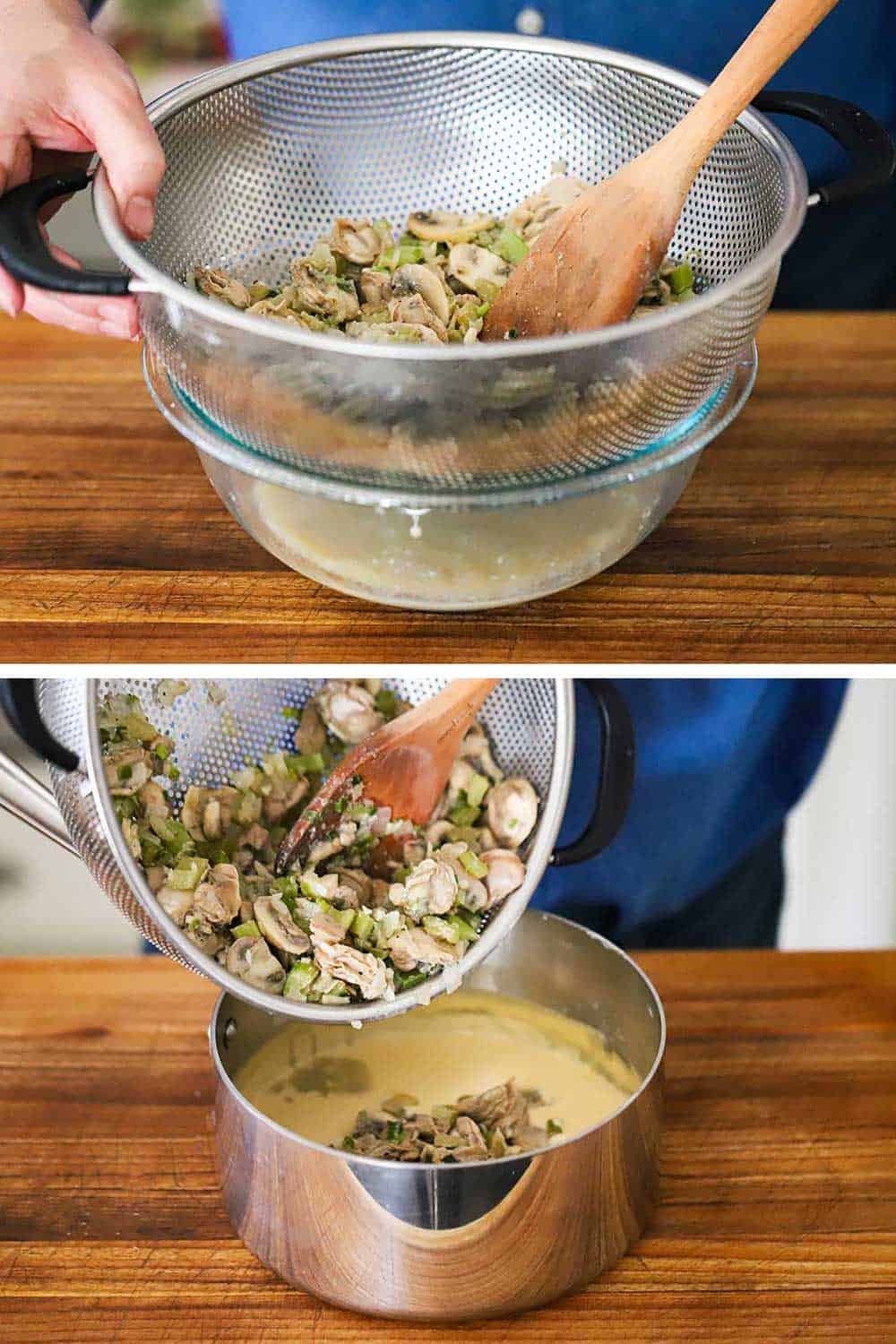 How To Make a Breadcrumb Topping
Like many casseroles, you're going to want a nice crunchy topping.
Easy! Simply take a large loaf of bread, remove the crusts as best you can, and then pulverize in your food processor.
EXPERT TIP: If you don't have a food processor, simply use a knife to chop the bread until you have coarse bread crumbs. We think thicker breadcrumbs are better anyway. Just before topping the casserole, melt a couple of tablespoons of butter and stir it into the breadcrumbs with a pinch of salt. Now, generously top the casserole with the prepared breadcrumbs.
When To Serve Oyster Casserole
As mentioned previously, this dish is a very popular one to serve during the holidays. It's perfect alongside Best Mashed Potatoes, Mom's Dressing, Gourmet Green Bean Casserole, and Corn Casserole!
But, we've got to tell you, this casserole is so flavorful and easy to prepare, we love having it all year long!
You may also like our Fried Oysters and Clams, or our BLT with Fried Oysters, too!
In the meantime, don't you just want to sink your teeth into this?
If you're trying to think of a side dish that's a little different this holiday season (or anytime, for that matter), look no further!
We have found that even folks that aren't big fans of oysters really love this dish.
I'm not sure how my Grandma who lived in central Missouri ever learned about oyster casserole, but my family is thankful that she did. Odds are, your family will be thanking you, too, when you bring it to the table. It's that good!
Ready to make the best casserole this side of the Gulf of Mexico? Go for it!
And when you do, be sure to take a photo of it, post it on Instagram, and tag @HowToFeedaLoon and hashtag #HowToFeedaLoon!
Oyster Casserole
This Oyster Casserole is a favorite on holiday tables all over, but especially in the Southern United States. We just love the briny flavor of the fresh oysters, combined with mushrooms, veggies, bread crumb topping....unbelievably delicious!
Print
Pin
Rate
Servings: 4 people
Calories: 371kcal
Ingredients
2 tbsp olive oil
6 tbsp unsalted butter divided
½ cup onion chopped
½ cup green bell pepper seeded and chopped
½ cup celery chopped
¼ cup scallions sliced, white and green parts
3 cloves garlic minced
2 16 oz containers oysters fresh, drained and rinsed
8 oz mushrooms sliced
2 tbsp all-purpose flour heaping
1 cup half and half
1 tbsp fresh lemon juice
1 tbsp Worcestershire sauce
1 tbsp hot sauce
¼ cup Parmesan cheese grated
1 tsp Kosher salt
½ tsp freshly ground black pepper
1 cup breadcrumbs fresh, chopped from a loaf of bread with the crust mostly removed
Instructions
Preheat oven to 400°F.

Heat the olive oil over medium-high heat in a large skillet. Stir in 2 tablespoons of the butter until melted. Add onion, bell pepper, and celery, and cook until soft, about 5 to 7 minutes. Add the scallions and garlic and cook for another minute.

Add oysters and mushrooms and bring to a simmer, stirring often, 5 minutes. Set aside.

Melt 2 tablespoons of the butter in a medium saucepan over medium heat. Whisk in flour, and cook, whisking constantly, until smooth, 1 minute.

Stir in half and half, lemon juice, Worcestershire sauce, hot sauce, salt, and pepper, whisking constantly, until very thick and beginning to bubble, about 2 to 5 minutes. Stir in Parmesan cheese until melted, about 1 more minute.

Using a fine-mesh sieve or colander, strain the oyster mixture, and discard the liquid.

Add oyster mixture to cheese sauce and stir until fully incorporated.

Spread mixture in an 11x7-inch baking dish.

Melt the remaining 2 tablespoons of butter, then toss breadcrumbs with melted butter and a pinch of salt. Sprinkle the breadcrumbs over the oyster mixture.

Bake for 15 minutes, or until bubbly. Remove the casserole from the oven and move the rack to the 2nd level under the broiler. Place the casserole under the broiler for 1 to 2 minutes, until the breadcrumb topping is slightly browned. Watch closely!!! Don't let burn, as broilers vary! Remove from oven and serve at once.
Notes
This casserole is best with fresh oysters. Fresh oysters can be found canned, or in plastic containers in the seafood section of many well-stocked supermarkets or gourmet food markets. Or, at your local fish market. We don't recommend using boiled or smoked oysters. Shucking fresh oysters is an option, too. You'll need about 4 lbs of them. We recommend using half and half for the sauce, however you can substitute whole milk, or heavy cream, or a combination of any of these. For the hot sauce, we use Louisana hot sauce, but Tobasco, Crystals, or Franks are all great choices. The hot sauce adds a small amount of spice, but very little. If you want no heat at all, simply omit the hot sauce, or go with a smaller amount (a couple of dashes). The casserole can be prepared up to 4 hours in advance of baking. Don't top with the breadcrumbs until just before baking. IMPORTANT: Keep an eye on the casserole once you place it under the broiler. It does not take long at all to brown the breadcrumbs. Broilers vary from oven to oven, so don't let them burn!
Nutrition
Calories: 371kcal | Carbohydrates: 30g | Protein: 10g | Fat: 16g | Saturated Fat: 8g | Cholesterol: 61mg | Sodium: 1037mg | Potassium: 410mg | Fiber: 3g | Sugar: 5g | Vitamin A: 814IU | Vitamin C: 22mg | Calcium: 179mg | Iron: 2mg
POST UPDATE: This recipe was originally published in December 2016, but was updated with improved tweaks to the recipe with new tips and photography, and a fabulous new video in December 2020!