We love everything about this dish. Easy. Scrumptious. And Classic.

If you're looking to downsize your holiday table this year, this roast turkey is the answer. You still get that amazing turkey taste and texture, but on a smaller scale. Serve with dressing, mashed potatoes, and green bean casserole for the perfect feast.


NOTE: If you liked this video, please subscribe to our YouTube Channel. Be sure to click the 'bell' icon so you won't ever miss a new video! Thank you so much!
How To Roast a Turkey Breast
We start off with a whole, bone-in turkey breast that's about 5 to 7 pounds.
Another bonus of a turkey breast is that white meat (turkey breast) is healthier than the dark meat from a whole turkey. But back to turkey talk.
Be sure to decide in advance if you want to brine the bird or not. We love to brine our turkey breast.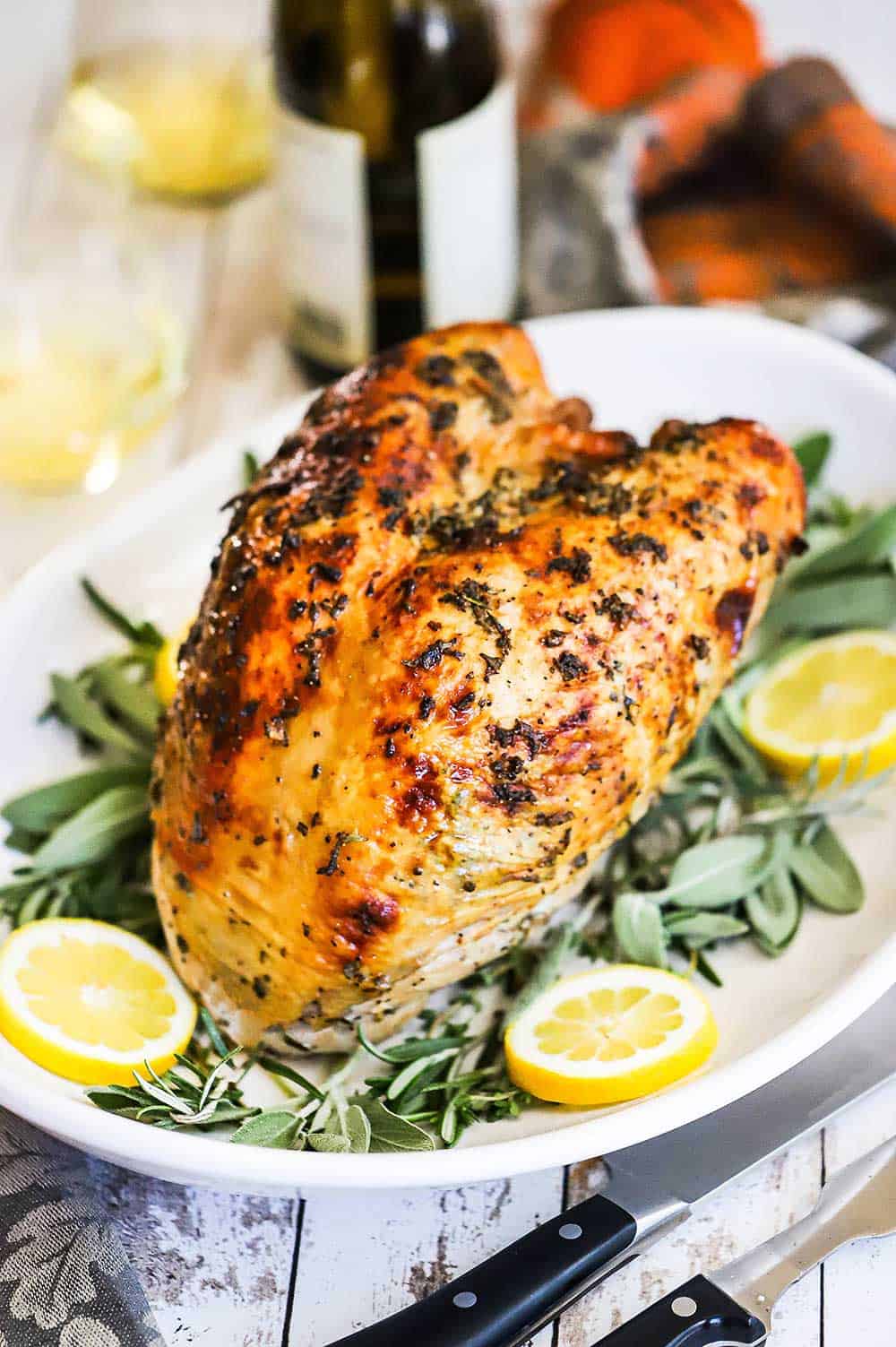 To Brine or Not to Brine
Brining is not 100% necessary, plenty of folks think it doesn't make that much of a difference. Well, we're not those folks.
We've tested numerous times, and for some reason, especially with a turkey breast, we find that brining produces a much more juicy and flavorful bird.
EXPERT TIPS:
You will start the brining process by simmering a couple of cups of apple cider with salt, allspice, and bay leaves.
You'll then combine it with 6 cups of apple cider and 8 cups of water.
Make sure both of these liquids are cold so it will immediately cool the hot simmered mixture. (You don't want to pour hot liquid on the uncooked turkey breast).
To create the herb paste, you'll simply need to combine a mixture of fresh herbs (such as sage, rosemary, and thyme) with ground mustard, olive oil, salt, pepper, and lemon juice.
Use your fingers to pull the skin away from the top portion of the breast.
Gently rub a good amount of the paste under the skin. Smear the rest over the top.
How Long to Roast a Turkey Breast
A 5 to 7-pound turkey breast will typically take between 2 and 2½ hours to reach 165°F.
Be sure to use an instant-read thermometer to ensure the roast is cooked correctly.
Once the skin starts to brown on top, add patches of foil until you need to cover the entire breast. We like to baste the amazing sauce over the bird, too.
How To Carve and Serve
We find that a whole turkey breast is so much easier to carve than a whole turkey.
Simply use a large knife (preferably a carving one) and a large fork, and begin slicing layers of each side of the breast. The meat should easily fall right off.
The sauce is an amazing accompaniment to the roast turkey breast and can be served as is right from the pan.
Arrange slices on a platter and nestle fresh herbs and sliced lemon around the meat for a beautiful presentation.
If you're in the mood for a whole turkey, here are two of our favorite ways to prepare them:
The Perfect Roasted Turkey
Spatchcock Turkey
Turkey Gravy
And what about those sides? Here are our favorites:
Best Mashed Potatoes
Mom's Thanksgiving Dressing
Gourmet Green Bean Casserole
Candied Yams
Corn Casserole
Strawberry Pretzel Salad
Homemade Cornbread
Folks, this is a feast to remember.
And with the au jus sauce that you get in the pan is truly spectacular.
No need to make gravy with this incredible sauce.
EXPERT TIP: Add more stock through the cooking process to maintain the same amount of liquid. You can also add a little more after you remove the turkey. No need to season the sauce, it's deeply flavorful as is.
Ready to make a turkey breast that will rival any roast turkey in town? Go for it!
And when you do, be sure to take a photo of it, post it on Instagram, and tag @HowToFeedaLoon and hashtag #HowToFeedaLoon!
Roast Turkey Breast with Herbs
Roast Turkey Breast with Herbs is so juicy and deeply flavorful. Brining the breast is not 100% necessary, but we do find it make the meat significantly juicier and flavorful.
Print
Pin
Rate
Servings: 4
Calories: 381kcal
Equipment
Brine bag

Roasting pan with rack
Ingredients
For the Brine
8 cups apple cider chilled
8 cup water
¾ cup salt
¼ cup allspice ground
4 bay leaves
1 6 lb turkey breast whole
For Roasting the Turkey Breast
3 cloves garlic minced
1 tbsp dry mustard
1 tbsp sage fresh, chopped
1 tbsp rosemary fresh, chopped
1 tbsp thyme fresh, chopped
2 tsp Kosher salt
1 tsp black pepper
1 tbsp olive oil
2 tbsp lemon juice usually from 1 lemon
2 cup turkey stock or chicken stock, plus more for basting
1 cup white wine
Instructions
Brine the Bird (Start 12 to 24 hours in advance)
Add 2 cups of the apple cider to a medium-sized saucepan. Stir in the salt, allspice, and bay leaves and bring to a simmer. Stir frequently and simmer for 15 minutes.

In a pot, add the remaining chilled apple cider, all of the water, and the simmered salt mixture.

Line a vessel just large enough to hold the turkey breast with a brine bag. Place the turkey breast in the bag and then carefully pour in the brine liquid and twist the top of the bag and secure with twine or a knot. Try to make sure the turkey breast is fully submerged. Placing a heavy object on top can help. Place in the refrigerator for at least 2 hours, or preferably, overnight.
Roast the Turkey Breast
Preheat your oven to 325°F.

Remove the turkey from the brine and pat dry with paper towels. Place on a rack in a roasting pan.

Make the paste by adding the garlic, mustard, herbs, oil, and lemon juice to a small bowl. Stir to form a paste.

Use your fingers to gently pull the skin away from the top of the turkey breast. Rub about three-quarters of the paste into the meat under the skin. Rub the rest all over the top of the turkey breast.

Add the turkey (or chicken) stock and wine into the pan.

Roast until an internal temperature of 160 to 165°F is reached, anywhere from 1½ to 2½ hours. You'll want to add small pieces of foil to the top of the turkey breast if starting to brown too much. Add more stock (increments of ½ cup) if starting to evaporate. We recommend basting the turkey breast occasionally (every 30 minutes), if possible.

Remove the turkey from the oven and let rest for at least 10 minutes. Pour the au jus sauce into a gravy boat. Carve and serve with sauce on the side.
Notes
See the video near the top of the blog post for visual guidance. If you like the video, please subscribe to your YouTube channel.
Brining is great if you can get the bird in the brine 12 to 24 hours in advance. However, if 3 to 4 hours will make the meat juicier, too.
Be sure to keep an eye on the breast as it is roasting. It will start to brown typically near the top area of the breast, near the neck. Add pieces of foil to areas that are getting a little too brown. Near the end of the roasting, you may need to cover the entire breast in foil.
You'll need a little extra stock (either turkey or chicken) for adding to the pan during the roasting sauce. You want to maintain around 2 cups of liquid in the bottom of the pan.
The cooked turkey makes amazing leftovers and will keep in the fridge for up to 1 week and freezes beautifully for up to 2 months.
Nutrition
Calories: 381kcal | Carbohydrates: 67g | Protein: 5g | Fat: 7g | Saturated Fat: 1g | Polyunsaturated Fat: 1g | Monounsaturated Fat: 4g | Cholesterol: 4mg | Sodium: 22605mg | Potassium: 779mg | Fiber: 3g | Sugar: 48g | Vitamin A: 154IU | Vitamin C: 14mg | Calcium: 156mg | Iron: 3mg