The holidays are all about love, family, being thankful…and delicious food!

We love all kinds of Thanksgiving and other holiday desserts including Pecan Pie, Pumpkin Pie, and Sweet Potato Bundt Cake. This pie right here has quite possibly become our most favorite pie of all time. It's similar to pumpkin pie and pecan pie. The filling is not too sweet and works perfectly with the crumbly and mildly sweet pecan topping. Amazing!


NOTE: If you liked this video, please subscribe to our YouTube channel. And remember to click the 'bell' icon so you'll never miss a new video. Thank you!
How To Make Sweet Potato Pie
Technically, sweet potatoes and yams are actually not the same things. But, no one, even the U.S. Department of Agriculture, sees them as different. As far as we are concerned, yams (actually, authentic yams come from the Caribbean) and sweet potatoes are the same things. They're even labeled that way in the United States.
Well, enough of that. If you'd like to know more about this subject, click here.
Now, let's make this amazing dessert!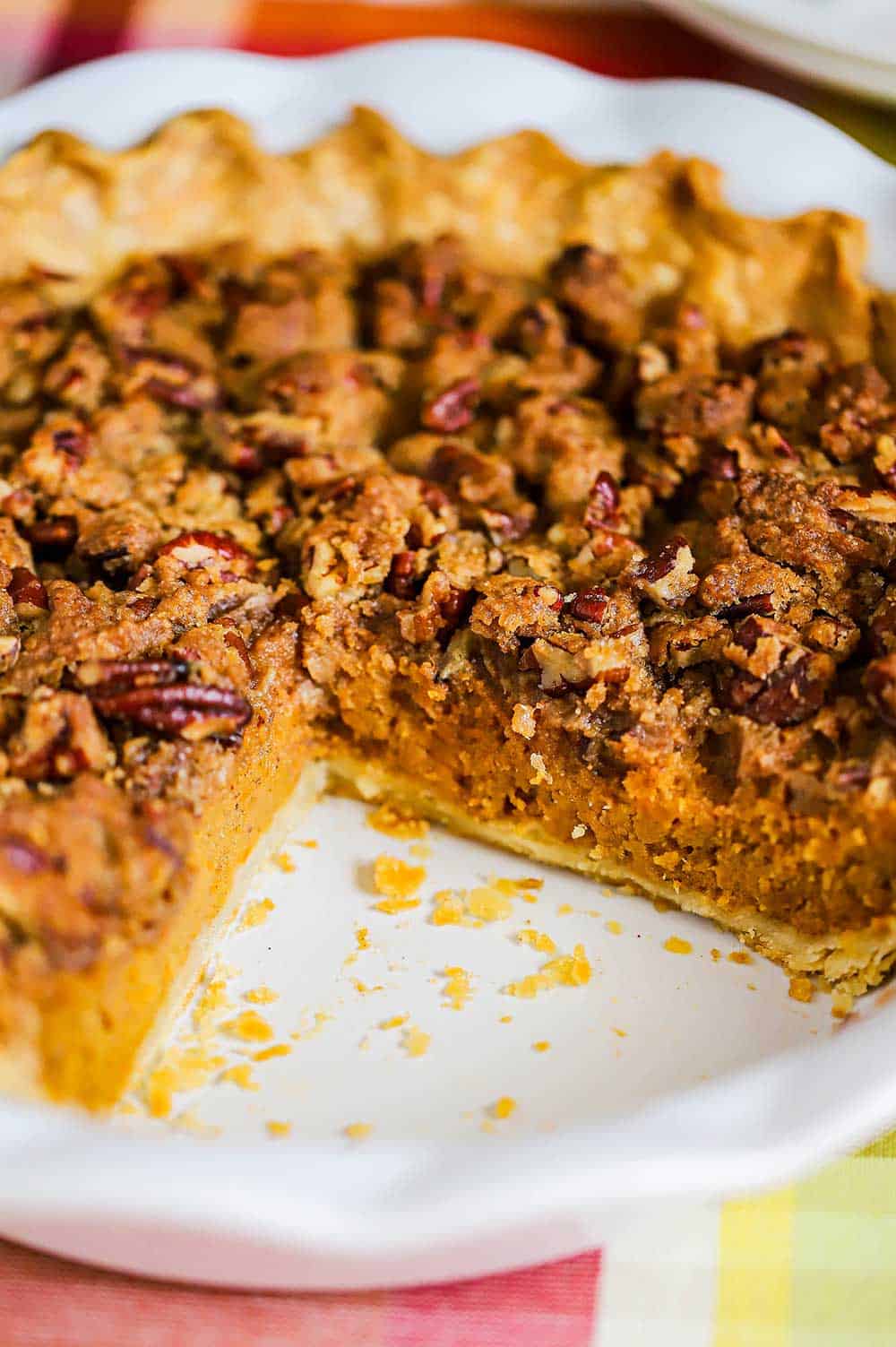 How To Blind Bake Pie Dough
To prevent our pie dough from getting soggy, we need to blind bake the dough.
Roll out your dough to about a 12-inch diameter. Place it in your pie dish and then stick it in the freezer for about 15 minutes.
EXPERT TIP: Stab the chilled dough all over the bottom and along the sides. This will allow steam to escape as it blind bakes. Now, cover the dough with parchment paper or foil. Add pie weights, dried beans, short-grain rice, or even pennies! Bake for 20 minutes. Remove from the oven and carefully remove the foil with whatever was being used as a weight. Bake for another 15 minutes, and your pie is ready for the dough!
We highly recommend going with fresh sweet potatoes for this pie.
To prepare them, simply roast them in the oven for about 50 to 60 minutes. Let them cool somewhat and then easily pull the skin away.
EXPERT TIP: You will need 2 cups of cooked sweet potatoes for the pie. This usually will take 2 medium/large sweet potatoes or 3 medium. Chances are you'll extra cooked potatoes. Don't worry, add a little melted butter and sprinkle of cinnamon to whatever is left over for a delicious treat!
Can Sweet Potato Pie Be Made in Advance?
Sweet Potato Pie can be made several days before serving. In fact, you're going to need the pie to rest for at least 2 hours after baking. This allows the center of the pie to be fully set.
You can prepare the pie completely before baking, too. Keep in the fridge for up to 3 days, covered.
EXPERT TIP: Freezing the pie, cooked or uncooked is a great option, too. If freezing uncooked, then allow it to thaw for 3 to 4 hours before baking. If you want to serve the pie after it has been baked and then frozen, let it thaw for 3 to 4 hours, and then gently reheat for about 30 minutes in a 350°F oven. It can be served warm or at room temperature.
This filling for this pie is really amazing.
But, we've got to say, the pecan topping puts it over the top.
Pour the melted butter over the chopped pecans, brown sugar, and flour and then mix together with a fork.
Place on top of the uncooked pie. As the pie bakes, some of the butter will melt from the pecan topping. That's normal and will set with the rest of the pie as it cools.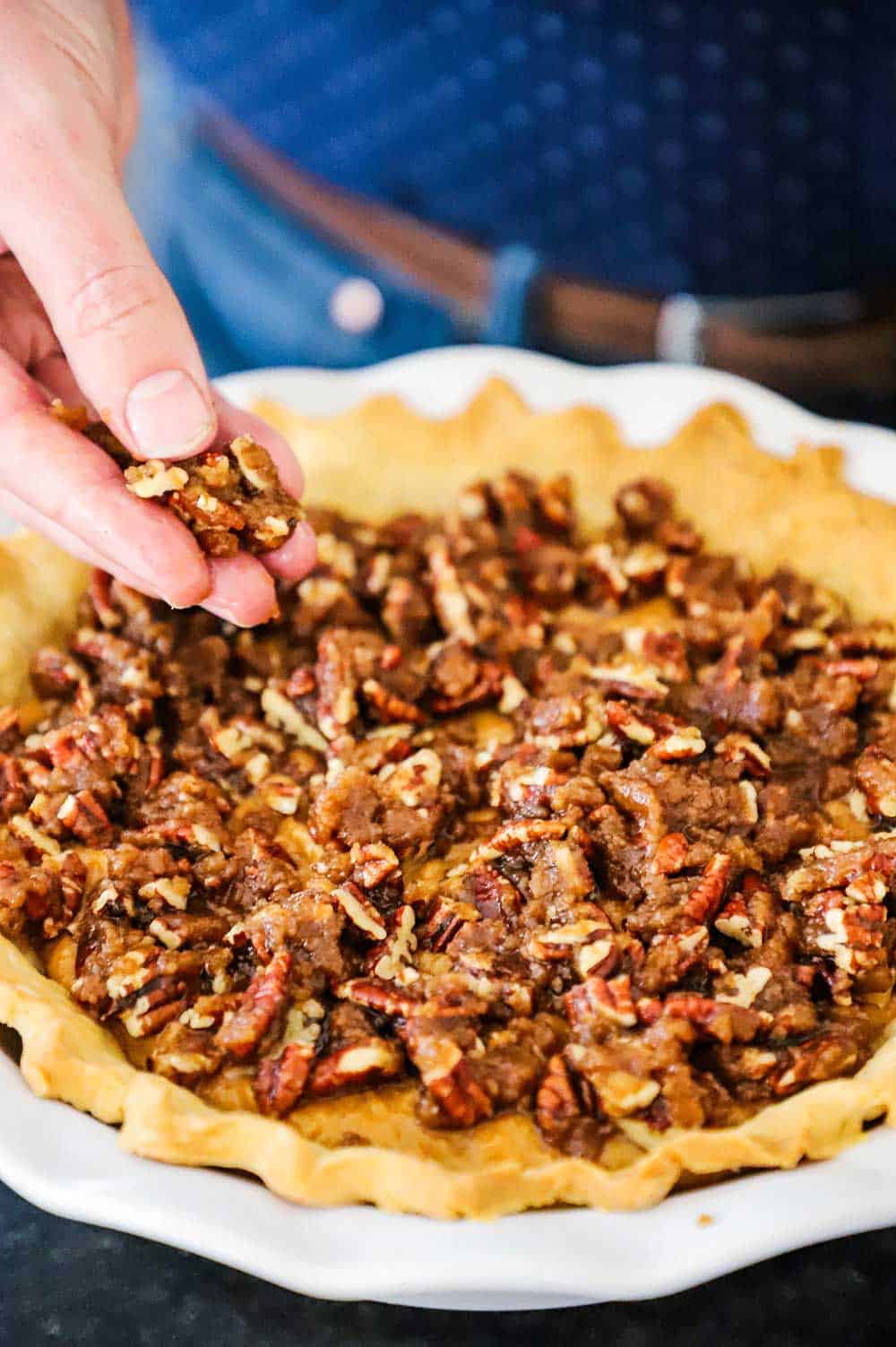 When To Serve and How To Store Sweet Potato Pie
As you can imagine, this is a perfect pie to serve during the holiday season, especially Thanksgiving.
We love to serve with whipped cream which can easily be made by using a hand mixer to beat 2 cups of heavy cream with 3 tablespoons of sugar on high until thickened. Or, use store-bought.
The pie will stay fresh unrefrigerated when covered for 3 to 4 days. Keep covered and refrigerated, and the pie will keep fresh for 1 week. Freeze the pie (baked or unbaked) for up to 2 months.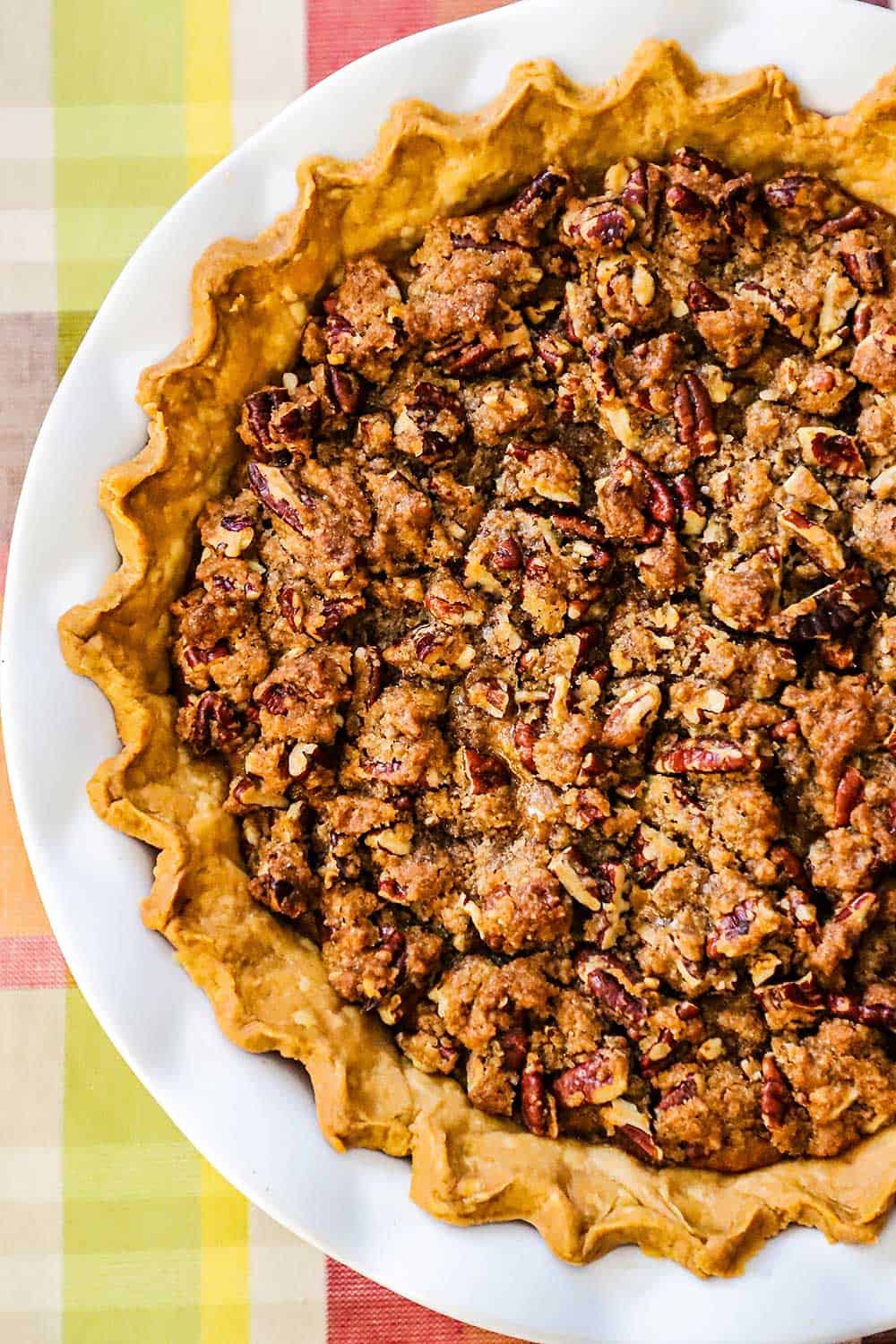 Other Amazing Pies to Make
We just love all types of pies. Here are some of our all-time favorites:
Pecan Pie
Pumpkin Pie
Apple Pie
Cherry Pie
Peach Crisp
Chess Pie
Lemon Meringue Pie
Key Lime Pie
But we have to say, this pie right here is one of our all-time favorites. One bite, and you'll probably agree!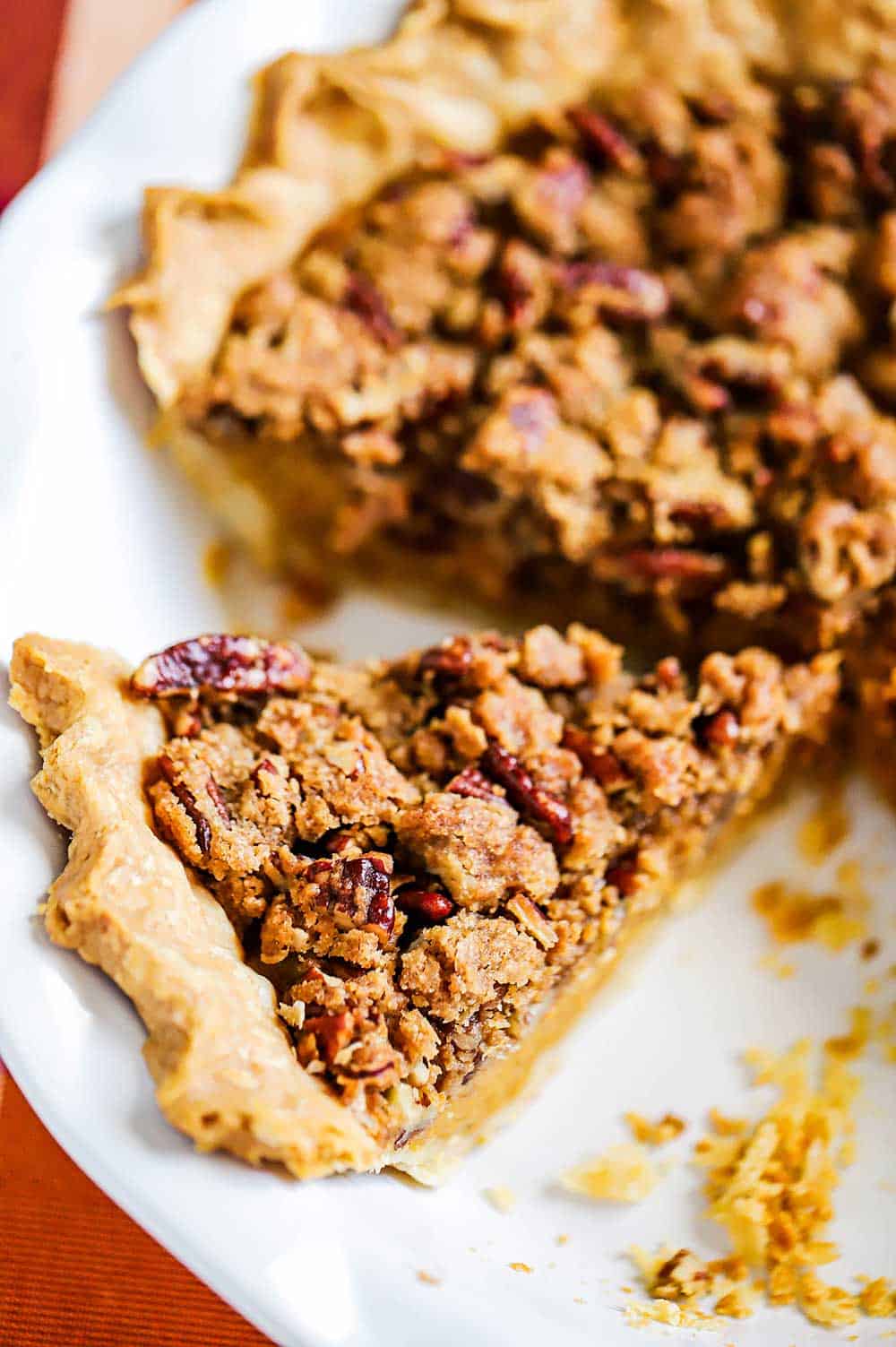 This pie is always such a huge hit when we serve to loved ones.
It's just so festive and the perfect holiday pie.
But folks, it really is so delicious, you'll want to make it all year long!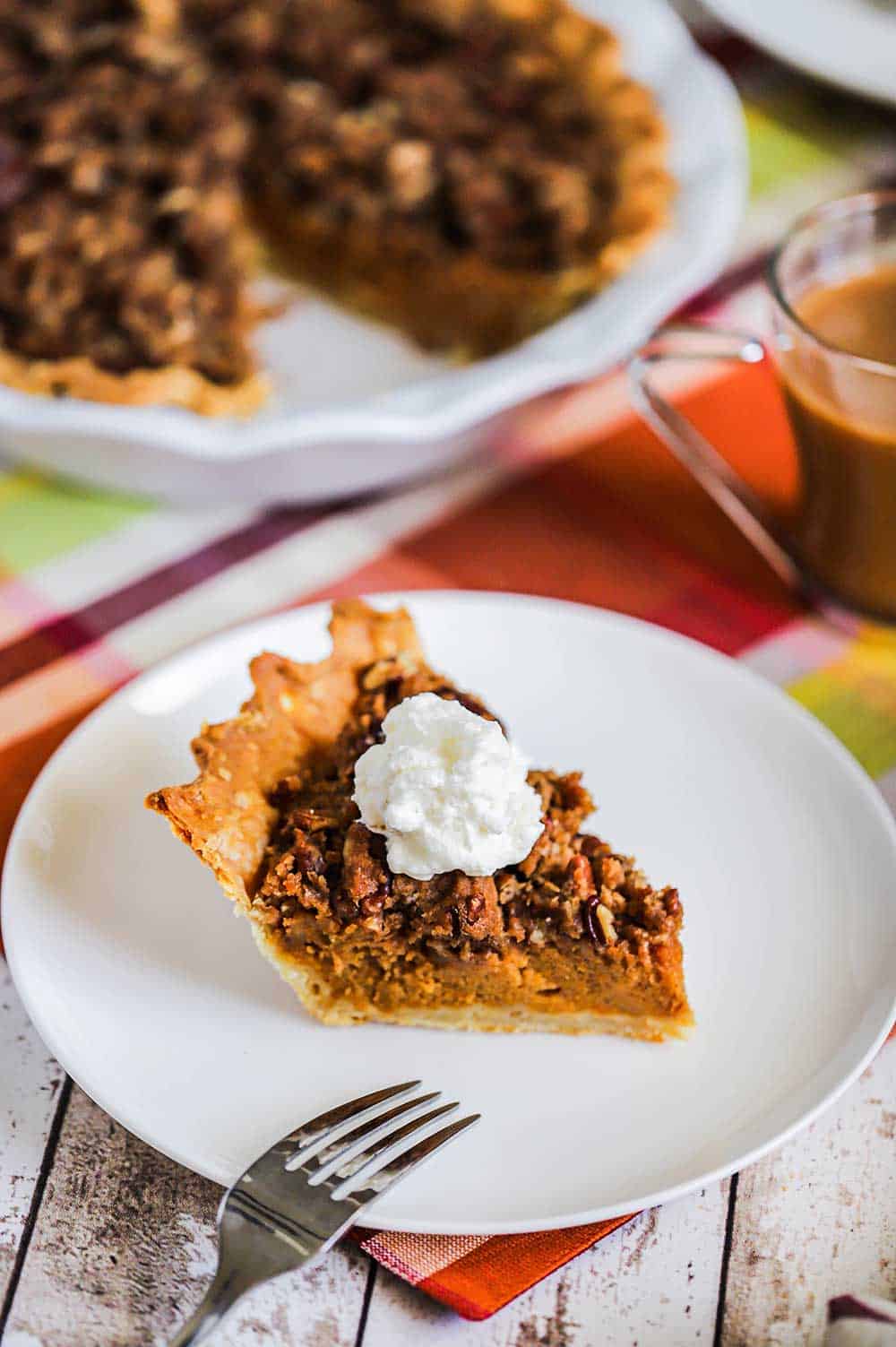 Ready to make the best holiday pie in town? Go for it!
And when you do, be sure to take a photo of it, post it on Instagram, and tag @HowToFeedaLoon and hashtag #HowToFeedaLoon!
Sweet Potato Pie with Pecan Topping
Sweet Potato Pie is just so comforting and the perfect holiday pie. Top it with a sweet, crumbly pecan topping and you'll have one of the most delicious pies you've ever tried or served.
Print
Pin
Rate
Servings: 8
Calories: 494kcal
Ingredients
For the Pie
2 medium sweet potatoes 2 cups cooked
3 tbsp unsalted butter melted
½ cup brown sugar light or dark
⅓ cup heavy cream
2 large eggs
1 tsp cinnamon ground
1 tsp pumpkin pie spice
½ tsp nutmeg ground
1 tsp vanilla extract
For the Pecan Topping
½ cup brown sugar light or dark
⅓ cup all-purpose flour
¾ cup pecans chopped
⅓ cup unsalted butter melted
whipped cream for topping (optional)
Instructions
Blind Bake the Pie Dough
Roll the dough out to a 12 to 13-inch diameter. Gently roll the dough onto your rolling pin and then roll out over a 9-inch pie dish. Gently press the dough against the side of the dish. Place in the freezer for 15 minutes.

Trim away excess dough that hangs over the dish. Use your fingers to flute the edge of the dough, if desired.

Preheat oven to 375°F.

Remove the dish from the freezer and puncture the dough all over with a fork. Add a layer of parchment paper or foil over the dough. Add pie weights, dried beans, short-grain rice, or pennies on top of the parchment or foil. Bake for 20 minutes.

Remove the dish from the oven and carefully remove the parchment or foil with the weights. Place the dish back into the oven for another 15 minutes, or until lightly golden all over. Remove from oven and allow to completely cool. This can be done hours in advance.
Make the Filling
Preheat oven to 350°F.

Pierce each sweet potato a few times all over with a fork.

Place the sweet potatoes directly on the center rack of the oven and place a baking sheet on the rack beneath them (the sweet potatoes will seep a little as they roast).

Remove the potatoes from the oven and allow them to cool enough to handle.

Pull the skin from the roasted sweet potatoes and add them to a large bowl. Pour the melted butter over them and use a masher to work the butter into the potatoes. Do this for about 1 minute. This will help to smooth the sweet potatoes, too.

Add the brown sugar, heavy cream, eggs, spices, and vanilla to the bowl. Use a hand mixer to mix the ingredients together. Mix for about 1 minute until fully combined and smooth (there will still be some small bumps from the sweet potatoes, this is good).

Transfer the filling into the prepared pie crust.
Make the Pecan Topping and Finish the Pie
In a medium-sized bowl, add the brown sugar, flour, and pecans. Pour the melted butter into the bowl and use a fork to mix until fully combined.

Add the pecan mixture to the top of the filling. Bake at 350°F for 45 minutes, adding foil along the sides of the crust to prevent them from getting too brown.

Remove from the oven and allow to sit for at least 2 hours. The filling will continue to set during this time. Chill after the 2 hours.
Notes
See the video near the top of the blog post for visual guidance. If you like the video, please subscribe to our YouTube channel.
We love going with our homemade pie dough, but store-bought is perfectly fine and will still be delicious.
To save time, you and heat the sweet potatoes in the microwave for about 10 minutes, wrapped in paper towels, or long enough until the flesh is very soft. We don't recommend boiling them as the texture becomes too soft and a bit soggy.
The pie will keep covered on the counter for several days, and up to 1 week in the fridge. The pie can be frozen, cooked, or uncooked, for up to 2 months. Allow to completely thaw before baking or re-warming.
Nutrition
Calories: 494kcal | Carbohydrates: 55g | Protein: 6g | Fat: 22g | Saturated Fat: 8g | Polyunsaturated Fat: 4g | Monounsaturated Fat: 11g | Trans Fat: 1g | Cholesterol: 92mg | Sodium: 149mg | Potassium: 323mg | Fiber: 3g | Sugar: 30g | Vitamin A: 8603IU | Vitamin C: 2mg | Calcium: 73mg | Iron: 2mg