This deeply flavorful cake has become a fall classic at our house, and we think you'll understand why.
The thread of sweet potatoes, along with the swirls of pumpkin cinnamon spice, matched with the brown sugar icing just can't be beaten. And it can easily be prepared 1 to 2 days in advance of serving. Perfect for the holidays and beyond.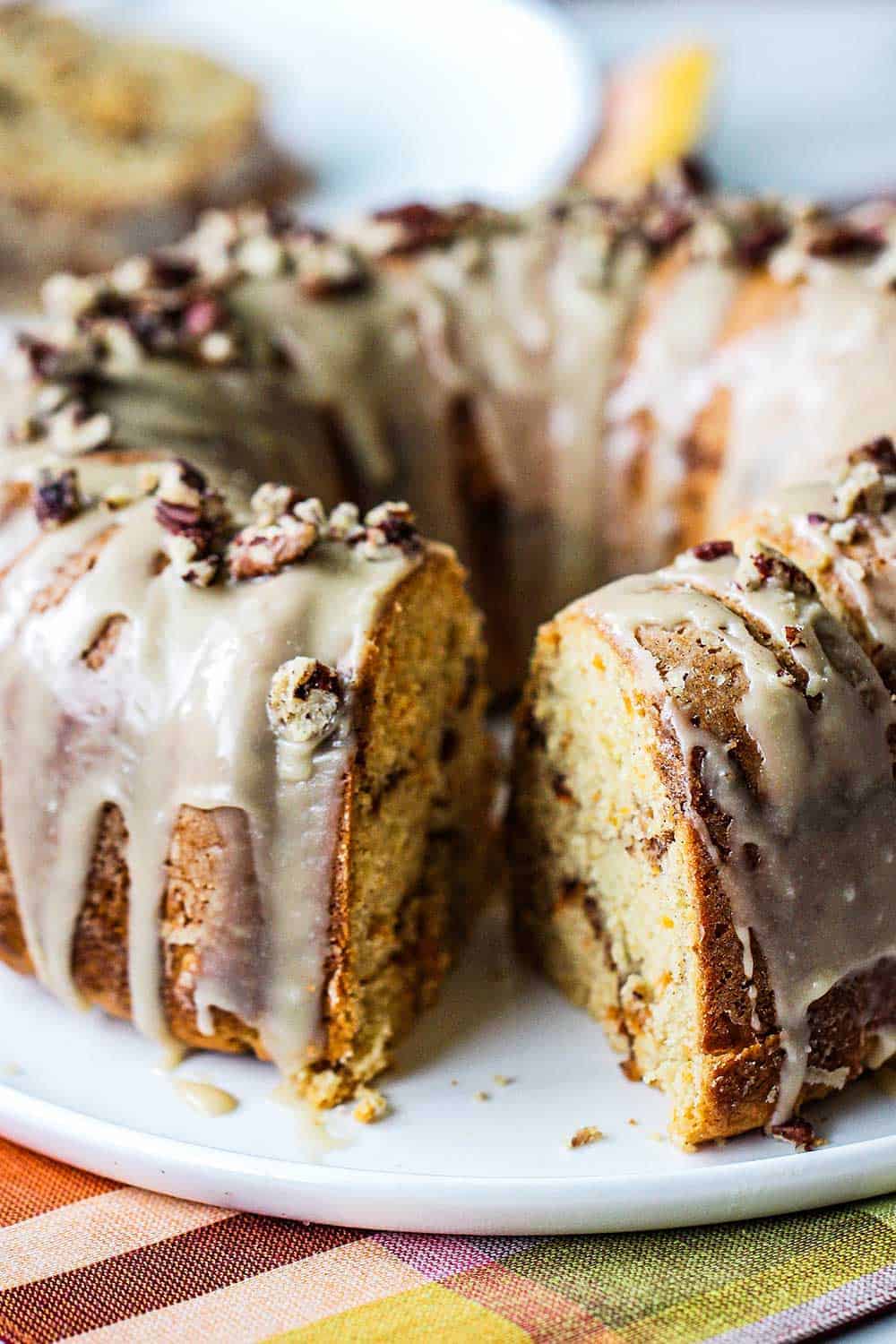 How To Make Sweet Potato Bundt Cake with Brown Sugar Icing
This cake is really not difficult to make at all and is very pantry-friendly.
The ingredients are warm and so comforting and the final presentation is absolutely gorgeous.
The Ingredients You Will Need
The ingredients in this cake all come together to make a wonderful autumnal dessert, but in all honestly, we love it all year long. It's really that good!
Here are the ingredients you'll need for this glorious cake:
Unsalted butter
Cream cheese
Dark brown sugar
Egg
Sweet Potato
Vanilla Extract
Self-Rising Flour
Pumpkin Pie Spice
Quintessential fall yumminess!
The Perfect Icing on the Cake
And did I mention the brown sugar icing? Oh, man…it's just so perfect.
The Loon says it almost has a maple flavor to it, and I agree. It's the perfect topping to this flavorful cake.
EXPERT TIP: Simmering the brown sugar with the butter, cream, and corn syrup will turn it into a caramel sauce, which is what you want. Be sure to only let the liquid simmer for 1 minute, and then quickly remove from heat. If it simmers too long over high heat, it will thicken up too much, and become almost brittle.
Trust us when we tell you this Sweet Potato Bundt Cake with Brown Sugar Icing is the perfect fall dessert.
And you're going to love the way your home smells as this bakes in the oven. Amazing!
Ever wonder how the magical bundt cake became so famous? Well, you can learn much about that by simply clicking here!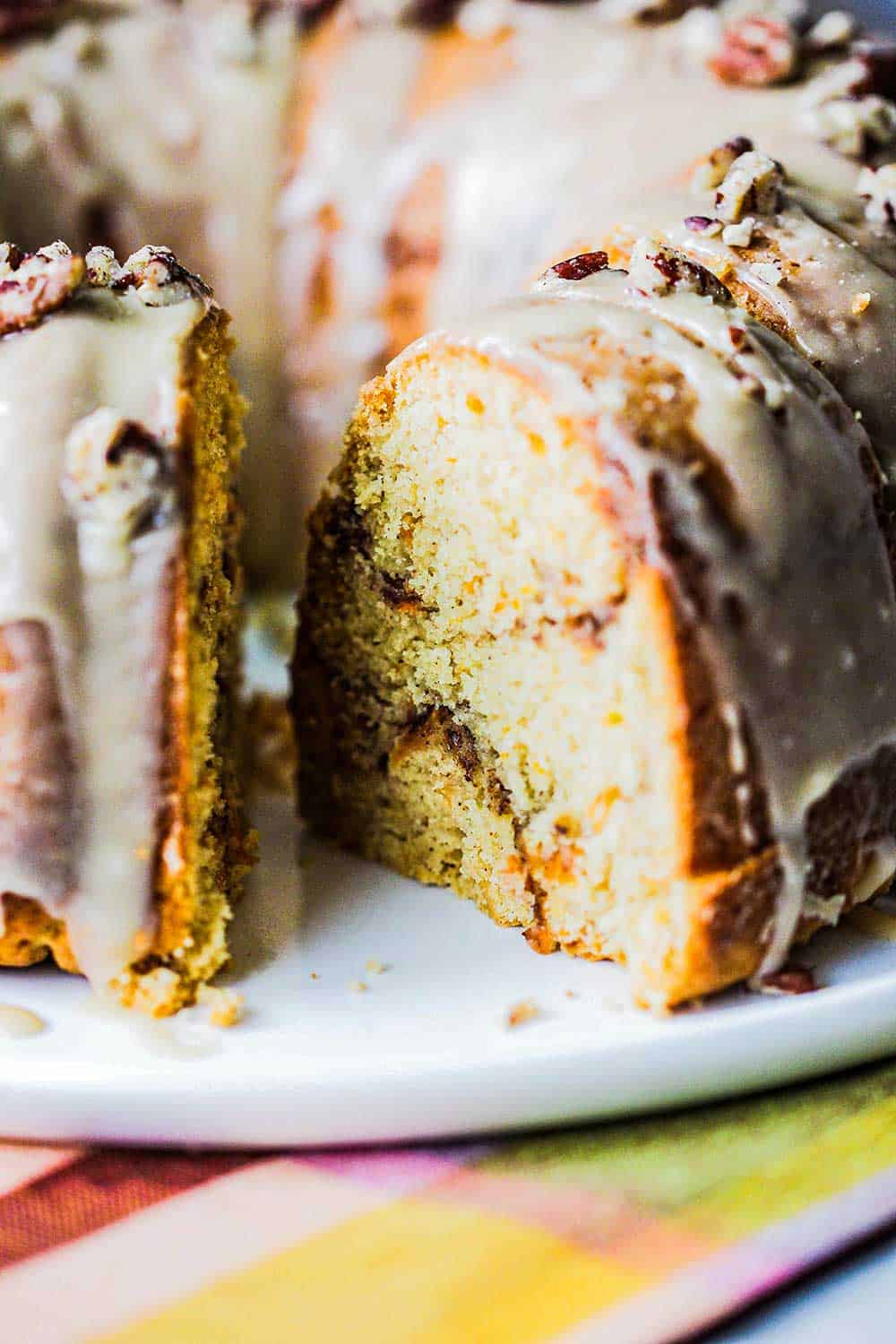 When To Serve Sweet Potato Bundt Cake
Obviously, this cake is wonderful served during the holiday season. Other holiday favorites are our Pumpkin Whoopie Pies and Sweet Potato Pie with Pecan Topping!
It's the perfect ending to a Thanksgiving feast with a Perfect Turkey, Mashed Potatoes, and Green Bean Casserole.
EXPERT TIP: The cake stays deliciously moist and tender for several days when covered. You can freeze the cake for up to 1 month. Allow to completely thaw before serving. If freezing, we suggest not icing the cake until after it's thawed.
Ready to have fun in the kitchen with the perfect fall baking bundt cake? Go for it!
And when you do, be sure to take a photo of it, post it on Instagram, and tag @HowToFeedaLoon and hashtag #HowToFeedaLoon!
Sweet Potato Bundt Cake with Brown Sugar Icing
This Sweet Potato Bundt Cake with Brown Sugar recipe is the bomb! Perfect for fall or anytime you are in the mood for a really delicious moist bundt cake. The brown sugar icing sets it over the top! This has become a Loon favorite and is requested every year when the cool weather sets in!
Print
Pin
Rate
Servings: 8 people
Calories: 754kcal
Ingredients
FOR THE CAKE
Cooking spray
¾ cup unsalted butter room temp
8 oz cream cheese room temp
1⅓ cups sugar divided
1 cup brown sugar dark, plus 1 tbsp, divided
4 large eggs
1½ cups sweet potato peeled and grated, a box grater works perfectly
1 tsp vanilla extract
3 cups self-rising flour
1 tbsp pumpkin pie spice plus 1½ tsp, divided
FOR THE ICING
¼ cup brown sugar dark
3 tbsp heavy cream divided
1 tbsp unsalted butter
1 tbsp light corn syrup
1 cup confectioners' sugar
⅛ tsp salt
½ cup chopped pecans for garnish on top
Instructions
MAKE THE CAKE
Preheat oven to 350° F.

Spray a Bundt pan with baking spray. Set aside.

In a large bowl, beat butter and cream cheese at medium speed with a mixer until fluffy, 3 to 4 minutes.

Mix in 1 cup sugar and 1 cup brown sugar until incorporated, about another 3 minutes.

Add eggs, one at a time, beating well after each addition.

Add shredded sweet potato and vanilla, beating until combined.

In a medium bowl, whisk together flour and 1½ teaspoons pumpkin pie spice.

Gradually add flour mixture to sweet potato mixture, beating at low speed just until combined.

In a small bowl, stir together the remaining ⅓ cup sugar, remaining 1 tablespoon brown sugar, and remaining 1 tablespoon pumpkin pie spice.

Spoon ⅓ of the batter into the prepared pan (batter will be thick and a little sticky), spreading evenly.

Sprinkle half of the sugar-spice mixture over batter.

Repeat the process once and then top with the remaining batter.

Bake until an inserted toothpick near the center comes out clean, approximately 50 minutes.

Let cool in the pan for 10 minutes.

Carefully remove the cake from the pan and let cool completely on a wire rack.
MAKE THE GLAZE
In a small saucepan, bring brown sugar, 2 tablespoons cream, butter, and corn syrup to a simmer over medium heat. Cook, whisking constantly, 1 minute.

Pour into a medium bowl and let cool slightly.

Whisk in confectioners' sugar, salt and remaining 1 tablespoon cream until smooth.

Drizzle icing over the cake and garnish with pecans.
Notes
We use the side of a box grater to shred the peeled sweet potatoes, but a food processor with a shredder attachment will work, too.
The cake batter is thick and somewhat sticky. Use a large spoon to add the batter in thirds into the prepared pan.
If you can't find pumpkin pie spice, you can easily make your own by combining together:
1 tablespoon cinnamon
1 teaspoon ground ginger
1 teaspoon ground nutmeg
3/4 teaspoon all-spice
3/4 teaspoon ground cloves.
Save what you don't use for future use.
Nutrition
Calories: 754kcal | Carbohydrates: 116g | Protein: 10g | Fat: 18g | Saturated Fat: 9g | Cholesterol: 150mg | Sodium: 100mg | Potassium: 240mg | Fiber: 3g | Sugar: 76g | Vitamin A: 4332IU | Vitamin C: 1mg | Calcium: 70mg | Iron: 2mg
POST UPDATE: This recipe was originally published in October 2017, but was updated with improved tweaks to the recipe with new tips and photography and a fabulous new video in November 2020!