If you love Chinese food and you love yummy appetizers, then this is the recipe for you!
We have loved authentic Chinese food for so many years. It became a staple in our lives when we lived on the Upper Westside of Manhattan, New York. If you like these, you'll probably love our Pork Dumplings with Peanut Sauce, Beef and Broccoli Stir-Fry, and our Homemade Egg Rolls! But in the meantime, let's make some Chinese Potstickers!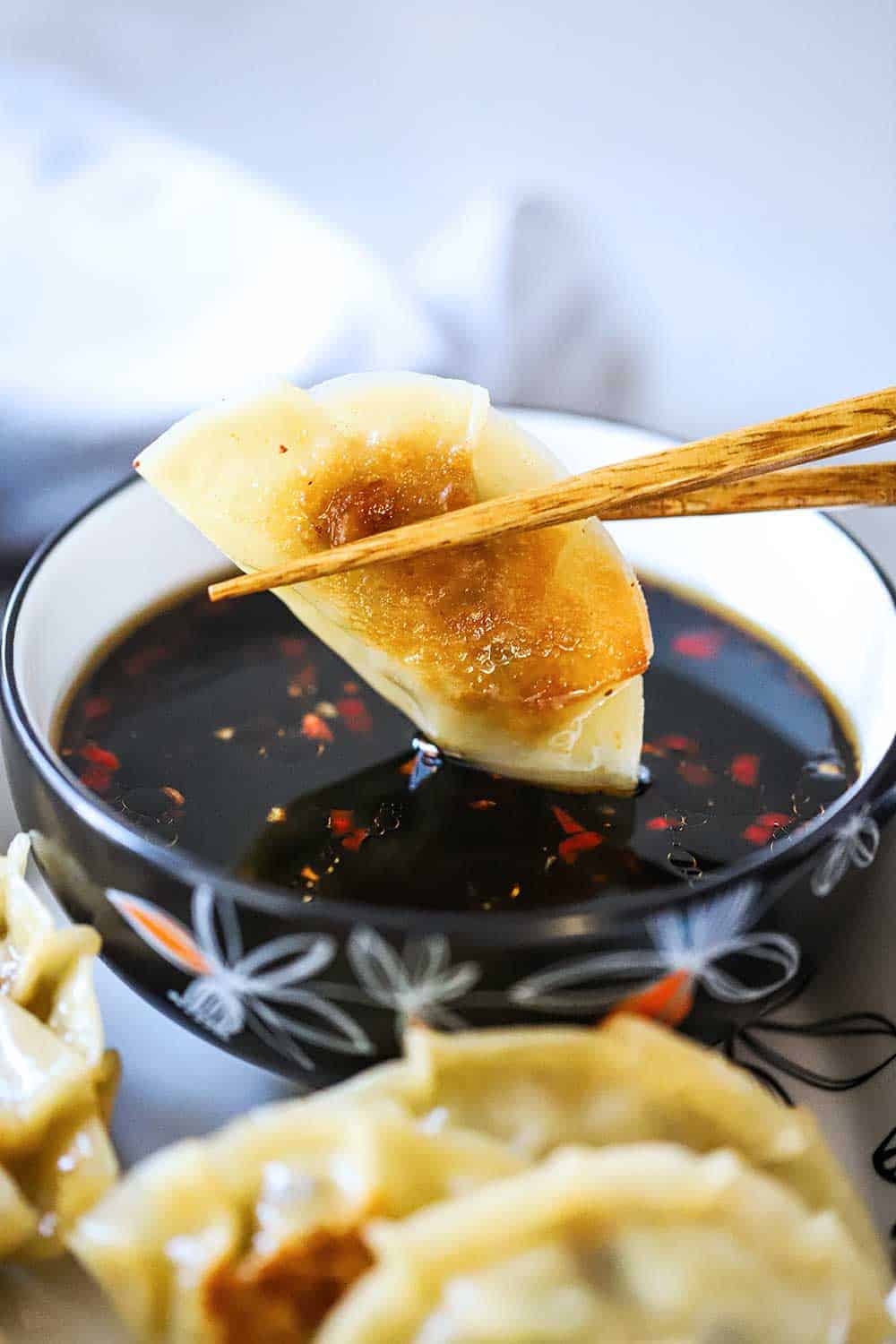 How To Make Authentic Potstickers
These little gems may seem difficult to make in your own kitchen, but we promise, they're really not hard to prepare.
You may need to make a run to your local Asian market, or order an ingredient, or two, online.
Prepping the Ingredients
Before you start assembling the filling, you'll need to do a little bit of prep work for the dried mushrooms and fresh cabbage.
Let's focus on the mushrooms first:
EXPERT TIP: You'll want to first start by re-hydrating your dried wild mushrooms. We love using dried shiitake. It's very important that you not cook with the dried mushrooms, you MUST first soak them in warm water to reconstitute them. After 30 minutes, drain them and then give them a rough chop.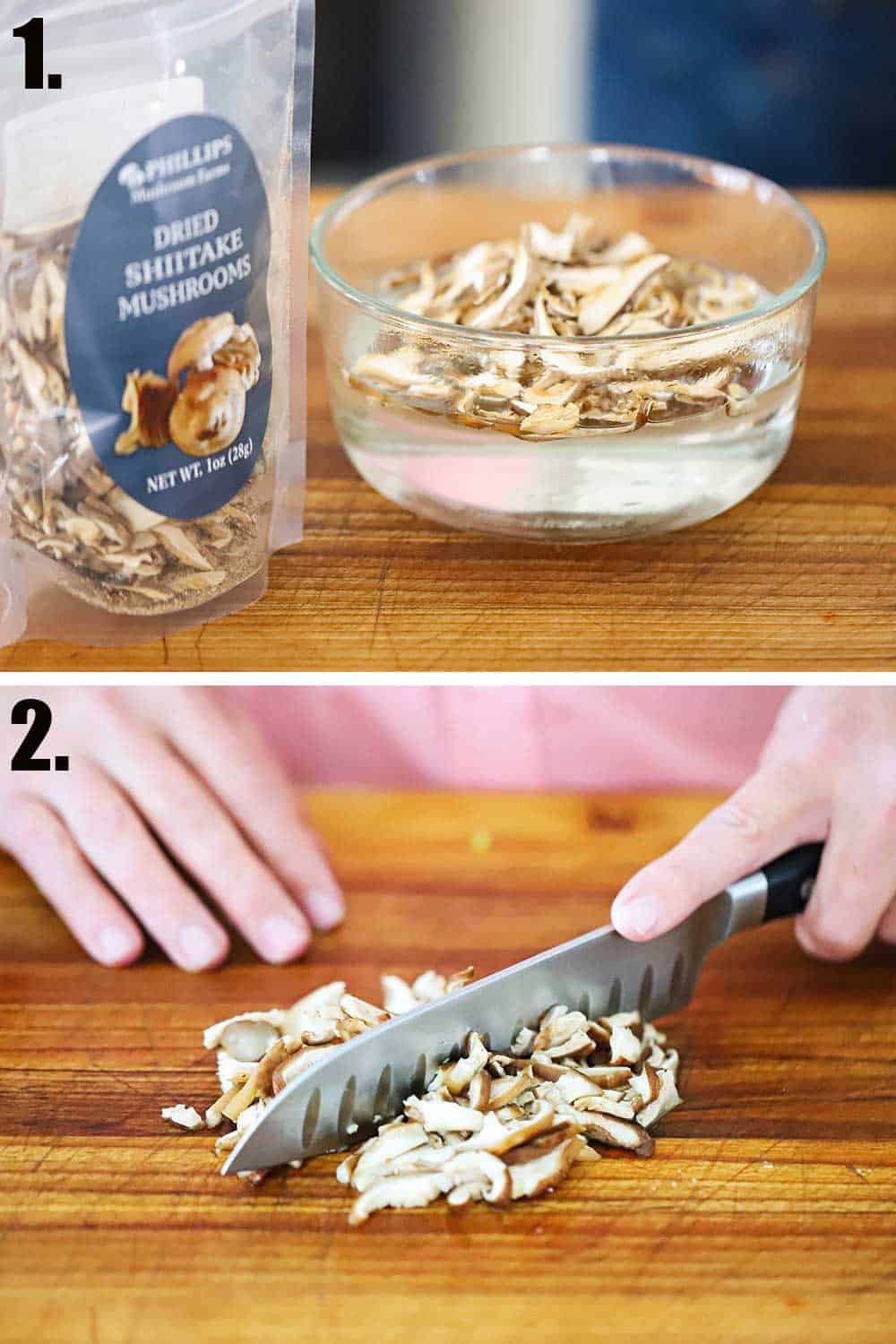 Now, it's time to prep the cabbage. We love using Napa cabbage, but really any type of cabbage will work.
Simply salt the cabbage which will bring out the excess liquid and make it nice and soft.
Use your hands to wring out the water.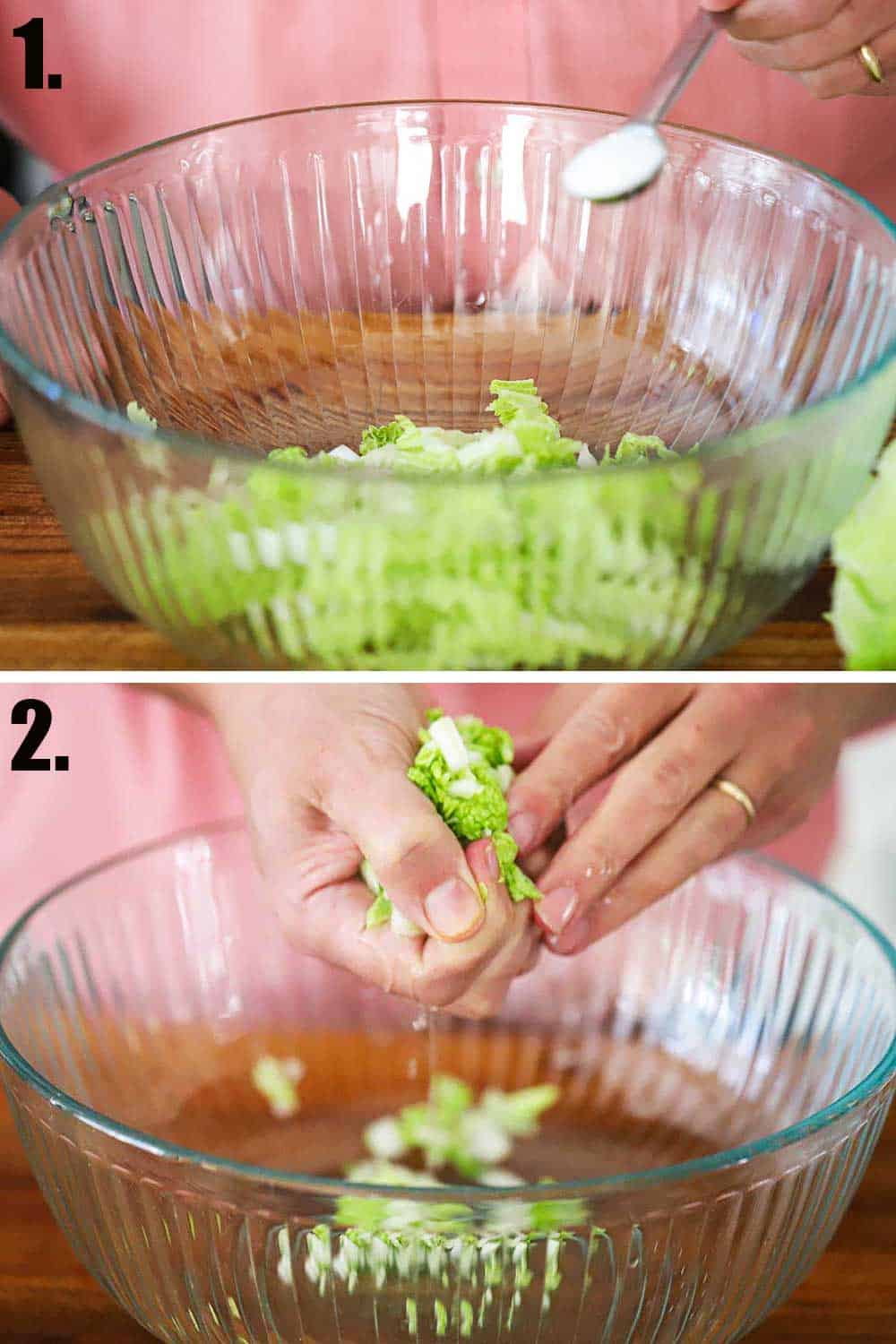 Making the Pork Filling
Now, it's time to bring it all together.
Mix together the uncooked pork with the drained and chopped mushrooms, the softened cabbage, and other delicious ingredients.
EXPERT TIP: The filling can be prepared up to 2 days in advance and kept in an air-tight container in the fridge. You can also freeze the filling for up to 1 month. See the NOTES for instructions on freezing cooked potstickers.
How To Form Potstickers
Now, comes the fun part! Forming the dumplings! By the way, you may be asking, what's the difference between potstickers and dumplings? Learn about the subtle difference here.
Simply place a won ton wrapper on a cutting board and add 1 tsp of the filling in the middle and then fold the wonton over and seal.
EXPERT TIP: We like to use our index fingers to make little pouches on the edges for that authentic look. Make sure you keep your fingers moist, which helps the edges of the wontons adhere to each other. For the wrapper, you can use wonton wrappers or dumplings wrappers. Wonton wrappers can usually be found in the vegan area of the product department in most well-stocked supermarkets.
Now it's time to cook them up!
Potstickers are traditionally lightly fried on one side of the dumpling, and then flipped over and steamed for the remainder of the cooking process.
EXPERT TIP: You'll need to cook them in batches. Simply place the cooked dumplings on a sheet pan and place it in a low temp oven (250°F) until the next batch is done. Keep an eye on the temperature of the skillet! Don't let them burn as they are seared and then steaming! And YES! The pork cooks perfectly during the process.
When To Serve Potstickers
These are such a delicious savory treat to serve for almost any occasion.
We love serving them at parties, but they make a spectacular appetizer for a glorious Asian-themed dinner party.
They're also so much fun to make for a late-night snack! Serve them whenever you're in the mood for an incredibly delicious appetizer!
And of course, when you're serving the potstickers, we highly recommend making a batch of Ginger-Soy Dipping Sauce.
Chopsticks or not, these babies are addictively delicious!
Just look at that!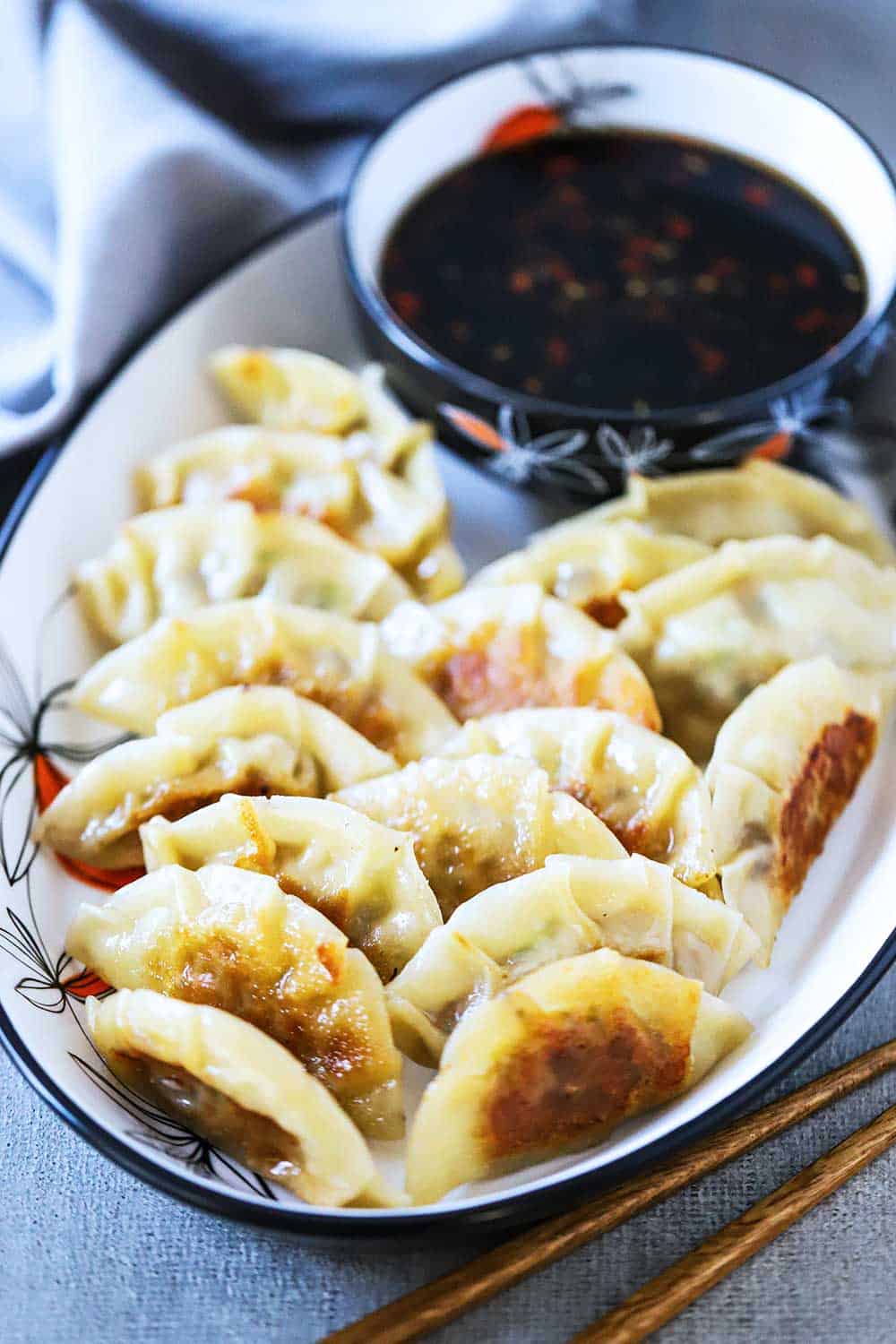 And the filling is the perfect match to the chewy and delicious wrapper.
Once you take a bite, dip the potsticker back into the dipping sauce, so that the filling soaks up all the goodness. (Serve a separate small bowl of sauce for each person you are serving so no one has to worry about double-dipping!)
These are so good! You and your guests will flip for them, we promise!
Ready to make the best Chinese appetizer in town? Go for it!
And when you do, be sure to take a photo, post it on Instagram, and tag @HowToFeedaLoon and hashtag #HowToFeedaLoon!
Potstickers
These potstickers are authentic and are just so good and one the Loon's all-time favorites. You're gonna love 'em! Be sure to whip up a batch of the Ginger-Soy Dipping Sauce, too! Link to recipe below.
Print
Pin
Rate
Servings: 10
Calories: 118kcal
Equipment
Skillet (preferably) non-stick with a lid
Ingredients
½ cup shiitake mushrooms dried
1½ cups napa cabbage roughly chopped
Salt and freshly ground black pepper
¼ lb pork ground
1/4 cup chives Chinese chives, if possible
1 tbsp light soy sauce
1 tbsp sesame oil
1½ tsp Chinese rice wine
1 tsp ginger minced
1 tsp garlic minced
1½ tbsp cornstarch
20 wonton wrappers or dumpling wrappers
2 tbsp canola oil divided
½ cup chicken stock divided
Ginger-Soy Dipping Sauce for dipping!
Instructions
Soak the dried mushrooms in warm water for 30 minutes. Stir occasionally. Drain, and then roughly chop. Set aside.

Meanwhile, in a large bowl, toss together the cabbage and 1 teaspoon salt and let stand for 30 minutes to leach out water from the cabbage. Use your hands and wring out as much of the water from the cabbage as possible. Roughly chop the cabbage again. Place in a small bowl and set aside.

Add the mushrooms, cabbage, pork, chives, soy sauce, sesame oil, rice wine, ginger, garlic, cornstarch, and ¼ teaspoon black pepper and, using a wooden spoon, mix to combine the ingredients well.

To fill each potsticker, place a wrapper on a work surface and brush the edges with water and keep the other wrappers covered with a slightly damp kitchen towel to prevent them from drying out. Place 1 teaspoon filling in the center of the wrapper, fold the wrapper in half to enclose the filling, and pleat the outer edge with your thumb and index finger (see photo).

Place the formed potsticker on a baking sheet and repeat with the remaining filling and wrappers.

Preheat to 250 F.

In a large nonstick frying pan over medium-high heat, heat 1 tablespoon of the canola oil. Add 10 potstickers, flat bottom down, and in a single layer. Sear until golden brown on the bottom, 3 - 4 minutes.

Pour ¼ cup of the stock into the pan, cover, and let steam until all the broth evaporates, the pot stickers are tender, but still firm, and the filling is cooked through, 4 - 5 minutes.

Transfer to a baking pan and place in the oven. Follow the same steps for cooking the remaining potstickers.
Notes
Many of the ingredients in this recipe can be found in the Asian section of many well-stocked supermarkets. If you have access to an Asian market, you'll have no trouble finding the ingredients there. You can also order online. If you can't find Chinese chives, just use regular chives. Regular soy sauce can be substituted for the light soy sauce. Wonton wrappers, dumpling wrappers, or potsticker wrappers are work well. Many supermarkets carry wonton wrapper in the product department, often near vegan products. These cooked potstickers freeze beautifully. Place in a flat layer in a container. And freeze for up to 2 months. Let thaw completely and then warm in a skillet with a little broth. You can also freeze uncooked potstickers in the same manner you would if they were cooked. Let them thaw, and then cook them according to the recipe instructions. Cooked potstickers will keep in the fridge for up two 1 week, although, we think they're best when served fresh off the stove.
Nutrition
Calories: 118kcal | Carbohydrates: 4g | Protein: 3g | Fat: 10g | Saturated Fat: 2g | Cholesterol: 9mg | Sodium: 152mg | Potassium: 120mg | Fiber: 1g | Sugar: 1g | Vitamin A: 222IU | Vitamin C: 7mg | Calcium: 17mg | Iron: 1mg
POST UPDATE: This recipe was originally published in October 2016 but was updated with improved tweaks to the recipe with new tips and photography and a fabulous new video in November 2020.
This recipe is inspired and adapted from: Williams Sonoma Pot Stickers.