Beef and Broccoli Stir-Fry is Chinese comfort food at its very best.
So easy to prepare at home and we promise, so much better than take-out!
We love Beef and Broccoli Stir-Fry so much, and so will you!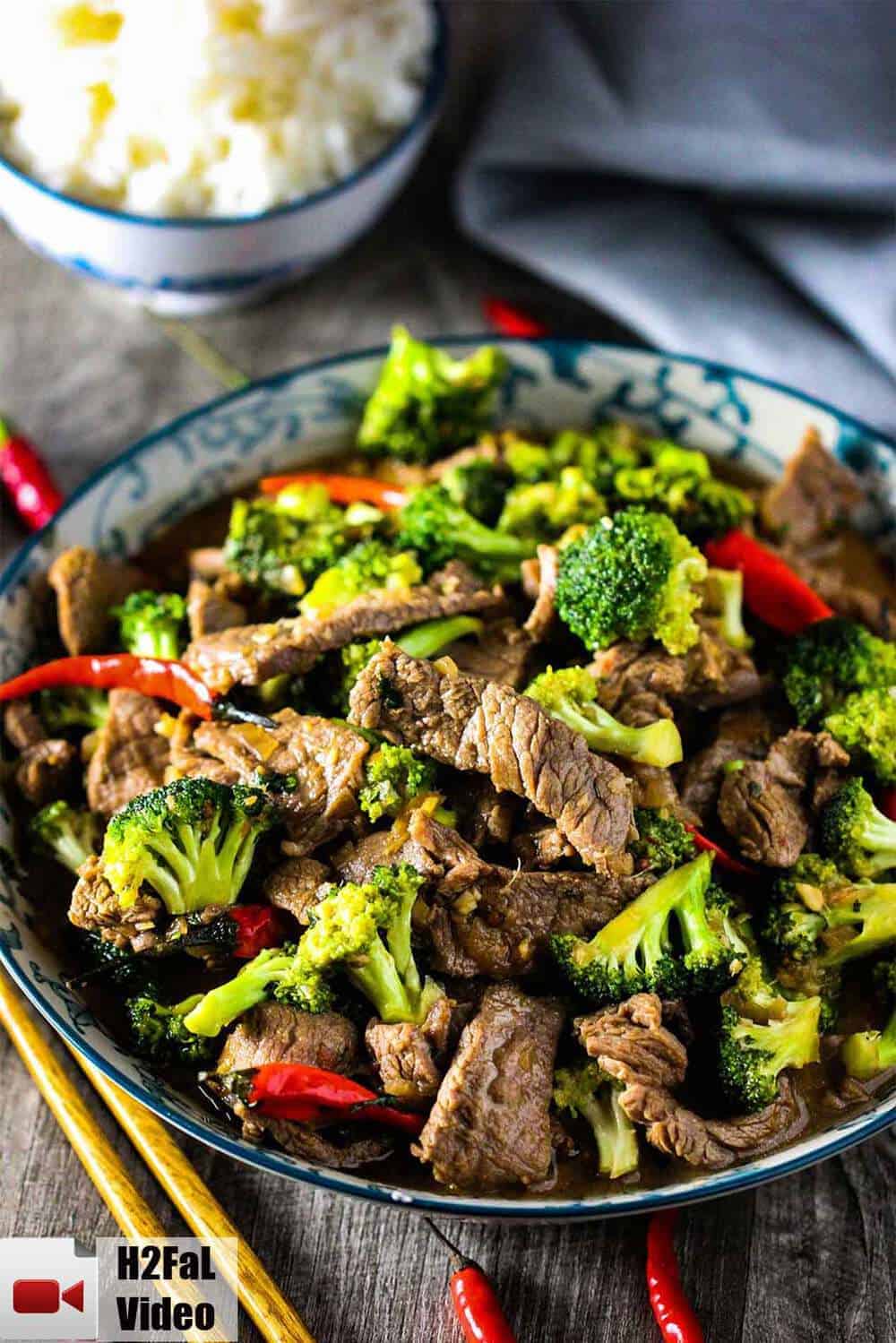 HOW TO MAKE BEEF AND BROCCOLI STIR-FRY AT HOME
Making this dish at home is so much easier than you might think! We LOVE to stir fry…learn all about this amazing technique of cooking here.
We highly recommend using your trusty wok, but if you don't have a wok…then go with a sturdy large skillet.
Watch us show you how easy it is to prepare Beef and Broccoli Stir-Fry at home!
A WOK RING KEEPS YOUR WOK SECURE
We can stress enough about the importance of using a wok ring when cooking on your kitchen stove-top.
The ring holds the circular, concave shaped wok in place, rather than just sitting wobbly on your burner.
After the aromatics are quickly cooked in the oil, add the thinly slice beef. TIP: Place the steaks in the freezer for 30 minutes, then use a sharp knife to easily cut paper-thin slices!
INGREDIENTS NEEDED FOR THE SAUCE
Fish sauce (optional, but so good)
Corn starch
Sherry (don't use cooking Sherry!)
Oyster sauce (easily found in most well-stocked supermarkets)
Lime juice
Sugar
Garlic
Chili sauce (also easily found in most well-stocked supermarkets)
Fresh cilantro
Coriander seeds (optional, but add lots of flavor)
THAI RED PEPPERS ADD COLOR AND A LITTLE HEAT
We just love adding Thai red peppers to our Beef and Broccoli Stir-Fry.
As they stir-fry, they impart just a little heat, and the color is absolutely gorgeous.
We usually find these at our favorite local Asian market, but this dish is so good, even if you leave the peppers out.
JASMINE RICE IS PERFECT FOR BEEF AND BROCCOLI STIR-FRY
We just love using Jasmine rice with this dish. It's also very easy to prepare.
In a medium pan, add one cup of uncooked rice along with 1 1/2 cups of water and 1/2 teaspoon of salt. Bring to a boil, then cover with a lid and reduce heat to low. Simmer for 16 minutes.
Remove and fluff with a fork. We love to place the cooked rice into a nice serving bowl, and then spoon the stir-fry on top. So delicious!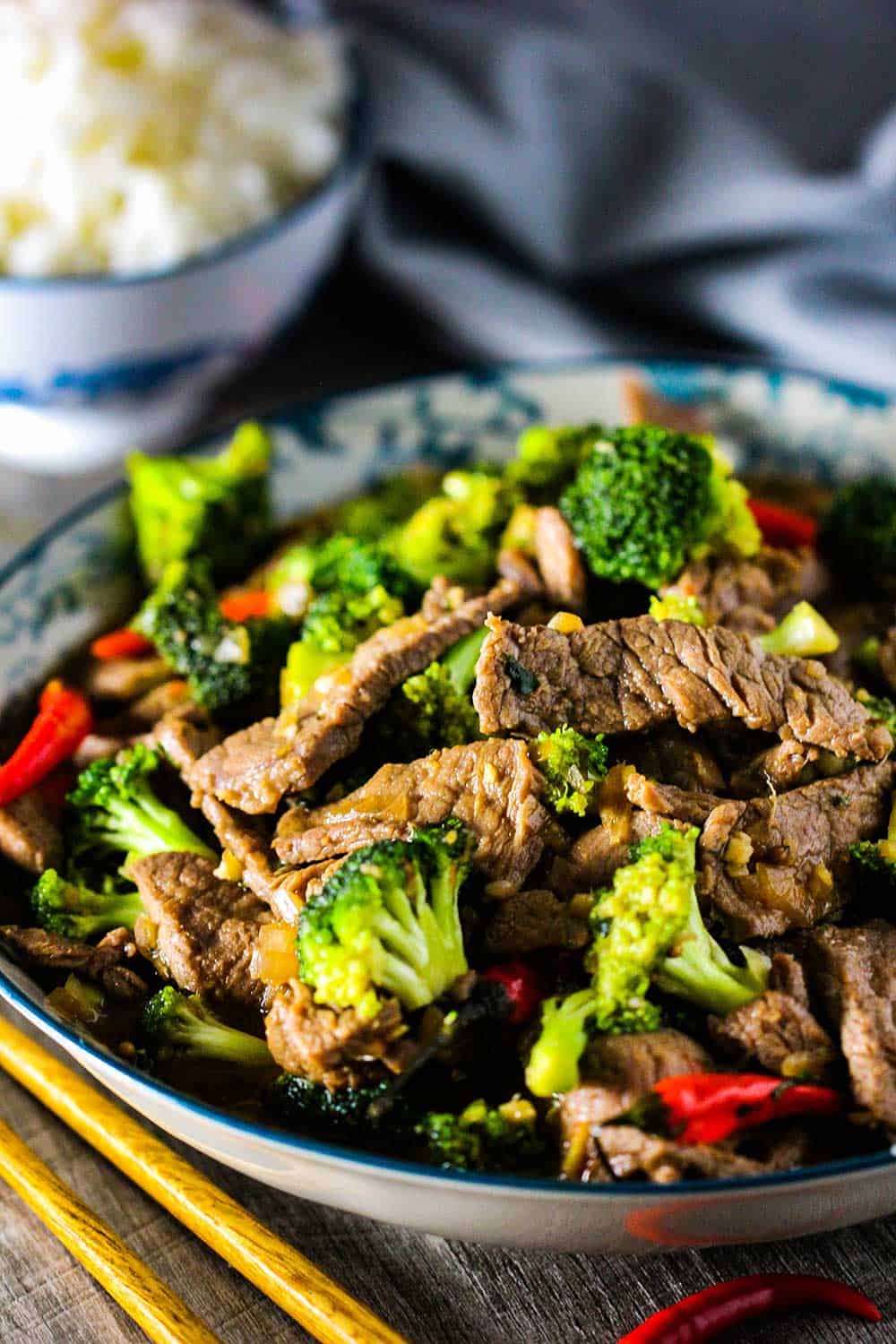 OTHER FAVORITE ASIAN DISHES
We love all kinds of Asian dishes, but here are some of our all-time favorites:
Now, in the meantime, go make this amazing Beef and Broccoli Stir-Fry!
Beef and Broccoli Stir-Fry
This beef and broccoli is the perfect mixture of a Chinese classic, with a twist of Thai hints. Make with Jasmine rice!
Print
Pin
Rate
Servings: 4 people
Calories: 298kcal
Ingredients
4 tbsp soy sauce
1 heaping tsp brown sugar
1 lb sirloin steak sliced thinly
2 tbsp sesame oil for stir-frying, plus a little more for garnish
1 cup shallots chopped
2 tbsp fresh ginger minced
1 head broccoli roughly chopped
FOR THE STIR-FRY SAUCE
2 tbsp fish sauce* substitute: water
2 tbsp corn starch
3 tbsp dry Sherry
2 tbsp oyster sauce*
3 tbsp fresh lime juice
2 tsp sugar
3 cloves garlic minced
1 tsp chili sauce*
1 tbsp cilantro chopped
1 tsp coriander seeds*
*Find in the Asian section of you supermarket or at an Asian market
Instructions
Combine together in a cup the soy sauce and sugar, stirring to dissolve the sugar.

Pour this mixture over the strips of beef and mix well.

Set aside to marinate as you prepare the rest of this fab dish.
MAKE THE STIR-FRY SAUCE
Place the fish sauce (or water) in a medium-sized bowl.

Add the cornstarch, stirring to dissolve.

Now, add all the other stir-fry sauce ingredients. Mix well.
STIR-FRY AND FINISH OFF THE DISH
Warm your wok over medium-high heat.

Add the oil.

When shimmering, add the shallots and ginger and stir-fry for 1 to minutes, until soft.

Now, add the beef with the soy sauce marinade.

Stir-fry for 5 minutes, or until beef is lightly cooked and just no longer pinc.

Add the stir-fry sauce.

Add the broccoli plus 1/4 cup of water.

Stir-fry until the broccoli is bright, and softened (about 5 minutes), the sauce will slightly thicken.

Remove from heat. Taste. Adjust seasonings.

Drizzle sesame oil over and serve immediately with Thai Jasmine rice.
Notes
If you prefer very soft broccoli, you can steam the chopped broccoli first, before adding to the wok. Alternatively, boil the chopped broccoli for about 3 to 5 minutes ahead of time.
Nutrition
Calories: 298kcal