This Chinese classic is given a bit of a Thai kick…but the flavors of this dish will really make you happy.  Serve with a nice bowl of Jasmine rice, and you'll be looking to the far East with pure delight.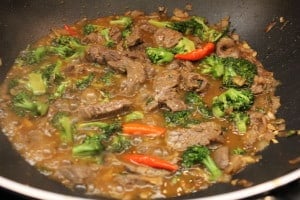 Beef and Broccoli Stir-Fry
This beef and broccoli is the perfect mixture of a Chinese classic, with a twist of Thai hints. Make with Jasmine rice!
Author: Kris Longwell
Recipe type: Asian
Cuisine: Asian
Serves: 4
Ingredients
4 tablespoons of soy sauce
1 heaping teaspoon of brown sugar
1 lb of sirloin steak, sliced thinly
2 tablespoons of oil for stir frying (look for stir-fry oil in the Asian area of your supermarket)
2 shallots, diced
2 tablespoons of chopped galangal* or ginger
1 head of broccoli, chopped
2 teaspoons of sesame oil
FOR THE STIR-FRY SAUCE:
2 tablespoons of fish sauce*
½ teaspoon of corn starch
3 tablespoons of Sherry
2 tablespoons of oyster sauce*
3 tablespoons of fresh lime juice
2 teaspoons of sugar
3 cloves of garlic, minced
1 teaspoon of Thai chili sauce*
1 tablespoon of cilantro, chopped
1 teaspoon of coriander seeds
*Find in the Asian section of you supermarket, or at an Asian market
Instructions
Combine together in a cup the soy sauce and sugar, stirring to dissolve the sugar.
Pour this mixture over the strips of beef and mix well.
Set aside to marinate as you prepare the rest of this fab dish.
MAKE THE STIR-FRY SAUCE:
Place the fish sauce in a small bowl.
Add the cornstarch, stirring to dissolve.
Now, add all the other stir-fry sauce ingredients. Mix well.
Warm your wok over medium-high heat.
Add the oil.
When shimmering, add the shallots, galangal or ginger.
Stir-fry for about a minute.
Now, add the beef with the soy sauce marinade.
Stir-fry for 5 minutes, or until beef is lightly cooked.
Add the stir-fry sauce.
Add the broccoli plus ¼ cup of water.
Stir-fry until the broccoli is bright, and softened (about 3 minutes), the sauce will slightly thicken.
Remove from heat. Taste. Adjust seasonings.
Drizzle sesame oil over and serve immediately with Thai Jasmine rice.
Enjoy!