Sautéed Baby Box Choy is pure Asian comfort food.
Our love affair with Asian Cuisine continues, and this Sautéed Baby Bok Choy is as good as your favorite Chinese Restaurant…really! And it comes together in no time at all!
SAUTÉED BABY BOK CHOY IS EASY TO MAKE
Baby bok choy is available in the product section of most well-stocked supermarkets, or at you local Asian market.
Bok choy is a Chinese cabbage and is quite nutritious, as well as being loaded with flavor. Especially when prepared right!
If you can't find wok choy, then you can make this recipe with Swiss chard, or green cabbage, or even spinach.
EXPERT TIP: Be sure to cut the ends off of the baby bok choy. They are tough and not desirable to eat.
SAUTÉ AND THEN SIMMER UNTIL SOFT
Sautéing the bok choy in sesame oil with garlic and ginger is the first step in making this one of the most flavorful dishes you'll ever try.
Then simmering in stock (chicken or vegetable) with other aromatics is perfect.
And folks, it only takes about 20 minutes from start to finish!
If you like this dish, you'll also love our Steamed Vegetable Dumplings!
But in the meantime, make this amazing Sautéed Baby Bok Choy! You'll be so happy that you did!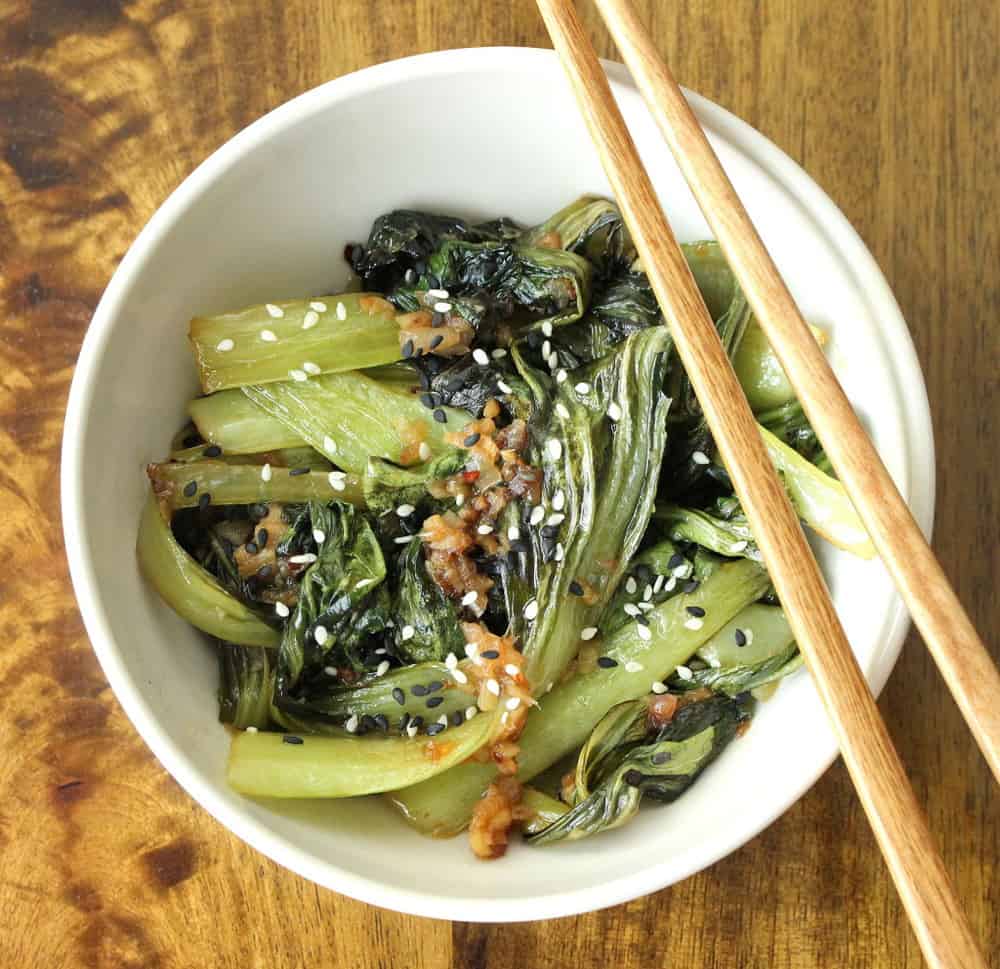 Sauteed Baby Bok Choy
This sauteed baby bok choy is such a wonderful side dish to everything from grilled salmon, to roasted chicken, and of course favorites such as
Kung Pao Shrimp
or
Beef Broccoli Stir-Fry
. So simple, yet so satisfyingly good. Find baby bok choy at many supermarkets, or farmer's markets, or Asian food markets.
Print
Pin
Rate
Servings: 4 people
Calories: 218kcal
Ingredients
1 tsp olive oil
1 tsp dark sesame oil*
2 tbsp shallot diced
1 tbsp fresh ginger peeled and diced
2 garlic cloves minced
1/4 tsp red pepper flakes more, if you want a little more heat
1 1/2 lbs baby bok choy cleaned and ends trimmed
1 tbsp soy sauce
1 tbsp rice vinegar*
1/4 cup chicken stock or vegetable stock
White and black sesame seeds for garnish*
*Available in the Asian section of most supermarkets or at an Asian market
Instructions
Heat oils over medium-high heat.

Add shallot, ginger, garlic and red pepper flakes and saute until soft, about 2 minutes.

Add the bok choy, soy sauce, vinegar and stock and cook until soft, about 6 - 8 minutes.

Place in serving dish and sprinkle sesame seeds on top.
Nutrition
Calories: 218kcal