Beef and Broccoli Chow Fun is Chinese comfort at its very best.
And they don't call it FUN for nothing! It's always FUN to make a trip by your favorite Asian market to pick up some of the classic ingredients. Dried rice noodles (the wide ones you use for pad Thai) are now easy to find at most major supermarkets. Actually, many of the ingredients are now available in the Asian section of most major supermarkets.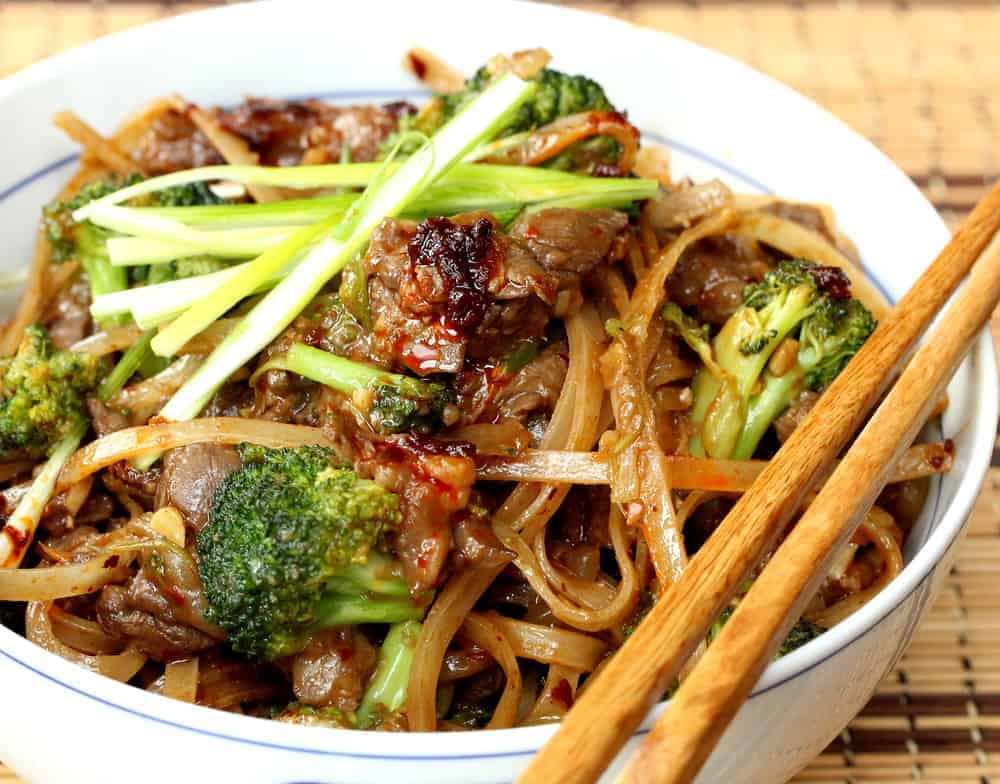 HOW TO MAKE BEEF AND BROCCOLI CHOW FUN
As mentioned, most of the ingredients for this amazing dish can be found in the Asian section of well-stocked supermarkets.
We love taking a trip to our local Asian market, too. Exploring the aisles of amazing ingredients is so much fun. I told you this dish was FUN!
You can also find ingredients online, too. We love everything about beef chow fun!
CHOOSING THE RIGHT KIND OF BEEF
You really can't wrong when choosing the type of steak you want to include in our Beef and Broccoli Chow Fun.
We recommend flank steak, but a nice ribeye would work wonderfully, too.
EXPERT TIP: Place the steak in the freezer for 15 to 30 minutes before slicing. This firms the meat up just enough to make getting thin slices much easier. Think slices of steak soak up even more of the amazing marinade.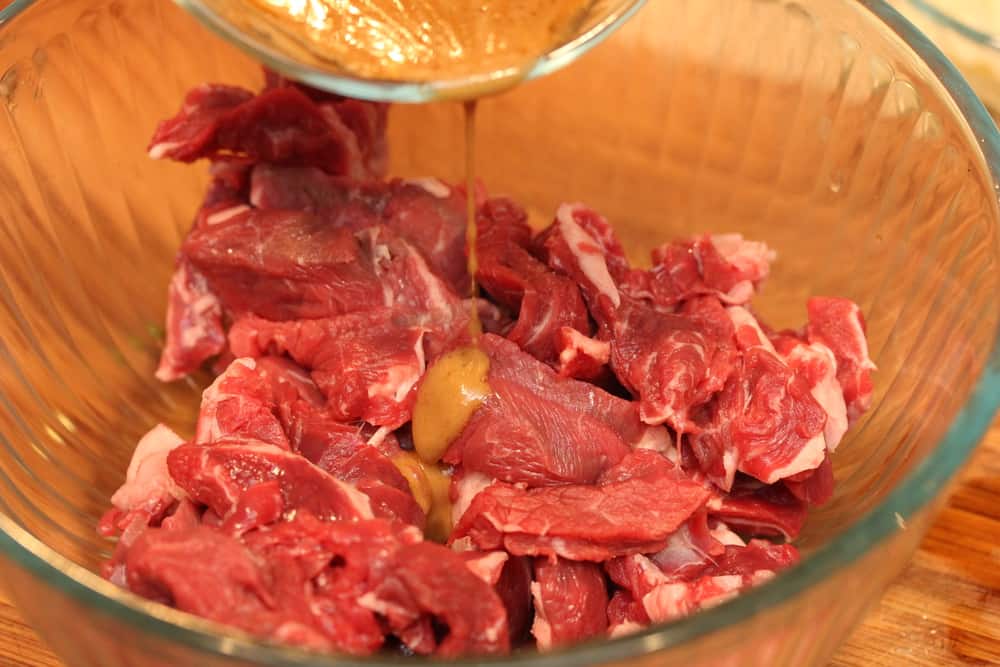 STIR-FRY IN A WOK OR SKILLET
We love using our wok to make this classic dish.
But no worries if you don't have a wok! A large sturdy skillet or pan will work just fine.
Start with the beef and then add the broccoli and finally stir in the softened noodles.
You can lighten this recipe up and go with sautéed shrimp, too. If you like this dish, you'll probably love our Pork Dumplings in Peanut Sauce!
No matter what…this dish is favorite, for sure! So comforting and delicious!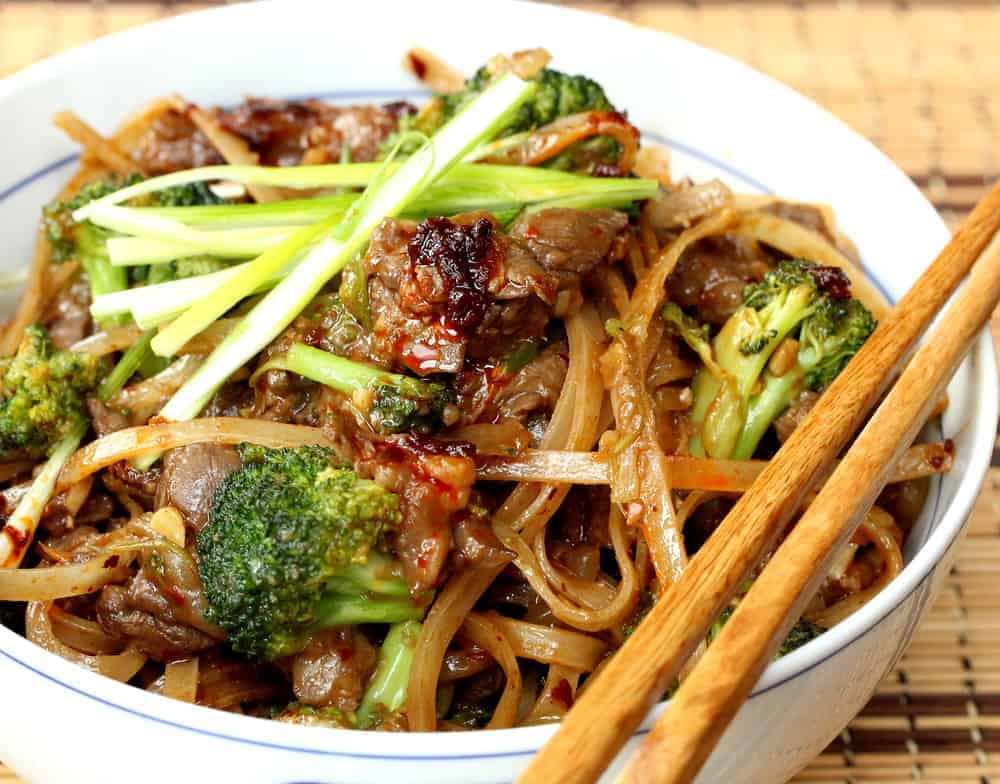 Beef and Broccoli Chow Fun
This Beef and Broccoli Chow Fun is Chinese comfort at its best! You may need to make a quick trip to your Asian market to get an item or two, but check you local supermarket...now days...they carry extensive Asian food products. Go with the wide rice noodles (for Pad Thai)...this is so satisfyingly good!
Print
Pin
Rate
Servings: 4 people
Calories: 396kcal
Ingredients
12 oz flank steak
1 tbsp soy sauce
2 tbsp Shaoxing wine Chinese rice wine
2 tsp cornstarch
2 tsp dark sesame oil
1 tsp dark brown sugar
8 oz dried wide rice noodles
2 tbsp oyster sauce
1 tbsp black bean sauce
3 tbsp peanut oil or vegetable oil
2 garlic cloves minced
2 tsp fresh ginger minced
1 medium yellow onion thinly sliced
1 cup small broccoli florets
3 scallions cut into 1-inch slivers (white and green parts)
Instructions
Slice the flank steak into 1/4-inch thick pieces, about 2 inches long.

In a medium bowl, whisk the soy sauce, 1 tablespoon of the rice wine, the cornstarch, 1 teaspoon of the sesame oil, and brown sugar, until starch and sugar are dissolved.

Pour over the flank steak and turn to coat. Let stand for 20 minutes to 2 hours.

Meanwhile, bring 4 cups water to a boil, then remove from heat. Add the rice noodles, and stir occasionally, until they are tender. About 25 minutes.

Drain the noodles, rinse under cold water, drain again, and toss with the remaining 1 teaspoon sesame oil.

Next, make the sauce by whisking together in a small bowl the oyster sauce, black bean sauce, 1 tablespoon water, and the remaining 1 tablespoon rice wine. Set aside.

Heat a large wok (or skillet) over medium-high heat.

Add 1 tablespoon of the peanut oil and swirl to coat the bottom and sides of the wok.

Add the flank steak and the marinade. Cook until starting to brown, about 2 - 3 minutes.

Add the garlic and ginger, and stir-fry until steak is just no longer pink, about another 1 -2 minutes more.

Transfer the mixture to a platter and wipe out the wok with paper towels.

Return the wok to medium-high heat. Add the remaining 2 tablespoons peanut oil to the wok and swirl as before.

Add the onion and cook, without stirring, until browned on the edges, about 2 minutes.

Add the broccoli and scallions and stir-fry until the broccoli is crisp-tender, about 2 minutes.

Add the rice noodles and steak mixture and stir-fry until the noodles are hot, about another 1 - 2 minutes.

Add the sauce mixture and stir until the noodles are coated.

Transfer to a platter and serve.
Nutrition
Calories: 396kcal