This recipe is classic Chinese, and we honestly believe it's better than take-out!
This dish originated in the Szechuan (Sichuan) Province of China and traditionally carries some heat…but trust us: it's a good heat! We'll take you through the steps for making this iconic dish in your very own home, and it comes together in about 30 minutes! And if you like this dish, you'd also enjoy or Shrimp Pad Thai, Mongolian Beef, or General Tso's Chicken!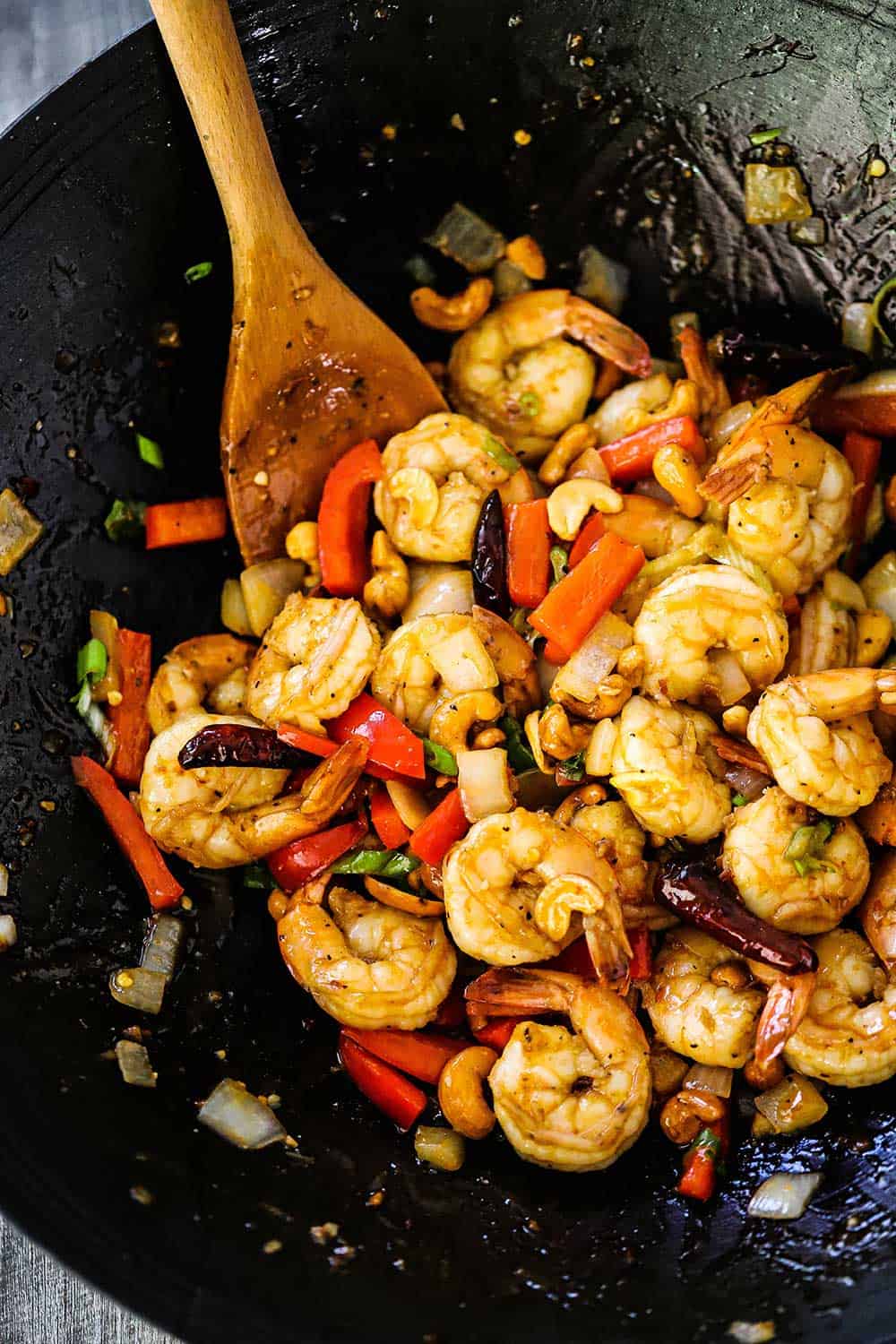 How To Make Kung Pao Shrimp
This dish is truly not difficult to make at all.
A pinch of Szechuan Peppercorn Powder gives the dish that classic taste and can easily be ordered online.
The dish comes together very quickly, so be sure to have everything prepped and ready to go before you fire up your wok (or skillet)!.
Tips for Successful Stir-Frying
After you've mixed together all of the components of the kung pao sauce, it's time to fire up your wok.
Crank the heat up as high as it will go and add the oil. In less than a minute, the oil should be shimmering and just beginning to slightly smoke.
Now, carefully toss in the peppers. NOTE: We use dried arbol chili peppers which can be found in the Asian section and often the Hispanic section of most well-stocked supermarkets. Or, you can order them online.
We love using our wok to quickly stir-fry the vegetables and shrimp. If you don't have a wok, no worries! This can easily be prepared in a nice large skillet.
Cook the peppers for about 1 minute, and then add the garlic and cook for about 10 seconds. Not long! Don't let them burn! And use a wooden spoon to stir all ingredients constantly.
EXPERT TIP: Be sure to have all of your ingredients prepped and ready to go because the dish comes together very quickly.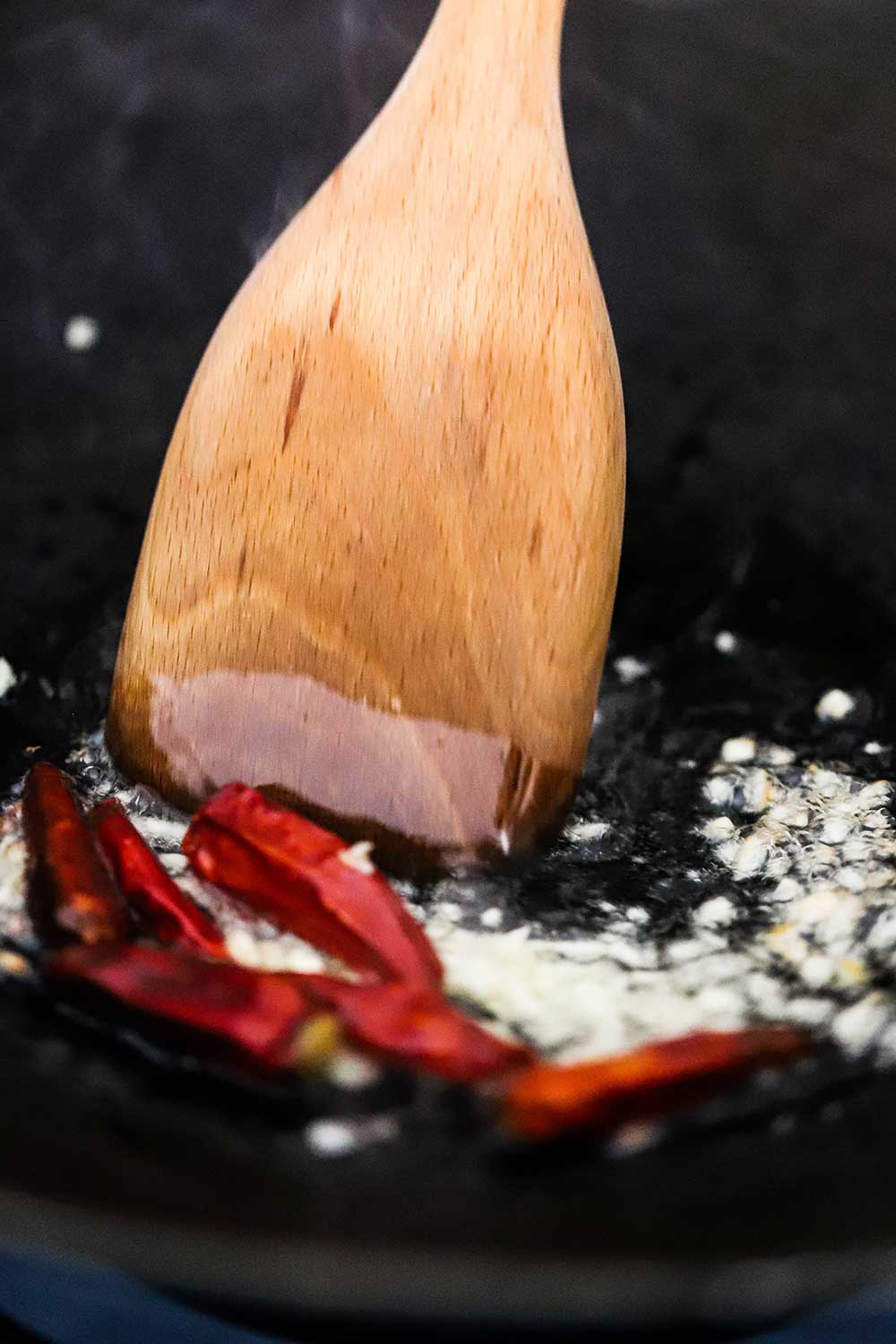 How to Cook Shrimp in a Wok
Now, it's time to add the shrimp that has been seasoned with salt and pepper.
All you need to do is to toss them in the hot wok and cook until the shrimp is nice and pink and curled.
Stir continuously to make all of the shrimp is cooking evenly. This process will take about 2 to 3 minutes. Be sure not to overcook the shrimp, or they will become rubbery!
EXPERT TIP: We go with extra-large shrimp (26/30). After removing the shells and deveining the shrimp, it's up to you if you want to leave the tails on or not. They make for a beautiful dish with the tails on, but sometimes, it's easier to dig into a plate full of the dish when no tails are present. That's a matter of taste. We like it both ways, and just depends on our mood if go with tail or not!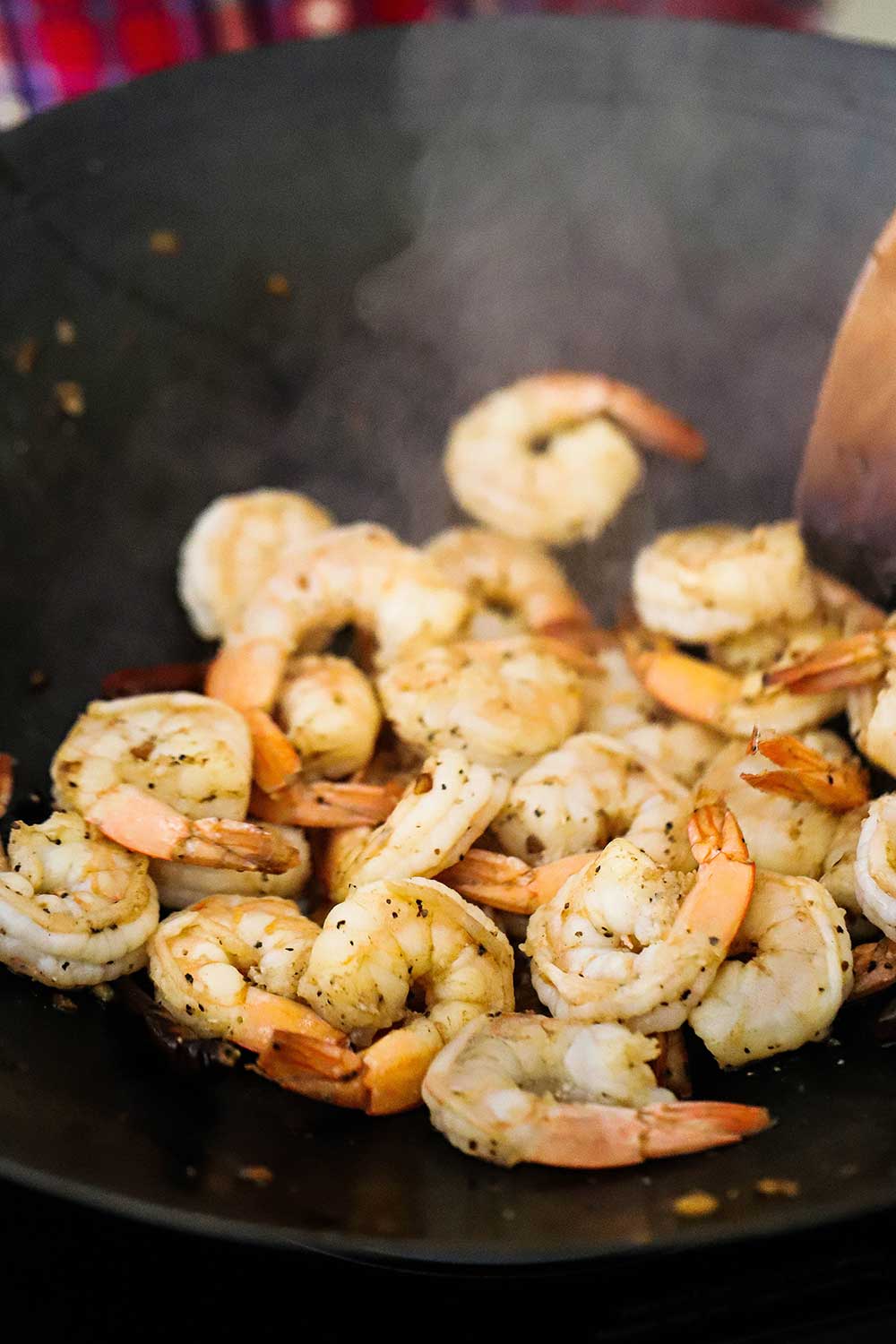 Now, it's time to add the onion, red bell pepper, and cashews.
Roasted peanuts are commonly used in Kung Pao Shrimp, but we love the taste of whole roasted cashews.
Stir until the veggies are starting to soften, only about 1 to 2 minutes!
Once you pour in the sauce, your senses will be getting very excited.
Stir for about 1 minute.
EXPERT TIP: The corn starch slurry that you made for the sauce will cause the sauce to thicken slightly in the wok and coat the shrimp and vegetables in that classic Chinese cuisine manner. So good!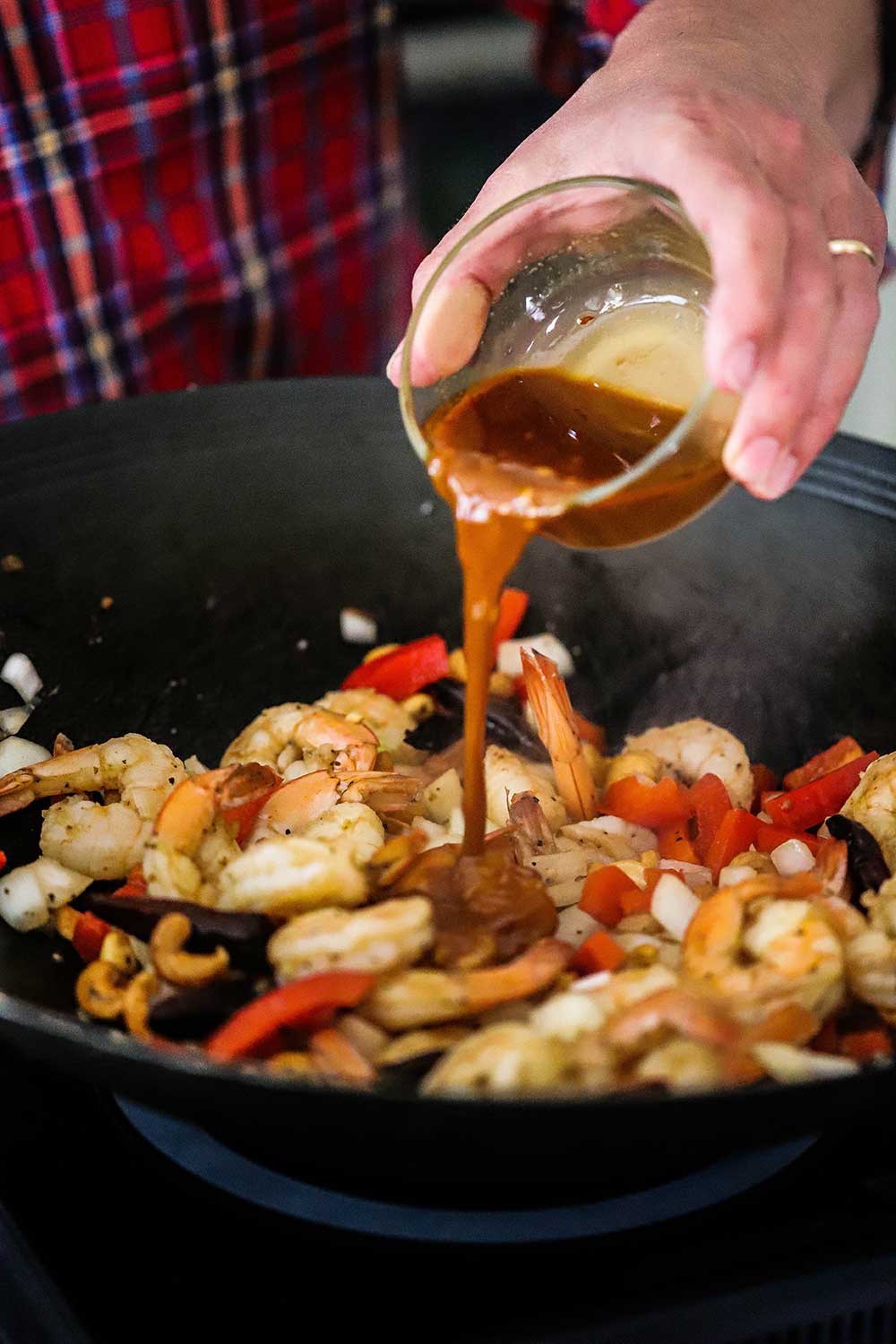 How To Serve Kung Pao Shrimp
The mixture can be transferred to a large platter to serve at the table. If serving directly from the wok, but sure to have a way of securing the wok from wobbling. A wok ring can help here and can be found online.
We love serving the dish with our Perfect Steamed Rice. It's nice to have a little extra soy sauce available for guests who would like a little more sprinkled on top.
EXPERT TIP: You can easily substitute chicken, pork, or steak for the shrimp. Cubed tofu is a great option, too. Cut the protein into small bite-size pieces and increase the cooking time by a few minutes to ensure the meat is fully cooked.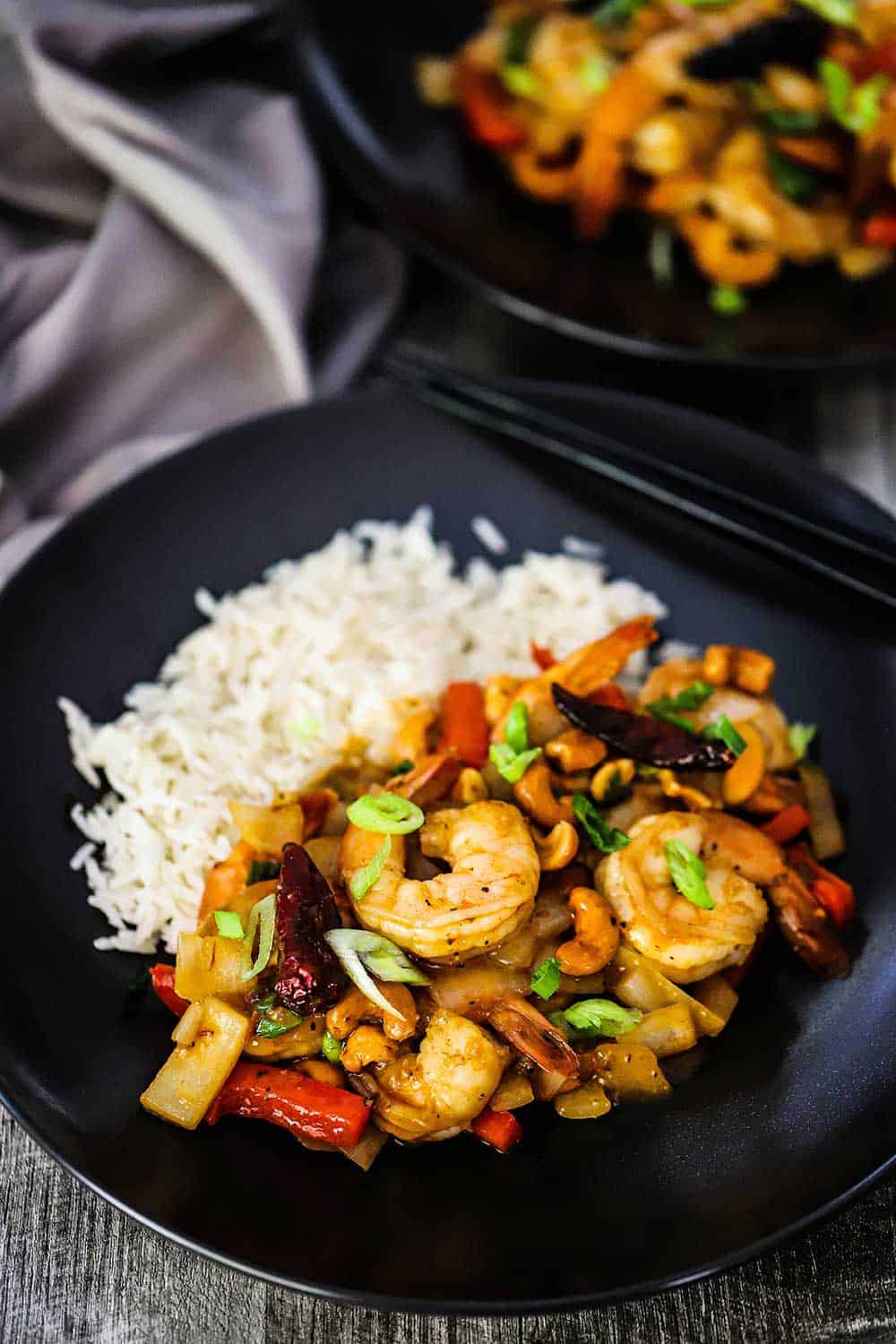 Kung Pao is truly one of our all-time favorite Chinese dishes of all time.
Increase (or decrease) the heat/spice level by adding more or less of the garlic chili sauce and Szechaun peppercorn powder.
After just one bite, you won't believe you made a "better than take-out" authentic Chinese dish in your very own kitchen!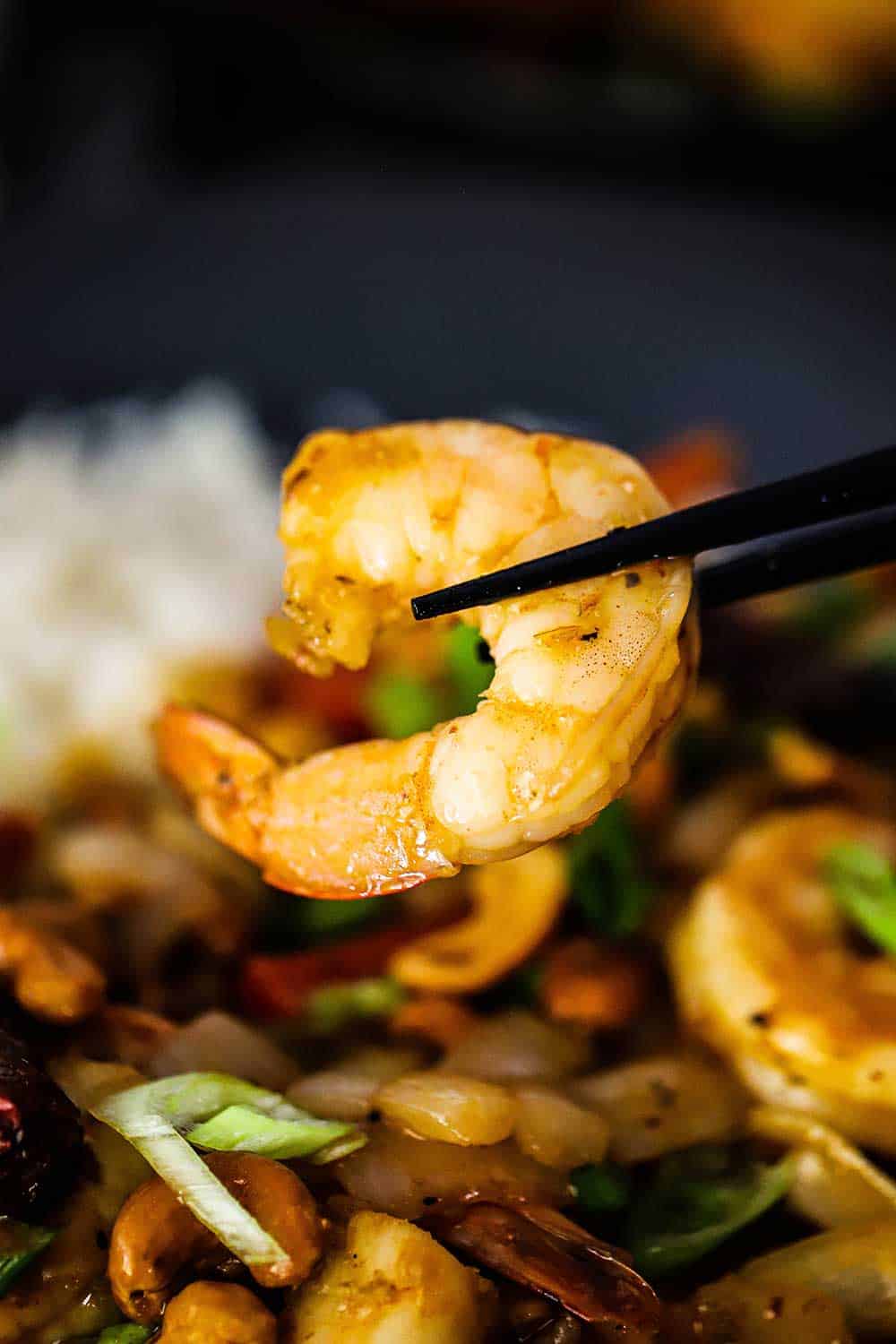 Ready to make an iconic Chinese dish that will rival your favorite take-out place? Go for it!
And when you do, be sure to take a photo of it, post it on Instagram, and tag @HowToFeedaLoon and hashtag #HowToFeedaLoon!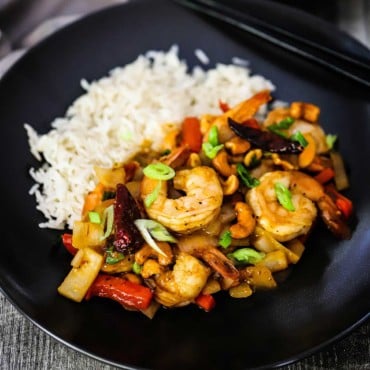 Kung Pao Shrimp
This Kung Pao Shrimp is a little spicy, a little sweet, and a whole lot of yummy. Shrimp, chilis, garlic, cashews, and Szechuan peppercorn powder (easily ordered online) make this dish come to life. Serve over rice. So amazingly good! You can cook this in a wok, or a large skillet.
Print
Pin
Rate
Servings: 4 people
Calories: 237kcal
Ingredients
FOR THE SAUCE
FOR THE SHRIMP
1 lb extra-large shrimp peeled and deveined
Salt and pepper
2 tbsp vegetable oil
6 dried red peppers arbol peppers work well
3 cloves garlic minced
1 cup onion roughly chopped
1 red bell pepper stemmed, seeded and cut into 1/2-inch pieces
½ cup cashews whole, roasted
3 scallions sliced into thin pieces, divided
1 tbsp Szechuan peppercorn powder optional (but really good)
Instructions
Whisk all the sauce ingredients together in a small bowl and set aside.

Season the shrimp with salt and pepper all over.

Heat the oil over high heat in your wok or a large sturdy skillet.

Add the chilis and cook for 1 minute. Toss in the garlic and cook for 15 to 30 seconds, stirring constantly with a wooden spoon.

Add the shrimp and cook, stirring frequently, until pink and curled, about 2 to 4 minutes.

Add the onion, bell peppers, and cashews and stir, cooking for another 2 minutes.

Pour in the sauce, stirring continuously, and cook for another 1 to 2 minutes, until the sauce is slightly thickened.

Turn off the heat and stir in half of the scallions and a pinch of the peppercorn powder (add a little, taste, and add more if you want more spice).

Serve with steamed rice and the remaining scallions for garnish.
Notes
Mise en Place is super important here. This means to be sure and have everything prepped and ready to go before you start cooking! The dish comes together very quickly and you won't have time to stop and chop or run to the pantry! Chicken, pork, steak, or tofu can be substituted for shrimp. Cut into bite-size pieces and cook as you would the shrimp, however, you'll need to add more time when sautéing, as they will not cook through as quickly as shrimp does. The Szechuan peppercorn powder is not 100% necessary, and the dish is still delicious without it. However, it does add the desirable 'slow heat' taste that is so distinct in Szechaun dishes. It can be ordered online or found at Asian markets. The sauce heats up nicely the next day in a skillet over low heat. Keep leftovers in an air-tight container in the fridge for up to 5 days.
Nutrition
Calories: 237kcal | Carbohydrates: 17g | Protein: 5g | Fat: 15g | Saturated Fat: 6g | Cholesterol: 4mg | Sodium: 487mg | Potassium: 280mg | Fiber: 2g | Sugar: 7g | Vitamin A: 1023IU | Vitamin C: 44mg | Calcium: 33mg | Iron: 2mg
POST UPDATE: This recipe was originally published in March 2015, but was updated with improved tweaks to the recipe with new tips and photography, and a fabulous new video in April 2021!