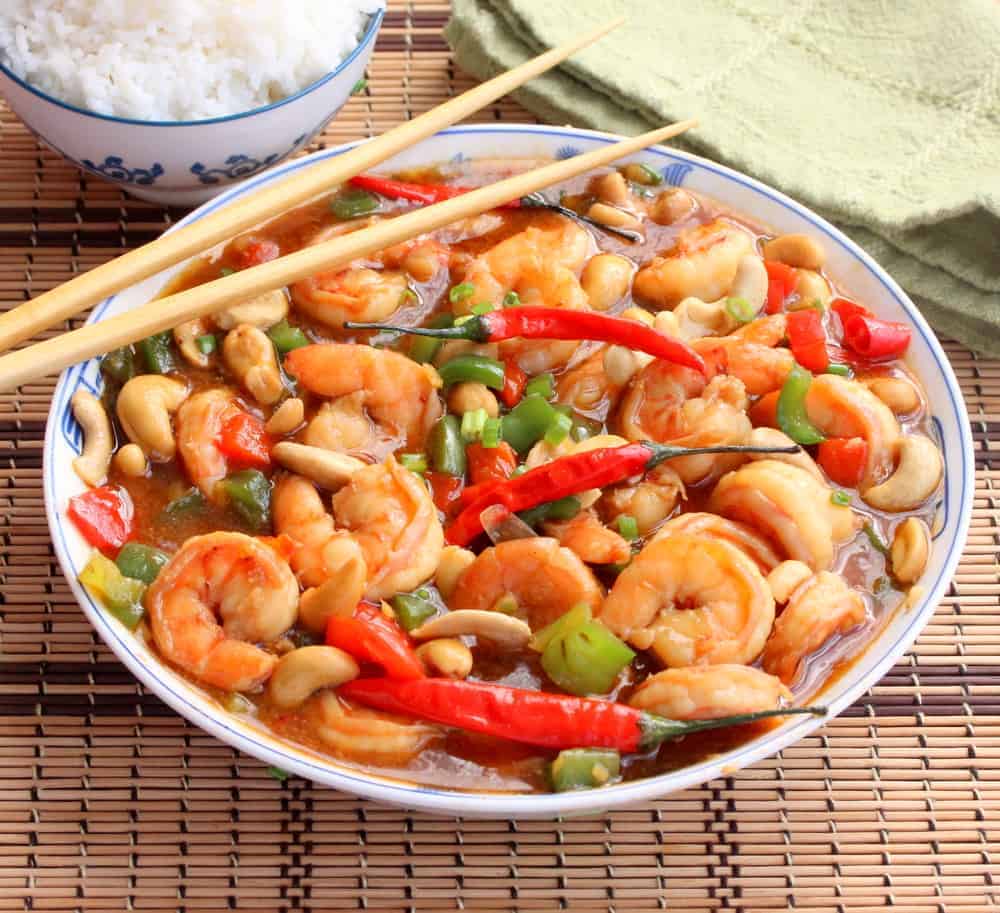 Both the Loon and I love Chinese food so much.  As kids, we weren't exposed to really good Chinese cuisine very much, me growing up in Texas and he in South Dakota.  (That's changed, at least in Texas…where you can now find amazing Asian cuisine).   But when we moved to New York City in the late 80s, we found a whole new world of Chinese cuisine (read The Loon Log: Fried Rice and Free Wine).
I just love shrimp and I love peanuts, so naturally, Kung Pao Shrimp would be a dish I ordered a lot.  As I studied recipes over the years, I learned that it's not a hard dish to make.  There are a few items that I think really help this dish sing…I love Chinese black vinegar, but that can be hard to find unless you have a nice Asian food market near by.  If not, you can mix balsamic vinegar with red wine vinegar for a similar taste.  If you can't find Chinese rice wine, just use a nice dry Sherry.  This is one of those comforting Chinese dishes that combines a little heat with a little sweetness.   Serve with nice sticky white rice.   Just so good!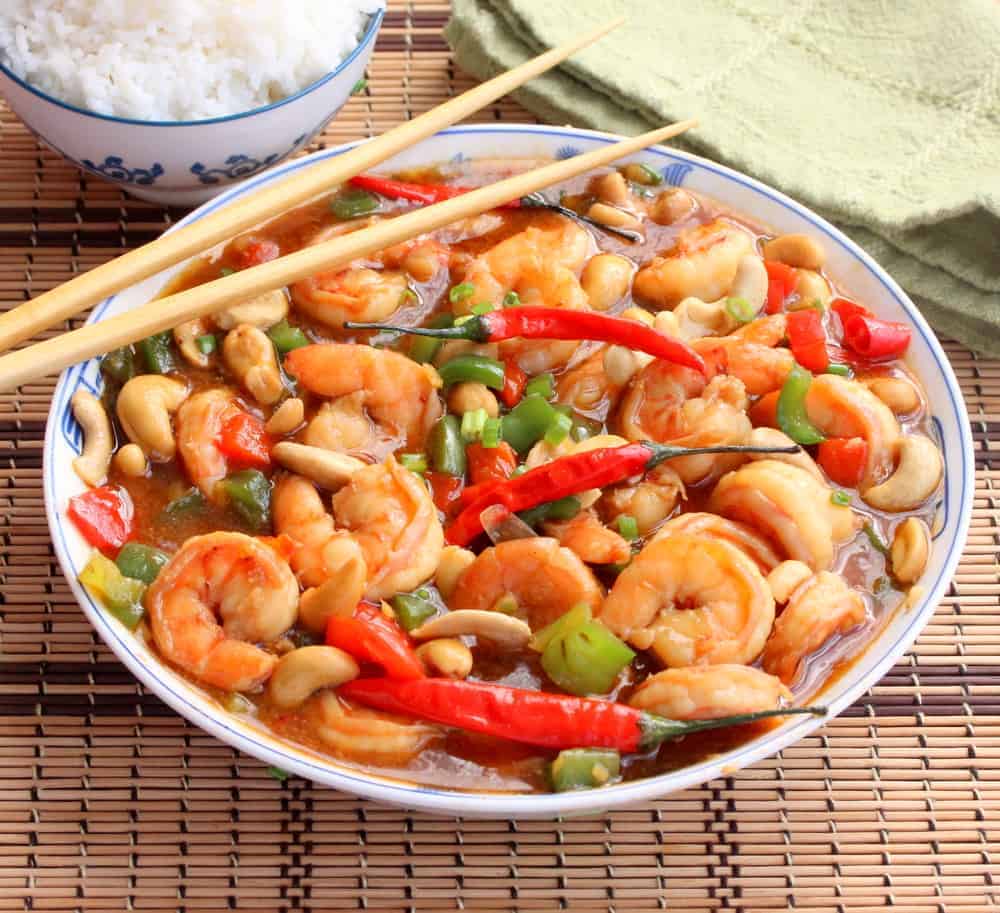 Kung Pao Shrimp
This Kung Pao Shrimp is a little spicy, a little sweet, and whole lot of yummy. Shrimp, peanuts, garlic, ginger and peppers make this dish come to life. Serve over rice. So amazingly good! You can cook this in a wok, or a large skillet.
Print
Pin
Rate
Prep Time: 15 minutes
Cook Time: 8 minutes
Total Time: 23 minutes
Servings: 4 people
Calories: 268kcal
Ingredients
FOR THE SAUCE
3/4 cup chicken stock
1 tbsp oyster sauce
1 tbsp hoisin sauce
2 tsp Chinese black vinegar
2 tsp sesame oil
1 1/2 tsp corn starch
FOR THE SHRIMP
1 lb extra-large shrimp peeled and deveined
1 tbsp Chinese rice wine or dry sherry
2 tsp soy sauce
3 tbsp vegetable oil
3 garlic cloves minced
2 tsp fresh ginger finely chopped
1/2 cup dry-roasted peanuts
6 - 8 hot red peppers arbol peppers work well
1 red bell pepper stemmed, seeded and cut into 1/2-inch pieces
3 scallions sliced into thin pieces
Instructions
Whisk all the sauce ingredients together in a small bowl and set aside.

Toss shrimp with rice wine and soy sauce in medium-sized bowl and let marinate for 10 minutes.

Meanwhile, in a small bowl, combine 1 tablespoon of the oil, the garlic and the ginger...stir and set aside.

In another small bowl, combine peanuts and hot peppers, set aside.

Heat 1 tablespoon of oil in a wok, or a large skillet, until hot, just smoking.

Add shrimp, and cook, stirring frequently, until barely opaque...about 40 seconds.

Add peanut mixture and cook until shrimp are completely opaque and slightly darker, about another 40 seconds. Transfer mixture to a clean bowl.

Heat remaining 1 tablespoon of oil over high heat, until just smoking.

Add bell pepper, and cook until just softened, about 1 minute.

Push bell pepper to the side of the pan and add the garlic to the center of the pan. Mash the garlic some with the back of a wooden spoon, and cook until fragrant, about 15 seconds.

Stir the garlic into the bell pepper.

Add the shrimp mixture back into the pan and incorporate.

Give the remaining sauce a stir with a whisk, to recombine, and then pour into the pan and cook, scraping up any browned bits, until slightly syrupy, about 1 minute longer.

Stir in scallions and serve at once!
Nutrition
Calories: 268kcal