This post is sponsored by The Spice Hunter and includes tracking links. For more information about tracking links and how to opt-out, please visit All About Do Not Track prior to clicking any links found in this post.
Authentic Shrimp Pad Thai is really quite easy to prepare! But that doesn't mean it comes up short on taste!
It is so satisfyingly delicious. Although it's not hard to make, it is very authentic and is ready in about 30 to 40 minutes! You can make this in your wok or a large skillet!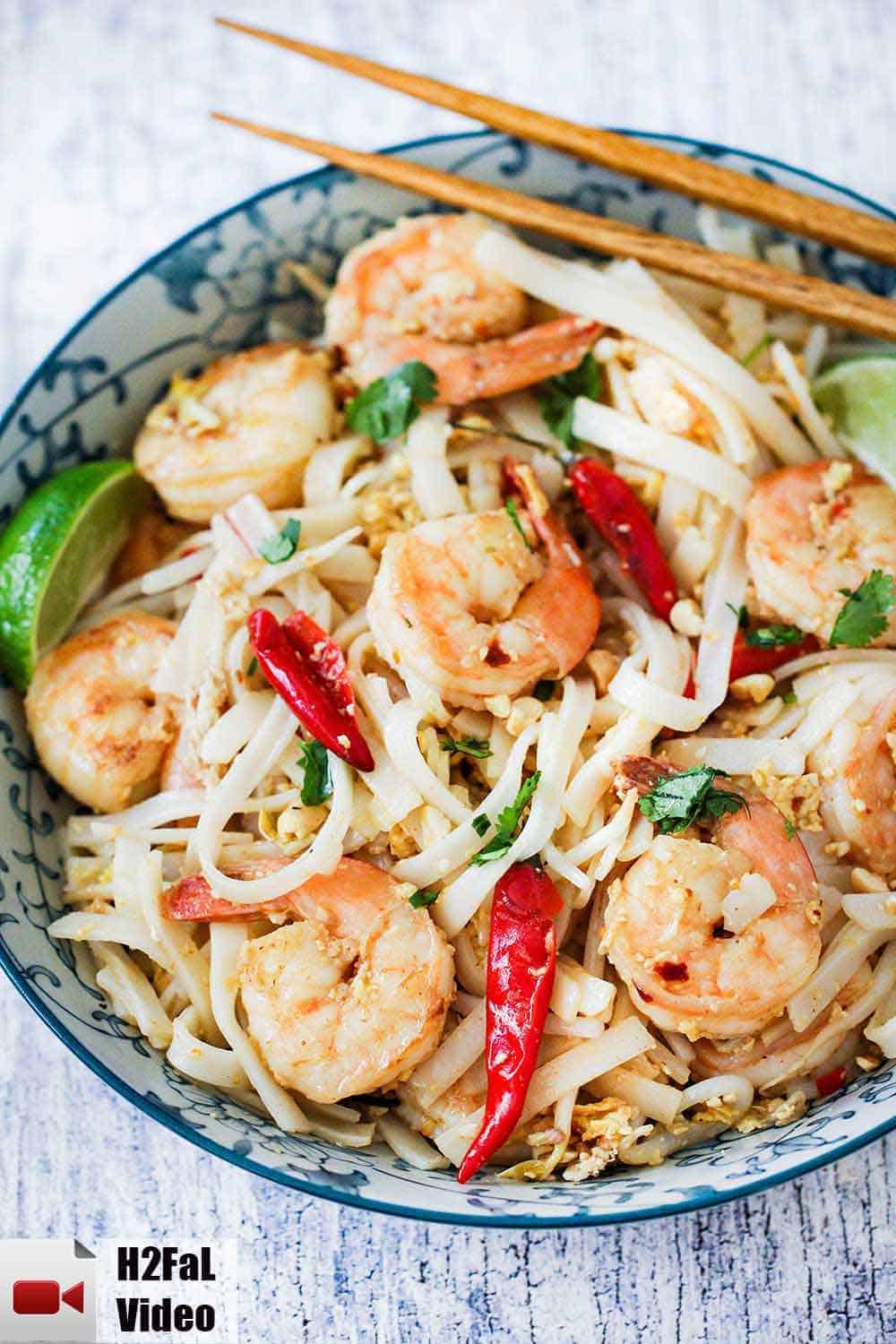 HOW TO MAKE AUTHENTIC SHRIMP PAD THAI
Authentic Shrimp Pad Thai is loaded with classic Thai flavor and we've got a few tricks to show you how to make this iconic dish in your own kitchen.
And, because you're cooking shrimp, the entire dish comes together quickly, typically in about 30 minutes at most.
Watch us show you how easy it is to make at home!
PREPARING THE THAI NOODLES
The traditional noodle for Pad Thai is wide rice noodles. They are about as wide as linguine noodles.
Rice noodles are now found in the Asian section of most well-stocked supermarkets, or you can order them online.
EXPERT TIP: The best way to prepare the noodles is to bring a pot of water to boil, and then turn the heat off. Lower the dried noodles in the water and immediately give them a stir to make sure they are not sticking to each other. After 20 to 25 minutes, pull one out of the water (carefully, the water will still be hot), and taste for texture. Once they are ready, drain and set aside.
AUTHENTIC SHRIMP PAD THAI SEASONING
Getting the perfect and authentic pad Thai taste is not hard to achieve. You first need to create the sauce which is a combination of tamarind paste, fish sauce, rice vinegar, soy sauce, and dark brown sugar.
To truly deepen the Thai flavor profile, we use Thai Seasoning Blend from our all-time favorite spice manufacturer in the world: The Spice Hunter. This Thai Seasoning Blend is chock full of sesame seeds, chile pepper, coriander, onion, red pepper, shrimp extract, garlic, cinnamon, nutmeg and lemon oil. We appreciate that all of The Spice Hunter's spices are also Non-GMO Project Verified and contain no artificial flavors or preservatives. Simply the best.
EXPERT TIP: Tamarind is very common in Thai cooking. You can find tamarind paste in the Asian section of many well-stocked supermarkets, or in Asian food markets, or online. See how to make tamarind paste at home in the NOTES section of the recipe card.
BUILDING THE DISH
We use our wok for quickly stir-frying this Authentic Shrimp Pad Thai. If you don't have a wok, don't fret! You can, by all means, use a nice large sturdy skillet. When using a wok, we HIGHLY recommend using a wok ring to secure your wok in place.
Crank the heat on high and add the oil. Be careful when adding ingredients to the hot oil, they may pop and sizzle!
We start with a quick-fry of the garlic and minced, seeded Thai red peppers, as well as a small handful of whole peppers. Next, we add the shrimp and some chicken (or vegetable) stock and sauté until the shrimp are bright pink. Then we use our wooden spatula to push everything to one side in the wok, and then we add the two eggs and scramble.
EXPERT TIP: Thai green peppers can be found in specialty food shops, such as Whole Foods, or at your local Asian market. You can certainly substitute them with Serrano peppers, too. Removing the seeds and the ribs of the diced peppers will reduce the spiciness of the final dish.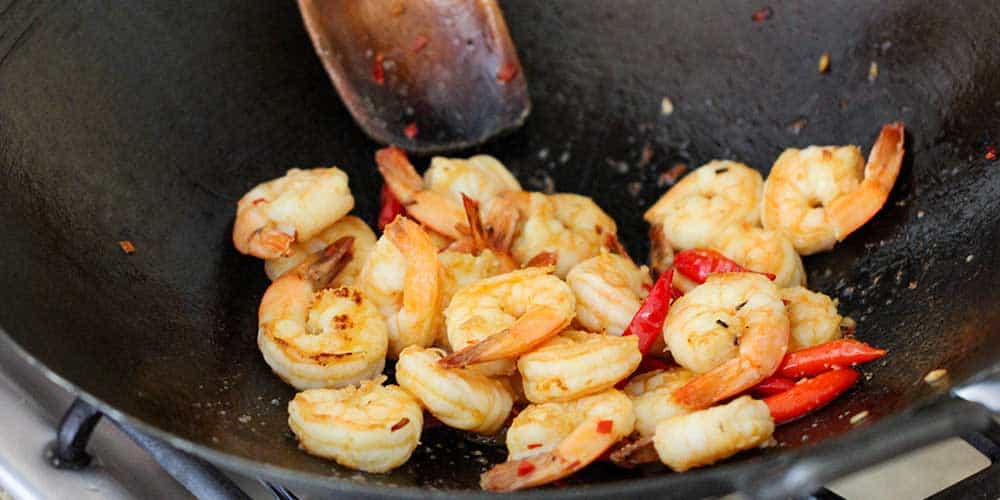 Next goes in the softened noodles and then tamarind sauce.
Stir-fry for a few minutes and add a little more oil if noodles are sticking to the wok.
Finally, stir in the bean sprouts.
AUTHENTIC SHRIMP PAD FAQs
What do you serve with Shrimp Pad Thai? Traditional garnishes for the dish include sliced lime, chopped peanuts, fresh cilantro, and another few sprinkles of The Spice Hunter's Thai Seasoning.
What about replacing the shrimp with chicken or beef strips? Of course! Use boneless chicken or ribeye steak, cut into strips and stir-fry in the wok until sufficiently cooked.
Can I use a different type of noodle? Yes, rice noodles are traditional, but you could use any kind of Asian noodle, and be just fine. In a pinch, you could substitute cooked linguine or fettuccine.
Is Shrimp Pad Thai spicy? That depends on how many peppers you add. We use a combination of seeded and chopped peppers along with whole peppers. This produces a mildly spicy dish. Leave the seeds in for more spice, and for even more heat, add in chili oil, which can be found in the Asian section of most supermarkets, or at an Asian market.
Can this be made in advance? This is one of those dishes that we believe is best served fresh. Leftovers are still good, but it's really best when eaten right when it comes together.
THE SPICE HUNTER'S COMMITMENT TO QUALITY
There's a reason we turn to The Spice Hunter's vast array of spices and blends. They're really good. This is due, in part, because they source their herbs and spices from the finest growing regions around the world.
We believe they resonate with passionate cooks because they are innovative, sophisticated, authentic, original…and quite honestly just make your dishes better!
All of their products are available for sale on their website or to find a store near you, click here. Be sure to sign up for The Spice Hunter's emails to receive coupons and recipe inspiration throughout the year!
SPECIAL OFFER: Recieve 15% off all orders on Spicehunter.com (excludes branded merchandise) through 12/31/19 with code HOLIDAYSPICE19
We're not kidding when we tell you that this Authentic Shrimp Pad Thai is one of our most favorite dishes to prepare of all time.
We love serving this for friends and family year-round because it's always such a hit.
But, it's also great to serve during the holiday season for something new, different, and delicious.
Okay! Now go make this amazing Shrimp Pad Thai recipe! You'll be so glad you did!!
And when you make it, be sure to take a picture of it, post it on Instagram, and tag @howtofeedaloon and @thespicehunter!
Authentic Shrimp Pad Thai
This Authentic Shrimp Pad Thai is packed with flavor that is true to Thai cuisine. See NOTES on how to make tamarind paste at home.
Print
Pin
Rate
Servings: 4 people
Calories: 604kcal
Equipment
Wok (with wok ring), or large sturdy skillet
Ingredients
5 oz rice noodles linguine width
2 tbsp tamarind paste
3 tbsp fish sauce
3 tbsp rice vinegar
3 tbsp soy sauce
1 tbsp brown sugar dark
1 tbsp Thai seasoning
4 tbsp canola oil for stir frying
3 cloves garlic minced
6 red chilies leave 4 whole, mince the other 2, removing seeds
1 lb shrimp large, cleaned (shells removed and deveined)
3 tbsp chicken stock
2 eggs
2 cups bean sprouts
½ cup roasted peanuts roughly ground, for garnish
¼ cup cilantro chopped, for garnish
1 lime cut into wedges, for garnish
Instructions
Bring a large pot of water to a boil and then remove from heat.

Lower in rice noodles, immediately stirring to keep them from sticking. Soak them for 20 to 25 minutes, or until soft enough to eat. Stir a couple times while soaking.

Drain and rinse noodles with cold water. Set aside.

Mix together the tamarind paste, fish sauce, vinegar, soy sauce, and brown sugar, stirring to dissolve the sugar. Mix in the Thai seasoning. Set aside.

Heat your wok over high heat and carefully add 2 tablespoons oil. (Stand back, it may splatter).

Add the garlic and chilies (both the minced and whole ones) and stir-fry 1 minute. (Still stand back, they may also pop and splatter).

Add the shrimp and stir-fry 2 to 4 minutes more, or until shrimp are completely pink. While the shrimp are cooking, add a little chicken (or vegetable) stock, 1 tablespoon at a time to keep everything frying evenly.

Push the ingredients to one side, and add 1 more tablespoon of the oil to the center of the wok.

Crack the eggs into the open space of the wok and quickly stir-fry until scrambled.

Mix in the drained noodles and the tamarind mixture.

Use tongs to stir-fry the noodles for 3 minutes. If the noodles are sticking to the wok, add a little more oil.

Add the bean sprouts, stir-fry for about a minute.

Remove wok from heat and taste the noodles, adding more fish sauce, if desired.

Top with roughly chopped peanuts, and garnish with cilantro, lime wedges, and another sprinkle or two of the Thai seasoning. Serve at once.
Notes
Rice noodles, tamarind paste, fish sauce and rice vinegar can be found in the Asian section of many well-stocked supermarkets, or at an Asian food market, or online. See below for how to make homemade tamarind paste.
Red (or green) Thai peppers can be found in gourmet/specialty markets, such as Whole Foods, or at Asian food markets. You can substitute Serrano peppers. For the minced peppers, be sure to remove the seeds and ribs, unless extra heat is desired. For more heat, the addition of 1 to 2 tbsp of chili oil can be stirred in when stir-frying the noodles.
We highly recommend using a wok ring for securing your wok when cooking with it on your stove. See post for link to order one online.
HOW TO MAKE TAMARIND FROM SCRATCH: You'll need to start with a package of wet tamarind, which can found at Asian markets or ordered online. Pinch off pieces of the tamarind and place in a large bowl. We use half of a 14 oz. package. Pour hot water over the tamarind. Once the water is cooled off enough for you to submerge your hands in it, use your fingers to start to dissolve the tamarind into the water. Work the flesh away from the rinds. And swirl until completely dissolved and the liquid is thickened. Strain through a medium-mesh sieve (too fine of a sieve won't allow the paste to pass through). At this point, the paste is good to use immediately, or you can keep in the refrigerator for up to 2 days, or freeze for up to 2 months.
Nutrition
Calories: 604kcal | Carbohydrates: 54g | Protein: 38g | Fat: 14g | Saturated Fat: 3g | Cholesterol: 368mg | Sodium: 2900mg | Potassium: 724mg | Fiber: 5g | Sugar: 15g | Vitamin A: 829IU | Vitamin C: 115mg | Calcium: 242mg | Iron: 5mg