Looking for a new, fun, and delicious fall treat this year? Look no further, friends!

These sweet treats are an absolute gem. They are loaded with amazing pumpkin flavor and you won't believe how easy they are to prepare. The kids will flip for them (and the adults, too!).


NOTE: If you liked this video, please subscribe to our YouTube channel! And remember to click the little 'bell' icon so you won't ever miss a new video. Thank you!
How To Make Pumpkin Whoopie Pies
There is some controversy over the origins of the infamous whoopie pie, but that doesn't really matter here, does it?
All we know is that they are delicious and surprisingly to make!
In celebration of fall and Halloween, we're going with a pumpkin version! Whoopie!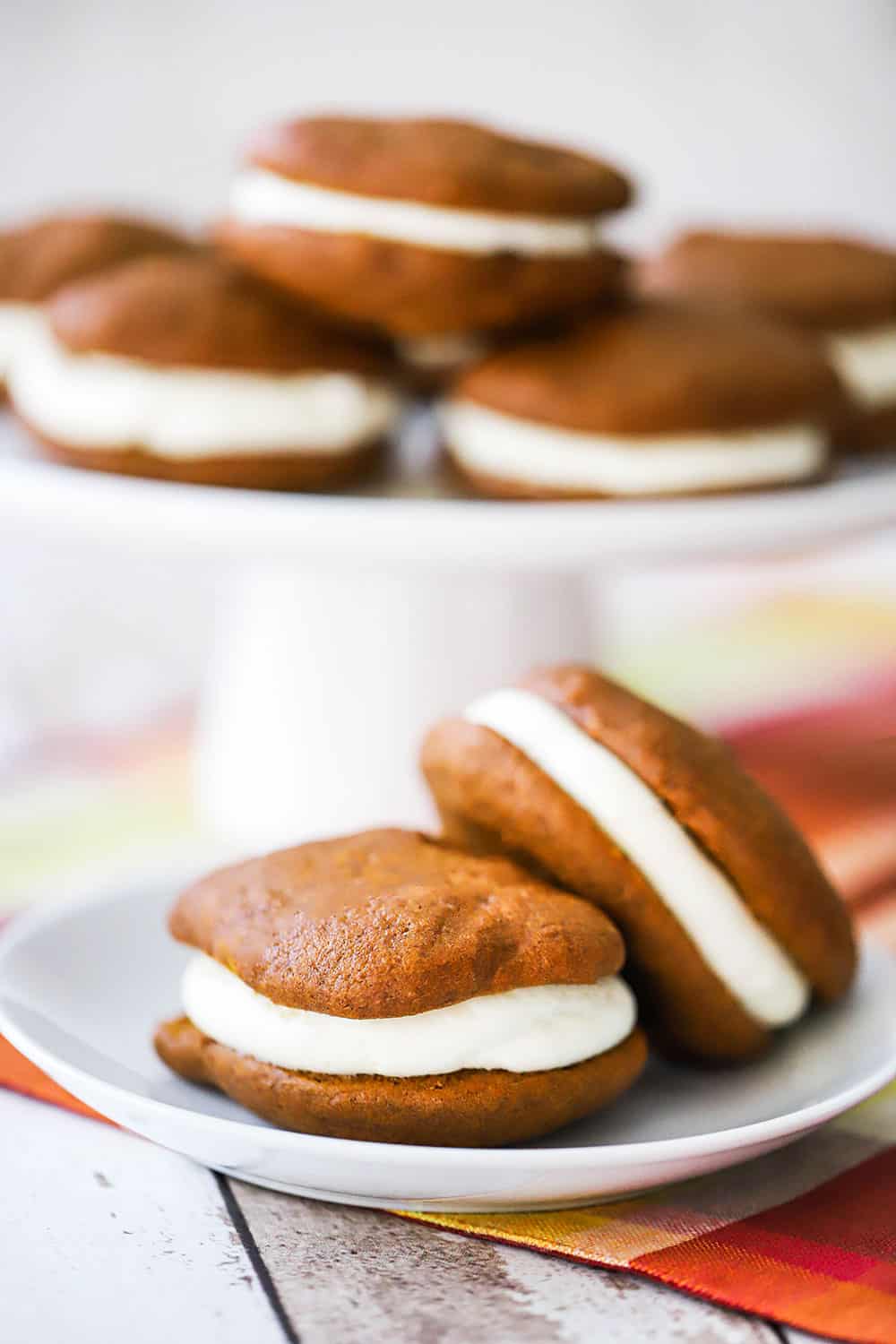 The Ingredients You Will Need
These wonderful sweet treats don't require a large number of ingredients, many of them, you will already have on hand.
For the cookies (which are almost like little cakes), you'll need:
All-purpose flour
Baking powder and baking soda
Salt
Pumpkin pie spice
Light brown sugar
Pure pumpkin purée
Egg (1)
Vanilla extract
For the filling, you'll need:
Unsalted butter, room temperature
Cream cheese, room temperature
Confectioners' sugar (aka Powdered sugar)
Vanilla extract
EXPERT TIP: If you can't find pumpkin pie spice, simply mix together 1 tbsp ground cinnamon, 2 tsp ground nutmeg, and 2 tsp ground cloves.
After mixing the wet ingredients for the batter, whisk in the flour in increments until fully incorporated. The dough will be wet and a little sticky to the touch.
Baking and Assembling the Pies
Once the batter comes together, line two baking sheets with parchment paper.
Add about 1½ to 2 tbsp of the dough to the parchment paper. Use a spoon to spread it to about 2 inches in diameter.
Bake for just 15 minutes, switching out the baking pans about halfway through.
Let cool, and then ice the bottom sides of half of the cookies/pies.
EXPERT TIP: Be sure to let the cookies bake for the full 15 minutes. These cookies really are little pies, and if they are undercooked, they'll be wet and stick to each other and the platter you serve them on.
When and How To Serve Pumpkin Whoopie Pies
These make absolutely the best gifts. Pick up some fun fall or Halloween plastic wrap from your local craft store, and then wrap several of these up and loosely tie them with string.
The pies will keep for several days unrefrigerated, or up to 1 week close in the fridge (but trust us, they'll never last that long!).
These are pretty filling, so they make a wonderful dessert. Or, an extra-special after-school sweet treat snack.
Other Pumpkin/Fall Baked Goods
Pumpkin and Butterscotch Bread
Classic Pumpkin Pie
Pressure Cooker Pumpkin Bread Pudding
Classic Pecan Pie
Cream Cheese Apple Bars with Pecan Streusel
Baked Brie with Pecan Sauce
In the meantime, you need to get your hands on this delectable fall treat!
We can say, without hesitation, that these have truly become an all-time favorite in our house.
If you want to give these out as gifts, the recipe can easily be doubled, even tripled.
Once your loved ones take that first bite, get ready for a big "Whoopie!"
Ready to make the best Halloween treat this side of the great pumpkin patch? Go for it!
And when you do, be sure to take a photo of them, post it on Instagram, and tag @HowToFeedaLoon and hashtag #HowToFeedaLoon!
Pumpkin Whoopie Pies
Pumpkin Whoopie Pies are such a wonderful celebration of fall baking and Halloween sweet treats! They are somewhere between a cake and a cookie, but we call them pies! And you won't believe how simple they are to prepare!
Print
Pin
Rate
Servings: 8
Calories: 399kcal
Equipment
2 baking sheets lined with parchment paper
Ingredients
1½ cups all-purpose flour
1 tsp baking powder
1 tsp baking soda
1 tsp salt
2 tbsp pumpkin pie spice
1 15 oz can pumpkin purée not pumpkin pie filling
1⅓ cup brown sugar light or dark
1 large egg
1 tsp vanilla extract
For the Cream Cheese Filling
4 tbsp unsalted butter room temperature
4 oz cream cheese room temperature
1 cup confectioners' sugar
1 tsp vanilla extract
Instructions
Preheat oven to 350°F and line 2 baking sheets with parchment paper.

In a medium-sized bowl, sift together the flour, baking powder, baking soda, salt, and pumpkin pie spice.

In a large bowl, mix together the pumpkin purée, brown sugar, egg, and vanilla extract. Whisk and stir until completely combined.

Working in batches, stir in the flour. Keep adding and stirring until just combined.

Use a medium ice scoop, or a large spoon, to add about 1½ to 2 tablespoons of the batter onto the parchment paper. Use a spoon to spread the dough to about a 2-inch diameter. Continue with the remaining batter, leaving about 1 inch between each round of batter.

Bake for 15 minutes, switching the baking sheets halfway through.

Remove the baking pans from the oven and let the cookies cool for about 10 minutes. Carefully peel the cookies away from the parchment paper and allow them to cool on racks completely, about another 10 to 15 minutes.
Make the Filling and Assemble the Whoopie Pies
While the cookies are cooling, make the filling by adding the softened butter and cream cheese to a large mixing bowl. Use a hand mixer (electric works well) to cream the butter together with the cream cheese until smooth and fluffy. Add the confectioners' sugar and carefully mix on low, gradually increasing the speed until fully combined.

Turn half of the cookies over and pipe in the cream cheese filling or spread with a spoon and/or spatula. Top with the remaining cookies.
Notes
See our video near the top of the blog post for visual guidance. If you liked the video, please subscribe to our YouTube Channel. You can make your own pumpkin pie spice by combing together 2 tbsp ground cinnamon, 1 tsp ground nutmeg, and 1 tsp ground cloves. Be sure to bake the cookies for the full 15 minutes. Otherwise, the cookie/cakes will be somewhat we and stick to each other and the platter when being served or stored. The whoopie pies will keep in an air-tight container on the counter for several days, they will keep in the fridge for up to 1 week. They can be frozen but will lose some of the spongy texture after thawing. These are really best served fresh.
Nutrition
Calories: 399kcal | Carbohydrates: 71g | Protein: 4g | Fat: 12g | Saturated Fat: 7g | Polyunsaturated Fat: 1g | Monounsaturated Fat: 3g | Trans Fat: 1g | Cholesterol: 54mg | Sodium: 495mg | Potassium: 166mg | Fiber: 1g | Sugar: 51g | Vitamin A: 422IU | Vitamin C: 1mg | Calcium: 85mg | Iron: 2mg