Pumpkin Butterscotch Bread is truly something special.
This bread is absolutely perfect for fall baking and ringing in the holiday season. Another bonus is that this recipe makes 2 loaves, so it's ideal for gift-giving! Keep one for you and your family and share the other for the most delicious gift in town!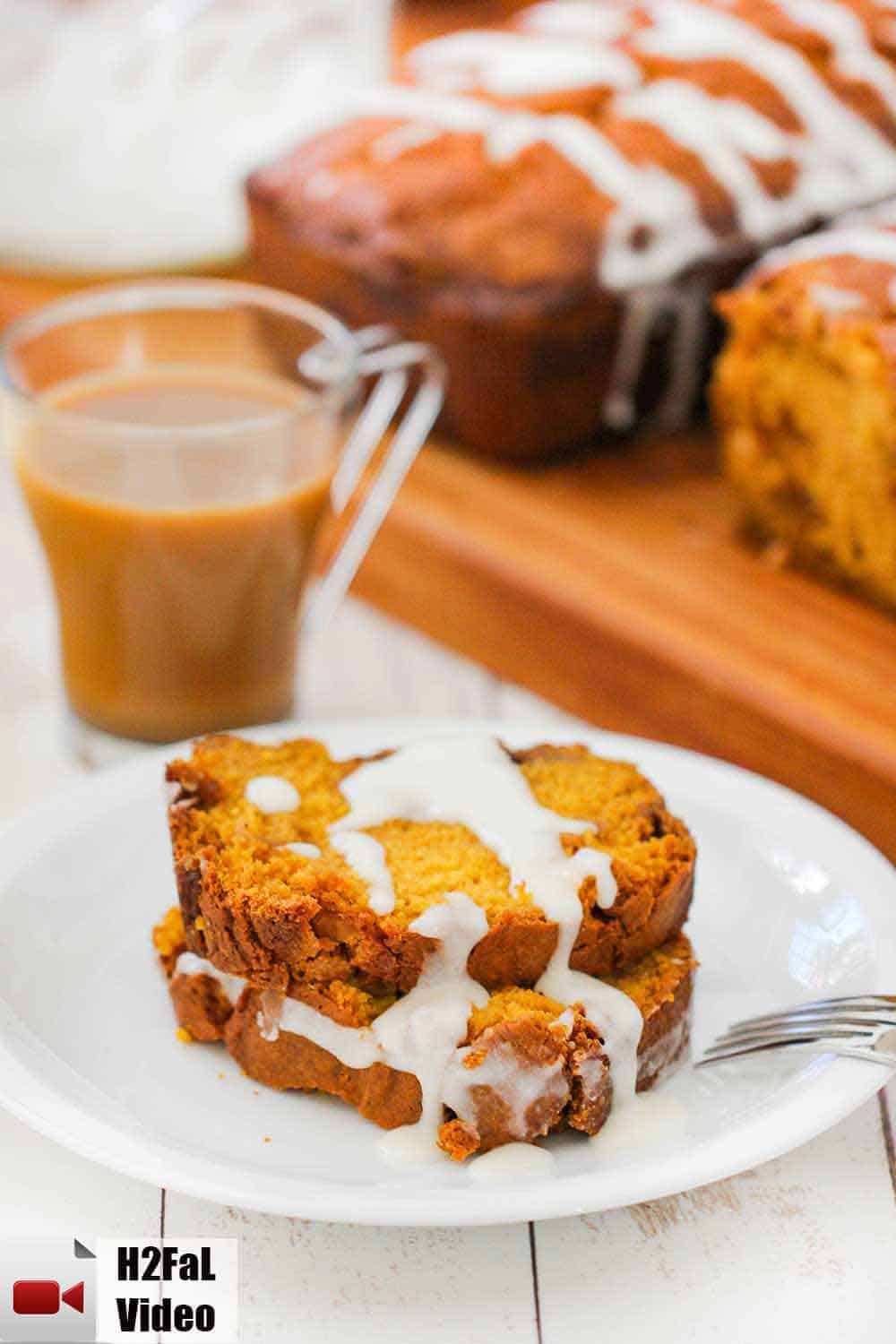 PUMPKIN BUTTERSCOTCH BREAD IS EASY TO MAKE
We are so thrilled to have partnered with the incomparable Nielsen-Massey Vanillas to bring you this wonderful recipe. In our family, holiday baking is a tradition that brings loved ones together in way that is unique and truly special.
That's why when we heard about Nielsen-Massey's new #BaketoShare program, we had to join in because it is designed specifically to help family and friends share unforgettable moments this holiday season through the act of baking.
We've got so much more to tell you about #BaketoShare, but in the meantime, watch us show you how to make this incredible Pumpkin Butterscotch Bread at home!
QUALITY INGREDIENTS ARE A MUST
When making this delicious bread, we can't stress enough the importance of using quality ingredients.
Vanilla extract is a key ingredient and Nielsen-Massey's Madagascar Bourbon Pure Vanilla Extract is as good as they come. We love that it's produced from premium, hand-selected beans cultivated in Madagascar, the world's leading supplier of the highest quality vanilla. Talk about best of the best!
EXPERT TIP: When looking for pumpkin puree, the canned variety is just fine, but be sure to select 100% pumpkin, not pumpkin pie filling.
The batter is heavenly, and the Madagascar Bourbon Pure Vanilla Extract puts it over-the-top!
PUMPKIN AND BUTTERSCOTCH ARE A PERFECT MATCH
And because it's that glorious time of the year, why not go a step further and throw in some butterscotch morsels!
The combination of pumpkin, butterscotch and vanilla is truly sublime.
Wesley and I make this Pumpkin Butterscotch Bread together every year. It has become one of our favorite holiday traditions. From fall baking, to Thanksgiving, to the Christmas holiday season, it just can't be beat.
Once the butterscotch morsels have been incorporated into the batter, you're ready to bake the bread!
Use a spatula or wooden spoon to help guide the batter into two loaf pans.
EXPERT TIP: To ensure the bread won't stick to the pan, be sure to liberally grease each pan with butter or shortening. We often use our ceramic loaf pans for baking bread. But metal, especially aluminum, is also excellent for conducting heat and baking foods evenly. Just don't leave the bread in the pan for hours on end, otherwise, the metal will eventually react with acids in the food and give them a metallic flavor.
LET THE PUMPKIN BUTTERSCOTCH BREAD COOL
The bread bakes for approx. 1 hour, or until an inserted toothpick comes out clean.

NOTE: The butterscotch morsels, as they are baking, will melt and then harden again once the bread has cooled.
When you do the toothpick test, you may see some of the wet, melted butterscotch on the toothpick. That's okay, as long as it's not wet batter, you're good, and the bread is ready.
Let the bread cool for at least 30 minutes before removing from the pan. If you try and remove the bread too early, the melted morsels may cause the bread to stick to the pan, or to break the bread into pieces while transferring to a baking rack.
BAKING BRINGS FRIENDS AND FAMILY TOGETHER
The awesome folks over at Nielsen-Massey Vanillas didn't just want to go on a hunch that folks love to bake during the holidays. They went out and proved it!
In fact, they just recently unveiled a new survey of 1,000 Americans uncovering trends in holiday baking and found that Millennials and Gen-Xers are most likely to bake during the holidays (87%). More than half of Millennials surveyed say they are motivated to bake as a way to spend time with loved ones (59%) – the most of any generation!
Who are we to argue with statistics like that! We couldn't agree more, and this Pumpkin Butterscotch Bread is just the ticket for fulfilling those holiday baking desires!
EXPERT TIP: Add even more flavor to the bread by making a delicious vanilla glaze. Simply mix together 1 cup of confectioners sugar with 2 tbsp of melted butter, 1 tbsp of milk and 1 tsp of Madagascar Bourbon Pure Vanilla Extract. The glaze will thicken if not used immediately. You can thin it by adding 1 tsp of milk at a time until you reach the desired consistency.
A SPECIAL OFFER JUST FOR YOU
Nielsen-Massey Vanillas is without doubt a huge ally in the kitchen when we're making holiday classics.
And here's even better news: Starting November 18th, Nielsen-Massey Vanillas is offering 25% off their 2 oz. Holiday Flavors Bundle, which includes Madagascar Bourbon Pure Vanilla Extract, Pure Almond Extract and Pure Peppermint Extract. The trifecta for holiday baking! Hurry! This offer is available for a limited time. (one per person).
And in the meantime, we suggest doing what we love to do – put on your favorite holiday movie (White Christmas is ours!), invite dear family and friends over, and serve this incredible Pumpkin Butterscotch Bread. That's the good life, folks.
Ready to jump into holiday baking at its best? Go for it!
And be sure to visit NielsenMassey.com to learn how to #BaketoShare this holiday season with guides for hosting holiday gatherings, new holiday recipes and gift giving ideas.
This Pumpkin Butterscotch Bread is perfect for watching holiday movies, decorating for the holidays and holiday travel snacks! Other great holiday bread recipes include our: Cranberry Bread Pudding and Banana Nut Bread.
And when you make this incredible bread, be sure to take a picture, post on Instagram, and mention @HowToFeedaLoon and @Nielsenmassey and tag #howtofeedaloon and @BaketoShare!
Pumpkin Butterscotch Bread
This Pumpkin Butterscotch Bread is one of the best breads we have ever had (and we've had a lot of bread!). I love using my two ceramic loaf pans, but any 9" x 5" pan should work just fine. Be sure to get pumpkin, and not pumpkin pie filling. Spread the holiday cheer this season with this wonderful bread!
Print
Pin
Rate
Servings: 12 people
Calories: 713kcal
Ingredients
⅔ cup shortening
2 ⅔ cup sugar
4 large eggs
1 15 oz. can pumpkin puree don't use pumpkin pie filling
2 tsp Madagascar Bourbon Pure Vanilla Extract divided, 1 tsp for the batter, 1 for the glaze.
⅔ cup water
3 ⅓ cups all-purpose flour
½ tsp baking powder
2 tsp baking soda
1 ½ tsp salt
1 tsp nutmeg
1 ½ cups butterscotch morsels
1 cup confectioners' sugar
2 tbsp unsalted butter melted
1 tbsp milk whole
Instructions
Pre-heat oven to 350°F.

In your mixer, in a large bowl, beat together the shortening and the sugar. (Mix on medium-high for about 4 minutes, until light in texture, and little air bubbles are visible)

Beat in the eggs, pumpkin, water and vanilla.

Add the flour, baking powder, baking soda, salt, nutmeg, stirring to blend.

Use a wooden spoon to mix in the butterscotch morsels.

Spoon the batter into two well-greased 9" x 5" loaf pans.

Bake the bread for 1 hour, or until a toothpick inserted in the middle come out clean.

Remove the bread from the oven and cool for at least 30 minutes on a rack. Slide a sharp knife along the edges of the bread in the pan to help loosen the bread away from the pan. Carefully invert the pan, tap a couple times on the bottom and remove the bread. Set upright on a baking rack. Let cool completely, about 2 hours.

In a small-medium bowl, mix together that confectoners sugar, melted butter, milk and vanilla. Drizzle over the bread with a spoon.

Slice and serve, or loosely wrap in plastic wrap until ready to serve.
Notes
For even baking, cook the bread in a metal or ceramic loaf pans. Insert a toothpick to ensure doneness. Note that the morsels will be wet when the bread comes out of the oven. They will harden once the bread cools. As long as no batter is on the toothpick, the bread is done. You may see some wet butterscotch, but that's okay. Don't overcook the bread! The bread can be wrapped in plastic wrap and kept in the refrigerator for up to 1 week. The bread also freezes beautifully for up to 2 months.
Nutrition
Calories: 713kcal | Carbohydrates: 109g | Protein: 6g | Fat: 10g | Saturated Fat: 4g | Cholesterol: 75mg | Sodium: 541mg | Potassium: 107mg | Fiber: 1g | Sugar: 83g | Vitamin A: 173IU | Calcium: 39mg | Iron: 2mg