If you are new a baking bread and you're looking for an easy recipe to start with, you've found the perfect one right here.
You just can't believe how simple it is to make this classic loaf of bread. This has become a tradition of ours every Thanksgiving morning. It's wonderful fresh out of the oven, but it reheats so easily, too. And it requires no proofing (dough rising), so it's quick and easy!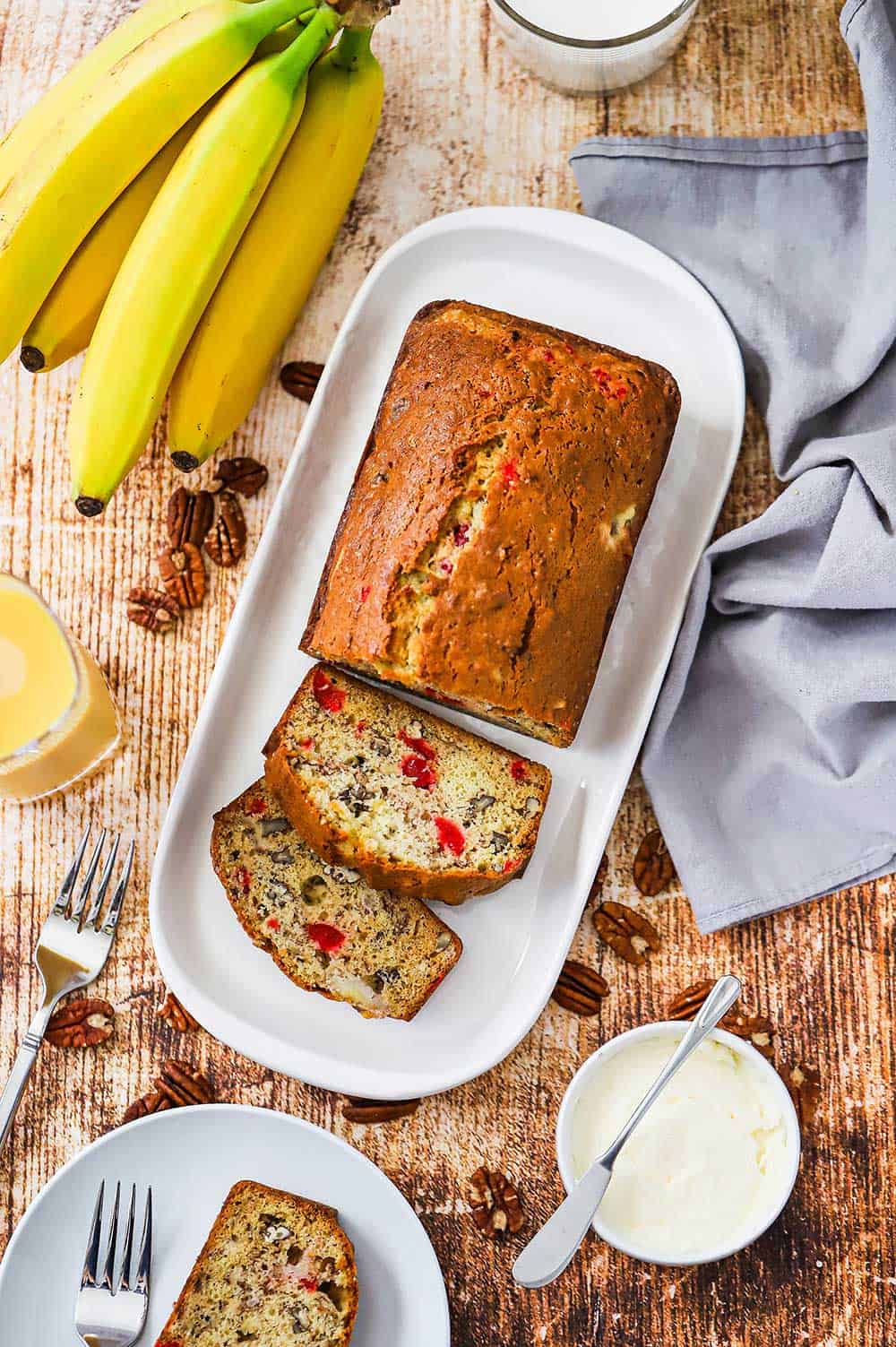 How to Make Banana Nut Bread
As mentioned, this banana nut bread recipe is really very simple to make, but the results are heavenly.
We love using our stand mixer to bring the batter together, but an electric hand mixer, or even wooden spoons and some good elbow grease will work, too!
This bread is perfect to get the kids involved. It's fun and so easy!
The Ingredients You Will Need
The key ingredients are butter, sugar, flour, baking soda, baking powder, salt, vanilla extract, and of course bananas!
We love throwing in some chopped maraschino cherries and chopped pecans for added texture, taste, and color.
EXPERT TIP: You'll need to make sure your butter is softened. But don't worry if you've forgotten to set your butter out to get nice and soft. Click here to learn how you can soften butter quickly before baking.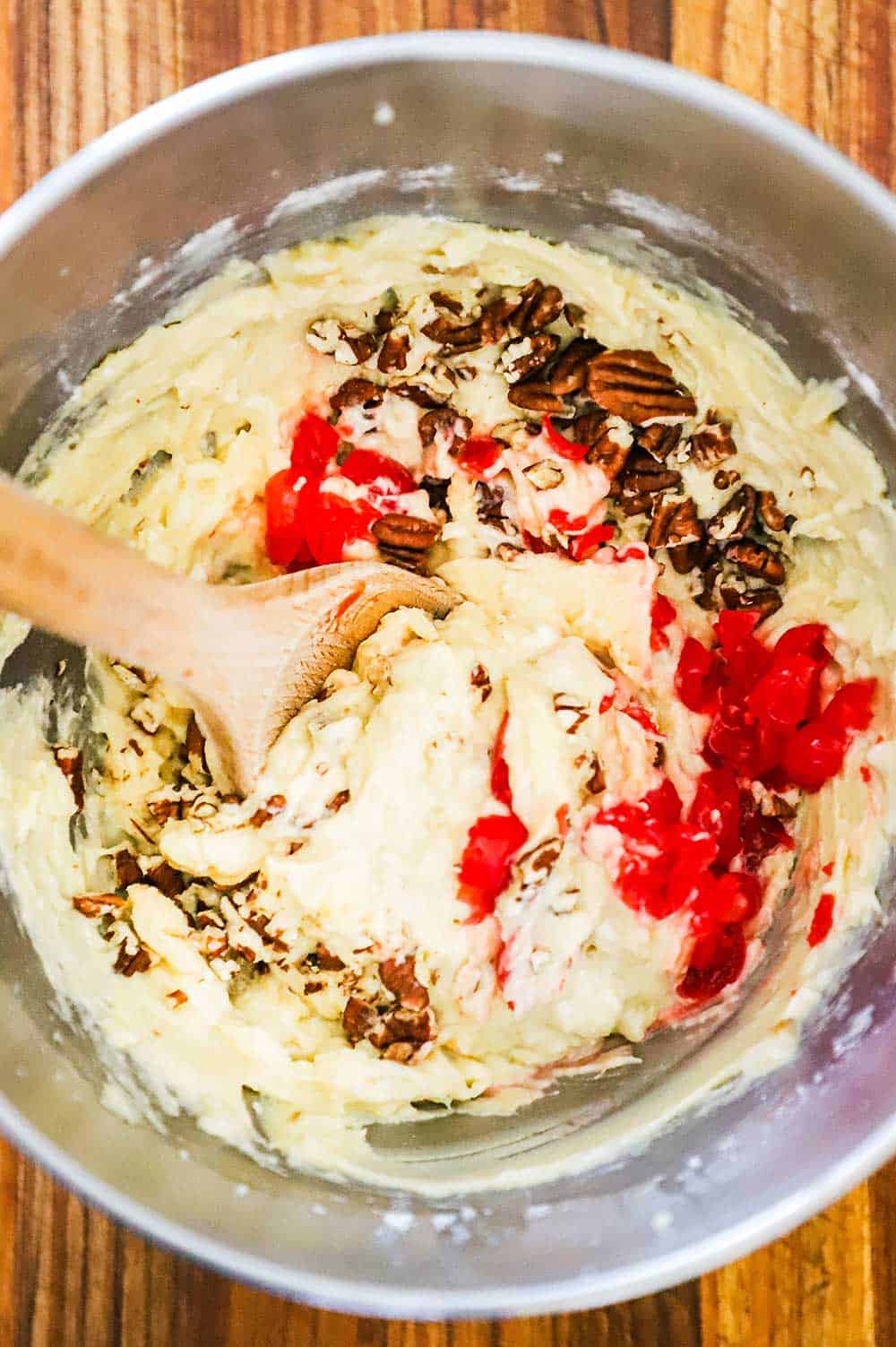 Another classic holiday brunch dish we love to serve is our Banana Caramel French Toast Casserole.
But, let us tell you, nothing beats a delicious banana nut bread fresh out of the oven.
EXPERT TIP: Any kind of rectangular loaf pan will work. We often use our ceramic loaf pan, but metal pans distribute heat more evenly, and produce nicely browned, and evenly cook loaves of bread. Glass dishes will work, but we find ceramic and metal works best.
How To Serve and How To Store
This bread is really amazing served fresh out of the oven. But, it also stays fresh and moist for days. Simply wrap in foil or plastic wrap and leave on the counter.
A slice reheats perfectly for about 5 seconds on HIGH in the microwave. Be sure to have plenty of softened butter on hand to serve with the warm bread.
The recipe can easily be doubled or even tripled. We often freeze a loaf or two for up to 2 months.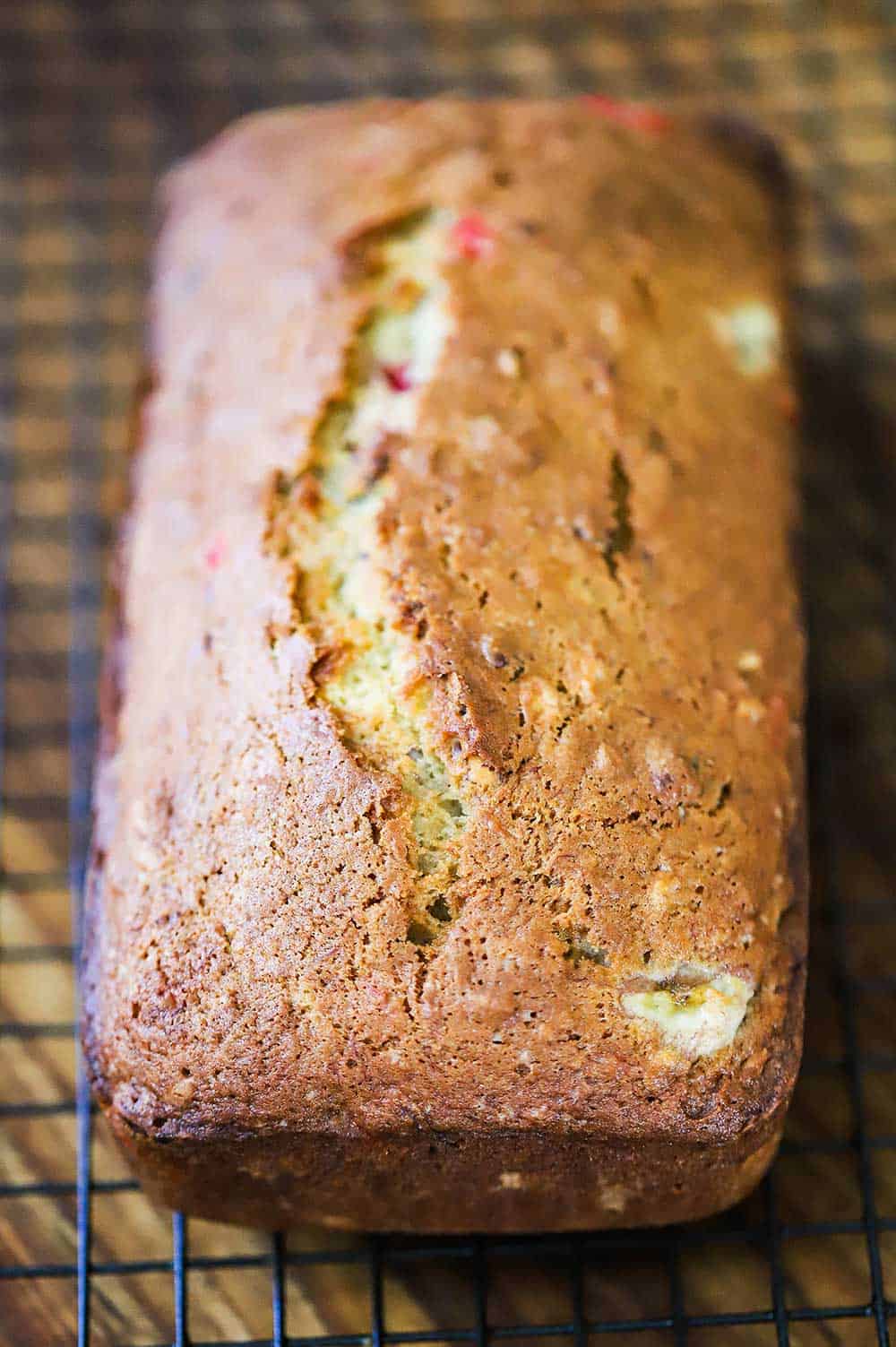 When To Serve Banana Nut Bread
As mentioned, we love serving this bread to guests during the holidays.
But, honestly, any time of the year it is so nice to just heat up a slice and add a little smear of butter.
It's perfect for breakfast, brunch, or even snack time!
This bread checks all the right boxes, especially during the busy holiday season: Quick, easy, delicious, and heart-warming.
It's perfect for the beginner baker, but it's so good, everyone will think you're a master baker!
Warm up a slice, slather on some softened butter, and cuddle up with a cup of hot coffee or cocoa. Now, that's good living.
Ready to make the simplest, yet one of the most delicious loaves of bread in the world? Go for it!
And when you do, be sure to take a photo of it, post it on Instagram, and tag @HowToFeedaLoon and hashtag #HowToFeedaLoon!
Banana Nut Bread
Delicious banana nut bread. Yum.
Print
Pin
Rate
Servings: 8 people
Calories: 316kcal
Ingredients
5½ tbsp unsalted butter room temp
⅔ cup sugar
1⅓ cup all-purpose flour
¾ tsp salt
½ tsp baking soda
½ tsp baking powder
2 large eggs lightly beaten
1 cup bananas ripe, mashed (about 2)
½ cup chopped pecans
½ cup Maraschino cherries diced, optional
Instructions
Preheat oven to 350°F and butter a 9"x5" loaf pan.

In a large mixing bowl, beat the butter and sugar on high for a couple of minutes.

In a separate large bowl, whisk together the flour, salt, baking soda, and baking powder.

Beat the flour mixture into the butter/sugar cream mixture.

Slowly beat in the eggs.

Fold in the bananas, pecans, and cherries.

Pour into prepared loaf oven.

Bake in the oven for 45 to 60 minutes. Test with a toothpick. After inserting, it should come out clean. That's when it's done.

Cool slightly on a rack. Remove from pan and slice. Serve warm or at room temperature.
Notes
See the video near the top of the blog post for visual guidance. If you liked the video, please subscribe to our YouTube channel. This recipe can easily be doubled or tripled. Wrap the bread in plastic wrap or foil. It can stay on the counter for up to 5 to 6 days and will keep in the refrigerator for 7 to 10 days. The bread freezes beautifully for up to 2 months. Slices can be reheated in the microwave on HIGH for just a few seconds.
Nutrition
Calories: 316kcal | Carbohydrates: 44g | Protein: 5g | Fat: 12g | Saturated Fat: -17g | Cholesterol: 67mg | Sodium: 317mg | Potassium: 147mg | Fiber: 2g | Sugar: 25g | Vitamin A: 330IU | Vitamin C: 2mg | Calcium: 31mg | Iron: 1mg
POST UPDATE: This recipe was originally published in November 2013, but was updated with improved tweaks to the recipe with new tips and photography and a fabulous new video in December 2021!