This dessert is so easy to prepare and is always a crowd favorite.
When peaches are in season, seek out the freshest available and make this amazingly delicious dish. Even frozen peaches will work here, too. Serve with a scoop of your favorite ice cream, and you're loved ones will be requesting this dessert time and time again!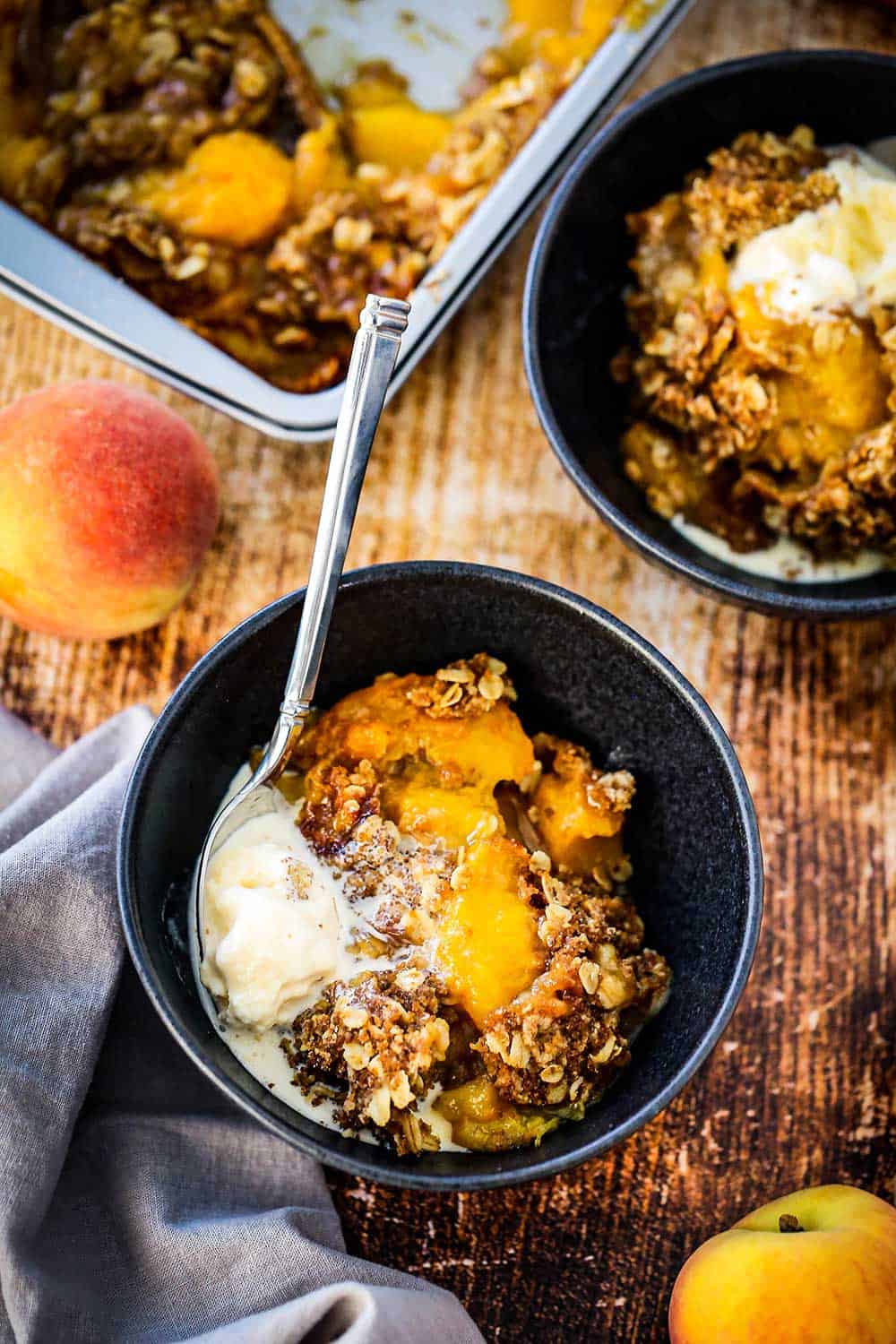 How To Make Peach Crisp
This dish is easier than a peach pie or cobbler because no pie crust is needed.
It's rustic, but still amazingly yummy. Perfect for summertime entertaining.
What Is the Difference Between a Freestone and Clingstone Peach?
During the summer months, many farmer's markets offer a wide variety of peaches.
There are three main types: Clingstone, Free-stone, and Semi-freestone. Clingstone are most commonly found in the produce section of many supermarkets.
The pit, or stone, in a clingstone peach clings tightly to the flesh. A freestone pit falls away easily from the flesh. And a semi freestone is just what you would think, the pit clings just slightly to the flesh.
EXPERT TIP: Removing the skin is easy when you place the peaches for about 30 seconds in boiling water. Remove the peaches and immediately place in an ice bath. In most cases, you can then remove the skin from freestone peaches with your fingers. Clingstone may require help from a small paring knife.
How To Slice a Peach
Slicing a peach is easy if you follow these steps.
Use a paring knife to slice through the peach, starting at the stem. Follow along the pit until you've cut a circle around the peach.
Gently pry the two halves apart. If you have freestone peaches, the pit should come right out. Turn the peach cut side down, and cut into several slices.
For clingstone, simply cut a slice, without removing the pit, and then use your knife to remove the slice from the peach. Continue until you've sliced the entire peach. See video for reference.
You'll need about 8 to 10 cups of sliced peaches.
This is usually about 8 to 12 peaches, depending on their size.
EXPERT TIP: Peaches freeze beautifully. Simply sprinkle them with fruit fresh, place in large freezer baggies and freeze for up to 6 months. You'll have peach crisp all year!
The Perfect Peach Filling
This dish is all about fresh peaches and we don't want to cover up their amazing taste and texture.
A simple addition of granulated sugar, a little corn starch, and fresh lemon juice is all that's needed.
EXPERT TIP: The peaches will naturally release their sweet and peachy juices immediately. The cornstarch will act as a thickener and create a binder for the crisp.
Transfer the peach mixture to a 9″x13″ pan that has been greased with butter or cooking spray.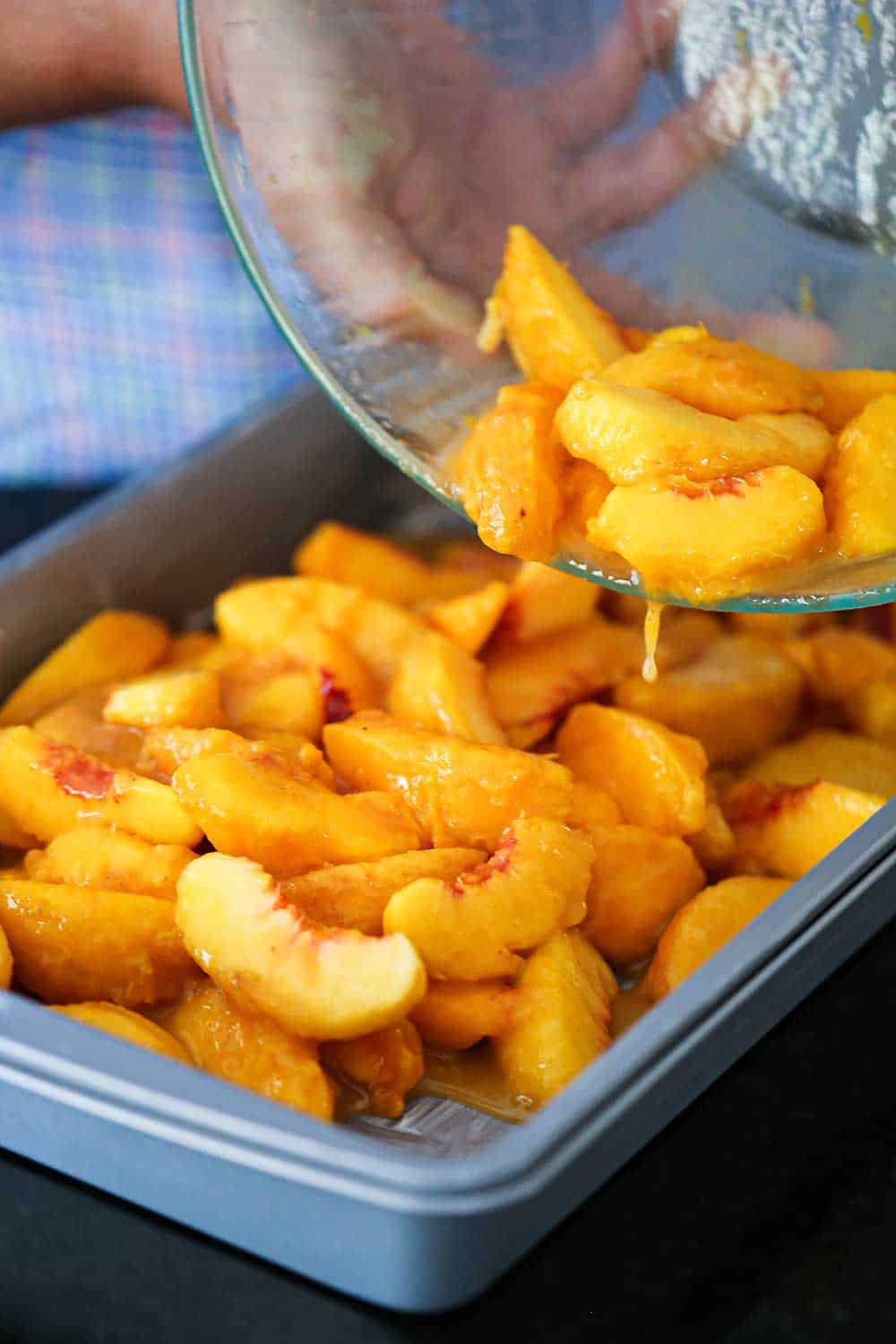 Creating A Crispy Topping
As the peach crisp bakes, the peach filling will become very soft and extremely tender.
The perfect match to this is a sweet and crunchy topping, which is the signature component of a crisp.
EXPERT TIP: Work cubed, chilled butter into the flour and brown sugar mixture with a pastry blender. If you don't have a pastry blender, no worries. A pair of forks will do the job, as well. The butter should be about the size of peas.
Old-fashioned oats will add the crunch we are looking for.
Simply sprinkle the mixture all over the top of the peaches in the pan.
As the crisp bakes, the oats will mix with the butter, flour and sugar and make an amazing crust texture.
When To Serve Peach Crisp
This Peach Crisp is really the perfect ending to a wonderful meal, especially during the warm summer months.
If serving to guests, possibly as a dessert to a fabulous outdoor BBQ party, simply place the crisp in the oven about an hour and a half before you want to serve it.
Let folks serve themselves and be prepared for rave reviews.
We love any kind of dessert that stars fruit. Some of our favorites include:
Cherry Pie
Classic Peach Pie
Chess Pie with Fresh Raspberries
Red, White, and Blue Trifle
Buttermilk Blueberry Pie
Summer Fruit Salad
But folks, this Peach Crisp, topped with a scoop of ice cream, is truly a dish your loved ones will be talking about for weeks to come.
It's that good.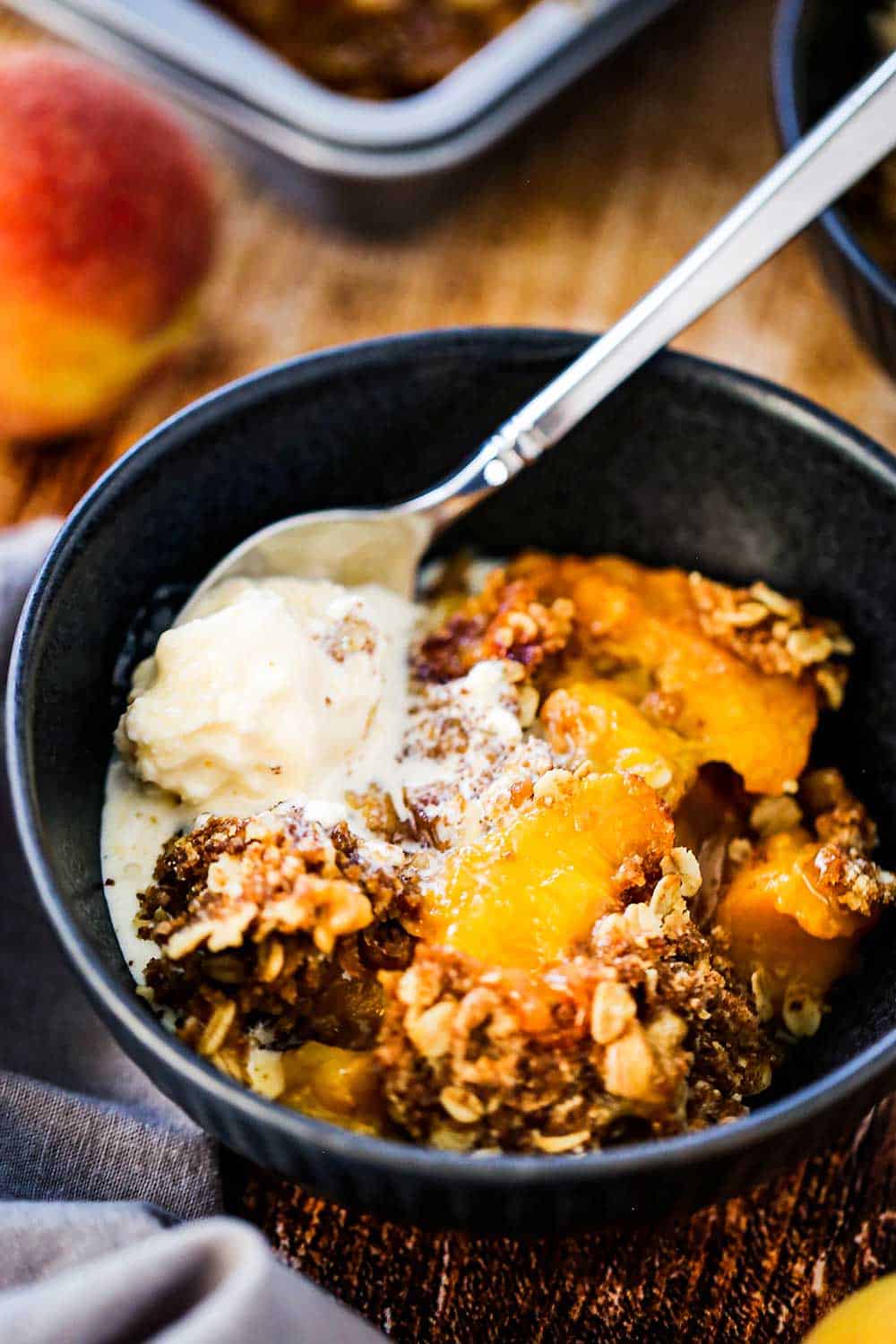 Ready to make the most scrumptious peach dessert this side of Georgia? Go for it!
And when you do, be sure to take a photo of it, post it on Instagram, and tag @HowToFeedaLoon and hashtag #HowToFeedaLoon!
Peach Crisp
Peach Crisp is easier to prepare than a peach pie or cobbler because no pie crust is needed. But don't worry, the taste is still amazing. The soft delicious peaches are matched perfectly against the sweet and crunchy topping. The perfect summertime dessert that's amazing any time of the year!
Print
Pin
Rate
Servings: 8
Calories: 431kcal
Ingredients
10 cups peaches ripe, peeled, and sliced
½ cup sugar
1½ tbsp corn starch
1 tbsp lemon juice fresh
1 cup brown sugar
1 cup all-purpose flour
½ cup unsalted butter 1 stick, chilled, cubed, plus extra for greasing the pan
1 cup old-fashioned oats
Instructions
Preheat oven to 375 F.

Grease your pan with butter or cooking spray.

In a large bowl, mix the peaches with the sugar, corn starch, and lemon juice. Transfer to the greased pan.

In a separate bowl, whisk together the brown sugar with the flour. Use a pastry blender, or two forks, to cut the butter into sugar/flour mixture. The pieces of butter should be about the size of peas or lima beans. Stir in the oats and mix to combine.

Sprinkle the topping all over the top of the peaches. Spread to cover the edges.

Bake for 1 hour and 10 minutes until bubbly and lightly browned in spots on top. Remove from the oven and place on baking rack for 10 minutes.
Notes
Be sure to use nicely ripened peaches for this dish. They should be somewhat soft to the touch. Peaches will soften over a matter of days, so plan accordingly. Frozen peaches can be used, no problem. The crisp will keep covered in the refrigerator for up to 1 week and freezes beautifully for up to 2 months.
Nutrition
Calories: 431kcal | Carbohydrates: 78g | Protein: 5g | Fat: 13g | Saturated Fat: 5g | Polyunsaturated Fat: 1g | Monounsaturated Fat: 3g | Trans Fat: 1g | Cholesterol: 31mg | Sodium: 10mg | Potassium: 461mg | Fiber: 4g | Sugar: 56g | Vitamin A: 982IU | Vitamin C: 13mg | Calcium: 46mg | Iron: 2mg