This salad is everything that is good about summer in one dish.
If you're looking for a vibrant, fruit-forward salad that is beautiful and delicious, this is the one for you. Serve this alongside the best-ever potato salad, classic pasta salad, homemade coleslaw, and your favorite grilled meats for an outdoor BBQ to remember!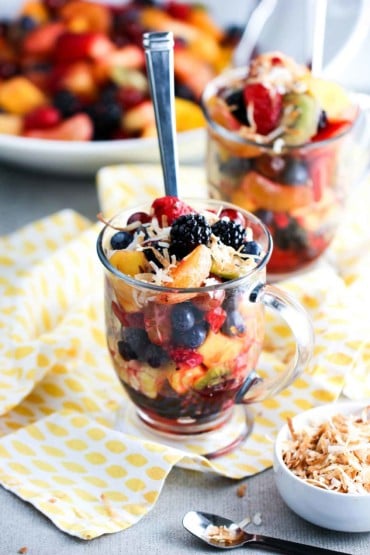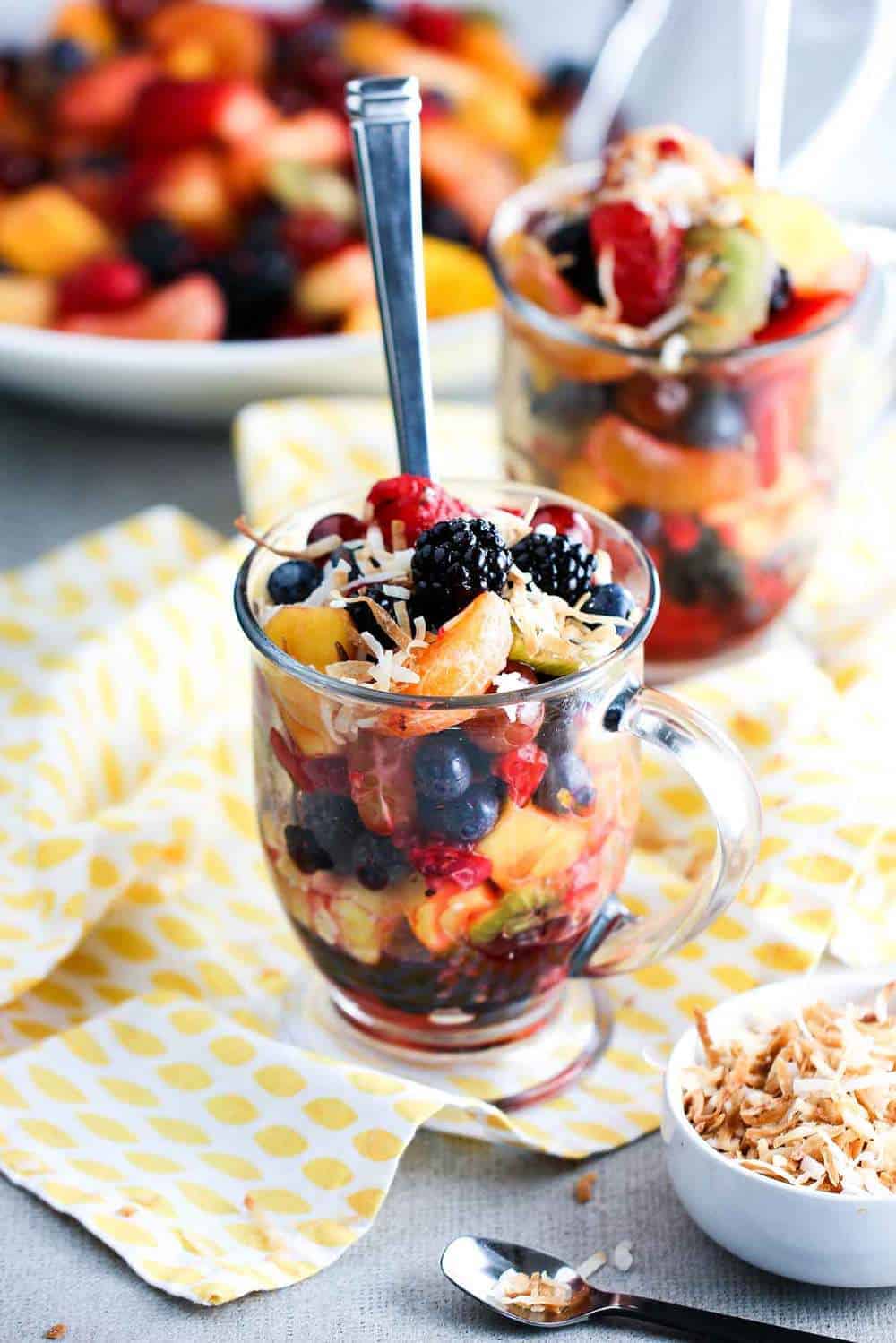 How To Make Summer Fruit Salad
This is one of those salads that folks go back for multiple times.
Give yourself enough time to prep the fruit and then assembly is quick and easy.
NOTE: If you liked this video, please subscribe to our YouTube channel. Remember to click the little 'bell' icon so you'll never miss a new video. Thank you!
The Ingredients You Will Need
The sky is the limit with this incredible salad. You really can't go wrong with whichever fruit you choose.
Fruit for the Salad
Oranges – Cut into bite-size pieces. You could also use Mandarin
Kiwis – Peeled and cut into slices, and then halved
Strawberries – Remove the stems, cut away the white parts, and slice into thick portions
Berries – We love a combination of raspberries, blueberries, and blackberries
Pineapple – Fresh is best, but canned (and then drained) will work in a pinch
Mango – Cut away the skin and then carefully cut pieces away from the tough center
Grapes – Seedless, red, green, or a combination of both
For the Dressing
Citrus – Zest a lemon and lime, and then juice each of them
Honey – Room temperature
Orange juice – Freshly squeezed is best
Cointreau (Orange liqueur) – Optional, for adults only
For the Topping
Coconut – Shredded, sweetened, toasted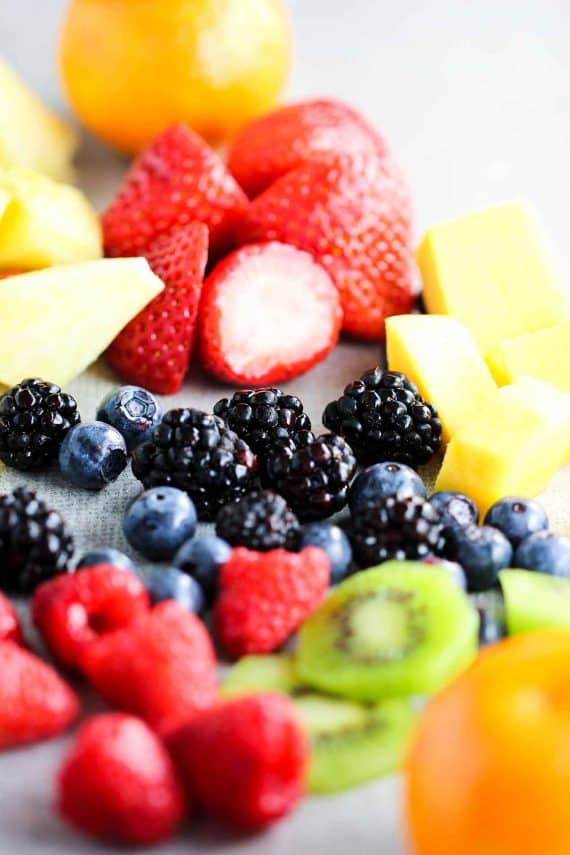 Tips for Making Perfect Summer Fruit Salad
Fresh is Best – Use a variety of fresh, ripe summer fruits such as berries, melons, and stone fruits for a colorful and flavorful salad. Try to avoid canned or frozen fruits, if possible.
Add a "Crunch" to the Salad – Toasted sweetened, shredded coconut adds an amazing taste and texture to the salad. Don't skip this, but add just before serving.
Chill the Fruit Salad – The salad can be made an hour or two before serving, if desired. It's definitely best served chilled. However, we don't recommend assembling the salad over two hours before serving.
EXPERT TIP: We can't express enough how much the toasted coconut adds to the "wow" factor of this salad. Be very careful when toasting the coconut, however. Use a spatula to move the coconut around often while it's toasting. Once it starts to turn a light brown, you'll be very close. Be careful, it can go from light brown to burnt in a very short amount of time.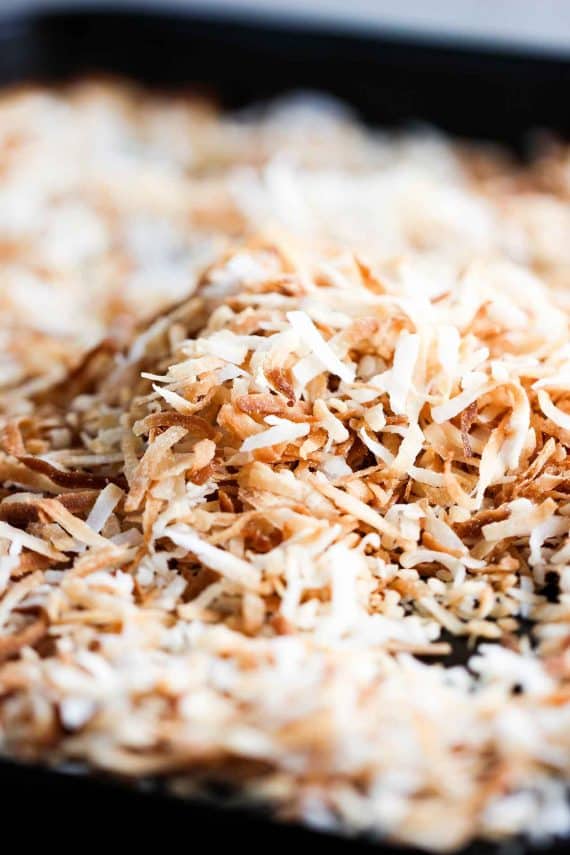 How To Serve
This salad can be served in individual servings or in a large bowl, family style.
After letting the salad chill for up to an hour in the refrigerator, we love to transfer it to a large trifle, and then top with the toasted coconut.
If there is an excess of liquid, you can tip the bowl over a sink and let some of the liquid pour out. Leave a bowl of the toasted coconut on the side, so guests can add more, if desired.
Other Fruit Recipes To Try
When fresh fruit is in season, there are so many ways to highlight them in amazing recipes. Here are some of our favorites that we're sure you and your family will love, as well.
Classic Fruit Tart
Old-Fashioned Peach Cobbler
Best-Ever Peach Crisp
Caprese Salad with Grilled Peaches
Wild Berry Parfait with Mascarpone
Classic Cherry Pie
Blueberry Cobbler
Strawberry Pavlova
Raspberry Linzer Bars
These are all amazing, without a doubt. But, isn't this salad calling your name?
Make this salad a few hours before you are serving it, or make it right at the table.
No matter what, this Summer Fruit Salad will be the talk of the town when you serve this at your next summertime gathering!
It is truly the most epic summer salad. You will be the star of the BBQ when you serve this!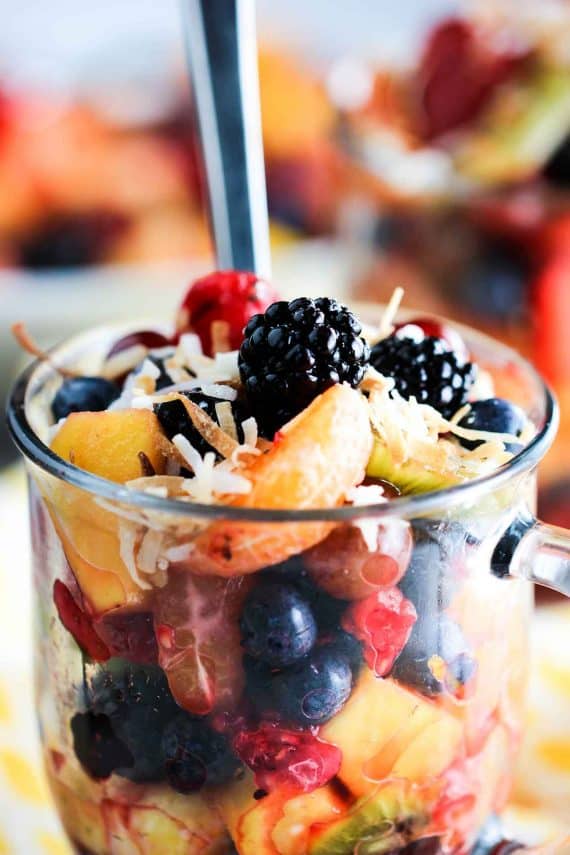 Ready to make the best fruit salad in town? Go for it!
And when you do, be sure to take a photo of it, post it on Instagram, and tag @HowToFeedaLoon and hashtag #HowToFeedaLoon
Summer Fruit Salad
This Summer Fruit Salad is so delicious and refreshing and so easy to put together. The acid from the lemon and the lime keeps the fruit and berries fresh for hours and keep them from oxidizing and turning brown. The toasted coconut is the perfect addition and the dressing is sublime.
Print
Pin
Rate
Servings: 8 people
Calories: 162kcal
Ingredients
½ cup sweetened coconut flakes
For the Dressing
1 lemon
1 lime
⅓ cup honey
2 tbsp orange juice fresh, from 1 orange
1 tbsp Cointreau optional
For the Salad
2 oranges peeled, cut into bite-size pieces
2 kiwis peeled and sliced
1 cup strawberries hulled and sliced
1 cup raspberries
1 cup blueberries
1 cup blackberries
1 cup pineapple cut into chunks
1 mango peeled, and roughly chopped
1 cup seedless grapes
Instructions
Toast the coconut flakes and set aside to cool.

½ cup sweetened coconut flakes

Zest the lemon and lime and add to a small bowl. Juice the lemon and the lime and add to the zest.

1 lemon, 1 lime

Stir in the honey, orange juice, and Cointreau (if using) and mix until combined.

⅓ cup honey, 2 tbsp orange juice, 1 tbsp Cointreau

Place the fruit in a large bowl and then pour the sauce over the fruit. Gently mix until all the fruit is coated.

2 oranges, 2 kiwis, 1 cup strawberries, 1 cup raspberries, 1 cup blueberries, 1 cup blackberries, 1 cup pineapple, 1 mango, 1 cup seedless grapes

Top with toasted coconut and serve, or cover and chill for up to 1 hour (2 hours max).
Notes
See the video near the top of the blog post for visual guidance. If you liked the video, please subscribe to our YouTube channel. (Video to come). Use any variety of fruits that you desire. We highly recommend fresh fruit. Canned or frozen can be substituted in a pinch, but the freshness (and overall taste) won't be nearly as good as fresh. Watch the coconut as you are toasting it. Once it starts to turn light brown, it will be ready within a very short amount of time. This can be done up to 24 hours in advance. The salad is best served immediately, or within 1 hour (after being chilled). It will stay delicious for hours. Give it a stir every now and then. And have extra toasted coconut on hand.
Nutrition
Calories: 162kcal | Carbohydrates: 38g | Protein: 2g | Fat: 2g | Saturated Fat: 1g | Polyunsaturated Fat: 0.3g | Monounsaturated Fat: 0.2g | Sodium: 18mg | Potassium: 326mg | Fiber: 6g | Sugar: 29g | Vitamin A: 457IU | Vitamin C: 86mg | Calcium: 48mg | Iron: 1mg
POST UPDATE: This recipe was originally published July 2018, but was updated with improved tweaks to the recipe with new tips and a fabulous new video in June 2023!