Classic Pasta Salad is really just that: Classic.
Exploding with flavor. Gorgeous in presentation. And comes together in about 15 minutes after you make the easy Italian Pasta Dressing!
You are going to love everything about this Classic Pasta Salad. And so will your guests. That's a promise!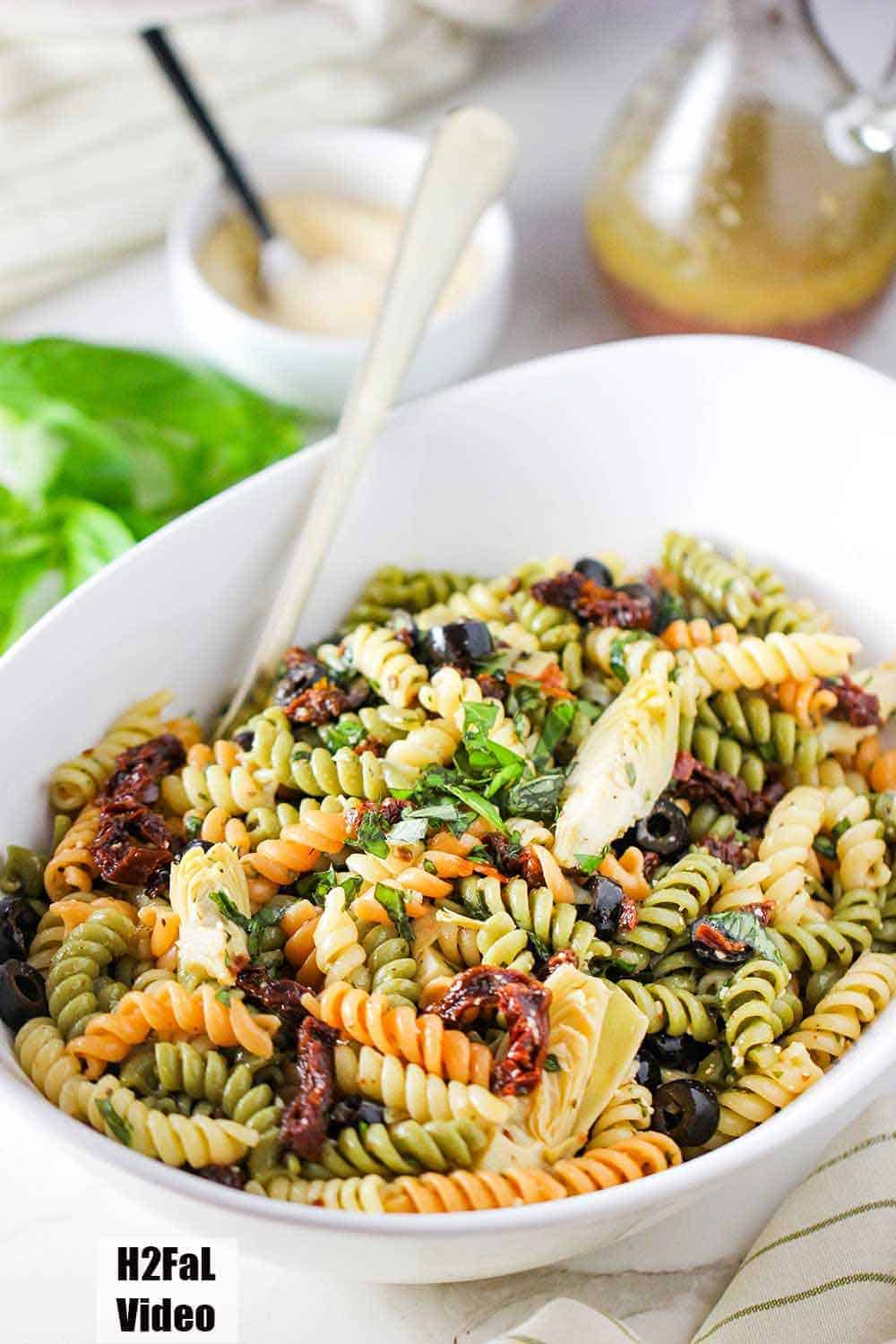 CLASSIC PASTA SALAD IS EASY TO MAKE
This pasta salad is so much better than your average pasta salad.
Our version is a vegetarian pasta salad, but it's easily adapted to your own tastes, the sky is the limit!
Italian cured meats are a wonderful addition to this pasta salad, too. Here's a guide to help you know which to choose from your local deli, if you want to add to the pasta salad.
Watch us show you how easy and fun it is to make our Classic Pasta Salad!
You could also call this an Italian Pasta Salad, because we use our homemade Italian dressing, which is the best pasta salad dressing in the world.
We use classic Mediterranean ingredients like artichoke hearts and sun-dried tomatoes. We go with the canned, or jarred variety, that are in seasoned oil. These are easy to find in most well-stocked supermarkets.
Black olives and fresh basil bring a freshness to the salad that just cannot be beat.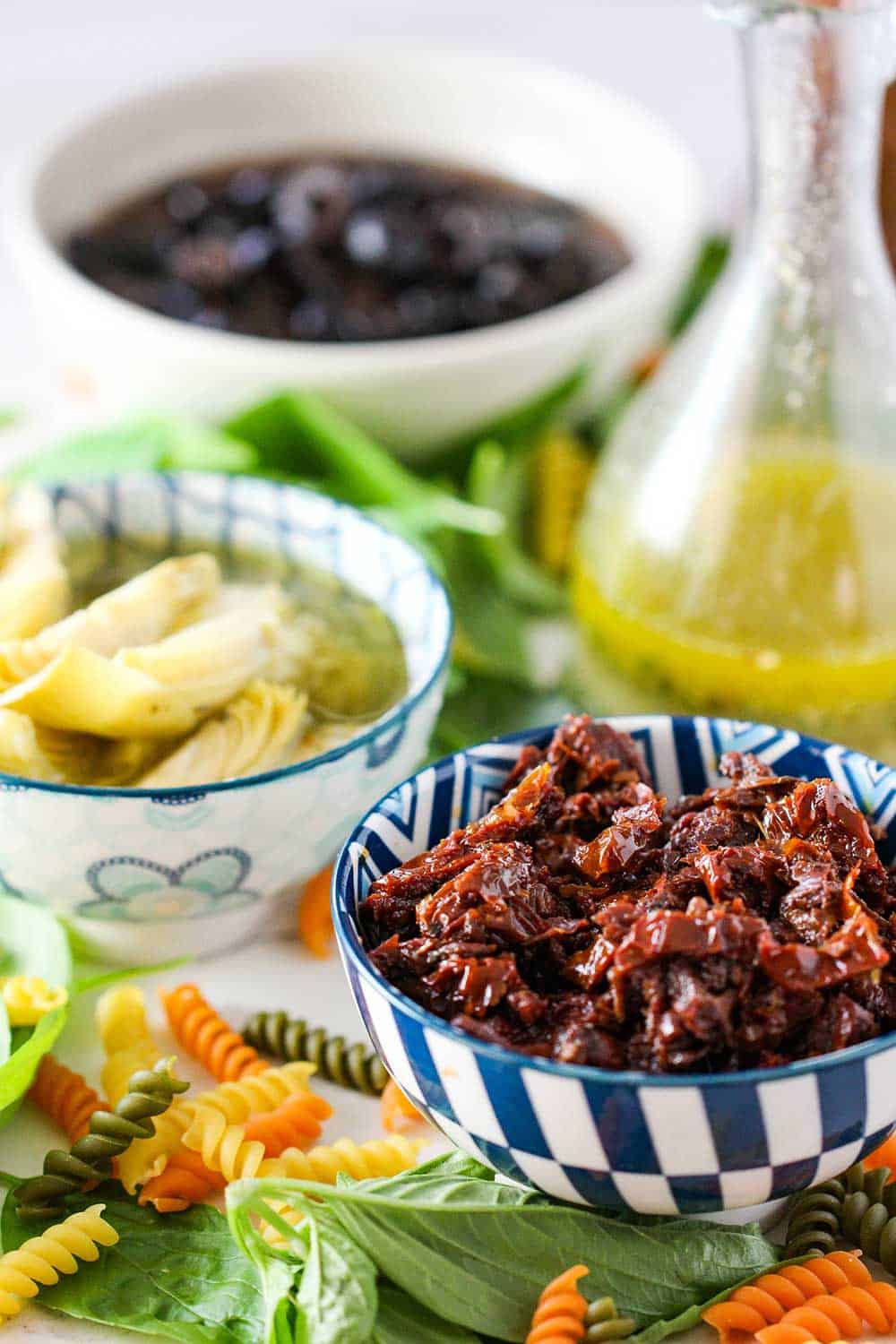 START WITH A GOOD PASTA SALAD DRESSING
We said it before, but it bears repeating. A really good pasta salad is honestly only as good as the pasta salad dressing you choose.
That's why we insist on going with fresh, homemade dressing.
It's super simple and truly puts this classic pasta salad over the top.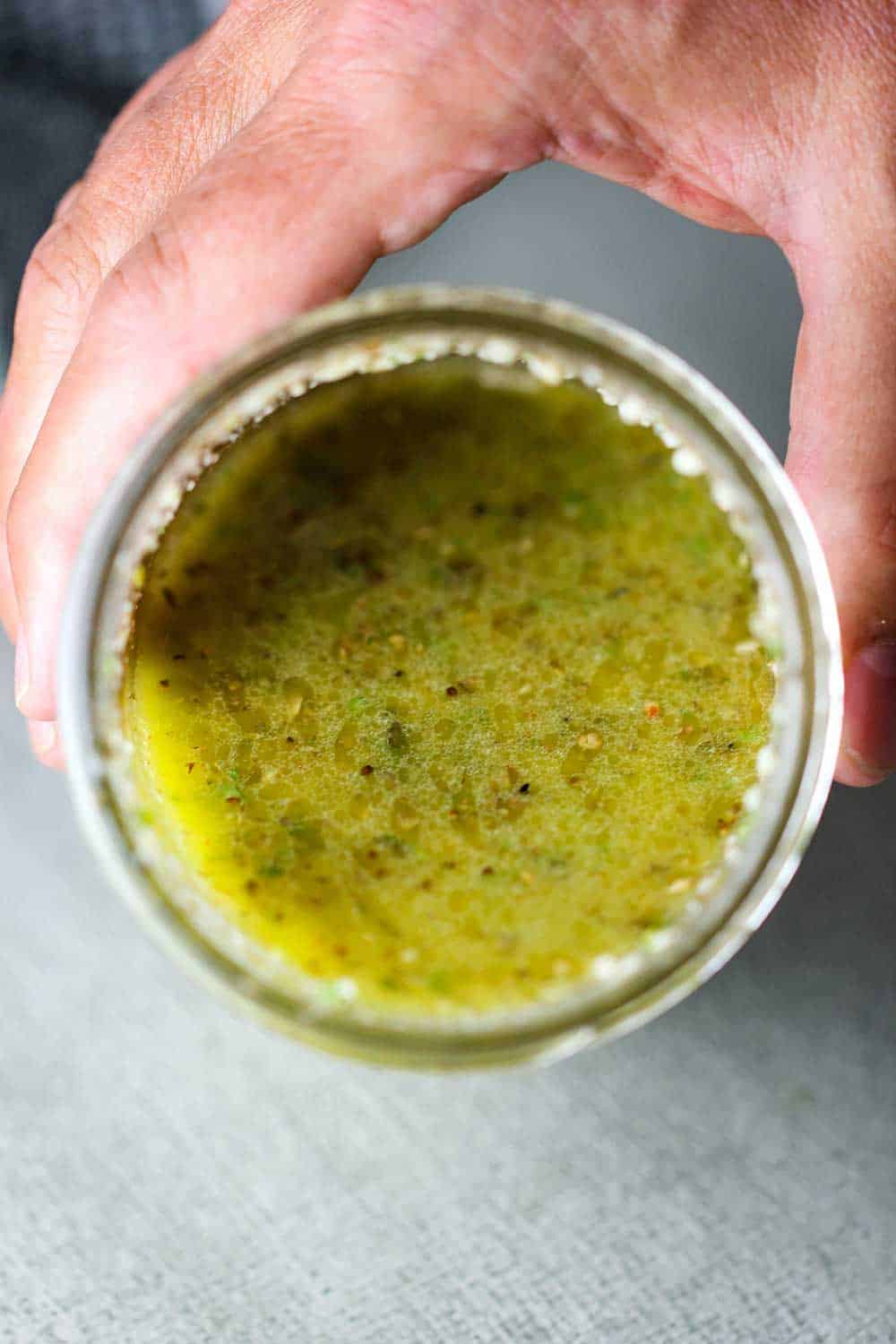 CHOOSING THE RIGHT PASTA
Choosing the right pasta for the best pasta salad is important.
Go for a small to medium-sized pasta, such as rotini, or fusilli, or even bow tie. We love using tricolor pasta, not just because it's delicious, but because it also gives the salad a beautiful look.
Cook the pasta until al dente, drain, and then rinse with cold water. This expedites the process and doesn't change the consistency of the pasta at all.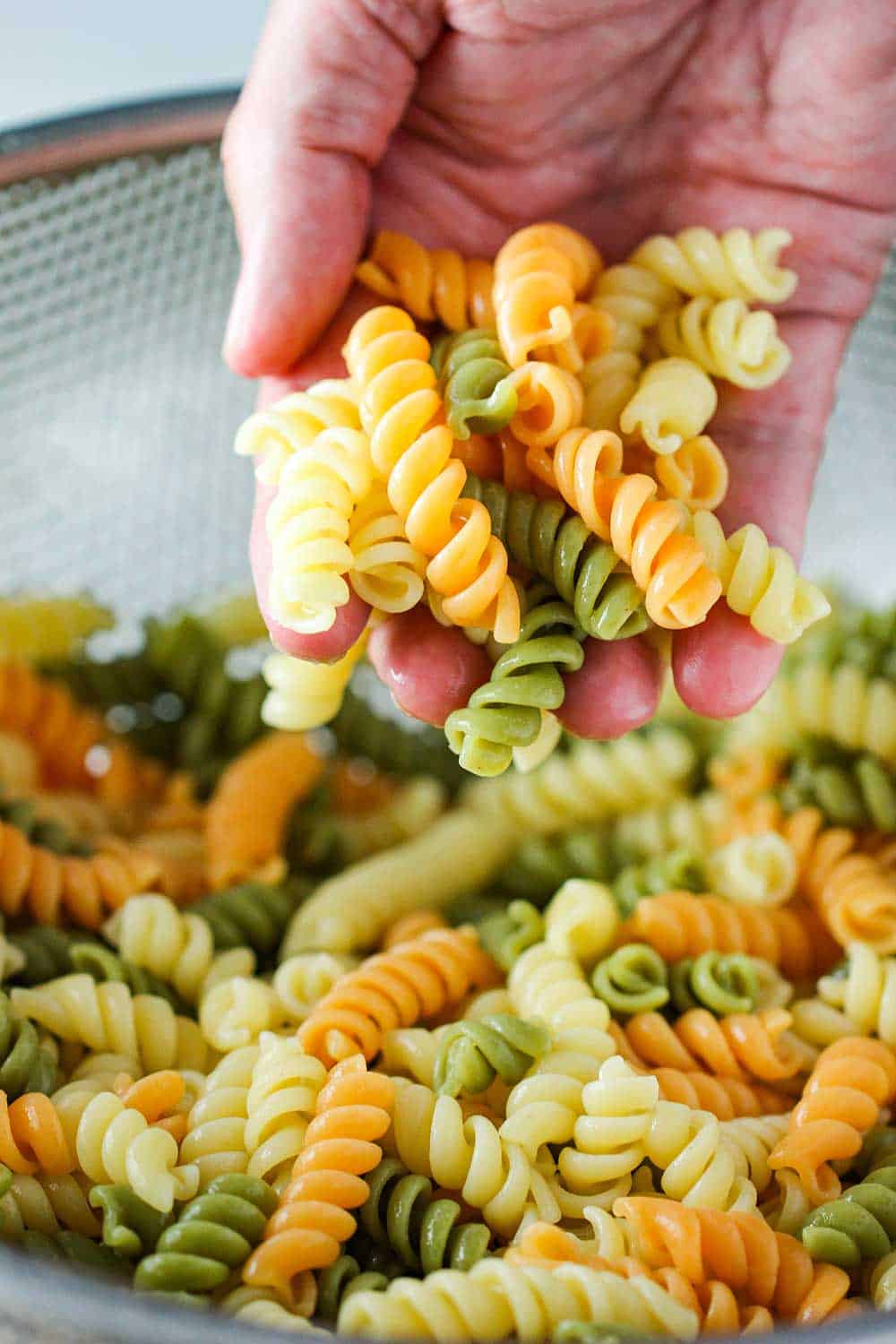 Now you're ready to mix everything together.
Add as much of the artichokes, sun-dried tomatoes and olives as you like. We usually go with around a half a cup, to three-fourths a cup of each.
For the dressing, we typically add about a half a cup. If not serving right away, save a few tablespoons of the Italian dressing and then add to the pasta just before serving and toss again. Letting the pasta salad come to room temperature (about an hour) is recommended for best taste and texture.
OTHER CLASSIC SALADS FOR SERVING
A few other of our favorite picnic salads are:
Cajun Pasta Salad
Caprese Pasta Salad
Pesto Pasta Salad with Potatoes and Green Beans
Best-Ever Potato Salad
Cucumber and Dill Salad
In the meantime, you can't go wrong with our incredible Classic Pasta Salad!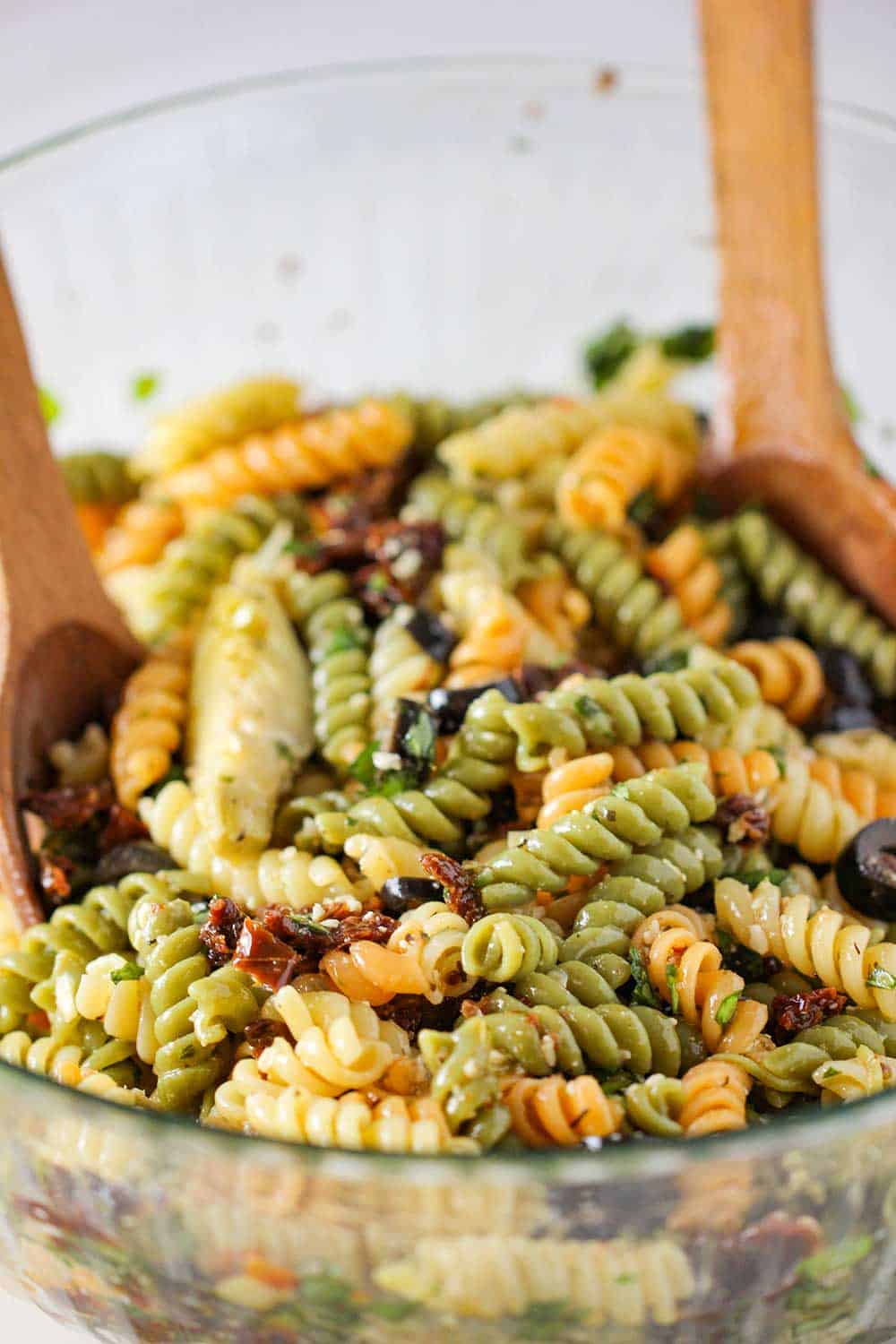 Now…it's time to make this incredible Classic Pasta Salad!
When you make this pasta salad, be sure to take a picture, post it to Instagram, and tag @howtofeedaloon and #howtofeedaloon!
Classic Pasta Salad
This Classic Pasta Salad is so delicious and equally gorgeous in presentation. Be sure to use top-notch dressing! If not serving right away, simply add a little more dressing just before serving, and toss gently. This salad is best when served within a few hours (at the most) of preparing. And at room temperature.
Print
Pin
Rate
Servings: 8 people
Calories: 220kcal
Ingredients
½ cup Italian Dressing or good-quaity store-bought
12 oz pasta tri-color rotini, or fusilli, bow tie, or elbow
½ cup artichoke hearts, in oil drained, or more, if desired
½ cup sun-dried tomatoes in oil drained and roughly chopped, use more, if desired
½ cup black olives sliced and drained, use more, if desired
¼ cup fresh basil roughly chopped
½ tsp Kosher salt
¼ tsp freshly ground black pepper
Instructions
Meanwhile, bring a large pot of liberally salted water to a boil. Add the pasta and cook until al dente. Usually 9 to 12 minutes. Drain and rinse with cool water until no longer hot. Transfer to large bowl.

Add the artichokes, sun-dried tomatoes, olives, basil, salt, pepper and dressing.

Gently stir until the pasta is fully coated and all ingredients are evenly distributed. Taste and add more salt and/or dressing, if desired.

Serve at once, or cover with plastic wrap and refrigerate for up to 4 hours. If not serving immediately, add several tablespoons of dressing just before serving, and stir.
Notes
We strongly suggest using the homemade Italian dressing for this salad. It really puts it over the top. However, a quality bottled version will work, too.
Small to medium bite-sized pasta works well. Rotini or fusilli are our favorites. Tri-color is tasty and very beautiful.
This pasta salad is easily adapted to tastes. Other great additions are cubed mozzarella, Italian cured meats, and pepperoncini peppers.
The is best served fresh, but you can make up to a day in advance. Just add more of the dressing and toss before serving. We find that it's still perfect after sitting in the fridge for up to 4 hours before serving. Setting the salad out an hour before serving helps the flavor and texture, too.
Nutrition
Calories: 220kcal | Carbohydrates: 35g | Protein: 6g | Fat: 6g | Saturated Fat: 1g | Sodium: 443mg | Potassium: 215mg | Fiber: 2g | Sugar: 3g | Vitamin A: 161IU | Vitamin C: 7mg | Calcium: 20mg | Iron: 1mg