Cajun Pasta Salad. Now, that's something special.
Nothing spells summer much more than a good outdoor BBQ. And the best BBQ's have amazing side dishes.
This Cajun Pasta Salad recipe is one of our all-time favorites.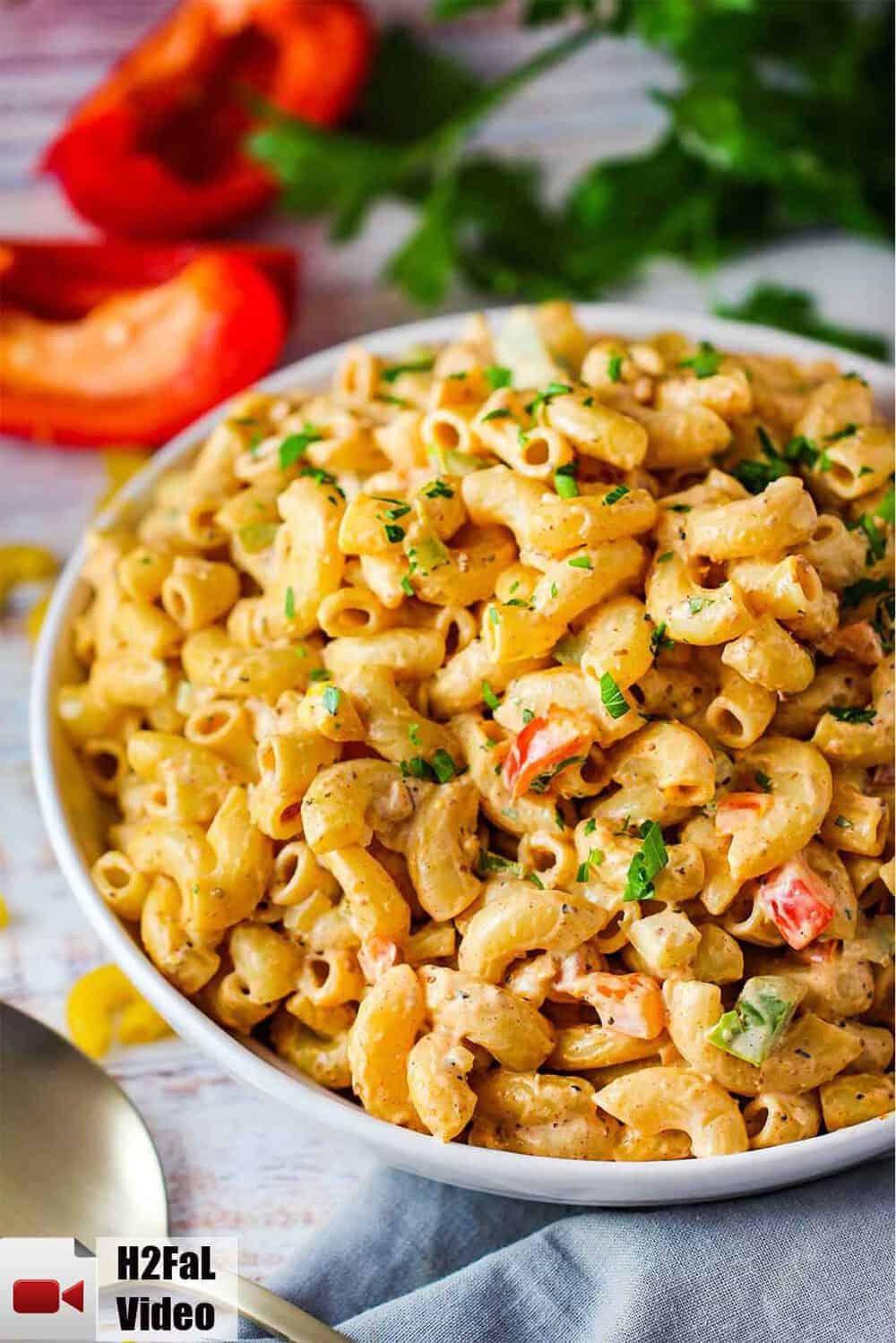 CAJUN PASTA SALAD IS EASY TO MAKE AT HOME
You can easily prepare the pasta ahead of time, as well as the dressing.
Right before serving, mix the dressing with the cooled cooked pasta (and a little more water, if needed), and you're good to go!
Watch us show you how easy it is to make Cajun Pasta Salad!
CAJUN PASTA SALAD IS A NICE CHANGE OF PACE
There is a slight kick to this pasta salad, but it's a good kick!.
The flavors compliment each other so well.
Of course, if you don't like bell peppers or shallots, just leave them out! But we think they add a nice, but subtle, dimension to the salad.
The seasonings in the dressing really provide a delicious depth to the salad.
If you can't find cajun seasoning, just get a large bowl, and mix together 1 tbsp of the following:
Garlic powder
Italian seasoning
Paprika
Kosher salt
And then 1 tsp of the following:
Black pepper
Cayenne pepper
Ground thyme
Onion powder
If you are interested in other amazing BBQ side dishes, try one of these favorites:
In the meantime, be sure to make this amazing Cajun Pasta Salad!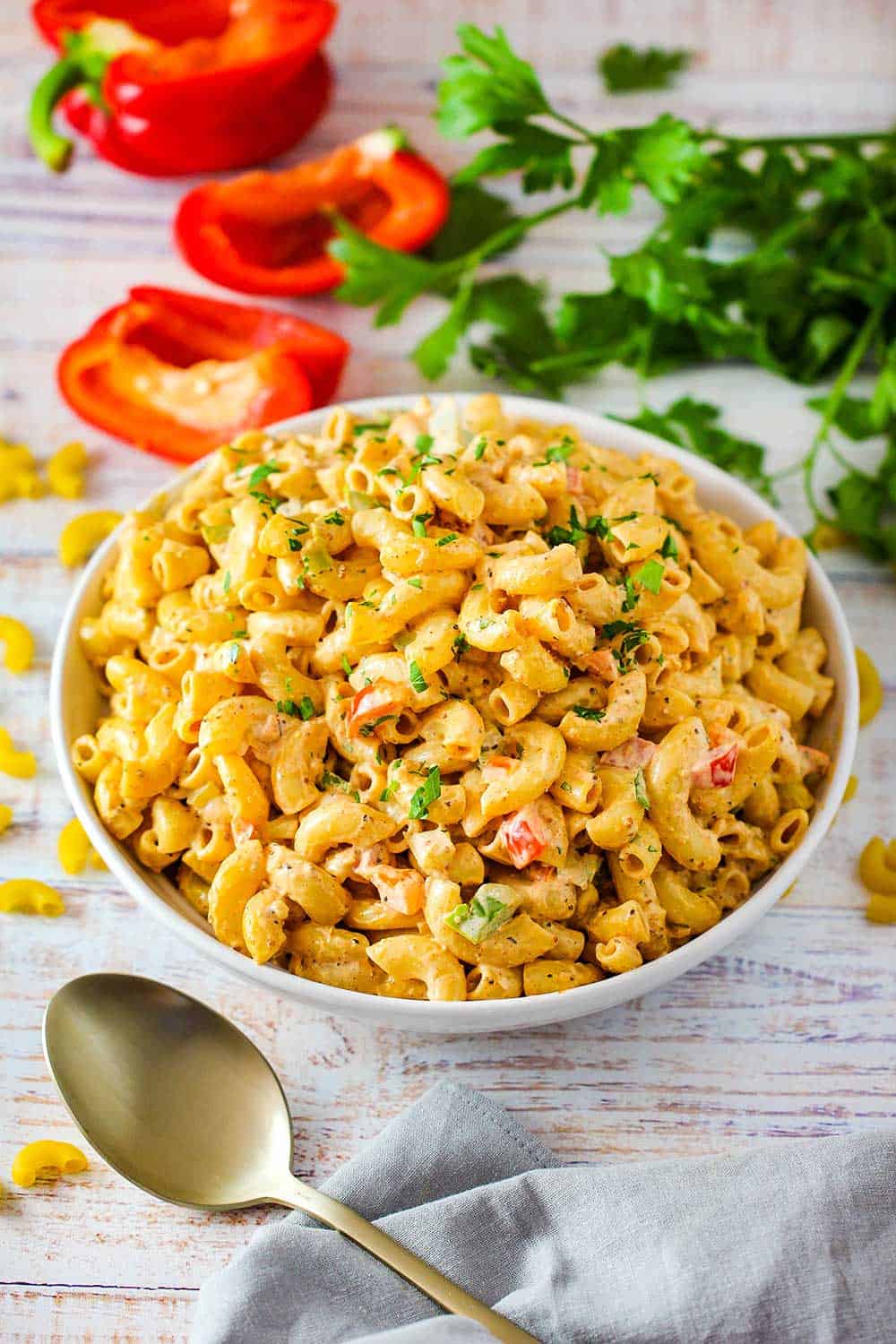 MIX THE PASTA WITH THE DRESSING SOON BEFORE SERVING
Once you mix the pasta with the dressing, if you are not serving the pasta salad immediately, cover with plastic wrap and keep in the refrigerator until ready to serve.
We recommend not putting the pasta salad together until close to serving time.
If you have stored in the fridge, mix again with a couple tablespoons of water to help thin the dressing a bit.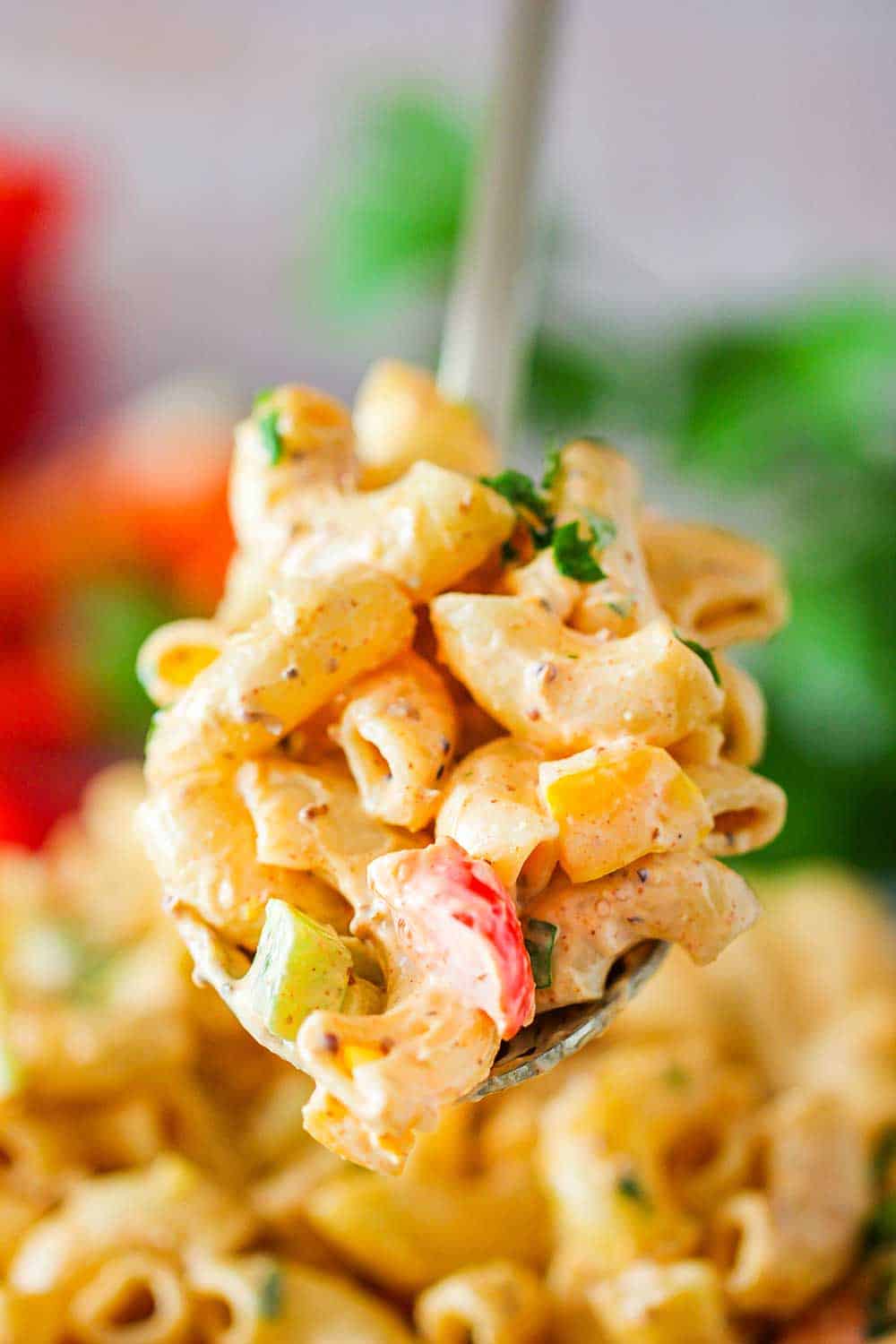 Cajun Pasta Salad
This Cajun Pasta Salad is just so good! Really bursting with flavor. Just a little kick, but nothing too much. Perfect for a Summer BBQ!! Yum! If you make this ahead of time (say several hours early...add a little extra water, as it will thicken as it sits in the fridge).
Print
Pin
Rate
Servings: 8 people
Calories: 295kcal
Ingredients
Kosher salt
1 lb elbow macaroni
2 tbsp good-quality olive oil divided
1/2 cup shallots finely minced
1 cup red bell pepper cored, seeded, and finely chopped
1 cup celery finely chopped
1 tsp smoked paprika
1 tsp Cajun seasoning
2 tsp Kosher salt
1 tsp freshly ground black pepper
3 tbsp Creole/Cajun, or whole grain Dijon mustard see Note
1 1/2 cups mayonnaise
3 tbsp red wine vinegar
1 tbsp fresh lemon juice
1 tsp hot sauce ie, Tobasco, Crystals
1/4 cup fresh parsley chopped, for garnish
Instructions
Bring a pot of salted water to a boil and add the pasta and cook for 9 minutes, until tender.

Drain in colander and rinse with cool water.

Transfer to a large bowl and mix in 1 tablespoon olive oil.

In a separate medium bowl, combine the remaining ingredients, including the remaining 1 tablespoon olive oil. Add 1 to 2 tablespoons water, to thin slightly.

Adjust seasonings, to taste.

Add the macaroni and mix.

Top with chopped parsley.
Notes
If you can't find Creole or Cajun mustard, any kind of whole grain, or spicy, or even just Dijon work just fine. You can make the pasta several hours before serving. Just rinse after cooking, then toss with the oil then cover with plastic wrap. No need to refrigerate. You can also make the dressing several hours before serving, after mixing together, cover with plastic wrap, and keep in the refrigerator. Just before serving, mix pasta with dressing and a couple tablespoons of water. You don't want the dressing too thick. Best served at room temperature.
Nutrition
Calories: 295kcal