This post is kindly sponsored by Village Farms, but the recipe, photography, and opinions are 100% ours.
Classic Caprese Salad with Grilled Peaches is a summertime dish at its very best.
We're so excited to have teamed up with one of our favorite providers of produce on the planet. We're talking, of course, about Village Farms®. And we are featuring their incredible Sinfully Sweet Campari tomatoes.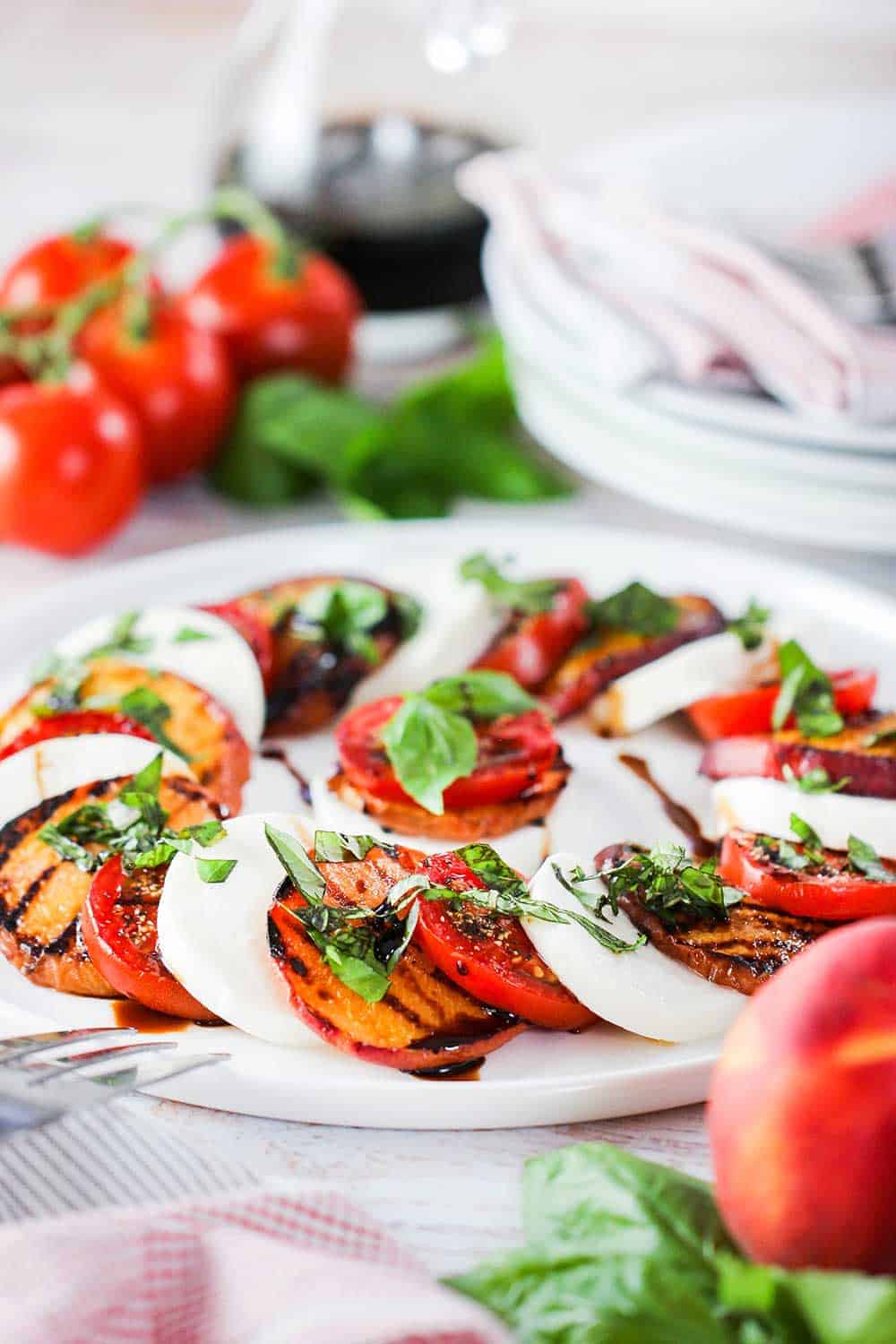 In addition to using some of the most delicious tomatoes we've ever encountered, we're taking things even further and adding in sweet and savory grilled peaches and topping it all with a glorious balsamic reduction.
SINFULLY SWEET CAMPARI TOMATOES ARE BURSTING WITH FLAVOR
We absolutely love using produce from Village Farms®. Their produce is distributed throughout the USA and Canada and they truly capture the essence of your local farmer's market.
As we slice into the Sinfully Sweet Campari tomatoes, they literally burst with freshness.
The only challenge is to not eat them all up before it's time to assemble the caprese salad with grilled peaches!
We knew we wanted to create an amazing caprese salad utilizing Village Farm's campari tomatoes. That was a no-brainer.
But we couldn't just leave well enough alone. We decide peaches (grilled peaches, in fact) would elevate this already incredible salad to pretty amazing culinary heights.
We found that slicing the peach from the outside in was the best to get perfectly round, solid slices. Once you come to the pit, turn the peach around, and start slicing the other side. Save the final center slice, with the pit still in it, for snacking!
Grilling the peaches brings out even more of the natural sweetness in the fruit. For this recipe, we love going with firm, yet ripe, yellow peaches.
You'll need to brush a little olive oil on both sides of the peach slice. Next, get your grill nice and hot.
We used our charcoal kettle grill this time, but you could use a gas grill, electric grill, or even a hot grill skillet on your stovetop. They only take about 4 minutes per side to get perfectly cooked.
We just love using Village Farm's Sinfully Sweet Campari tomatoes for this salad for several reasons. First, and foremost, is taste.
These tomatoes have the perfect combination of sweetness and acidity. They are also just so vibrant, juicy, and beautiful in appearance.
They are larger than a cherry tomato, but smaller than TOV (tomato on the vine). They really work perfectly for this Caprese Salad with Grilled Peaches!
THE SECRET TO CAPRESE SALAD WITH GRILLED PEACHES
Caprese salad is a beautiful combination of fresh and simple ingredients. Going with quality is always is your best bet.
Obviously, we went with the best tomato in town with Village Farms®. No question there. But in addition to that, choosing top-notch fresh mozzarella is recommended. And then slice it to the same thickness as the tomatoes.
We found that firm, yet ripe, yellow peaches worked beautifully. Fresh basil is a must. And then we found that using a high-quality balsamic vinegar really does make a difference in the reduction. Actually, it is amazing and brings the dish all together.
VILAGE FARMS® DELIVERS QUALITY EVERY TIME
It's really amazing to see the reaction of friends and family when we serve this Caprese Salad with Grilled Peaches featuring Village Farms® Sinfully Sweet Campari® tomatoes.
The salad is just so beautiful in presentation. And then the taste? We can honestly say it's our favorite summertime salad of all time. The grilled peaches, along with the best tomatoes in the world, put it over the top.
The Sinfully Sweet Campari® is also a low-calorie source of vitamin C and K, supporting brain health and strengthening bones! Gorgeous, delicious and good for you! How in the world can you ever beat that!
PAIR THE SALAD WITH GRILLED PORTOBELLO PIZZAS
While you've got the grilled fired up, you should also make our incredible Grilled Portobello BLT "Pizzas"Grilled Portobello BLT "Pizzas"!
We feature Village Farms Heavenly Villagio Marzano tomatoes. The portobello cap replaces the traditional pizza crust, and we use pesto sauce, pancetta, fontina cheese, tomatoes and arugula.
These pair beautifully with the Caprese Salad with Grilled Peaches! Talk about a gorgeous presentation!
Ready to impress with one of the most delicious takes on one of the best summertime salads ever?
Pick up some Village Farms Sinfully Sweet Campari® tomatoes and the other ingredients, and make this amazing Caprese Salad with Grilled Peaches!
And before you devour it, be sure to snap a picture of it and post it to Instagram and tag @howtofeedaloon and @villagefarms!
Equipment
Charcoal, gas, or electric grill. Or, stovetop grill skillet
Ingredients
1 cup balsamic vinegar
6 Village Farms Sinfully Sweet Campari Tomatoes® cut into 1/4" slices
2 tbsp olive oil
4 yellow peaches cut into 1/4" slices (see note below)
12 oz fresh mozzarella cut into 1/4" slices
1 cup fresh basil leaves
Kosher salt and freshly ground pepper
Instructions
Place the balsamic in a small sauce pan and bring to a boil then reduce heat slightly and simmer for 12 to 15 minutes, or until reduced in half and slightly thickened. It will coat the back of a spoon once ready. Set aside.

Turn your grill to medium-high heat.

Brush oil on both sides of the peach slices and then place on the grill over direct heat. Cook for about 4 minutes per side, or until grill marks begin to appear. Remove from grill.

Arrange the salad by starting with a tomato slice on a platter, then place a grilled peach across half of the tomato, then placing a mozzarella slice over half of the peach, then placing a basil leaf over the mozzarella. Repeat until the platter is full and you have used all the ingredients.

Drizzle the balsamic reduction over the top and serve at once.
Notes
To slice the peaches, use a sharp knife and carefully slice one side of the peach off, about 1/4" thick. Moving inwards, cut another slice. Once you reach the pit, turn the peach around and cut slices in the same manner. Save the peach that is left around the pit for another use (or a quick snack). We find that using a quality balsamic produces the best tasting reduction. The reduced balsamic will stay in a container with a lid in the refrigerator for up to 2 weeks.
Nutrition
Calories: 186kcal | Carbohydrates: 9g | Protein: 13g | Fat: 12g | Saturated Fat: 2g | Cholesterol: 45mg | Sodium: 366mg | Potassium: 102mg | Fiber: 1g | Sugar: 7g | Vitamin A: 594IU | Vitamin C: 1mg | Calcium: 305mg | Iron: 1mg